Abstract
To isolate endophytic bacterium with the ability to specifically convert ginsenoside Rc from Panax quinquefolius. An endophytic bacterium G9y was isolated from Panax quinquefolius and indentified as Bacillus sp. based on 16s rDNA gene sequence. Ginsenoside Rc was effectively converted to Rd by G9y, which was confirmed by thin-layer chromatography and high performance liquid chromatography (HPLC) analysis. The biotransformation conditions were further optimized as follows: inoculum amount 5%, converting temperature 45 °C, medium beef extract peptone broth at pH of 7, and the time of Rc addition was 4 h after bacterium G9y growth, under which ginsenoside Rc was completely converted to Rd by bacterium G9y within 25 h after inoculation. A strain of G9y with the ability to convert ginsenoside Rc into Rd was screened from endophytic bacteria isolated from P. quinquefolius. The results provide a new microbial resource for preparing ginsenoside Rd via biotransformation, and explore a pathway for Rc utilization, which has great potential application value.
Access options
Buy single article
Instant access to the full article PDF.
US$ 39.95
Tax calculation will be finalised during checkout.
Subscribe to journal
Immediate online access to all issues from 2019. Subscription will auto renew annually.
US$ 119
Tax calculation will be finalised during checkout.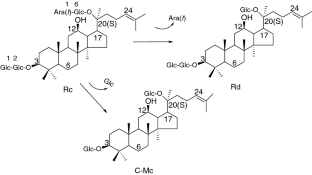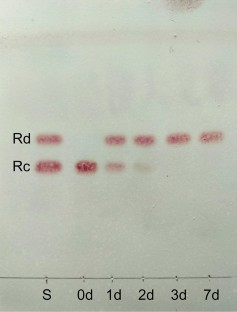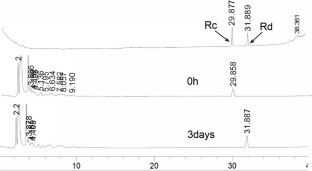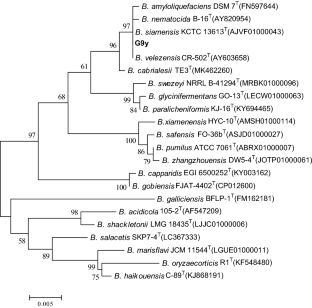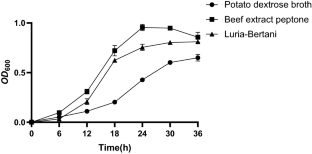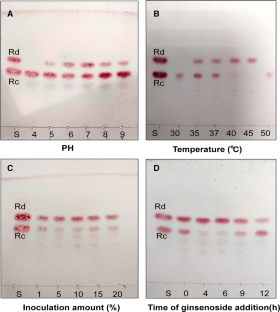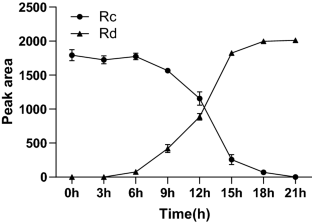 References
Anbu P, Gopinath SCB, Chaulagain BP, Lakshmipriya T (2017) Microbial enzymes and their applications in industries and medicine 2016(Editorial). BioMed Res Int

Cui L, Wu SQ, Zhao CA, Yin CR (2016) Microbial conversion of major ginsenosides in ginseng total saponins by Platycodon grandiflorum endophytes. J Ginseng Res 40:366–374

Fan W, Huang Y, Zheng H, Li S, Sun J (2020) Ginsenosides for the treatment of metabolic syndrome and cardiovascular diseases: pharmacology and mechanisms. Biomed Pharmacother 132:110915

Fu Y (2019) Biotransformation of ginsenoside Rb1 to Gyp-XVII and minor ginsenoside Rg3 by endophytic bacterium Flavobacterium sp. GE 32 isolated from Panax ginseng. Lett Appl Microbiol 68:134–141

Fu Y, Yin Z, Wu L, Yin C (2016) Biotransformation of ginsenoside Rb1 to ginsenoside C-K by endophytic fungus Arthrinium sp. GE 17-18 isolated from Panax ginseng. Lett Appl Microbiol 63:196–201

Fu Y, Yin ZH, Yin CY (2017) Biotransformation of ginsenoside Rb1 to ginsenoside Rg3 by endophytic bacterium Burkholderia sp. GE 17-7 isolated from Panax ginseng. J Appl Microbiol 122:1579–1585

Hardoim PR, van Overbeek LS, van Elsas JD (2008) Properties of bacterial endophytes and their proposed role in plant growth. Trends Microbiol 16:471

Lee JH, Hyun YJ, Kim DH (2011) Cloning and characterization of α-l-arabinofuranosidase and bifunctional α-l-arabinopyranosidase/β-d-galactopyranosidase from Bifidobacterium longum H-1. J Appl Microbiol 111:1097–1107

Liu S, Li D, Cui X, Chen L, Nian H (2017) Community analysis of endophytic bacteria from the seeds of the medicinal plant Panax notoginseng. J Agric Sci Camb 9:37

Nabavi SF, Sureda A, Habtemariam S, Nabavi SM (2015) Ginsenoside Rd and ischemic stroke; a short review of literatures. J Ginseng Res 39:299–303

Senthil K, Veena V, Mahalakshmi M, Pulla R, Parvatham R (2011) Microbial conversion of major ginsenoside Rb1 to minor ginsenoside Rd by Indian fermented food bacteria. Afr J Biotechnol 8:6961–6966

Shahina A, Amdadul HM (2018) Biological synthesis of ginsenoside Rd using Paenibacillus horti sp. nov. Isolated from vegetable garden. Curr Microbiol 75:1566–1573

Shi Q, Hao Q, Bouissac J, Lu Y, Tian S et al (2005) Ginsenoside Rd from Panax notoginseng enhances astrocyte differentiation from neural stem cells. Life Sci 76:983–995

Shin KC, Oh DK (2015) Classification of glycosidases that hydrolyze the specific positions and types of sugar moieties in ginsenosides. Crit Rev Biotechnol 36:1036–1049

Sultana N (2018) Microbial biotransformation of bioactive and clinically useful steroids and some salient features of steroids and biotransformation. Steroids 136:76–92

Ten LN, Chae SM, Yoo SA (2014) Biotransformation of the principal ginsenosides of panax ginseng into minor glycosides through the action of bacterium Paenibacillus sp. BG134. Chem Nat Compd 50:691–696

Tian YZ, Liu YP, Tian SC, Ge SY, Zhang BL (2020) Antitumor activity of ginsenoside Rd in gastric cancer via up-regulation of Caspase-3 and Caspase-9. Pharmazie 75:147–150

Vendan RT, Yu YJ, Lee SH, Rhee YH (2010) Diversity of endophytic bacteria in ginseng and their potential for plant growth promotion. J Microbiol 48:559–565

White JF, Kingsley KL, Zhang Q, Verma R, Obi N et al (2019) Review: Endophytic microbes and their potential applications in crop management. Pest Manag Sci 75:2558–2565

Xie J, Zhao D, Zhao L, Pei J, Xiao W et al (2016) Characterization of a novel arabinose-tolerant α-l-arabinofuranosidase with high ginsenoside Rc to ginsenoside Rd bioconversion productivity. J Appl Microbiol 120:647–660

Ye R, Kong X, Yang Q, Zhang Y, Han J et al (2011) Ginsenoside Rd in experimental stroke: superior neuroprotective efficacy with a wide therapeutic window. Neurotherapeutics 8:515–525

Zhang YX, Wang L, Xiao EL, Li SJ, Chen JJ et al (2013) Ginsenoside Rd exhibits anti-inflammatory activities through elevation of antioxidant enzyme activities and inhibition of JNK and ERK activation in vivo. Int Immunopharmacol 17:1094–1100

Zhang C, Liu X, Xu H, Hu G, Shi M (2020) Protopanaxadiol ginsenoside Rd protects against NMDA receptor-mediated excitotoxicity by attenuating calcineurin-regulated DAPK1 activity. Sci Rep 10:1–14
Acknowledgements
This research was financially supported by the Henan Provincial Department of Education Fund (19A180031).
Additional information
Publisher's note
Springer Nature remains neutral with regard to jurisdictional claims in published maps and institutional affiliations.
About this article
Cite this article
Zhang, C., Xu, Y., Gu, M. et al. Biotransformation of ginsenoside Rc to Rd by endophytic bacterium Bacillus sp. G9y isolated from Panax quinquefolius. Antonie van Leeuwenhoek (2021). https://doi.org/10.1007/s10482-021-01529-3
Received:

Accepted:

Published:
Keywords
Ginsenoside Rc

Ginsenoside Rd

Biotransformation

Panax quinquefolius