Abstract
Some social arthropods engage in mutualistic symbiosis with antimicrobial compound-producing microorganisms that provide protection against pathogens. Social spiders live in communal nests and contain specific endosymbionts with unknown function. Bacteria are also found on the spiders' surface, including prevalent staphylococci, which may have protective potential. Here we present the genomic and phenotypic characterization of strain i1, isolated from the surface of the social spider Stegodyphus dumicola. Phylogenomic analysis identified i1 as novel strain of Staphylococcus sciuri within subgroup 2 of three newly defined genomic subgroups. Further phenotypic investigations showed that S. sciuri i1 is an extremophile that can grow at a broad range of temperatures (4 °C–45 °C), high salt concentrations (up to 27%), and has antimicrobial activity against closely related species. We identified a lactococcin 972-like bacteriocin gene cluster, likely responsible for the antimicrobial activity, and found it conserved in two of the three subgroups of S. sciuri. These features indicate that S. sciuri i1, though not a specific symbiont, is well-adapted to survive on the surface of social spiders and may gain a competitive advantage by inhibiting closely related species.
We're sorry, something doesn't seem to be working properly.
Please try refreshing the page. If that doesn't work, please contact support so we can address the problem.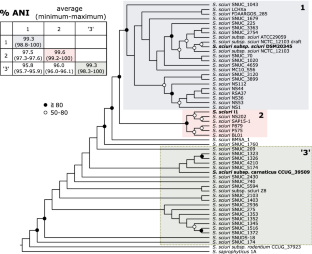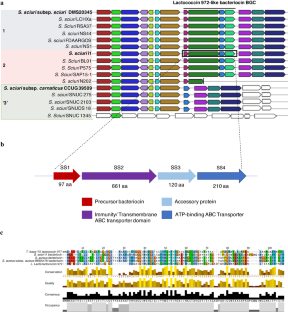 Data availability
The genome sequence of S. sciuri i1 has been deposited in NCBI GenBank under accession number PRJNA412144. The strain is available from the authors on request.
Code availability
All software used is publicly available as stated in the methods section.
References
Agnarsson I, Avilés L, Maddison WP (2013) Loss of genetic variability in social spiders: genetic and phylogenetic consequences of population subdivision and inbreeding. J Evol Biol 26(1):27–37. https://doi.org/10.1111/jeb.12022

Altschul SF et al (1990) Basic local alignment search tool. J Mol Biol 215(3):403–410. https://doi.org/10.1016/S0022-2836(05)80360-2

Alvarez-Sieiro P, Montalbán-López M, Mu D et al (2016) Bacteriocins of lactic acid bacteria: extending the family. Appl Microbiol Biotechnol 100:2939–2951. https://doi.org/10.1007/s00253-016-7343-9

Amin US, Lash TD, Wilkinson BJ (1995) Proline betaine is a highly effective osmoprotectant for Staphylococcus aureus. Arch Microbiol 163(2):138–142. https://doi.org/10.1007/bf00381788

Bankevich A et al (2012) SPAdes: a new genome assembly algorithm and its applications to single-cell sequencing. J Comp Biol 19(5):455–477. https://doi.org/10.1089/cmb.2012.0021

Bilde T, Lubin Y (2011) Group living in spiders: cooperative breeding and coloniality. In: Herberstein M (ed) Spider behaviour flexibility and versatility. Cambridge University Press, Cambridge, pp 275–306

Blin K, Shaw S, Steinke K, Villebro R, Ziemert N, Lee SY, Medema MH, Weber T (2019) antiSMASH 5.0: updates to the secondary metabolite genome mining pipeline. Nucleic Acids Res 47(W1):W81–W87. https://doi.org/10.1093/nar/gkz310

Bolger AM, Lohse M, Usadel B (2014) Trimmomatic: a flexible trimmer for Illumina sequence data. Bioinformatics 30(15):2114–2120. https://doi.org/10.1093/bioinformatics/btu170

Busck MM et al (2020) Microbiomes and specific symbionts of social spiders: compositional patterns in host species, populations, and nests. Front Microbiol 11:1845. https://doi.org/10.3389/fmicb.2020.01845

Chouvenc T et al (2013) Extended disease resistance emerging from the faecal nest of a subterranean termite. Proc Royal Soc B Biol Sci 280(1770):20131885. https://doi.org/10.1098/rspb.2013.1885

Chouvenc T et al (2018) The termite fecal nest: a framework for the opportunistic acquisition of beneficial soil Streptomyces (Actinomycetales: Streptomycetaceae). Environ Entomol 47(6):1431–1439. https://doi.org/10.1093/ee/nvy152

Clay K (2014) Defensive symbiosis: a microbial perspective. Funct Ecol 28:293–298. https://doi.org/10.1111/1365-2435.12258

Currie CR et al (1999) Fungus-growing ants use antibiotic-producing bacteria to control garden parasites. Nature 398(6729):701–704. https://doi.org/10.1038/19519

Daba GM et al (2017) Functional analysis of the biosynthetic gene cluster required for immunity and secretion of a novel Lactococcus-specific bacteriocin, lactococcin Z. J Appl Microbiol 123(5):1124–1132. https://doi.org/10.1111/jam.13564

Eijsink VG, Axelsson L, Diep DB, Håvarstein LS, Holo H, Nes IF (2002) Production of class II bacteriocins by lactic acid bacteria; an example of biological warfare and communication. Antonie Van Leeuwenhoek 81(1–4):639–654. https://doi.org/10.1023/a:1020582211262

Fefferman NH et al (2007) Disease prevention and resistance in social insects: modeling the survival consequences of immunity, hygienic behavior, and colony organization. Behav Ecol Sociobiol 61(4):565–577. https://doi.org/10.1007/s00265-006-0285-y

Franke CM et al (1996) Topology of LcnD, a protein implicated in the transport of bacteriocins from Lactococcus lactis. J Bacteriol 178(6):1766–1769. https://doi.org/10.1128/jb.178.6.1766-1769.1996

Gurevich A et al (2013) QUAST: quality assessment tool for genome assemblies. Bioinformatics 29(8):1072–1075. https://doi.org/10.1093/bioinformatics/btt086

Hauschild T, Schwarz S (2003) Differentiation of Staphylococcus sciuri strains isolated from free-living rodents and insectivores. J Vet Med Series B 50(5):241–246. https://doi.org/10.1046/j.1439-0450.2003.00662.x

Havarstein LS, Diep DB, Nes IF (1995) A family of bacteriocin ABC transporters carry out proteolytic processing of their substrates concomitant with export. Mol Microbiol 16(2):229–240. https://doi.org/10.1111/j.1365-2958.1995.tb02295.x

Hicks RE, Amann RI, Stahl DA (1992) Dual staining of natural bacterioplankton with 4,6-diamidino-2- phenylindole and fluorescent oligonucleotide probes targeting kingdom-level 16S rRNA sequences. Appl Environ Microbiol 58(7):2158–2163. https://doi.org/10.1128/aem.58.7.2158-2163.1992

Hudzicki J (2009). Kirby-Bauer disk diffusion susceptibility test protocol. American society for microbiology, Washington, DC. Available at: https://www.asmscience.org/content/education/protocol/protocol.3189

Huerta-Cepas J et al (2017) Fast genome-wide functional annotation through orthology assignment by eggNOG-mapper. Mol Biol Evol 34(8):2115–2122. https://doi.org/10.1093/molbev/msx148

Hughes DP, Pierce NE, Boomsma JJ (2008) Social insect symbionts: evolution in homeostatic fortresses. Trends Ecol Evol 23(12):672–677. https://doi.org/10.1016/j.tree.2008.07.011

Jack RW, Tagg JR, Ray B (1995) Bacteriocins of gram-positive bacteria, Microbiol Rev. 59(2): 171–200. https://www.ncbi.nlm.nih.gov/pmc/articles/PMC239359/pdf/590171

Joseph P et al (2004) Characterization of the bacillus subtilis YxdJ response regulator as the inducer of expression for the cognate ABC transporter YxdLM. Microbiology 150(8):2609–2617. https://doi.org/10.1099/mic.0.27155-0

Kaltenpoth M, Engl T (2014) Defensive microbial symbionts in hymenoptera. Funct Ecol 28(2):315–327. https://doi.org/10.1111/1365-2435.12089

Kanehisa M et al (2016) KEGG as a reference resource for gene and protein annotation. Nucleic Acids Res 44(D1):D457–D462. https://doi.org/10.1093/nar/gkv1070

Kearse M et al (2012) Geneious Basic: an integrated and extendable desktop software platform for the organization and analysis of sequence data. Bioinformatics 28(12):1647–1649. https://doi.org/10.1093/bioinformatics/bts199

Kloos WE, Schleifer KH, Smith RF (1976) Characterization of Staphylococcus sciuri sp. nov. and its subspecies. Int J Syst Bacteriol 26(34)

Kloos WE, Ballard DN, Webster JA, Hubner RJ, Tomasz A, Couto I, Sloan GL, Dehart HP, Fiedler F, Schubert K, de Lencastre H, Sanches IS, Heath HE, Leblanc PA, Ljungh A (1997) Ribotype delineation and description of Staphylococcus sciuri subspecies and their potential as reservoirs of methicillin resistance and staphylolytic enzyme genes. Int J Syst Bacteriol 47(2):313–323. https://doi.org/10.1099/00207713-47-2-313

Larsen H (1986) Halophilic and halotolerant microorganisms-an overview and historical perspective. FEMS Microbiol Lett 39(1–2):3–7. https://doi.org/10.1111/j.1574-6968.1986.tb01835.x

Lee JH, Heo S, Jeong DW (2018) Genomic insights into Staphylococcus equorum KS1039 as a potential starter culture for the fermentation of high-salt foods. BMC Genom 19(1):136. https://doi.org/10.1186/s12864-018-4532-1

Liu L et al (2019) The mechanisms of social immunity against fungal infections in eusocial insects. Toxins 11(5):244. https://doi.org/10.3390/toxins11050244

Loy A et al (2002) Oligonucleotide microarray for 16S rRNA gene-based detection of all recognized lineages of sulfate-reducing prokaryotes in the environment. Appl Environ Microbiol 68(10):5064–5081. https://doi.org/10.1128/AEM.68.10.5064-5081.2002

Lubin Y, Bilde T (2007) The evolution of sociality in spiders. Adv Stud Behav 37:83–145. https://doi.org/10.1016/S0065-3454(07)37003-4

Lundström S (2012) Characterization of a Bacillus licheniformis gene cluster required for functional expression of a bacteriocin PhD thesis. University of Copenhagen, Copenhagen, Denmark. http://www2.bio.ku.dk/bibliotek/phd/Sara%20Lundstr%F6m.pdf

Madden AA et al (2013) Actinomycetes with antimicrobial activity isolated from paper wasp (hymenoptera: vespidae: polistinae) nests. Environ Entomol 42(4):703–710. https://doi.org/10.1603/EN12159

Martínez B, Rodríguez A, Suárez JE (2000) Lactococcin 972, a bacteriocin that inhibits septum formation in lactococci. Microbiology 146(4):949–955. https://doi.org/10.1099/00221287-146-4-949

Martínez B, Fernández M, Suárez JE, Rodríguez A (1999) Synthesis of lactococcin 972, a bacteriocin produced by Lactococcus lactis IPLA 972, depends on the expression of a plasmid-encoded bicistronic operon. Microbiology 145:3155–3161. https://doi.org/10.1099/00221287-145-11-3155

Medema MH, Takano E, Breitling R (2013) Detecting sequence homology at the gene cluster level with multigene blast. Mol Biol Evol 30(5):1218–1223. https://doi.org/10.1093/molbev/mst025

Nazipi (2020) The secondary metabolite potential of social spider nest microbiomes. PhD dissertation, Aarhus University, Denmark

Nes IF, Holo H (2000) Class II antimicrobial peptides from lactic acid bacteria. Pept Sci 55(1):50–61. https://doi.org/10.1002/1097-0282(2000)55:1

Nes IF et al (1996) Biosynthesis of bacteriocins in lactic acid bacteria. Antonie Van Leeuwenhoek 70(2–4):113–128. https://doi.org/10.1007/bf00395929

Nguyen LT et al (2015) IQ-TREE: a fast and effective stochastic algorithm for estimating maximum-likelihood phylogenies. Mol Biol Evol 32(1):268–274. https://doi.org/10.1093/molbev/msu300

Parks DH et al (2015) CheckM: assessing the quality of microbial genomes recovered from isolates, single cells, and metagenomes. Genome Res 25(7):1043–1055. https://doi.org/10.1101/gr.186072.114

Parks DH et al (2018) A standardized bacterial taxonomy based on genome phylogeny substantially revises the tree of life. Nature Biotechnol 36(10):996. https://doi.org/10.1038/nbt.4229

Peddle BA et al (1999) Osmoprotective activity, urea protection, and accumulation of hydrophilic betaines in Escherichia coli and Staphylococcus aureus. Antonie Van Leeuwenhoek 75(3):183–189. https://doi.org/10.1023/A:1001701400801

Pietiäinen M et al (2005) Cationic antimicrobial peptides elicit a complex stress response in Bacillus subtilis that involves ECF-type sigma factors and two-component signal transduction systems. Microbiology 151(5):1577–1592. https://doi.org/10.1099/mic.0.27761-0

Rodriguez-R LM, Konstantinidis KT (2016) The enveomics collection: a toolbox for specialized analyses of microbial genomes and metagenomes. PeerJ Preprints 4:1900. https://doi.org/10.7287/peerj.preprints.1900v1

Rodriguez-R LM, Gunturu S, Harvey WT et al (2018) The microbial genomes atlas (MiGA) webserver: taxonomic and gene diversity analysis of archaea and bacteria at the whole genome level. Nucleic Acids Res 46(W1):W282–W288. https://doi.org/10.1093/nar/gky467

Settepani V et al (2017) Evolution of sociality in spiders leads to depleted genomic diversity at both population and species levels. Mol Ecol 26(16):4197–4210. https://doi.org/10.1111/mec.14196

Smith DR et al (2016) Population genetic evidence for sex-specific dispersal in an inbred social spider. Ecol Evol 6(15):5479–5490. https://doi.org/10.1002/ece3.2200

Stepanovi S et al (2001) Staphylococcus sciuri as a part of skin, nasal and oral flora in healthy dogs. Vet Microbiol 82(2):177–185. https://doi.org/10.1016/S0378-1135(01)00377-7

Stoddard GW et al (1992) Molecular analyses of the lactococcin a gene cluster from lactococcus lactis subsp lactis biovar diacetylactis WM4. Appl Environ Microbiol 58(6):1952–1961

Tatusova T et al (2016) NCBI prokaryotic genome annotation pipeline. Nucleic Acids Res 44(14):6614–6624. https://doi.org/10.1093/nar/gkw569

Vijaranakul U et al (1997) Characterization of an NaCl-sensitive Staphylococcus aureus mutant and rescue of the NaCl-sensitive phenotype by glycine betaine but not by other compatible solutes. Appl Environ Microbiol 63(5):1889–1897. https://doi.org/10.1128/aem.63.5.1889-1897.1997

van Heel AJ, de Jong A, Song C, Viel JH, Kok J, Kuipers OP (2018) BAGEL4: a user-friendly web server to thoroughly mine RiPPs and bacteriocins. Nucleic acids Res 46(W1):W278–W281. https://doi.org/10.1093/nar/gky383

Waterhouse AM et al (2009) Jalview version 2–a multiple sequence alignment editor and analysis workbench. Bioinformatics 25(9):1189–1191. https://doi.org/10.1093/bioinformatics/btp033

Wingett SW, Andrews S (2018) FastQ Screen: a tool for multigenome mapping and quality control. F1000 Res 7:1338. https://doi.org/10.12688/f1000research.15931.2

Yang SC et al (2014) Antibacterial activities of bacteriocins: application in foods and pharmaceuticals. Front Microbiol 4:241. https://doi.org/10.3389/fmicb.2014.00241
Acknowledgements
We thank Britta Poulsen and Susanne Nielsen for technical assistance, and Virginia Settepani for collecting and handling social spiders. We also thank Orkney Banks for isolating S. sciuri i1 and Christine Lorenzen Elberg for laboratory assistance.
Funding
This study was funded by the Novo Nordisk Foundation, the European Research Council (ERC StG-2011_282163 to TB), and The Danish Council for Independent Research | Natural Sciences.
Additional information
Publisher's Note
Springer Nature remains neutral with regard to jurisdictional claims in published maps and institutional affiliations.
Supplementary information
About this article
Cite this article
Nazipi, S., Vangkilde-Pedersen, S.G., Busck, M.M. et al. An antimicrobial Staphylococcus sciuri with broad temperature and salt spectrum isolated from the surface of the African social spider, Stegodyphus dumicola . Antonie van Leeuwenhoek 114, 325–335 (2021). https://doi.org/10.1007/s10482-021-01526-6
Received:

Accepted:

Published:

Issue Date:
Keywords
Spider-associated staphylococcus
S. sciuri subgroup

Genomics

Lactococcin

Bacteriocin