Abstract
A Gram-stain negative, aerobic, rod-shaped, motile by a single polar flagellum, non-spore-forming bacterium, designated strain AL-54T, was isolated from the storage liquid in the stems of Populus euphratica tree at the ancient Ugan River in Xinjiang, PR China. Isolated AL-54T grew optimally at pH 7.0 and temperature 35 °C in the presence of 3% (w/v) NaCl. Phylogenetic analysis based on 16S rRNA gene sequence demonstrated that the isolate belonged to the genus Pseudomonas and was closely related to Pseudomonas songnenensis NEAU-ST5-5 T (97.6%), Pseudomonas zhaodongensis NEAU-ST5-21 T (97.5%), Pseudomonas alcaliphila AL15-21T (97.3%), Pseudomonas toyotomiensis HT-3T (97.3%), Pseudomonas oleovorans subsp. lubricantis RS1T (97.3%), Pseudomonas stutzeri ATCC 17588T (97.3%), Pseudomonas chengduensis CGMCC 2318T (97.2%), and Pseudomonas xanthomarina KMM 1447T (97.1%). Multilocus Sequences Analysis (MLSA) of strain AL-54T based on the three housekeeping genes, rpoB, rpoD and gyrB further confirmed the phylogenetic assignment of the isolates. The G+C content was 64.7 mol%. The DNA-DNA hybridization with P. songnenensis NEAU-ST5-5 T, P. zhaodongensis NEAU-ST5-21T, P. alcaliphila AL15-21T, P. toyotomiensis HT-3T, P. oleovorans subsp. lubricantis RS1T, P. stutzeri ATCC 17588T, P. chengduensis CGMCC 2318T and P. xanthomarina KMM 1447T revealed 44.0%, 44.7%, 60.1%, 48.7%, 49.1%, 60.1%, 58.9% and 60.2% relatedness respectively. The predominant quinone system is ubiquinone-9 (Q-9). The major components of the cellular fatty acids (>10%) were summed feature 8 (comprising C18:1 ω7c /C18:1 ω6c), summed feature 3 (comprising C16:1 ω7c /C16:1 ω6c) and C16:0. The detected major polar lipids were phosphatidylethanolamine (PE), phosphatidylglycerol (PG), diphosphatidylglycerol (DPG) and phosphatidylcholine (PC). On the basis of phenotypic data, chemotaxonomic and phylogenetic properties, strain AL-54T can consider as a novel species within the genus Pseudomonas, for which the name Pseudomonas lopnurensis sp. nov. is proposed. The type strain is AL-54T (= JCM 19136T = CCTCC AB 2013066T = NRRL B-59987T).
Access options
Buy single article
Instant access to the full article PDF.
US$ 39.95
Tax calculation will be finalised during checkout.
Subscribe to journal
Immediate online access to all issues from 2019. Subscription will auto renew annually.
US$ 119
Tax calculation will be finalised during checkout.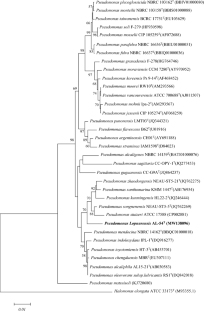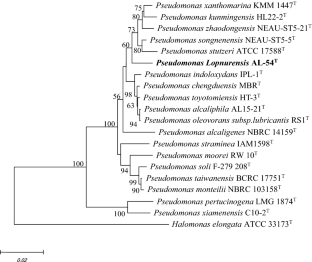 References
Almario J et al (2014) Rhizosphere ecology and phytoprotection in soils naturally suppressive to Thielaviopsis black root rot of tobacco. Environ Microbiol 16(7):1949–1960

Altschul SF, Madden TL, Schäffer AA, Zhang J, Zhang Z, Miller W, Lipman DJ (1997) Gapped BLAST and PSI-BLAST: a new generation of protein database search programs. Nucleic Acids Res 25:3389–3402

Anzai Y, Kim H, Park JY, Wakabayashi H, Oyaizu H (2000) Phylogenetic affiliation of the pseudomonads based on 16S rRNA sequence. Int J Syst Evol Microbiol 50:1563–1589

Chun J, Oren A, Ventosa A et al (2018) Proposed minimal standards for the use of genome data for the taxonomy of prokaryotes. Int J Syst Evol Microbiol 68(1):461–466

Felsenstein J (1985) Confidence limits on phylogenies: an approach using the bootstrap. Evolution 39:783–791

Fitch WM (1971) Toward defining the course of evolution: minimum change for a specific tree topology. Syst Zool 20:406–416

Gillis M, De Ley J, De Cleene M (1970) The determination of molecular weight of bacterial genome DNA from renaturation rates. Eur J Biochem 12:143–153

Haas D, Défago G (2005) Biological control of soil-borne pathogens by fluo-rescent pseudomonads. Nat. Rev. Microbiol. 3(4):307–319

Hirota K, Yamahira K, Nakajima K, Nodasaka Y, Okuyama H, Yumoto I (2011) Pseudomonas toyotomiensis sp. nov., a psychrotolerant facultative alkaliphile that utilizes hydrocarbons. Int J Syst Evol Microbiol 61(8):1842–1848

Kersters K, Ludwig W, Vancanneyt M, De Vos P, Gillis M, Schleifer KH (1996) Recent changes in the classification of the pseudomonads: an overview. Syst Appl Microbiol 19:465–477

Kim OS, Cho YJ, Lee K, Yoon SH, Kim M, Na H, Park SC, Jeon YS, Lee JH, Yi H, Won S, Chun J (2012) Introducing EzTaxon-e: a prokaryotic 16S rRNA gene sequence database with phylotypes that represent uncultured species. Int J Syst Evol Microbiol 62:716–721

Kimura M (1983) The neutral theory of molecular evolution. Cambridge University Press, Cambridge

King EO, Ward MK, Raney DE (1954) Two simple media for the demonstration of pyocyanin and fluorescin. J Lab Clin Med 44:301–307

Komagata K, Suzuki K (1987) Lipid and cell-wall analysis in bacterial systematics. Methods Microbiol 19:161–207

Lee I, Ouk Kim Y, Park SC, Chun J (2016) Ortho ANI: an improved algorithm and software for calculating average nucleotide identity. Int J Syst Evol Microbiol 66(2):1100–1103

Lucena T, Pascual J, Garay E, Arahal DR, Macián MC, Pujalte MJ (2010) Haliea mediterranea sp. nov., a marine gammaproteobacterium. Int J Syst Evol Microbiol 60:1844–1848

Macián MC, Arahal DR, Garay E, Ludwig W, Schleifer KH, Pujalte MJ (2005) Thalassobacter stenotrophicusgen. nov., sp. nov., a novel marine α-proteobacterium isolated from Mediterranean sea water. Int J Syst Evol Microbiol 55:105–110

Mesbah M, Premachandran U, Whitman WB (1989) Precise measurement of the G + C content of deoxyribonucleic acid by high-performance liquid chromatography. Int J Syst Bacteriol 39:159–167

Moore ERB, Mau M, Arnscheidt A, Böttger EC, Hutson RA, Collins MD, Van de Peer Y, De Wachter R, Timmis KN (1996) The determination and comparison of the 16S rRNA gene sequences of species of the genus Pseudomonas (sensu stricto) and estimation of the natural intrageneric relationship. Syst Appl Microbiol 19:478–492

Mulet M, Lalucat J, García-Valdés E (2010) DNA sequence-based analysis of the Pseudomonas species. Environ Microbiol 12:1513–1530

Mulet M, Sánchez David, Rodríguez Ana C, Nogales B, Bosch R, Busquets A et al (2018) Pseudomonas gallaeciensis, sp. nov. isolated from crude-oil-contaminated intertidal sand samples after the prestige oil spill. Syst Appl Microbiol 41:340–347

Murray RGE, Doetsch RN, Robinow CF (1994) Determinative and cytological light microscopy. In: Gerhardt P, Murray RGE, Wood WA, Krieg NR (eds) Methods for general and molecular bacteriology. American Society for Microbiology, Washington, pp 21–41

Palleroni NJ (1984) Genus I. Pseudomonas Migula 1894. Bergey's Manual Syst Bacteriol 1:141–199

Parks DH, Imelfort M, Skennerton CT, Hugenholtz P, Tyson GW (2015) Check M: assessing the quality of microbial genomes recovered from isolates, single cells, and metagenomes. Genome Res 25(7):1043–1055

Pascual J, Lucena T, Ruvira MA, Giordano A, Gambacorta A, Garay E, Arahal DR, Pujalte MJ, Macián MC (2012) Pseudomonas litoralis sp. nov., isolated from Mediterranean seawater. Int J Syst Evol Microbiol 62:438–444

Ramette A et al (2011) Pseudomonas protegens sp nov., widespreadplant-protecting bacteria producing the biocontrol compounds 2,4-diacetylphloroglucinol and pyoluteorin. Syst Appl Microbiol 34(3):180–188

Romanenko LA, Uchino M, Falsen E, Lysenko AM, Zhukova NV, Mikhailov VV (2005) Pseudomonas xanthomarina sp. nov., a novel bacterium isolated from marine ascidian. J Gen Appl Microbiol 51:65–71

Rozahon M, Ismayil N, Hamood B, Erkin R, Abdurahman M, Mamtimin H, Abdukerim M, Lal R, Rahman E (2014) Rhizobium populi sp. nov., an endophytic bacterium isolated from Populus euphratica at the ancient Ugan river. Int J Syst Evol Microbiol 64:3215–3221

Saha R, Spröer C, Beck B, Bagley S (2010) Pseudomonas oleovorans subsp. lubricantis subsp. nov., and reclassification of Pseudomonas pseudoalcaligenes ATCC 17440T as later synonym of Pseudomonas oleovorans ATCC 8062T. Curr Microbiol 60:294–300

Saitou N, Nei M (1987) The neighbor-joining method: a new method for reconstructing phylogenetic trees. Mol Biol Evol 4:406–425

Sasser M (1990) Identification of bacteria by gas chromatography of cellular fatty acids, MIDI Technical Note 101. MIDI Inc, Newark

Scheidle M, Dittrich B, Klinger J, Ikeda H, Klee D, Büchs J (2011) Controlling pH in shake flasks using polymer-based controlled-release discs with pre-determined release kinetics. BMC Biotechnol 11:25

Silby MW et al (2011) Pseudomonas genomes: diverse and adaptable. FEMSMicrobiol. Rev. 35(4):652–680

Simpson JT, Wong K, Jackman SD, Schein JE, Jones SJ, Birol I (2009) ABySS: a parallel assembler for short read sequence data. Genome Res 19(6):1117–1123

Smibert RM, Krieg NR (1994) Phenotypic characterization. In: Gerhardt P, Murray RGE, Wood WA, Krieg NR (eds) Methods for general and molecular bacteriology. American Society for Microbiology, Washington, pp 607–654

Stackebrandt E, Frederiksen W, Garrity GM, Grimont PAD, Kämpfer P, Maiden MCJ, Nesme X, Rosselló-Mora R, Swings J et al (2002) Report of the ad hoc committee for the re-evaluation of the species definition in bacteriology. Int J Syst Evol Microbiol 52:1043–1047

Tamura K, Peterson D, Peterson N, Stecher G, Nei M et al (2013) MEGA6: molecular evolutionary genetics analysis version 6.0. Mol Biol Evol 30:2725–2729

Tayeb LA, Ageron E, Grimont F, Grimont PAD (2005) Molecular phylogeny of the genus Pseudomonas based on rpoB sequences and application for the identification of isolates. Res Microbiol 156:763–773

Thompson JD, Gibson TJ, Plewniak F, Jeanmougin F, Higgins DG (1997) The CLUSTAL_X windows interface: flexible strategies for multiple sequence alignment aided by quality analysis tools. Nucleic Acids Res 25:4876–4882

Tindall BJ (1990) A comparative study of the lipid composition of Halobacterium saccharovorum from various sources. Syst Appl Microbiol 13:128–130

Ventosa A, Marquez MC, Kocur M, Tindall BJ (1993) Comparative study of "Micrococcus sp." strains CCM 168 and CCM 1405 and members of the genus Salinicoccus. Int J Syst Bacteriol 43:245–248

Yamamoto S, Harayama S (1998) Phylogenetic relationships of Pseudomonas putida strains deduced from the nucleotide sequences of gyr B, rpo D and 16S r RNA genes. Int J Syst Bacteriol 48:813–819

Yoon SH, Ha SM, Lim JM, Kwon SJ, Chun J (2017) A large-scale evaluation of algorithms to calculate average nucleotide identity. Antonie Van Leeuwenhoek 110:1281–1286

Yumoto I, Yamazaki K, Hishinuma M, Nodasaka Y, Suemori A, Nakajima K, Inoue N, Kawasaki K (2001) Pseudomonas alcaliphila sp. nov., a novel facultatively psychrophilic alkaliphile isolated from seawater. Int J Syst Evol Microbiol 51(2):349–355

Zhang L, Pan Y, Wang K et al (2015) Pseudomonas songnenensis sp. nov., isolated from saline and alkaline soils in Songnen Plain, China. Antonie van Leeuwenhoek 107:711–721. https://doi.org/10.1007/s10482-014-0365-3
Acknowledgements
This work was supported by the National Natural Science Foundation of China (No. U1203101 and 31060002), the National Infrastructure of Natural Resources for Science and Technology Program of China (No. NIMR-2014-8) and the Project of Tianshan Innovation Team in Xinjiang Uygur Autonomous Region (2017D14014).
Ethics declarations
Conflicts of interests
Authors declare that there are no conflicts of interest regarding the publication of this paper.
Additional information
Publisher's Note
Springer Nature remains neutral with regard to jurisdictional claims in published maps and institutional affiliations.
The Gen Bank/EMBL/DDBJ accession numbers for the partial 16S rRNA, rpoB, rpoD and gyrB gene sequences of the strain AL-54T are MW138096, KJ577580, KJ577581 and KY008251 respectively. GenBank Accession Numbers for the whole genome sequences of strain AL-54T is JADDIX000000000.
Supplementary Information
About this article
Cite this article
Mamtimin, T., Anwar, N., Abdurahman, M. et al. Pseudomonas lopnurensis sp. nov., an endophytic bacterium isolated from Populus euphratica at the ancient Ugan river. Antonie van Leeuwenhoek (2021). https://doi.org/10.1007/s10482-021-01524-8
Received:

Accepted:

Published:
Keywords
Pseudomonas lopnurensis sp. nov.
Populus euphratica trees

Phylogenetic analysis