Abstract
An aerobic, Gram-negative, non-motile, non-spore-forming, rod-shaped, and pale yellow-colored bacterial strain, designated TS118T, was isolated from a sand sample obtained from a coastal sand dune after exposure to 3 kGy of gamma radiation. Phylogenetic analysis based on 16S rRNA gene sequences revealed that the isolate was a member of the genus Spirosoma and most closely related to Spirosoma metallicum PR1014kT (95.1% similarity). The genome of strain TS118T is constituted by one chromosome (5,691,492 bp) and one plasmid (28,440 bp) and has a G + C content of 52.7%. The genome contains 4641 protein coding sequences (CDSs), 38 tRNAs, and 11 rRNAs. The predominant fatty acids of strain TS118T were C16:1 ω5c, iso-C15:0, C16:0, summed feature 3 (C16:1 ω6c and/or C16:1 ω7c), and iso-C17:0 3-OH. The major polar lipids were phosphatidylethanolamine, an unidentified amino lipid and an unidentified aminophospholipid. The main respiratory quinone was menaquinone-7 (MK-7). The novel strain showed resistance to gamma radiation with a D10 value (i.e., the dose required to reduce the bacterial population by tenfold) of 4.3 kGy. Based on the phylogenetic, physiological, and chemotaxonomic characteristics, strain TS118T represents a novel species, for which the name Spirosoma taeanense sp. nov. is proposed. The type strain is TS118T (=KCTC 72898T =JCM 34024T).
Access options
Buy single article
Instant access to the full article PDF.
US$ 39.95
Tax calculation will be finalised during checkout.
Subscribe to journal
Immediate online access to all issues from 2019. Subscription will auto renew annually.
US$ 119
Tax calculation will be finalised during checkout.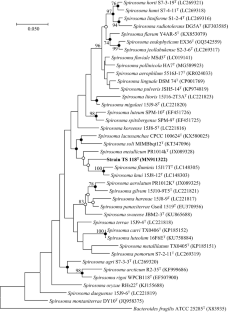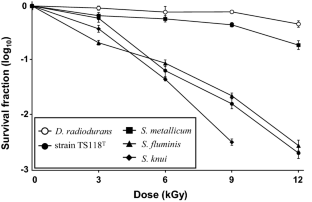 Availability of data and material
References
Ahn JH, Weon HY, Kim SJ, Hong SB, Seok SJ, Kwon SW (2014) Spirosoma oryzae sp. nov., isolated from rice soil and emended description of the genus Spirosoma. Int J Syst Evol Microbiol 64:3230–3234

Baik KS, Kim MS, Park SC, Lee DW, Lee SD, Ka JO, Choi SK, Seong CN (2007) Spirosoma rigui sp. nov., isolated from fresh water. Int J Syst Evol Microbiol 57:2870–2873

Bernardet JF, Nakagawa Y, Holmes B (2002) Proposed minimal standards for describing new taxa of the family Flavobacteriaceae and emended description of the family. Int J Syst Evol Microbiol 52:1049–1070

Chang X, Jiang F, Wang T, Kan W, Qu Z, Ren L, Fang C, Peng F (2014) Spirosoma arcticum sp. nov., isolated from high Arctic glacial till. Int J Syst Evol Microbiol 64:2233–2237

Chin CS, Alexander DH, Marks P, Klammer AA, Drake J, Heiner C, Clum A, Copeland A, Huddleston J, Eichler EE (2013) Nonhybrid, finished microbial genome assemblies from long–read SMRT sequencing data. Nature methods 10:563–569

Chun J, Goodfellow M (1995) A phylogenetic analysis of the genus Nocardia with 16S rRNA gene sequences. Int J Syst Evol Microbiol 45:240–245

Chun J, Oren A, Ventosa A, Christensen H, Arahal DR, da Costa MS, Rooney AP, Yi H, Xu XW, Meyer SD, Trujillo ME (2018) Proposed minimal standards for the use of genome data for the taxonomy of prokaryotes. Int J Syst Evol Microbiol 68:461–466

Felsenstein J (1985) Confidence limits on phylogenies: an approach using the bootstrap. Evolution 39:783–791

Felsenstein J (1993) PHYLIP (phylogeny inference package), version 3.5 c. Joseph Felsenstein

Finster KW, Herbert RA, Lomstein BA (2009) Spirosoma spitsbergense sp. nov., isolated from a high Artic permafrost soil, and emended description of the genus Spirosoma. Int J Syst Evol Microbiol 59:331–335

Fitch WM (1971) Toward defining the course of evolution: minimum change for a specific tree topology. Syst Biol 20:406–416

Hall TA (1999) BioEdit: a user-riendly biological sequence alignment editor and analysis program for Windows 95/98/NT 41:95–98

Huerta-Cepas J, Szklarczyk D, Forslund K, Cook H, Heller D, Walter MC, Rattei T, Mende DR, Sunagawa S, Kuhn M (2016) eggNOG 4.5: a hierarchical orthology framework with improved functional annotations for eukaryotic, prokaryotic and viral sequences. Nucleic Acids Res 44:D286–D293

Joo ES, Lee JJ, Cha S, Jheong W, Seo T, Lim S, Jeong SW, Srinivasan S (2015) Spirosoma pulveris sp. nov., a bacterium isolated from a dust sample collected at Chungnam province, South Korea. J Microbiol 53:750–755

Kimura M (1980) A simple method for estimating evolutionary rates of base substitutions through comparative studies of nucleotide sequences. J Mol Evol 16:111–120

Klassen JL, Foght JM (2008) Differences in carotenoid composition among hymenobacter and related strains support a tree–like model of carotenoid evolution. Appl Environ Microbiol 74:2016–2022

Kovacs N (1956) Identification of Pseudomonas pyocyanea by the oxidase reaction. Nature 178:703–703

Kumar S, Stecher G, Tamura K (2016) MEGA7: molecular evolutionary genetics analysis version 7.0 for bigger datasets. Mol Biol Evol 33:1870–1874

Lee JJ, Srinivasan S, Lim S, Joe M, Im S, Bae SI, Park KR, Han JH, Park SH, Joo BM, Park SJ, Kim MK (2014) Spirosoma radiotolerans sp. nov., a gamma-radiation-resistant bacterium isolated from gamma ray-irradiated soil. Curr Microbiol 69:286–291

Lee JJ, Kang MS, Joo ES, Kim MK, Im WT, Jung HY, Srinivasan S (2015) Spirosoma montaniterrae sp. nov., an ultraviolet and gamma radiation–resistant bacterium isolated from mountain soil. J Microbiol 53:429–434

Lee JJ, Lee YH, Park SJ, Lim S, Jeong SW, Lee SY, Cho YJ, Kim MK, Jung HY (2016) Spirosoma fluminis sp. nov., a gamma–radiation resistant bacterium isolated from sediment of the Han River in South Korea. Curr Microbiol 73:689–695

Lee I, Chalita M, Ha SM, Na SI, Yoon SH, Chun J (2017a) ContEst16S: an algorithm that identifies contaminated prokaryotic genomes using 16S RNA gene sequences. Int J Syst Evol Microbiol 67:2053–2057

Lee JJ, Lee YH, Park SJ, Lee SY, Kim BO, Ten LN, Kim MK, Jung HY (2017b) Spirosoma knui sp. nov., a radiation–resistant bacterium isolated from the Han River. Int J Syst Evol Microbiol 67:1359–1365

Lee H, Kim DU, Lee S, Park S, Yoon JH, Park SY, Ka JO (2017c) Spirosoma metallicus sp. nov., isolated from an automobile air conditioning system. J Microbiol 55:673–677

Li Y, Ai MJ, Sun Y, Zhang YQ, Zhang JQ (2017) Spirosoma lacussanchae sp. nov., a phosphate–solubilizing bacterium isolated from a freshwater reservoir. Int J Syst Evol Microbiol 67:3144–3149

Lim S, Jung JH, Blanchard L, Groot A (2019) Conservation and diversity of radiation and oxidative stress resistance mechanisms in Deinococcus species. FEMS Microbiol Rev 43:19–52

Migula W (1894) Über ein neues System der Bakterien. Arb Bakteriol Inst Karlsruhe 1:235–238

Minnikin DE, Patel PV, Alshamaony L, Goodfellow M (1977) Polar lipid composition in the classification of Nocardia and related bacteria. Int J Syst Evol Microbiol 27:104–117

Minnikin DE, O'donnell AG, Goodfellow M, Alderson G, Athalye M, Schaal A, Parlett JH (1984) An integrated procedure for the extraction of bacterial isoprenoid quinones and polar lipids. J Microbiol Methods 2:233–241

Powers EM (1995) Efficacy of the Ryu nonstaining KOH technique for rapidly determining gram reactions of food-borne and waterborne bacteria and yeasts. Appl Environ Microbiol 61:3756–3758

Rainey FA, Ray K, Ferreira M, Gatz BZ, Nobre MF, Bagaley D, Rash BA, Park MJ, Earl AM, Shank NC, Small AM, Henk MC, Battista JR, Kämpfer P, Costa MSD (2005) Extensive diversity of ionizing-radiation-resistant bacteria recovered from Sonoran Desert soil and description of nine new species of the genus Deinococcus obtained from a single soil sample. Appl Environ Microbiol 71:5225–5235

Saitou N, Nei M (1987) The neighbor-joining method: a new method for reconstructing phylogenetic trees. Mol Biol Evol 4:406–425

Sasser M (1990) Identification of bacteria by gas chromatography of cellular fatty acids. MIDI technical note 101. Newark, DE: MIDI Inc

Skerman VBD, McGowan V, Sneath PHA (1980) Approved lists of bacterial names. Int J Syst Bactriol 30:225–420

Smibert RM, Krieg NR (1994) Phenotypic characterization. In: Gebhardt P, Murray RGE, Wood WA, Krieg NR (eds) Methods for general and molecular bacteriology edn. American Society for Microbiology, Washington, pp 607–654

Thompson JD, Higgins DG, Gibson TJ (1994) CLUSTAL W: improving the sensitivity of progressive multiple sequence alignment through sequence weighting, position–specific gap penalties and weight matrix choice. Nucleic Acids Res 22:4673–4680

Tittsler RP, Sandholzer LA (1936) The use of semi-solid agar for the detection of bacterial motility. J Bacteriol 31:575–580

Weilan L, Lee JJ, Lee SY, Park S, Ten LN, Jung HY (2018) Spirosoma humi sp. nov., isolated from soil in South Korea. Curr Microbiol 75:328–335

Yoon SH, Ha SM, Kwon S, Lim J, Kim Y, Seo H, Chun J (2017) Introducing EzBioCloud: a taxonomically united database of 16S rRNA gene sequences and whole–genome assemblies. Int J Syst Evol Microbiol 67:1613–1617

Yang SS, Tang K, Zhang X, Wang J, Wang X, Feng F, Li H (2016) Spirosoma soli sp. nov., isolated from biological soil crusts. Int J Syst Evol Microbiol 66:5568–5574
Funding
This research was supported by the Nuclear R&D program of the Ministry of Science and ICT (MSIT), Republic of Korea.
Ethics declarations
Conflict of interest
The authors have no conflicts of interest declare that are relevant to the content of this article.
Consent to participate/Consent for publication
Not applicable.
Ethics approval
Not applicable.
Additional information
Publisher's Note
Springer Nature remains neutral with regard to jurisdictional claims in published maps and institutional affiliations.
Supplementary Information
Below is the link to the electronic supplementary material.
About this article
Cite this article
Lee, J.H., Jung, JH., Kim, MK. et al. Spirosoma taeanense sp. nov., a radiation resistant bacterium isolated from a coastal sand dune. Antonie van Leeuwenhoek 114, 151–159 (2021). https://doi.org/10.1007/s10482-020-01508-0
Received:

Accepted:

Published:

Issue Date:
Keywords
Spirosoma

Coastal sand dune

Taxonomy

Bacteroidetes

Gamma radiation

Phylogenetic analysis