Abstract
Bacterial septicemia commonly occurs and usually cause huge losses in sericulture industry. Here, two pathogenic bacterial strains were isolated from dead silkworm and named as ZJ-1 and ZJ-2. Phenotypic and genotypic analysis results revealed that both of these two strains are closely related to Serratia marcescens (S. marcescens). The morphological as well as physiological and biochemical characteristics of ZJ-1 were accordant with S. marcescens mentioned in Bergey's manual of determinative bacteriology, whereas ZJ-2 showed some discrepancies such as the utilization of malonate and starch, fermentation of maltose and sucrose, and tests of urease, etc. Surprisingly, ZJ-2 could produce red pigment at high temperature (37°) but ZJ-1 could not. Besides, by analyzing the lethal concentration 50 (LC50) of ZJ-1 and ZJ-2, it was found that the virulence of ZJ-2 was lower than that of ZJ-1. These results revealed that ZJ-1 and ZJ-2 were two different strains of S. marcescens and that ZJ-2 was expected to be a safe (low-toxicity) and efficient strain for the production of red pigment. Nonetheless, further research in molecular level is needed to understand the regulation mechanism of pigment production and infection of ZJ-2.
This is a preview of subscription content, log in to check access.
Access options
Buy single article
Instant access to the full article PDF.
US$ 39.95
Price includes VAT for USA
Subscribe to journal
Immediate online access to all issues from 2019. Subscription will auto renew annually.
US$ 199
This is the net price. Taxes to be calculated in checkout.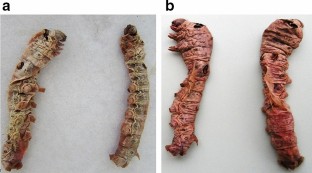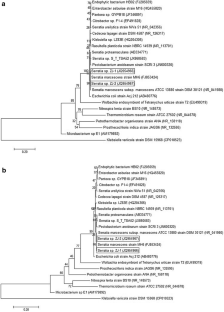 References
Ajithkumar B, Ajithkumar VP, Iriye R, Doi Y, Sakai T (2003) Spore-forming Serratia marcescens subsp. sakuensis subsp. nov., isolated from a domestic wastewater treatment tank. Int J Syst Evol Microbiol 53:253–258

Bidari F, Shams-Bakhsh M, Mehrabadi M (2017) Isolation and characterization of a Serratia marcescens with insecticidal activity from Polyphylla olivieri (Col.: Scarabaeidae). J Appl Entomol 142(1):162–172

Claus DA (1992) Standardized gram staining procedure. World J Microbiol Biotechnol 8:451–452

Cole JR, Wang Q, Cardenas E, Fish J, Chai B, Farris RJ (2008) The ribosomal database project: improved alignments and new tools for rRNA analysis. Nucleic Acids Res 37:D141–D145

D'Alessio R, Bargiotti A, Carlini O, Colotta F, Ferrari M, Gnocchi P, Isetta A, Mongelli N, Motta P, Rossi A, Rossi M, Tibolla M, Vanotti E (2000) Synthesis and immunosuppressive activity of novel prodigiosin derivatives. J Med Chem 43:2557–2565

Demain AL (1995) Why do microorganisms produce antimicrobials? In: Hunter PA, Darby GK, Russell NJ (eds) Fifty years of antimicrobials: past, perspectives and future trends-symposium, vol 53. Society for general microbiology, pp 205–228

Dong XZ, Cai MY (2001) Common bacterial system identification manual. Science Press, Beijing

Dong ZQ, Zhang J, Chen XM, He Q, Cao MY, Wang L, Li HQ, Xiao WF, Pan CX, Lu C, Pan MH (2014) Bombyx mori nucleopolyhedrovirus ORF79 is a per os infectivity factor associated with the PIF complex. Virus Res 184:62–70

Francisco R, Pérez-Tomás R, Gimènez-Bonafé P, Soto-Cerrato V, Giménez-Xavier P, Ambrosio S (2007) Mechanisms of prodigiosin cytotoxicity in human neuroblastoma cell lines. Eur J Pharmacol 572:111–119

Fürstner A (2003) Chemistry and biology of roseophilin and the prodigiosin alkaloids: a survey of the last 2500 years. Angew Chem Int Ed Engl 42:3582–3603

Gillen AL, Gibbs R (2011) Serratia marcescens: The miracle bacillus. Liberty University Scholars Crossing

Giri AV, Anandkumar N, Muthukumaran G, Pennathur G (2004) A novel medium for the enhanced cell growth and production of prodigiosin from Serratia marcescens isolated from soil. BMC Microbiol 4:11

Haddix PL, Shanks RMQ (2018) Prodigiosin pigment of Serratia marcescens is associated with increased biomass production. Arch Microbiol 200(7):989–999

Holt JG, Krieg NR, Sneath PHA, Staley JT, Williams ST (1994) Bergey's manual of determinative bacteriology, 9th edn. Williams & Wilkins, Baltimore

Jin W, Lu X (2001) Pathology of silkworm. China Agriculture, Beijing

Kumar S, Stecher G, Tamura K (2016) MEGA7: molecular evolutionary genetics analysis version 7.0 for bigger datasets. Mol Biol Evol 33(7):1870–1874

Lauren PM, Louis ST (2012) Influence of temperature on the physiology and virulence of the insect pathogen Serratia sp. strain SCBI. Appl Environ Microbiol 78(24):8840–8844

Leifson E (1963) Determination of carbohydrate metabolism of marine bacteria. J Bacteriol 85:1183

Llagostera E, Soto-Cerrato V, Montaner B, Pérez-Tomas R (2003) Prodigiosin induces apoptosis by acting on mitochondria in human lung cancer cells. Ann N Y Acad Sci 1010:178–181

Montaner B, Pérez-Tomás R (2001) Prodigiosin-induced apoptosis in human colon cancer cells. Life Sci 68:2025–2036

Montaner B, Navarro S, Piqué M, Vilaseca M, Martinell M, Giralt E, Gil J, Pérez-Tomás R (2000) Prodigiosin from the supernatant of Serratia marcescens induces apoptosis in haematopoietic cancer cell lines. Br J Pharmacol 131:585–593

Mortellaro A, Songia S, Gnocchi P, Ferrari M, Fornasiero C, D'Alessio R, Isetta A, Colotta F, Golay J (1999) New immunosuppressive drug PNU156804 blocks IL-2-dependent proliferation and NF-κB and AP-1 activation. J Immunol 162:7102–7109

Pandey R, Chander R, Sainis KB (2009) Prodigiosins as anticancer agents: living up to their name. Curr Pharm Des 15:732–741

Poinar GO Jr, Thomas GM (1978) Diagnostic manual for identification of insect pathogen. Springer Science and Business Media, Berlin

Pineda-Castellanos ML, Rodríguez-Segura Z, Villalobos FJ, Hernández L, Lina L, Nuñez-Valdez ME (2015) Pathogenicity of isolates of Serratia marcescens towards larvae of the scarab Phyllophaga blanchardi (Coleoptera). Pathogens 4(2):210–228

Scrascia M, Pazzani C, Valentini F, Oliva M, Russo V, D'Addabbo P, Porcelli F (2016) Identification of pigmented Serratia marcescens symbiotically associated with Rhynchophorus ferrugineus Olivier (Coleoptera: Curculionidae). Microbiologyopen 5(5):883–890

Slater H, Crow M, Everson L, Salmond GP (2003) Phosphate availability regulates biosynthesis of two antibiotics, prodigiosin and carbapenem, in Serratia via both quorum-sensing-dependent and -independent pathways. Mol Microbiol 47:303–320

Song MJ, Bae J, Lee DS, Kim CH, Kim JS, Kim SW, Hong SI (2006) Purification and characterization of prodigiosin produced by integrated bioreactor from Serratia sp. KH-95. J Biosci Bioeng 101:157–161

Soto-Cerrato V, Llagostera E, Montaner B, Scheffer GL, Perez-Tomas R (2004) Mitochondria-mediated apoptosis operating irrespective of multidrug resistance in breast cancer cells by the anticancer agent prodigiosin. Biochem Pharmacol 68:1345–1352

Tamura K, Nei M (1993) Estimation of the number of nucleotide substitutions in the control region of mitochondrial DNA in humans and chimpanzees. Mol Biol Evol 10:512–526

Tanaka Y, Yuasa J, Baba M, Tanikawa T, Nakagawa Y, Matsuyama T (2004) Temperature-dependent bacteriostatic activity of Serratia marcescens. Microbes Environ 19:236–240

Tanikawa T, Nakagawa Y, Matsuyama T (2006) Transcriptional downregulator hexS controlling prodigiosin and serrawettin W1 biosynthesis in Serratia marcescens. Microbiol Immunol 50:587–596

Tao K, Yu X, Liu Y, Shi G, Liu S, Hou T (2007) Cloning, expression, and purification of insecticidal protein Pr596 from locust pathogen Serratia marcescens HR-3. Curr Microbiol 55(3):228–233

Tao HP, Shen ZY, Zhu F, Xu XF, Tang XD, Xu L (2011) Isolation and identification of a pathogen of silkworm Bombyx mori. Curr Microbiol 62:876–883

Tayal MK, Chauhan TPS (2017) Silkworm Diseases and Pests. In: Omkar (ed) Industrial Entomology. Springer Nature, Singapore, pp 265–289

Tsuji RF, Yamamoto M, Nakamura A, Kataoka T, Magae J, Nagai K, Yamasaki M (1990) Selective immunosuppression of prodigiosin 25-C and FK506 in the murine immune system. J Antibiot 43(10):1293–1301

Tsuji RF, Magae J, Yamashita M, Nagai K, Yamasaki M (1992) Immunomodulating properties of prodigiosin 25-C, an antibiotic which preferentially suppresses induction of cytotoxic T cells. J Antibiot 45(8):1295–1302

Weisburg WG, Barns SM, Pelletier DA, Lane DJ (1991) 16S ribosomal DNA amplification for phylogenetic study. J Bacteriol 173:697–703

Williams RP (1973) Biosynthesis of prodigiosin, a secondary metabolite of Serratia marcescens. Appl Microbiol 25:396–402

Williamson NR, Fineran PC, Gristwood T, Chawrai SR, Leeper FJ, Salmond GP (2007) Anticancer and immunosuppressive properties of bacterial prodiginines. Future Microbiol 2:605–618

Zhang L, Ding X, Tao Y, Liu S, Long Z (2006) Identification of a pathogenic strain of Bombyx mori and its antimicrobial susceptibility testing. Chin Agric Sci Bull 22:43–46

Zhou W, Li J, Chen J, Liu X, Xiang T, Zhang L, Wan Y (2016) The red pigment prodigiosin is not an essential virulence factor in entomopathogenic Serratia marcescens. J Invertebr Pathol 136:92–94
Acknowledgements
This work was supported by Natural Science Foundation of Jiangsu Province (BK20160364) and the earmarked fund for the China Agriculture Research System (CARS-18). We are grateful to all who provided the means for us to access free software, which we have used and cited in this article. We thank all partners and lab members for kindly help and criticism.
Authors' contributions
Zhongyuan Shen contributed to the study conception and design. Material preparation, data collection and analysis were performed by Yiling Zhang, Ruisha Shang, Jiao Zhang, Junhao Li, Guanyu Zhu, Mingshuai Yao, and Jiancheng Sun. The first draft of the manuscript was written by Yiling Zhang and all authors commented on previous versions of the manuscript. All authors read and approved the final manuscript.
Ethics declarations
Conflict of interest
The authors declare that they have no competing financial interests or personal relationships that could have appeared to influence the work reported in this paper.
Additional information
Publisher's Note
Springer Nature remains neutral with regard to jurisdictional claims in published maps and institutional affiliations.
Electronic supplementary material
About this article
Cite this article
Zhang, Y., Shang, R., Zhang, J. et al. Isolation and identification of two Serratia marcescens strains from silkworm, Bombyx mori. Antonie van Leeuwenhoek (2020). https://doi.org/10.1007/s10482-020-01442-1
Received:

Accepted:

Published:
Keywords
Silkworm

Serratia marcescens

Septicemia

Pigment