Abstract
Verrucosispora isolate AB-18-032T, the abyssomicin- and proximicin-producing actinomycete, has chemotaxonomic and morphological properties consistent with its classification in the genus Verrucosispora. The organism formed a distinct phyletic line in the Verrucosispora 16S rRNA gene tree sharing similarities of 99.7%, 98.7% and 98.9% with Verrucosispora gifhornensis DSM 44337T, Verrucosispora lutea YIM 013T and Verrucosispora sediminis MS 426T, respectively. It was readily distinguished from the two latter species using a range of phenotypic features and from V. gifhornensis DSM 44337T, its nearest phylogenetic neighbor, by a DNA G+C content of 65.5 mol% obtained by thermal denaturation and fluorometry and DNA:DNA relatedness values of 64.0% and 65.0% using renaturation and fluorometric methods, respectively. It is apparent from the combined genotypic and phenotypic data that strain AB-18-032T should be classified in the genus Verrucosispora as a new species. The name Verrucosispora maris sp. nov. is proposed for this taxon with isolate AB-18-032T (= DSM 45365T = NRRL B-24793T) as the type strain.
Access options
Buy single article
Instant access to the full article PDF.
US$ 39.95
Tax calculation will be finalised during checkout.
Subscribe to journal
Immediate online access to all issues from 2019. Subscription will auto renew annually.
US$ 119
Tax calculation will be finalised during checkout.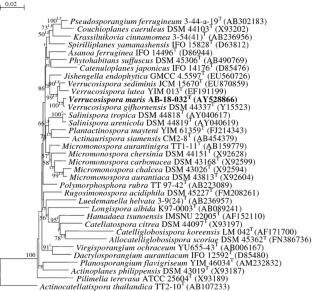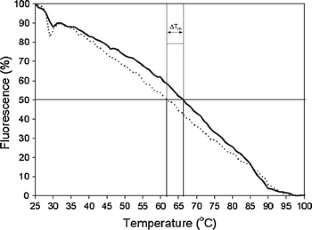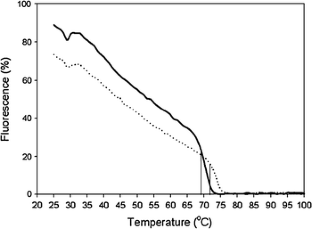 References
Bister B, Bischoff D, Ströbele M, Riedlinger J, Reicke A, Bull AT, Zähner H, Fiedler H-P, Süssmuth RD (2004) Abyssomicin C— a novel polycyclic antibiotic from a marine Verrucosispora strain as an inhibitor of the p-aminobenzoic acid/tetrahydrofolate biosynthesis pathway. Angew Chem Int Ed 43:2574–2576

Bredholdt H, Tjaervik E, Johnson G, Zotchev SB (2008) Actinomycetes from sediments in the Trondheim fjord, Norway: diversity and biological activity. Mar Drugs 6:12–14

Collins MD (1994) Isoprenoid quinones. In: Goodfellow M, O'Donnell AG (eds) Chemical methods in prokaryotic systematics. Wiley, Chichester, pp 265–309

Dai H-Q, Wang J, Xin Y-H, Pei G, Tang S-K, Ren B, Ward A, Ruan J-S, Wen-Jun Li, Zhang L-X (2010) Verrucosispora sediminis sp nov., a cyclodipeptide-producing actinomycete from deep-sea sediment. Int J Syst Evol Microbiol 60:1807–1812

Felsenstein J (1981) Evolutionary trees from DNA sequences: a maximum likelihood approach. J Mol Evol 17:368–376

Felsenstein J (1985) Confidence limits on phylogenies: an approach using the bootstrap. Evolution 39:783–791

Felsenstein J (1993) PHYLIP (Phylogenetic Inference Package), version 3.5c Department of Genetics. University of Washington, Seattle, USA

Fiedler H-P, Bruntner C, Riedlinger J, Bull AT, Knutsen G, Goodfellow M, Jones AL, Maldonado L, Pathom-aree W, Beil W, Schneider K, Keller S, Süssmuth RD (2008) Proximicin A, B and C, novel aminofuran antibiotic and anticancer compounds isolated from marine strains of the actinomycete Verrucosispora. J Antibiot 61:158–163

Fitch WM, Margoliash E (1967) Construction of phylogenetic trees: a method based on mutation distances as estimated from cytochrome c sequences is one of general applicability. Science 155:279–284

Gonzalez JM, Saiz-Jimenez C (2002) A fluorimetric method for the estimation of G+C mol% content in microorganisms by thermal denaturation temperature. Environ Microbiol 4:770–773

Gonzalez JM, Saiz-Jimenez C (2005) A simple fluorimetric method for the estimation of DNA–DNA relatedness between closely related microorganisms by thermal denaturation temperatures. Extremophiles 9:75–79

Goodfellow M, Fiedler H-P (2010) A guide to successful bioprospecting: informed by actinobacterial systematics. Antonie van Leeuwenhoek 98:119–142

Gordon RE (1967) The taxonomy of soil bacteria. In: Gray TRG, Parkinson D (eds) Ecology of soil bacteria. Liverpool University Press, Liverpool, pp 293–321

Gordon RE, Mihm JM (1962) Identification of Nocardia caviae nov comb. Ann NY Acad Sci 98:628–636

Gordon RE, Barnett DA, Handerhan JE, Pang CH-N (1974) Nocardia coeliaca, Nocardia autotrophica and the nocardin strain. Int J Syst Bacteriol 24:54–63

Hong K, Gao A-H, Xie Q-Y, Gao H, Zhuang L, Lin H-P, Yu H-P, Yao X-S, Goodfellow M, Ruan J-S (2009) Actinomycetes for marine drug discovery isolated from mangrove soils and plants in China. Mar Drugs 7:24–44

Hsu SC, Lockwood JL (1975) Powdered chitin as a selective medium for enumeration of actinomycetes in water and soil. Appl Microbiol 29:442–443

Jiang S, Sun W, Chen M, Dai S, Zheng L, Liu Y, Lee KL, Li X (2007) Diversity of culturable actinobacteria isolated from marine sponge Haliclona sp. Antonie van Leeuwenhoek 92:405–416

Jukes TH, Cantor CR (1969) Evolution of protein molecules. In: H.N Munro (ed) Mammalian protein metabolism, vol 3. Academic Press, New York, pp 21–132

Keller S, Nicholson G, Drahl C, Sorensen E, Fiedler H-P, Sűssmuth RD (2007a) Abyssomicins G and H and atrop-abyssomicin C from the marine Verrucosispora strain AB-18-032. J Antibiot 60:391–394

Keller S, Schadt HS, Ortel I, Sűssmuth RD (2007b) Action of atrop-abyssomicin C as an inhibitor of 4-amino-4-deoxychorismate synthase Pa bB. Angeo Chem Int Ed 46:8254–8286

Kim SB, Brown R, Oldfield C, Gilbert SC, Goodfellow M (1999) Gordonia desulphuricans sp nov., a benzothiophene-desulphurizing actinomycete. Int J Syst Bacteriol 49:1845–1851

Kluge AG, Farris FS (1969) Quantitative phyletics and the evolution of anurans. Syst Zool 18:1–32

Lechevalier MP, Lechevalier HA (1970) Chemical composition as a criterion in the classification of aerobic actinomycetes. Int J Syst Bacteriol 20:435–443

Lechevalier MP, de Biévre C, Lechevalier HA (1977) Chemotaxonomy of aerobic actinomycetes: Phospholipid composition. Biochem Syst Evol 5:249–260

Liao Z-L, Tang S-K, Guo L, Zhang Y-Q, Tian X-P, Jiang C-L, Xu L-H, Li W-J (2009) Verrucosispora lutea sp nov., isolated from a mangrove sediment sample. Int J Syst Evol Microbiol 59:2269–2273

Mexson J (2001) Selective isolation and taxonomic analysis of the genus Micromonospora. Ph.D. Thesis, University of Kent, Canterbury, UK

Minnikin DE, Alshamaony L, Goodfellow M (1975) Differentiation of Mycobacterium, Nocardia and related taxa by thin-layer chromatographic analyses of whole-cell methanolysates. J Gen Microbiol 88:200–204

Minnikin DE, O'Donnell AG, Goodfellow M, Alderson G, Athalye M, Schaal A, Parlett JH (1984) An integrated procedure for the extraction of bacterial isoprenoid quinones and polar lipids. J Microbiol Methods 2:233–241

Rheims H, Schumann P, Rohde M, Stackebrandt E (1998) Verrucosispora gifhornensis gen nov., sp. nov., a new member of the actinobacterial family Micromonosporaceae. Int J Syst Bacteriol 48:1119–1127

Riedlinger J, Reicke A, Krismer B, Zähner H, Bull AT, Maldonado LA, Ward AC, Goodfellow M, Bister B, Bischoff D, Süssmuth RD, Fiedler H-P (2004) Abyssomicins, inhibitors of the para-aminobenzoic acid pathway produced by the marine Verrucosispora strain AB-18-032. J Antibiot 57:271–279

Roh H, Uguru GC, Ko H-J, Kim S, Kim B-Y, Goodfellow M, Bull AT, Kim K-H, Bibb MJ, Choi I-G, Stach JEM (2011) Genome sequence of the abyssomicin- and proximicin-producing marine actinomycete Verrucosispora maris AB-18-032. J Bact 193:3391–3392

Saitou N, Nei M (1987) The neighbor-joining method: a new method for constructing phylogenetic trees. Mol Biol Evol 4:406–425

Schneider K, Keller S, Wolter FE, Roglin L, Beil W, Seitz O, Nicholson G, Bruntner C, Riedlinger J, Fiedler H-P, Sűssmuth RD (2008) Proximicins A, B and C-antitumor furan analogues of netropsin from the marine actinomycete Verrucosispora induced upregulatioin of p53 and the cyclin kinase inhibitor p21. Angew Chem Int Ed 47:3258–3261

Shirling EB, Gottlieb D (1966) Methods for characterization of Streptomyces species. Int J Syst Bacteriol 16:313–340

Stevenson IL (1967) Utilization of aromatic hydrocarbons by Arthrobacter spp. Can J Microbiol 13:205–211

Tan GYA, Robinson S, Lacey E, Goodfellow M (2006) Evaluation of Amycolatopsis diversity in soil using genus-specific primers and novel selective media. Syst Appl Microbiol 29:557–569

Wayne LG, Brenner DJ, Colwell RR & 9 other authors (1987) International Committee on Systematic Bacteriology. Report of the ad hoc committee on reconciliation of approaches to bacterial systematics. Int J Syst Bacteriol 37: 463–464

Williams ST, Goodfellow M, Alderson G, Wellington EMH, Sneath PHA, Sackin MJ (1983) Numerical classification of Streptomyces and related genera. J Gen Microbiol 129:1743–1813

Xie QY, Hong K, Goodfellow M (2011) Genus-specific primers targeting the 16S rRNA gene for PCR detection of members of the genus Verrucosispora. Antonie van Leeuwenhoek 100:117–128
Acknowledgments
ATB and MG were supported by the UK Natural Environmental Research Council (grants NER/T/S/2000/00614 and NER/T/S/2000/00616), JEMS by the Biological and Biotechnological Research Council (BBSRC grant BB/EO17053/1) and TDZ by a Conselho Nacional de DesenvolvImento Cientifico e Tecnológico Fellowship to study in the UK (grant 201066/2009-2). ATB thanks The Leverhulme Trust for an Emeritus Fellowship. The authors are indebted to Professor Koki Horikoshi (JAMSTEC) for the sediment sample.
Additional information
The Genbank accession number for the 16S rRNA gene sequence of Verrucosispora maris AB-18-032T is AY528866.
About this article
Cite this article
Goodfellow, M., Stach, J.E.M., Brown, R. et al. Verrucosispora maris sp. nov., a novel deep-sea actinomycete isolated from a marine sediment which produces abyssomicins. Antonie van Leeuwenhoek 101, 185–193 (2012). https://doi.org/10.1007/s10482-011-9651-5
Received:

Accepted:

Published:

Issue Date:
Keywords
Verrucosispora maris

Polyphasic taxonomy

Marine sediment

Actinomycete