Abstract
Methylobacterium strains are abundantly found in the phyllosphere of plants. Morphological, physiological and chemotaxonomical properties of 12 previously isolated strains were analyzed in order to obtain a more detailed overview of the characteristics of phyllosphere colonizing Methylobacterium strains. All strains showed the typical properties of the genus Methylobacterium, including pink pigmentation, facultative methylotrophy, a fatty acid profile dominated by C18:1 ω7c, and a high G+C content of 65 mol % or more. However, some strains showed only weak growth on methanol and pigmentation varied from pale pink to red. Strains grew best under mesophilic, neutrophilic conditions and low salt (≤1%) concentrations, but variation was seen with respect to the temperature and pH range under which growth occurred. Likewise, differences were seen with respect to carbon source utilization. Some strains were versatile and utilized diverse organic acids, amino acids and sugars, while others could only metabolize a restricted number of organic acids. The strains that were most distinct from existing type strains based on 16S rRNA gene sequence analysis were selected for DNA–DNA hybridization experiments to analyze whether they are sufficiently different at the genomic level from existing type strains to justify their classification as new species. This resulted in the delineation of strain 440 and its description as Methylobacterium longum sp. nov. strain 440 (=DSM 23933T = CECT 7806T). A main characteristic of this species is the formation of relatively long rods compared to other Methylobacterium species.
Access options
Buy single article
Instant access to the full article PDF.
US$ 39.95
Tax calculation will be finalised during checkout.
Subscribe to journal
Immediate online access to all issues from 2019. Subscription will auto renew annually.
US$ 119
Tax calculation will be finalised during checkout.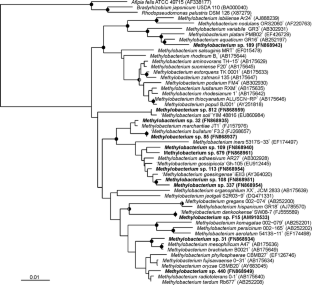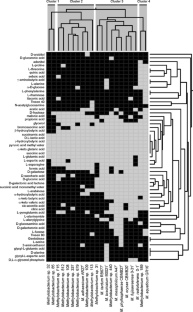 References
Abanda-Nkpwatt D, Müsch M, Tschiersch J, Boettner M, Schwab W (2006) Molecular interaction between Methylobacterium extorquens and seedlings: growth promotion, methanol consumption, and localization of the methanol emission site. J Exp Bot 57:4025–4032

Andreote FD, Carneiro RT, Salles JF, Marcon J, Labate C, Azevedo JL, Araujo WL (2009) Culture-independent assessment of Rhizobiales-related Alphaproteobacteria and the diversity of Methylobacterium in the rhizosphere and rhizoplane of transgenic Eucalyptus. Microb Ecol 57:82–93

Braunegg G, Sonnleitner B, Lafferty RM (1978) Rapid gas-chromatographic method for determination of poly-beta-hydroxybutyric acid in microbial biomass. Eur J Appl Microbiol Biotechnol 6:29–37

Corpe WA, Rheem S (1989) Ecology of the methylotrophic bacteria on living leaf surfaces. FEMS Microbiol Ecol 62:243–249

Dedysh SN, Dunfield PF, Trotsenko YA (2004) Methane utilization by Methylobacterium species: new evidence but still no proof for an old controversy. Int J Syst Evol Microbiol 54:1919–1920

Dedysh SN, Belova SE, Bodelier PLE, Smirnova KV, Khmelenina VN, Chidthaisong A, Trotsenko YA, Liesack W, Dunfield PF (2007) Methylocystis heyeri sp. nov., a novel type II methanotrophic bacterium possessing 'signature' fatty acids of type I methanotrophs. Int J Syst Evol Microbiol 57:472–479

Delmotte N, Knief C, Chaffron S, Innerebner G, Roschitzki B, Schlapbach R, von Mering C, Vorholt JA (2009) Community proteogenomics reveals insights into the physiology of phyllosphere bacteria. Proc Natl Acad Sci USA 106:16428–16433

Elbeltagy A, Nishioka K, Suzuki H, Sato T, Sato YI, Morisaki H, Mitsui H, Minamisawa K (2000) Isolation and characterization of endophytic bacteria from wild and traditionally cultivated rice varieties. Soil Sci Plant Nutr 46:617–629

Fedorov DN, Doronina NV, Trotsenko YA (2011) Phytosymbiosis of aerobic methylobacteria: new facts and views. Microbiology (English translation of Mikrobiologiya) 80:443–454

Gallego V, García MT, Ventosa A (2005) Methylobacterium hispanicum sp. nov. and Methylobacterium aquaticum sp. nov., isolated from drinking water. Int J Syst Evol Microbiol 55:281–287

Gallego V, García MT, Ventosa A (2006) Methylobacterium adhaesivum sp. nov., a methylotrophic bacterium isolated from drinking water. Int J Syst Evol Microbiol 56:339–342

Gonzalez JM, Saiz-Jimenez C (2002) A fluorimetric method for the estimation of G+C mol% content in microorganisms by thermal denaturation temperature. Environ Microbiol 4:770–773

Gourion B, Rossignol M, Vorholt JA (2006) A proteomic study of Methylobacterium extorquens reveals a response regulator essential for epiphytic growth. Proc Natl Acad Sci USA 103:13186–13191

Green PN (2005) Methylobacterium. In: Brenner DJ, Krieg NR, Garrity GM, Staley JT, Boone DR, de Vos P, Goodfellow M, Rainey FA, Schleifer KH (eds) Bergey's manual of systematic bacteriology. Springer, US, pp 567–571

Green PN (2006) Methylobacterium. In: Dworkin M, Falkow S, Rosenberg E, Schleifer K-H, Stackebrandt E (eds) The Prokaryotes, 3rd edn. New York, Springer, pp 257–265

Green PN, Bousfield IJ (1982) A taxonomic study of some gram-negative facultatively methylotrophic bacteria. J Gen Microbiol 128:623–638

Holland MA, Long RLG, Polacco JC (2002) Methylobacterium spp.: phylloplane bacteria involved in cross-talk with the plant host. In: Lindow SE, Hecht-Poinar EI, Elliott VJ (eds) Phyllosphere microbiology. APS Press, St. Paul, pp 125–135

Hoppe T, Peters K, Schmidt F (2011). Methylobacterium bullatum sp. nov., a methylotrophic bacterium isolated from Funaria hygrometrica. Syst Appl Microbiol. doi:10.1016/j.syapm.2010.12.005

Idris R, Trifonova R, Puschenreiter M, Wenzel WW, Sessitsch A (2004) Bacterial communities associated with flowering plants of the Ni hyperaccumulator Thlaspi goesingense. Appl Environ Microbiol 70:2667–2677

Idris R, Kuffner M, Bodrossy L, Puschenreiter M, Monchy S, Wenzel WW, Sessitsch A (2006) Characterization of Ni-tolerant methylobacteria associated with the hyperaccumulating plant Thlaspi goesingense and description of Methylobacterium goesingense sp. nov. Syst Appl Microbiol 29:634–644

Kayser MF, Ucurum Z, Vuilleumier S (2002) Dichloromethane metabolism and C1 utilization genes in Methylobacterium strains. Microbiology 148:1915–1922

Knief C, Frances L, Cantet F, Vorholt JA (2008) Cultivation-independent characterization of Methylobacterium populations in the plant phyllosphere by automated ribosomal intergenic spacer analysis. Appl Environ Microbiol 74:2218–2228

Knief C, Frances L, Vorholt JA (2010a) Competitiveness of diverse Methylobacterium strains in the phyllosphere of Arabidopsis thaliana and identification of representative models, including M. extorquens PA1. Microb Ecol 60:440–452

Knief C, Ramette A, Frances L, Alonso-Blanco C, Vorholt JA (2010b) Site and plant species are important determinants of the Methylobacterium community composition in the plant phyllosphere. ISME J 4:719–728

Koenig RL, Morris RO, Polacco JC (2002) tRNA is the source of low-level trans-zeatin production in Methylobacterium spp. J Bacteriol 184:1832–1842

Kutschera U (2007) Plant-associated methylobacteria as co-evolved phytosymbionts. Plant Signal Behav 2:74–78

Lidstrom ME, Chistoserdova L (2002) Plants in the pink: cytokinin production by methylobacterium. J Bacteriol 184:1818

Madhaiyan M, Kim BY, Poonguzhali S, Kwon SW, Song MH, Ryu JH, Go SJ, Koo BS, Sa TM (2007) Methylobacterium oryzae sp. nov., an aerobic, pink-pigmented, facultatively methylotrophic, 1-aminocyclopropane-1-carboxylate deaminase-producing bacterium isolated from rice. Int J Syst Evol Microbiol 57:326–331

Madhaiyan M, Poonguzhali S, Kwon SW, Sa TM (2009) Methylobacterium phyllosphaerae sp. nov., a pink-pigmented, facultative methylotroph from the phyllosphere of rice. Int J Syst Evol Microbiol 59:22–27

Madhaiyan M, Poonguzhali S, Senthilkumar M, Lee JS, Lee KC (2011) Methylobacterium gossipiicola sp. nov., a pink-pigmented facultative methylotrophic bacteria isolated from cotton phyllosphere. Int J Syst Evol Microbiol. doi:10.1099/ijs.0.030148-0

Mano H, Tanaka F, Nakamura C, Kaga H, Morisaki H (2007) Culturable endophytic bacterial flora of the maturing leaves and roots of rice plants (Oryza sativa) cultivated in a paddy field. Microbes Environ 22:175–185

Mehlen A, Goeldner M, Ried S, Stindl S, Ludwig W, Schleifer KH (2004) Development of a fast DNA–DNA hybridization method based on melting profiles in microplates. Syst Appl Microbiol 27:689–695

Omer ZS, Tombolini R, Broberg A, Gerhardson B (2004) Indole-3-acetic acid production by pink-pigmented facultative methylotrophic bacteria. Plant Growth Regul 43:93–96

Peyraud R, Kiefer P, Christen P, Massou S, Portais JC, Vorholt JA (2009) Demonstration of the ethylmalonyl-CoA pathway by using 13C metabolomics. Proc Natl Acad Sci USA 106:4846–4851

Pirttilä AM, Laukkanen H, Pospiech H, Myllylä R, Hohtola A (2000) Detection of intracellular bacteria in the buds of Scotch pine (Pinus sylvestris L.) by in situ hybridization. Appl Environ Microbiol 66:3073–3077

Rutledge RG (2004) Sigmoidal curve-fitting redefines quantitative real-time PCR with the prospective of developing automated high-throughput applications. Nucleic Acids Res 32:e178

Sasser M (1990) Identification of bacteria through fatty acid analysis. In: Klement Z, Rudolph K, Sands DC (eds) Methods in phytobacteriology. Akademiai Kiado, Budapest, pp 199–204

Schäfer H, Miller LG, Oremland RS, Murrell JC (2007) Bacterial cycling of methyl halides. Adv Appl Microbiol 61:307–346

Schauer S, Kutschera U (2008) Methylotrophic bacteria on the surfaces of field-grown sunflower plants: a biogeographic perspective. Theory Biosci 127:23–29

Schmidt S, Christen P, Kiefer P, Vorholt JA (2010) Functional investigation of methanol dehydrogenase-like protein XoxF in Methylobacterium extorquens AM1. Microbiology 156:2575–2586

Stackebrandt E, Goebel BM (1994) A place for DNA–DNA reassociation and 16S rRNA sequence analysis in the present species definition in bacteriology. Int J Syst Bacteriol 44:846–849

Sy A, Timmers AC, Knief C, Vorholt JA (2005) Methylotrophic metabolism is advantageous for Methylobacterium extorquens during colonization of Medicago truncatula under competitive conditions. Appl Environ Microbiol 71:7245–7252

Wayne LG, Brenner DJ, Colwell RR, Grimont PAD, Kandler O, Krichevsky MI, Moore LH, Moore WEC, Murray RGE, Stackebrandt E, Starr MP, Trüper HG (1987) Report of the ad hoc committee on reconciliation of approaches to bacterial systematics. Int J Syst Bacteriol 37:463–464

Xu HX, Kawamura Y, Li N, Zhao L, Li TM, Li ZY, Shu S, Ezaki T (2000) A rapid method for determining the G+C content of bacterial chromosomes by monitoring fluorescence intensity during DNA denaturation in a capillary tube. Int J Syst Evol Microbiol 50:1463–1469
Acknowledgments
The study was supported by ETH Zurich.
Electronic supplementary material
Below is the link to the electronic supplementary material.
About this article
Cite this article
Knief, C., Dengler, V., Bodelier, P.L.E. et al. Characterization of Methylobacterium strains isolated from the phyllosphere and description of Methylobacterium longum sp. nov. Antonie van Leeuwenhoek 101, 169–183 (2012). https://doi.org/10.1007/s10482-011-9650-6
Received:

Accepted:

Published:

Issue Date:
Keywords
Phyllosphere

Methylobacterium longum sp. nov