Abstract
A straw-yellow pigmented bacterium, strain IITR-21T was isolated from a pesticide contaminated site and characterized by using a polyphasic taxonomic approach. The organism had morphological and chemotaxonomic properties consistent with its classification in the genus Nitratireductor. Phylogenetic analysis of the 16S rRNA gene sequence showed that the strain IITR-21T belongs to the genus Nitratireductor and was moderately related to Nitratireductor indicus C115T (97.7%) and Nitratireductor pacificus pht-3BT (97.4%), whereas sequence similarity value with the other species including the type species of the genus Nitratireductor, Nitratireductor aquibiodomus showed less than 97.0% similarity. However, the DNA–DNA relatedness values between strain IITR-21T and the moderately related taxa N. indicus (59.1%) and N. pacificus (40.4%) were well below the 70% threshold value recommended for the delineation of bacterial species. The G+C content of the DNA was 62.4 mol%. Based on physiological, biochemical tests and genotypic differences between the strain IITR-21T and the other two validly published species of the genus Nitratireductor, it is proposed that the strain be classified as a new species of Nitratireductor as Nitratireductor lucknowense sp. nov. The type strain is IITR-21T (=MTCC 8354T = DSM 24322T).
Access options
Buy single article
Instant access to the full article PDF.
US$ 39.95
Tax calculation will be finalised during checkout.
Subscribe to journal
Immediate online access to all issues from 2019. Subscription will auto renew annually.
US$ 119
Tax calculation will be finalised during checkout.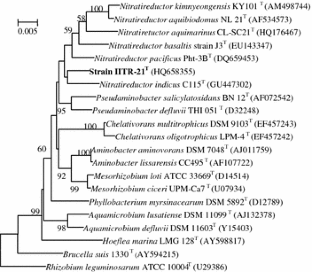 References
Chun J, Lee JH, Jung Y, Kim M, Kim S, Kim BK, Lim YW (2007) EzTaxon: a web-based tool for the identification of prokaryotes based on 16S ribosomal RNA gene sequences. Int J Syst Evol Microbiol 57:2259–2261

Collins MD, Jones D (1981) Distribution of isoprenoid quinone structural types in bacteria and their taxonomic implications. Microbiol Rev 45:316–354

Cowan ST, Steel KJ (1965) Manual for the identification of medical bacteria. Cambridge University Press, London

Felsenstein J (1985) Confidence limits on phylogenies: an approach using the bootstrap. Evolution 39:783–791

Jang GI, Hwang CY, Cho BC (2011) Nitratireductor aquimarinus sp. nov., isolated from a culture of the diatom Skeletonema costatum, and emended description of the genus Nitratireductor. Int J Syst Evol Microbiol. doi: 10.1099/ijs.0.028373-0

Kang HS, Yang HL, Lee SD (2009) Nitratireductor kimnyeongensis sp nov., isolated from seaweed. Int J Syst Evol Microbiol 59:1036–1039

Kim KH, Roh SW, Chang HW, Nam YD, Yoon JH, Jeon CO, Oh HM, Bae JW (2009) Nitratireductor basaltis sp nov., isolated from black beach sand. Int J Syst Evol Microbiol 59:135–138

Kimura M (1980) A simple method for estimation of evolutionary rate of base substitutions through comparative studies of nucleotide sequences. J Mol Evol 16:111–120

Labbé N, Parent S, Villemur R (2004) Nitratireductor aquibiodomus gen nov., sp. nov., a novel-proteobacterium from the marine denitrification system of the Montreal Biodome (Canada). Int J Syst Evol Microbiol 54:269–273

Lai Q, Yu Z, Wang J, Zhong H, Sun F, Wang L, Wang B, Shao Z (2010) Nitratireductor pacificus sp nov., isolated from a pyrene-degrading consortium. Int J Syst Evol Microbiol 61:1386–1391

Lai Q, Yu Z, Yuan J, Sun F, Zongze Shao Z (2011) Nitratireductor indicus sp nov., isolated from deep sea water of Indian Ocean. Int J Syst Evol Microbiol 61:295–298

Lanyi B (1987) Classical and rapid identification methods for medically important bacteria. Methods Microbiol 19:1–67

Mandel M, Marmur J (1968) Use of ultraviolet absorbance temperature profile for determining the guanine plus cytosine content of DNA. Methods Enzymol 12B:195–206

Manickam N, Pathak A, Saini HS, Mayilraj S, Shanker R (2010) Metabolic profiles and phylogenetic diversity of microbial communities from chlorinated pesticides contaminated sites of different geographical habitats of India. J Appl Microbiol 109:1458–1468

Mayilraj S, Saha P, Suresh K, Saini HS (2006) Ornithinimicrobium kibberense sp nov., isolated from the Himalayas, India. Int J Syst Evol Microbiol 56:1657–1661

Murray RGE, Doetsch RN, Robinow CF (1994) Determinative and cytological light microscopy. In: Gerhard P, Murray RGE, Wood WA, Krieg NR (eds) Methods for general and molecular bacteriology. American Society for Microbiology, Washington, DC, pp 21–41

Pandey KK, Mayilraj S, Chakraborti T (2002) Pseudomonas indica sp nov., a novel butane-utilizing species. Int J Syst Evol Microbiol 52:1559–1567

Perrière G, Gouy M (1996) WWW-query: an on-line retrieval system for biological sequence banks. Biochimie 78:364–369

Saitou N, Nei M (1987) The neighbor-joining method: a new method for reconstructing phylogenetic trees. Mol Biol Evol 4:406–425

Senoo K, Wada H (1989) Isolation and identification of an aerobic gamma-HCH decomposing bacterium from soil. Soil Sci Plant Nutr 35:79–87

Smibert RM, Krieg NR (1994) Phenotypic characterization. In: Gerhard P, Murray RGE, Wood WA, Krieg NR (eds) Methods for general and molecular bacteriology. American Society for Microbiology, Washington, DC, pp 607–654

Smith NR, Gordon RE, Clark FE (1952) Aerobic spore forming bacteria. US Dept. Agric., Agri. Monograph No. 16

Stackebrandt E, Goebel BM (1994) Taxonomic note: a place for DNA–DNA reassociation and 16S rRNA sequence analysis in the present species definition in bacteriology. Int J Syst Bacteriol 44:846–849

Tamura K, Dudley J, Nei M, Kumar S (2007) MEGA4: molecular evolutionary genetics analysis (MEGA) software version 4.0. Mol Biol Evol 24:1596–1599

Thompson JD, Gibson TJ, Plewniak F, Jeanmougin F, Higgins DG (1997) The clustal X windows interface: flexible strategies for multiple sequence alignment aided by quality analysis tools. Nucleic Acids Res 24:4876–4882

Tindall BJ (1990a) A comparative study of the lipid composition of Halobacterium saccharovorum from various sources. Syst Appl Microbiol 13:128–130

Tindall BJ (1990b) Lipid composition of Halobacterium lacusprofundi. FEMS Microbiol Lett 66:199–202

Tourova TP, Antonov AS (1987) Identification of microorganisms by rapid DNA–DNA hybridization. Methods Microbiol 19:333–355

Wayne LG, Brenner DJ, Colwell RR, Grimont PAD, Kandler O, Krichevsky MI, Moore LH, Moore WEC, Murray RGE, Stackebrandt E, Starr MP, Truper HG (1987) Report of the adhoc committee on reconciliation of approaches to bacterial systematic. Int J Syst Bacteriol 37:463–464

Zumft WG (1997) Cell biology and molecular basis of denitrification. Microbiol Mol Biol Rev 61:533–616
Acknowledgments
We thank Mr. Malkit Singh for his excellent technical assistance. This work was supported by CSIR (Net Work Project NWP006). Government of India. The IMTECH communication number is 010/2011.
Additional information
Natesan Manickam and Siddhika Pareek have contributed equally to this study.
The GenBank accession number for the 16S rDNA sequence of strain IITR-21T is HQ658355.
Electronic supplementary material
Below is the link to the electronic supplementary material.
About this article
Cite this article
Manickam, N., Pareek, S., Kaur, I. et al. Nitratireductor lucknowense sp. nov., a novel bacterium isolated from a pesticide contaminated soil. Antonie van Leeuwenhoek 101, 125–131 (2012). https://doi.org/10.1007/s10482-011-9623-9
Received:

Accepted:

Published:

Issue Date:
Keywords
DNA–DNA hybridization

Fatty acid methyl ester

Biolog