Abstract
Food security has always been a major issue for most regions or nations across the world. Its complete definition covers productivity, ability and accessibility. In remote and less developed areas, food supply mainly depends on self-sufficiency rather than regional commercial trade. Given limited resources, it is necessary to evaluate agricultural production in this kind of area, so as to improve long-term and stable food production to achieve food security. Heihe River Basin (HRB) is famous for its arid and semi-arid climate, as it is located in the inland of Northwest China. Taking the Heihe River Basin as case study area, we analyzed the total factor productivity of 11 counties of the HRB over 1990–2012. Further, agricultural production efficiency was estimated based on Data Envelopment Analysis and the Malmquist index, in which four input indicators (sown area, agriculture and farm labor, general agricultural machine power and fertilizer) and one output indicator (gross agricultural production) were taken into consideration. The results showed that agricultural production was unbalanced in the HRB for the entire period between 1990 and 2012. The agricultural scale efficiency remained basically unchanged in the HRB, and technical change was the main influencing factor on agricultural production.
This is a preview of subscription content, log in to check access.
Access options
Buy single article
Instant access to the full article PDF.
US$ 39.95
Price includes VAT for USA
Subscribe to journal
Immediate online access to all issues from 2019. Subscription will auto renew annually.
US$ 199
This is the net price. Taxes to be calculated in checkout.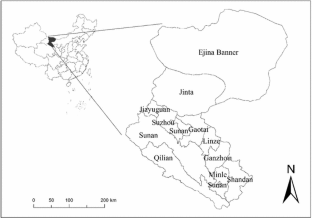 References
Charnes, A., Cooper, W. W., et al. (1978). Measuring the efficiency of decision making units. European Journal of Operational Research,6, 429–444.

Deng, X., & Gibson, J. (2018). Improving eco-efficiency for the sustainable agricultural production: A case study in Shandong, China. Technological Forecasting and Social Change. https://doi.org/10.1016/j.techfore.2018.01.027.

Deng, X., Zhang, F., Wang, Z., Li, X., & Zhang, T. (2014). An extended input output table compiled for analyzing water demand and consumption at county level in China. Sustainability,6(6), 3301–3320.

Deng, X., & Zhao, C. (2015). Identification of water scarcity and providing solutions for adapting to climate changes in the Heihe River Basin of China. Advances in Meteorology. https://doi.org/10.1155/2015/279173.

FAO. (1996). World food summit: Rome declaration on world food security and world food summit plan of action. Rome.

Fare, R., Grosskopf, S., Norris, M., & Zhang, Z. (1994). Productivity growth, technical progress, and efficiency change in industrialized countries. American Economic Review,84(1), 66–83.

Farrell, M. J. (1957). The measurement of productive efficiency. Journal of the Royal Statistical Society. Series A (General),120(3), 253–290.

Feng, Z. Y., Guo, X. H., & Zeng, D. J. (2013). On the research frontiers of business management in the context of big data. Journal of Management Sciences in China,16(1), 1–9.

FSIN (Food Security Information Network). (2017). Global report on food crises.

Gobble, M. M. (2013). Big data: The next big thing in innovation. Research-Technology Management,56(1), 64–66.

Han, D., Yan, D., Xu, X., et al. (2017). Effects of climate change on spring wheat phenophase and water requirement in Heihe River basin, China. Journal of Earth System Science,126(1), 16.

Jiang, Q., Deng, X. Z., Yan, H. M., Liu, D. D., & Qu, R. J. (2012). Identification of food security in the mountainous Guyuan Prefecture of China by exploring changes of food production. Journal of Food, Agriculture & Environment, 10(1), 210–216.

Jones, A. D., & Ejeta, G. (2016). A new global agenda for nutrition and health: The importance of agriculture and food systems. Bulletin of World Health Organization,94(3), 228–229.

Li, Z. H., Deng, X. Z., Wu, F., & Shaikh, S. H. (2015). Scenario analysis for water resources in response to land use change in the middle and upper reaches of the Heihe River Basin. Sustainability,7(3), 3086–3108.

Liu, P., & Yi, S. P. (2017). A study on supply chain investment decision-making and coordination in the big data environment. Annals of Operations Research. https://doi.org/10.1007/s10479-017-2424-4.

Malmquist, S. (1953). Index Numbers and Indifference Curves. Trabajos de Estatistica,4(2), 209–242.

Maricic, M., Bulajic, M., Dobrota, M., & Jeremic, V. (2016). Redesigning the global food security index: A multivariate composite I-distance indicator approach. International Journal of Food & Agricultural Economics,4, 69.

Mayer-Schönberger, V., & Cukier, K. (2013). Big data: A revolution that will transform how we live, work, and think. New York: Houghton Mifflin Harcourt.

Prabhakar, A., Hailu, A., Gerald, A., Arun, B., Soumik, B., et al. (2017). System of crop intensification for more productive, resource-conserving, climate-resilient, and sustainable agriculture: Experience with diverse crops in varying agroecologies. International Journal of Agricultural Sustainability. https://doi.org/10.1080/14735903.2017.1402504.

Romain, F., Santiago, L. R., Ken, E. G., et al. (2016). Drivers of household food availability in sub-Saharan Africa based on big data from small farms. Proceedings of the National Academy of Sciences,113(2), 458–463.

Song, M. L., Cen, L., Zheng, Z. X., et al. (2017a). How would big data support societal development and environmental sustainability? Insights and practices. Journal of Cleaner Production,142, 489–500.

Song, M. L., Fisher, R., Wang, J. L., & Cui, L. B. (2016a). Environmental performance evaluation with big data: Theories and methods. Annals of Operations Research. https://doi.org/10.1007/s10479-016-2158-8.

Song, M. L., & Guan, Y. Y. (2014). The environmental efficiency of Wanjiang demonstration area: A Bayesian estimation approach. Ecological Indicators,36, 59–67.

Song, W., Han, Z., & Deng, X. (2016b). Changes in productivity, efficiency and technology of China's crop production under rural restructuring. Journal of Rural Studies,47, 563–576.

Song, M. L., Wang, S. H., & Wu, K. Y. (2017b). Environment-biased technological progress and industrial land-use efficiency in China's new normal. Annals of Operations Research. https://doi.org/10.1007/s10479-016-2307-0.

Strawn, G. O. (2012). Scientific research: How many paradigms? Educause Review,47, 26–34.

UNDP (United Nations Development Programme). (1994). Human development report. Oxford: United Nations.

United Nations. (1975). Report of the world food conference. New York: United Nations.

United Nations (2014). Prototype Global Sustainable Development Report, Division for Sustainable Development: New York.

Wang, Z., Chen, J., Zheng, W., & Deng, X. (2017). Dynamics of land use efficiency with ecological intercorrelation in regional development. Landscape and Urban Planning. https://doi.org/10.1016/j.landurbplan.2017.09.022.

Wang, Z., Deng, X. Z., Bai, Y. P., Chen, J. C., & Zheng, W. T. (2016). Land use structure and emission intensity at regional scale: A case study at the middle reach of the Heihe River Basin. Applied Energy,183, 1581–1593.

Wang, G., Lin, N., Zhou, X., Li, Z., & Deng, X. (2018). Three-stage data envelopment analysis of agricultural water use efficiency: A case study of the Heihe River Basin. Sustainability,10, 568. https://doi.org/10.3390/su10020568.
Acknowledgements
This research was supported by the National Natural Science Foundation of International (regional) Cooperation and Exchange Programs (Grant No. 71561137002), the research funds from State Key Program of National Natural Science Foundation of China (Grant No. 71533004). Data and method support from the research funds from State Key Program of National Natural Science Foundation of China (Grant No. 91425303) and the National Key Research and Development Program of China (Grant No. 2016YFA0602500) are also appreciated.
About this article
Cite this article
Zhan, J., Zhang, F., Li, Z. et al. Evaluation of food security based on DEA method: a case study of Heihe River Basin. Ann Oper Res 290, 697–706 (2020). https://doi.org/10.1007/s10479-018-2889-9
Keywords
Food security

Data Envelopment Analysis

Malmquist index

Big data

Heihe River Basin

Total factor productivity

Agricultural production efficiency