Abstract
In this paper, using a new two-dimensional complex map, a secure video watermarking system is presented. Standard analyzes have been performed to analyze a dynamical system to prove the existence of chaos in the proposed map and the results indicate a chaotic behavior in this complex chaotic map. In addition, an efficient algorithm based on IWT, DWT, and CT transforms with the participation of single value decomposition for the embedding and extraction process is introduced. The simulation results showed that the proposed algorithm has good visual quality based on criteria such as PSNR and SSIM. Geometric and non-geometric attacks were also performed on the video obtained by watermarking, and the results showed that the proposed algorithm in many attacks with a value of 1.00 for the NC criterion can be a very robust algorithm against attacks. A correlation-based process for detecting the rotational attack is also presented which makes the rotational geometric attack successfully pass. The comparison of simulation results with other similar algorithms shows that the proposed method performs better than any of these methods in terms of visual quality analysis and attack resistance and can be used as an efficient robust algorithm in applied processes.
Access options
Buy single article
Instant access to the full article PDF.
US$ 39.95
Tax calculation will be finalised during checkout.
Subscribe to journal
Immediate online access to all issues from 2019. Subscription will auto renew annually.
US$ 79
Tax calculation will be finalised during checkout.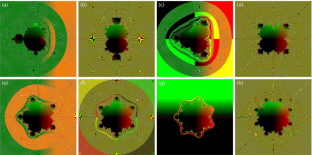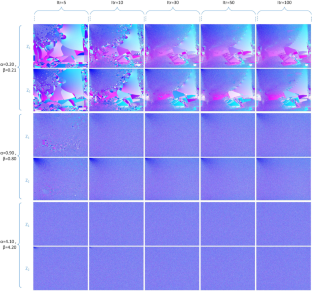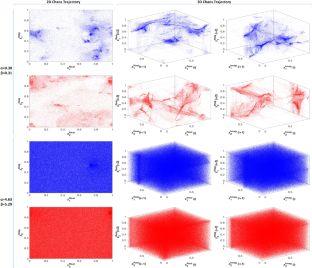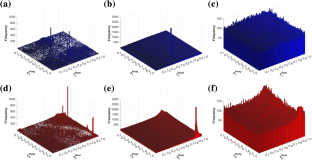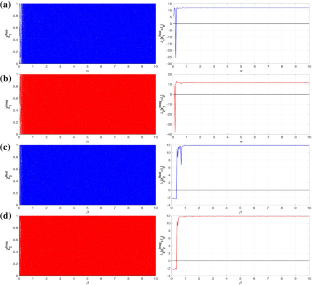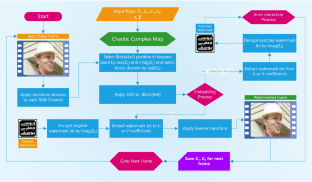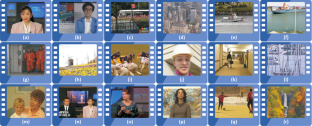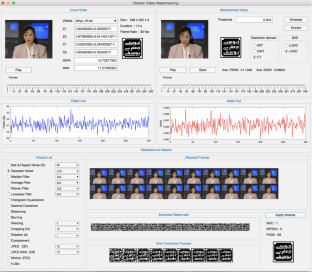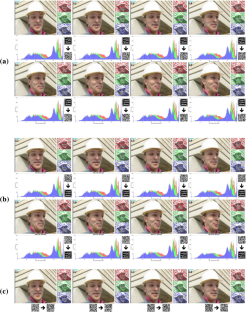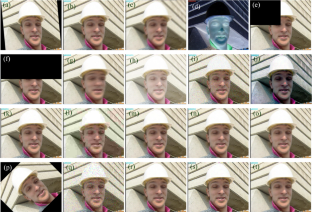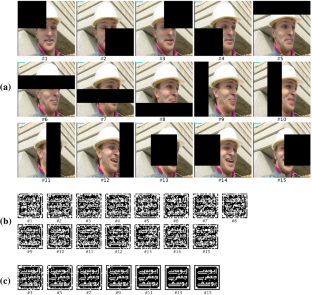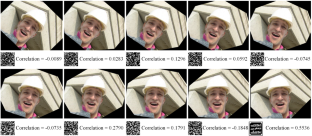 References
Agilandeeswari L, Ganesan K (2016a) A robust color video watermarking scheme based on hybrid embedding techniques. Multimed Tools Appl 75(14):8745–8780

Agilandeeswari L, Ganesan K (2016b) An efficient hilbert and integer wavelet transform based video watermarking. J Eng Sci Technol 11(3):327–345

Akhlaghian F, Bahrami Z (2015) A new robust video watermarking algorithm against cropping and rotating attacks, In: 2015 12th International Iranian Society of Cryptology Conference on Information Security and Cryptology (ISCISC), IEEE, pp. 122–127

Akhshani A, Behnia S, Akhavan A, Jafarizadeh M, Hassan HA, Hassan Z (2009) Hash function based on hierarchy of 2D piecewise nonlinear chaotic maps. Chaos Solitons Fractals 42(4):2405–2412

Akhshani A, Akhavan A, Mobaraki A, Lim S-C, Hassan Z (2014) Pseudo random number generator based on quantum chaotic map. Commun Nonlinear Sci Numer Simul 19(1):101–111

Al-Otum HM (2014) Semi-fragile watermarking for grayscale image authentication and tamper detection based on an adjusted expanded-bit multiscale quantization-based technique. J Vis Commun Image Represent 25(5):1064–1081

Amiri MD, Amiri A, Meghdadi M (2019) HVS-based scalable video watermarking. Multimed Syst 25(4):273–291

Ansari IA, Pant M (2017) Multipurpose image watermarking in the domain of DWT based on SVD and ABC. Pattern Recognit Lett 94(Supplement C):228–236

Asikuzzaman M, Pickering MR (2018) An overview of digital video watermarking. IEEE Trans Circuits Syst Video Technol 28(9):2131–2153

Ayubi P, Setayeshi S, Rahmani AM (2020) Deterministic chaos game: a new fractal based pseudo-random number generator and its cryptographic application. J Inf Secur Appl 52:102472

Barani MJ, Valandar MY, Ayubi P (2015a) A secure watermark embedding approach based on chaotic map for image tamper detection. In: 2015 7th conference on information and knowledge technology (IKT). IEEE, pp 1–5

Barani MJ, Ayubi P, Jalili F, Valandar MY, Azariyun E (2015b) Image forgery detection in contourlet transform domain based on new chaotic cellular automata. Secur Commun Netw 8(18):4343–4361

Barani MJ, Valandar MY, Ayubi P (2019) A new digital image tamper detection algorithm based on integer wavelet transform and secured by encrypted authentication sequence with 3d quantum map. Optik 187:205–222

Barani MJ, Ayubi P, Yousefi Valandar M, Irani BY (2020a) A new pseudo random number generator based on generalized newton complex map with dynamic key. J Inf Secur Appl 53:102509

Barani MJ, Ayubi P, Valandar MY, Irani BY (2020b) A blind video watermarking algorithm robust to lossy video compression attacks based on generalized newton complex map and contourlet transform. Multimed Tools Appl 79(3):2127–2159

Batool SI, Shah T, Khan M (2014) A color image watermarking scheme based on affine transformation and S4 permutation. Neural Comput Appl 25(7):2037–2045

Bayoudh I, Jabra SB, Zagrouba E (2017) Online multi-sprites based video watermarking robust to collusion and transcoding attacks for emerging applications. Multimed Tools Appl 77:14361–14379

Behnia S, Teshnehlab M, Ayubi P (2010) Multiple-watermarking scheme based on improved chaotic maps. Commun Nonlinear Sci Numer Simul 15(9):2469–2478

Behnia S, Ayubi P, Soltanpoor W (2012) Image encryption based on quantum chaotic map and FSM transforms. In: 2012 XVth international conference on telecommunications network strategy and planning symposium (NETWORKS). IEEE, pp 1–6

Behnia S, Ahadpour S, Ayubi P (2014) Design and implementation of coupled chaotic maps in watermarking. Appl Soft Comput 21:481–490

Belhaj M, Mitrea M, Prêteux F, Duta S (2010) MPEG-4 AVC robust video watermarking based on QIM and perceptual masking. In: 2010 8th international conference on communications, pp 477–480

Bhardwaj A, Verma VS, Jha RK (2018) Robust video watermarking using significant frame selection based on coefficient difference of lifting wavelet transform. Multimed Tools Appl 77:19659–19678

Boisvert J, Drouin M-A, Jodoin P-M (2015) High-speed transition patterns for video projection, 3d reconstruction, and copyright protection. Pattern Recognit 48(3):720–731

Caragata D, Mucarquer JA, Koscina M, Assad SE (2016) Cryptanalysis of an improved fragile watermarking scheme. AEU Int J Electron Commun 70(6):777–785

Chamlawi R, Khan A (2010) Digital image authentication and recovery: employing integer transform based information embedding and extraction. Inf Sci 180(24):4909–4928

Chang C-C, Chen K-N, Lee C-F, Liu L-J (2011) A secure fragile watermarking scheme based on chaos-and-hamming code. J Syst Softw 84(9):1462–1470

Chen L, Zhao J (2017a) Robust contourlet-based blind watermarking for depth-image-based rendering 3D images. Sig Process Image Commun 54(Supplement C):56–65

Chen L, Zhao J (2017b) Contourlet-based image and video watermarking robust to geometric attacks and compressions. Multimed Tools Appl 77:7187–7204

Do MN, Vetterli M (2005) The contourlet transform: an efficient directional multiresolution image representation. IEEE Trans Image Process 14(12):2091–2106

Dutta T, Gupta HP (2016) A robust watermarking framework for high efficiency video coding (HEVC)-encoded video with blind extraction process. J Vis Commun Image Represent 38:29–44

El'Arbi M, Koubaa M, Charfeddine M, Amar CB (2011) A dynamic video watermarking algorithm in fast motion areas in the wavelet domain. Multimed Tools Appl 55(3):579–600

Faragallah OS (2013) Efficient video watermarking based on singular value decomposition in the discrete wavelet transform domain. AEU Int J Electron Commun 67(3):189–196

Farri E, Ayubi P (2018) A blind and robust video watermarking based on IWT and new 3D generalized chaotic sine map. Nonlinear Dyn 93:1875–1897

Hadi RM, Ayubi P (2012) Blind digital image watermarking based on CT-SVD and chaotic cellular automata. In: 2012 2nd international conference on computer and knowledge engineering (ICCKE). IEEE, pp 301–306

Himeur Y, Boukabou A (2017) A robust and secure key-frames based video watermarking system using chaotic encryption. Multimed Tools Appl 77:8603–8627

Inceoglu F (2015) Copyright protection and entry deterrence. Inf Econ Policy 32(Supplement C):38–45 big Media: Economics and Regulation of Digital Markets

Irani BY, Ayubi P, Jabalkandi FA, Valandar MY, Barani MJ (2019) Digital image scrambling based on a new one-dimensional coupled sine map. Nonlinear Dyn 97(4):2693–2721

Joshi AM, Gupta S, Girdhar M, Agarwal P, Sarker R (2017) Combined DWT–DCT-based video watermarking algorithm using Arnold transform technique, In: Proceedings of the international conference on data engineering and communication technology. Springer, pp 455–463

Keyvanpour M, Merrikh-Bayat F (2011) An effective chaos-based image watermarking scheme using fractal coding. Procedia Comput Sci 3(Supplement C):89–95 world Conference on Information Technology

Khalilian H, Bajic IV (2013) Video watermarking with empirical PCA-based decoding. IEEE Trans Image Process 22(12):4825–4840

Klema V, Laub A (1980) The singular value decomposition: its computation and some applications. IEEE Trans Autom Control 25(2):164–176

Kocarev L, Lian S (2011) Chaos-based cryptography: theory, algorithms and applications, vol 354. Springer, Berlin

L'Ecuyer P, Simard R (2007) Testu01: AC library for empirical testing of random number generators. ACM Trans Math Softw (TOMS) 33(4):22

Lee S-H (2014) DWT based coding dna watermarking for dna copyright protection. Inf Sci 273:263–286

Li Y, Wang H-X (2019) Robust H.264/AVC video watermarking without intra distortion drift. Multimed Tools Appl 78(7):8535–8557

Li Z, Chen X-W, Ma J (2015) Adaptively imperceptible video watermarking based on the local motion entropy. Multimed Tools Appl 74(8):2781–2802

Li C, Yang R, Liu Z, Li J, Guo Z (2016) Semi-fragile self-recoverable watermarking scheme for face image protection. Comput Electr Eng 54(Supplement C):484–493

Lin ZX, Peng F, Long M (2017) A reversible watermarking for authenticating 2d vector graphics based on bionic spider web. Sig Process Image Commun 57(Supplement C):134–146

Liu Y, Zhao J (2010) A new video watermarking algorithm based on 1D DFT and radon transform. Sig Process 90(2):626–639

Liu J, Wang Y, Li Y, Liu R, Chen J (2017) A robust and blind 3D watermarking algorithm using multiresolution adaptive parameterization of surface. Neurocomputing 237(Supplement C):304–315

Loganathan A, Kaliyaperumal G (2016) An adaptive hvs based video watermarking scheme for multiple watermarks using bam neural networks and fuzzy inference system. Expert Syst Appl 63:412–434

Makbol NM, Khoo BE, Rassem TH, Loukhaoukha K (2017) A new reliable optimized image watermarking scheme based on the integer wavelet transform and singular value decomposition for copyright protection. Inf Sci 417(Supplement C):381–400

Marsaglia G (1998) Diehard test suite. http://www.stat.fsu.edu/pub/diehard/. Accessed 8 Jan 2014

Mohammadi S (2015) A chaos-based video watermarking in wavelet domain. Ciência e Natura 37(6–2):364–370

Moosazadeh M, Ekbatanifard G (2017) An improved robust image watermarking method using DCT and YCoCg-R color space. Optik Int J Light Electron Opt 140(Supplement C):975–988

Panahi N, Amirani M, Behnia S, Ayubi P (2013) A new colour image watermarking scheme using cellular automata transform and Schur decomposition. In: 2013 21st Iranian conference on electrical engineering (ICEE). IEEE, pp 1–5

Pereira S, Voloshynovskiy S, Madueno M, Marchand-Maillet S, Pun T (2001) Second generation benchmarking and application oriented evaluation. In: Moskowitz IS (ed) Information hiding. Springer, Heidelberg, pp 340–353

Renza D, Lemus DMBLC (2018) Authenticity verification of audio signals based on fragile watermarking for audio forensics. Expert Syst Appl 91(Supplement C):211–222

Rukhin A, Soto J, Nechvatal J, Smid M, Barker E (2001) A statistical test suite for random and pseudorandom number generators for cryptographic applications. Technical Report, Booz-Allen and Hamilton Inc Mclean, VA

Selvam P, Balachandran S, Iyer SP, Jayabal R (2017) Hybrid transform based reversible watermarking technique for medical images in telemedicine applications. Optik Int J Light Electron Opt 145(Supplement C):655–671

Singh TR, Singh KM, Roy S (2013) Video watermarking scheme based on visual cryptography and scene change detection. AEU Int J Electron Commun 67(8):645–651

Soliman MM, Hassanien AE, Onsi HM (2016) An adaptive watermarking approach based on weighted quantum particle swarm optimization. Neural Comput Appl 27(2):469–481

Stirmark benchmark 4.0 (1997). https://www.petitcolas.net/watermarking/stirmark/

Strogatz SH (2014) Nonlinear dynamics and chaos: with applications to physics, biology, chemistry, and engineering. Westview Press, Boulder

Stütz T, Autrusseau F, Uhl A (2014) Non-blind structure-preserving substitution watermarking of H.264/CAVLC inter-frames. IEEE Trans Multimed 16(5):1337–1349

Su Q, Chen B (2017) A novel blind color image watermarking using upper Hessenberg matrix. AEU Int J Electron Commun 78(Supplement C):64–71

Su Q, Niu Y, Wang Q, Sheng G (2013) A blind color image watermarking based on DC component in the spatial domain. Optik Int J Light Electron Opt 124(23):6255–6260

Sun Z, Liu J, Sun J, Sun X, Ling J (2009) A motion location based video watermarking scheme using ICA to extract dynamic frames. Neural Comput Appl 18(5):507–514

Sun L, Xu J, Liu S, Zhang S, Li Y, Shen C (2018) A robust image watermarking scheme using Arnold transform and BP neural network. Neural Comput Appl 30:2425–2440

Sundararajan D (2016) Discrete wavelet transform: a signal processing approach. Wiley, Hoboken

Tian L, Dai H, Li C (2019) A semi-fragile video watermarking algorithm based on chromatic residual DCT. Multimed Tools Appl 77:1759–1779

Valandar MY, Ayubi P, Barani MJ (2015) High secure digital image steganography based on 3D chaotic map. In: 2015 7th conference on information and knowledge technology (IKT). IEEE, pp 1–6

Valandar MY, Ayubi P, Barani MJ (2017) A new transform domain steganography based on modified logistic chaotic map for color images. J Inf Secur Appl 34(Part 2):142–151

Valandar MY, Barani MJ, Ayubi P (2019a) A fast color image encryption technique based on three dimensional chaotic map. Optik 193:162921

Valandar MY, Barani MJ, Ayubi P, Aghazadeh M (2019b) An integer wavelet transform image steganography method based on 3d sine chaotic map. Multimed Tools Appl 78(8):9971–9989

Valandar MY, Barani MJ, Ayubi P (2020) A blind and robust color images watermarking method based on block transform and secured by modified 3-dimensional Hénon map. Soft Comput 24(2):771–794

Video test media (2017). https://media.xiph.org/video/derf/

Walker J (2008) ENT: a pseudorandom number sequence test program. Software and documentation. www.fourmilab.ch/random/S

Wang X-Y, Yang H-Y, Zhang Y, Fu Z-K (2013) Image denoising using svm classification in nonsubsampled contourlet transform domain. Inf Sci 246:155–176

Wang X-Y, Liu Y-N, Li S, Yang H-Y, Niu P-P, Zhang Y (2015) A new robust digital watermarking using local polar harmonic transform. Comput Electr Eng 46:403–418

Wu C, Zheng Y, Ip W, Chan C, Yung K, Lu Z (2011) A flexible H.264/AVC compressed video watermarking scheme using particle swarm optimization based dither modulation. AEU Int J Electron Commun 65(1):27–36

Xu D-W, Wang R-d, Wang J-c (2010) Low complexity video watermarking algorithm by exploiting CAVLC in H.264/AVC. In: 2010 IEEE international conference on wireless communications, networking and information security (WCNIS). IEEE, pp 411–415

Yassin NI, Salem NM, El Adawy MI (2014) Qim blind video watermarking scheme based on wavelet transform and principal component analysis. Alex Eng J 53(4):833–842

Youssef SM, ElFarag AA, Ghatwary NM (2014) Adaptive video watermarking integrating a fuzzy wavelet-based human visual system perceptual model. Multimed Tools Appl 73(3):1545–1573

Yu M, Wang J, Jiang G, Peng Z, Shao F, Luo T (2015) New fragile watermarking method for stereo image authentication with localization and recovery. AEU Int J Electron Commun 69(1):361–370

Zhang F, Zhang X, Shang D (2012) Digital watermarking algorithm based on kalman filtering and image fusion. Neural Comput Appl 21(6):1149–1157
Acknowledgements
I am dedicated to Imam Hussein, who has all my scientific life from his love. I am grateful to the editor-in-chief, the editors, and the esteemed reviewers who have contributed to the improvement of the quality of this article with careful and scientific comments. I would also like to express my special thanks to my dear students who helped me with the simulation and implementation of this article despite their graduation.
Ethics declarations
Conflict of interest
The authors of this paper confirm that any part of this work was not published or submitted for publication elsewhere, and authors do not have any conflict of interest with anybody else.
Additional information
Publisher's Note
Springer Nature remains neutral with regard to jurisdictional claims in published maps and institutional affiliations.
About this article
Cite this article
Ayubi, P., Jafari Barani, M., Yousefi Valandar, M. et al. A new chaotic complex map for robust video watermarking. Artif Intell Rev 54, 1237–1280 (2021). https://doi.org/10.1007/s10462-020-09877-8
Keywords
Blind and robust video watermarking

Chaotic complex map

IWT

DWT

CT

SVD