Abstract
Gay, bisexual, and other men who have sex with men (GBMSM) living with HIV in rights-constrained settings need support for antiretroviral therapy (ART) adherence due to barriers including stigma. The Shikamana intervention combined modified Next Step Counseling by providers with support from trained peers to improve adherence among GBMSM living with HIV in Kenya. A randomized controlled trial with 6-month follow-up was used to determine feasibility, acceptability, safety, and initial intervention effects. Generalized estimating equations examined differences in self-reported adherence and virologic suppression. Sixty men enrolled, with 27 randomly assigned to the intervention and 33 to standard care. Retention did not differ by arm, and no adverse events occurred. Feedback on feasibility and acceptability was positive based on exit interviews. After adjustment for baseline viral suppression and confounding, the intervention group had a sixfold increased odds of viral suppression during follow-up. A larger trial of a scaled-up intervention is needed.
Resumen
Los hombres homosexuales, bisexuales y hombres que tienen sexo con hombres (HSH) que viven con VIH en entornos con derechos limitados necesitan apoyo para la adherencia a la terapia antirretroviral (ARV) debido a diversas barreras incluyendo el estigma. La intervención de Shikamana combinó consejería del próximo paso modificada (modified Next Step Counseling) realizada por proveedores con el apoyo de pares capacitados para mejorar la adherencia entre la poblacion HSH viviendo con VIH en Kenia. Se realizó un ensayo controlado aleatorizado con un seguimiento de 6 meses para determinar la factibilidad, aceptabilidad, seguridad y los efectos de la intervención inicial. Las ecuaciones de estimación generalizadas examinaron las diferencias en la adherencia autoinformada y la supresión virológica. Sesenta hombres fueron inscritos, 27 fueron asignados al azar a la intervención y 33 a la atención estándar. La retención no difirió entre ambos grupos y no ocurrieron efectos adversos. La retroalimentación según las entrevistas de salida sobre la viabilidad y aceptabilidad fue positiva. Después del ajuste de la linea basal de supresión viral y los factores de confusión, el grupo de intervención tuvo una probabilidad 6 veces mayor de supresión viral durante el seguimiento. Es necesario realizar un ensayo de intervención más amplia.
This is a preview of subscription content, log in to check access.
Access options
Buy single article
Instant access to the full article PDF.
US$ 39.95
Price includes VAT for USA
Subscribe to journal
Immediate online access to all issues from 2019. Subscription will auto renew annually.
US$ 99
This is the net price. Taxes to be calculated in checkout.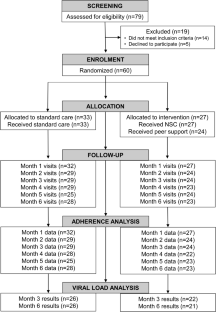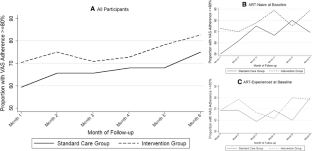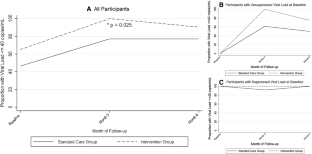 References
1.

National AIDS Control Council. Kenya AIDS Response: Progress Report 2016. Nairobi, Kenya: Kenya Ministry of Health; 2016.

2.

Sanders EJ, Okuku HS, Smith AD, et al. High HIV-1 incidence, correlates of HIV-1 acquisition, and high viral loads following seroconversion among MSM. AIDS. 2013;27(3):437–46.

3.

Sandfort TGM, Dominguez K, Kayange N, et al. HIV testing and the HIV care continuum among sub-Saharan African men who have sex with men and transgender women screened for participation in HPTN 075. PLoS ONE. 2019;14(5):e0217501.

4.

Sullivan PS, Carballo-Diéguez A, Coates T, et al. Successes and challenges of HIV prevention in men who have sex with men. Lancet. 2012;380(9839):388–99.

5.

Donnell D, Baeten JM, Kiarie J, et al. Heterosexual HIV-1 transmission after initiation of antiretroviral therapy: a prospective cohort analysis. Lancet. 2010;375(9731):2092–8.

6.

Rosen S, Fox MP, Gill CJ. Patient retention in antiretroviral therapy programs in sub-Saharan Africa: a systematic review. PLoS Med. 2007;4(10):e298.

7.

Nachega JB, Knowlton AR, Deluca A, et al. Treatment supporter to improve adherence to antiretroviral therapy in HIV-infected South African adults. A qualitative study. J Acquir Immune Defic Syndr. 2006;43(Suppl 1):S127–133.

8.

Ware NC, Idoko J, Kaaya S, et al. Explaining adherence success in sub-Saharan Africa: an ethnographic study. PLoS Med. 2009;6(1):e11.

9.

Cloete A, Simbayi LC, Kalichman SC, Strebel A, Henda N. Stigma and discrimination experiences of HIV-positive men who have sex with men in Cape Town, South Africa. AIDS Care. 2008;20(9):1105–10.

10.

https://www.npr.org/2019/05/24/726541735/kenyas-judges-uphold-laws-that-criminalize-gay-sex. Downloaded on October 4, 2019.

11.

Fay H, Baral SD, Trapence G, et al. Stigma, health care access, and HIV knowledge among men who have sex with men in Malawi, Namibia, and Botswana. AIDS Behav. 2011;15(6):1088–97.

12.

Lane T, Mogale T, Struthers H, McIntyre J, Kegeles SM. "They see you as a different thing": the experiences of men who have sex with men with healthcare workers in South African township communities. Sex Transm Infect. 2008;84(6):430–3.

13.

Tun W, Kellerman S, Maimane S, et al. HIV-related conspiracy beliefs and its relationships with HIV testing and unprotected sex among men who have sex with men in Tshwane (Pretoria), South Africa. AIDS Care. 2012;24(4):459–67.

14.

Graham SM, Mugo P, Gichuru E, et al. Adherence to antiretroviral therapy and clinical outcomes among young adults reporting high-risk sexual behavior, including men who have sex with men, in coastal Kenya. AIDS Behav. 2013;17(4):1255–65.

15.

Taegtmeyer M, Davies A, Mwangome M, et al. Challenges in providing counselling to MSM in highly stigmatized contexts: results of a qualitative study from Kenya. PLoS ONE. 2013;8(6):e64527.

16.

van der Elst EM, Gichuru E, Omar A, et al. Experiences of Kenyan healthcare workers providing services to men who have sex with men: qualitative findings from a sensitivity training programme. J Int AIDS Soc. 2013;16(Suppl 3):18741.

17.

van der Elst EM, Smith AD, Gichuru E, et al. Men who have sex with men sensitivity training reduces homoprejudice and increases knowledge among Kenyan healthcare providers in coastal Kenya. J Int AIDS Soc. 2013;16(Suppl 3):18748.

18.

van der Elst EM, Gichuru E, Muraguri N, et al. Strengthening healthcare providers' skills to improve HIV services for MSM in Kenya. AIDS. 2015;29(Suppl 3):S237–240.

19.

van der Elst EM, Kombo B, Gichuru E, et al. The green shoots of a novel training programme: progress and identified key actions to providing services to MSM at Kenyan health facilities. J Int AIDS Soc. 2015;18:20226.

20.

National SOGIE Research Advisory Committee. G10 Research Engagement: A 3 Year Roadmap for Action for Sexual Orientation Gender Identity and Expression (SOGIE) Engagement in Research (2016/17 -2018/2019). Nairobi, Kenya: International AIDS Vaccine Initiative; 2016.

21.

Graham SM, Micheni M, Secor A, et al. HIV care engagement and ART adherence among Kenyan gay, bisexual, and other men who have sex with men: a multi-level model informed by qualitative research. AIDS Care. 2018;30(sup5):S97-S105.

22.

Micheni M, Kombo BK, Secor A, et al. Health provider views on improving antiretroviral therapy adherence among men who have sex with men in coastal Kenya. AIDS Patient Care STDS. 2017;31(3):113-121.

23.

Graham SM, Micheni M, Kombo B, et al. Development and pilot testing of an intervention to promote care engagement and adherence among HIV-positive Kenyan MSM. AIDS. 2015;29 Suppl 3:S241-249.

24.

National AIDS and STI Control Programme. Guidelines on Use of Antiretroviral Drugs for Treating and Preventing HIV Infection: A Rapid Advice. Nairobi, Kenya: Kenya Ministry of Health; 2014.

25.

Amico KR, McMahan V, Goicochea P, et al. Supporting study product use and accuracy in self-report in the iPrEx study: next step counseling and neutral assessment. AIDS Behav. 2012;16(5):1243–59.

26.

Simoni JM, Huh D, Frick PA, et al. Peer support and pager messaging to promote antiretroviral modifying therapy in Seattle: a randomized controlled trial. J Acquir Immune Defic Syndr. 2009;52(4):465–73.

27.

Chung MH, Richardson BA, Tapia K, et al. A randomized controlled trial comparing the effects of counseling and alarm device on HAART adherence and virologic outcomes. PLoS Med. 2011;8(3):e1000422.

28.

Lu M, Safren SA, Skolnik PR, et al. Optimal recall period and response task for self-reported HIV medication adherence. AIDS Behav. 2008;12(1):86–94.

29.

Feldman BJ, Fredericksen RJ, Crane PK, et al. Evaluation of the single-item self-rating adherence scale for use in routine clinical care of people living with HIV. AIDS Behav. 2013;17(1):307–18.

30.

Oyugi JH, Byakika-Tusiime J, Charlebois ED, et al. Multiple validated measures of adherence indicate high levels of adherence to generic HIV antiretroviral therapy in a resource-limited setting. J Acquir Immune Defic Syndr. 2004;36(5):1100–2.

31.

Simoni JM, Beima-Sofie K, Amico KR, Hosek SG, Johnson MO, Mensch BS. Debrief reports to expedite the impact of qualitative research: Do they accurately capture data from in-depth interviews? AIDS Behav. 2019;23(8):2185–2189.

32.

Bangsberg DR. Less than 95% adherence to nonnucleoside reverse-transcriptase inhibitor therapy can lead to viral suppression. Clin Infect Dis. 2006;43(7):939–41.

33.

Huh D, Flaherty BP, Simoni JM. Optimizing the analysis of adherence interventions using logistic generalized estimating equations. AIDS Behav. 2012;16(2):422–31.

34.

Holstad MM, Essien JE, Ekong E, Higgins M, Teplinskiy I, Adewuyi MF. Motivational groups support adherence to antiretroviral therapy and use of risk reduction behaviors in HIV positive Nigerian women: a pilot study. Afr J Reprod Health. 2012;16(3):14–27.

35.

Parry CD, Morojele NK, Myers BJ, et al. Efficacy of an alcohol-focused intervention for improving adherence to antiretroviral therapy (ART) and HIV treatment outcomes: a randomised controlled trial protocol. BMC Infect Dis. 2014;14:500.

36.

Simoni JM, Nelson KM, Franks JC, Yard SS, Lehavot K. Are peer interventions for HIV efficacious? A systematic review. AIDS Behav. 2011;15(8):1589–95.

37.

Haberer JE, Sabin L, Amico KR, et al. Improving antiretroviral therapy adherence in resource-limited settings at scale: a discussion of interventions and recommendations. J Int AIDS Soc. 2017;20(1):21371.

38.

Mills EJ, Lester R, Thorlund K, et al. Interventions to promote adherence to antiretroviral therapy in Africa: a network meta-analysis. Lancet HIV. 2014;1(3):e104–111.

39.

Secor AM, Wahome E, Micheni M, et al. Depression, substance abuse and stigma among men who have sex with men in coastal Kenya. AIDS. 2015;29(Suppl 3):S251–259.

40.

Korhonen C, Kimani M, Wahome E, et al. Depressive symptoms and problematic alcohol and other substance use in 1476 gay, bisexual, and other MSM at three research sites in Kenya. AIDS. 2018;32(11):1507–15.

41.

Amico KR, Miller J, Balthazar C, et al. Integrated Next Step Counseling (iNSC) for sexual health and PrEP use among young men who have sex with men: implementation and observations from ATN110/113. AIDS Behav. 2019;23(7):1812–23.
Acknowledgements
We thank the men who participated in all phases of the Shikamana intervention development and RCT for their contributions. We express special gratitude to our seven dedicated and hard-working peers. We thank the staff of the HIV/STI project at the KEMRI-Wellcome Trust Research Programme in Kilifi for their commitment to serving GBMSM, as well as Dr. Anisa Omar of the Kenyan Ministry of Health. We are also grateful for support and guidance provided by the KWRTP to carry out research with stigmatized and vulnerable populations.
Funding
Support for this study was provided by NIH Grant R34 MH099946 (PI: SMG). SMG was also supported by the Robert W. Anderson Endowed Professorship in Medicine. JMS was supported by NIH Grant K24 MH093243. DO was supported by R24 HD07796. The KWRTP at the Centre for Geographical Medicine Research-Kilifi is supported by core funding from the Wellcome Trust (#203077/Z/16/Z). Additional infrastructure funding was provided by the University of Washington Center for AIDS Research, an NIH funded program (P30 AI027757) supported by the following NIH Institutes and Centers (NIAID, NCI, NIMH, NIDA, NICHD, NHLBI, NIA, NIGMS, NIDDK). Our work with GBMSM has also been funded by the International AIDS Vaccine Initiative (IAVI) with the generous support of USAID and other donors; a full list of IAVI donors is available at www.iavi.org. The views expressed in this publication are those of the authors and do not necessarily represent the official views the United States Government. This report was published with permission from the Director of the KEMRI-Wellcome Trust Research Programme.
Ethics declarations
Conflict of interest
All authors declare no conflict of interest.
Ethical Approval
All procedures were in accordance with the ethical standards of the Ethical Review Boards of KEMRI and the University of Washington and with the 1964 Helsinki declaration and its later amendments. KEMRI (#2835) and the University of Washington (#47589) approved the study protocol and monitored study progress. All men provided written, informed consent to participate. The study protocol was registered at clinicaltrials.gov at NCT02301533.
Additional information
Publisher's Note
Springer Nature remains neutral with regard to jurisdictional claims in published maps and institutional affiliations.
Electronic supplementary material
Below is the link to the electronic supplementary material.
About this article
Cite this article
Graham, S.M., Micheni, M., Chirro, O. et al. A Randomized Controlled Trial of the Shikamana Intervention to Promote Antiretroviral Therapy Adherence Among Gay, Bisexual, and Other Men Who Have Sex with Men in Kenya: Feasibility, Acceptability, Safety and Initial Effect Size. AIDS Behav 24, 2206–2219 (2020). https://doi.org/10.1007/s10461-020-02786-5
Keywords
HIV

Antiretroviral therapy

Medication adherence

Counseling

Peer group
Palabras clave
VIH

terapia antirretroviral

adherencia a la medicación

consejería

grupo de pares