Abstract
Greater male partner involvement in Prevention of Mother to Child Transmission (PMTCT) and Early Infant Diagnosis (EID) is associated with improved outcomes. Perceived low social support for the mother can negatively impact the uptake of PMTCT/EID services. Most research relies on women's reports of the types and quality of male partner support received versus what is desired. This qualitative study examines Kenyan male partners' reported social support provision pre- and post-partum from their own perspective. The study was embedded within intervention development studies in Kenya designed to develop and pilot a PMTCT module of a web based system to improve EID. Focus groups were conducted with male partners of pregnant women with HIV and elicited feedback on male partner involvement in maternal and child care and factors affecting participation. Interviews were analyzed within a theoretical social support framework. Participants described providing tangible support (financial resources), informational support (appointment reminders) and emotional support (stress alleviation in the face of HIV-related adversity). African conceptualizations of masculinity and gender norms influenced the types of support provided. Challenges included economic hardship; insufficient social support from providers, peers and bosses; and HIV stigma. Collaboration among providers, mothers and partners; a community-based social support system; and recasting notions of traditional masculinity were identified as ways to foster male partner support.
This is a preview of subscription content, log in to check access.
Access options
Buy single article
Instant access to the full article PDF.
US$ 39.95
Price includes VAT for USA
Subscribe to journal
Immediate online access to all issues from 2019. Subscription will auto renew annually.
US$ 99
This is the net price. Taxes to be calculated in checkout.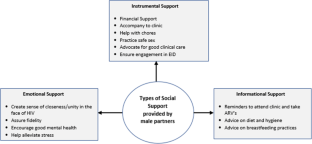 References
1.

Wachira J, Middlestadt SE, Vreeman R, Braitstein P. Factors underlying taking a child to HIV care: implications for reducing loss to follow-up among HIV-infected and-exposed children. SAHARA-J. 2012;9(1):20–9.

2.

Aluisio A, Richardson BA, Bosire R, John-Stewart G, Mbori-Ngacha D, Farquhar C. Male antenatal attendance and HIV testing are aith decreased infant HIV infection and increased HIV free survival. J Acquir Immune Defic Syndr. 2011;56(1):76.

3.

Aluisio AR, Bosire R, Bourke B, Gatuguta A, Kiarie JN, Nduati R, et al. Male partner participation in antenatal clinic services is associated with improved HIV-free survival among infants in Nairobi, Kenya: a prospective cohort study. J Acquir Immune Defic Syndr. 2016;73(2):169–76.

4.

Ambia J, Mandala J. A systematic review of interventions to improve prevention of mother to child HIV transmission service delivery and promote retention. J Int AIDS Soc. 2016;19(1):20309.

5.

Maman S, Moodley D, Groves AK. Defining male support during and after pregnancy from the perspective of HIV-positive and HIV-negative women in Durban, South Africa. J Midwifery Women Health. 2011;56(4):325–31.

6.

Turan JM, Miller S, Bukusi E, Sande J, Cohen C. HIV/AIDS and maternity care in Kenya: how fears of stigma and discrimination affect uptake and provision of labor and delivery services. AIDS Care. 2008;20(8):938–45.

7.

Matovu S, Kirunda B, Rugamba-Kabagambe G, Tumwesigye N, Nuwaha F. Factors influencing adherence to exclusive breast feeding among HIV positive mothers in Kabarole district, Uganda. East Afr Med J. 2008;85(4):162–70.

8.

Sibeko L, Coutsoudis A, Nzuza SP, Gray-Donald K. Mothers' infant feeding experiences: constraints and supports for optimal feeding in an HIV-impacted urban community in South Africa. Public Health Nutr. 2009;12(11):1983–90.

9.

Audet CM, Blevins M, Chire YM, Aliyu MH, Vaz LM, Antonio E, et al. Engagement of men in antenatal care services: increased HIV testing and treatment uptake in a community participatory action program in Mozambique. AIDS Behav. 2016;20(9):2090–100.

10.

Murithi LK, Masho SW, Vanderbilt AA. Factors enhancing utilization of and adherence to prevention of mother-to-child transmission (PMTCT) service in an urban setting in Kenya. AIDS Behav. 2015;19(4):645–54.

11.

Osoti A, Han H, Kinuthia J, Farquhar C. Role of male partners in the prevention of mother-to-child HIV transmission. Res Rep Neonatol. 2014;4:131–8.

12.

Msuya SE, Mbizvo E, Hussain A, Uriyo J, Sam N, Stray-Pedersen B. Low male partner participation in antenatal HIV counselling and testing in northern Tanzania: implications for preventive programs. AIDS Care. 2008;20(6):700–9.

13.

Haile F, Brhan Y. Male partner involvements in PMTCT: a cross sectional study, Mekelle, Northern Ethiopia. BMC Pregnancy Childbirth. 2014;14:65.

14.

Manjate Cuco RM, Munguambe K, Bique Osman N, Degomme O, Temmerman M, Sidat MM. Male partners' involvement in prevention of mother-to-child HIV transmission in sub-Saharan Africa: a systematic review. Sahara J. 2015;12:87–105.

15.

Frizelle K, Solomon V. Strengthening PMTCT through communication. Johannesburg: Center for AIDS Development and Evaluation, CADRE; 2009.

16.

Morfaw F, Mbuagbaw L, Thabane L, Rodrigues C, Wunderlich AP, Nana P, et al. Male involvement in prevention programs of mother to child transmission of HIV: a systematic review to identify barriers and facilitators. Syst Rev. 2013;2:5.

17.

Nanjala M, Wamalwa D. Determinants of male partner involvement in promoting deliveries by skilled attendants in Busia, Kenya. Glob J Health Sci. 2012;4(2):60.

18.

Koo K, Makin JD, Forsyth BW. Barriers to male-partner participation in programs to prevent mother-to-child HIV transmission in South Africa. AIDS Educ Prev. 2013;25(1):14–24.

19.

Fleming PJ, DiClemente RJ, Barrington C. Masculinity and HIV: dimensions of masculine norms that contribute to men's HIV-related sexual behaviors. AIDS Behav. 2016;20(4):788–98.

20.

Siu GE, Wight D, Seeley J. 'Dented' and 'resuscitated' masculinities: the impact of HIV diagnosis and/or enrolment on antiretroviral treatment on masculine identities in rural eastern Uganda. Sahara J. 2014;11(1):211–21.

21.

Falnes E, Moland K, Tylleskär T, de Paoli M, Msuya SE, Engebretsen IM. "It is her responsibility": partner involvement in prevention of mother to child transmission of HIV programmes, northern Tanzania. J Int AIDS Soc. 2011;14(1):21.

22.

Ditekemena J, Matendo R, Koole O, Colebunders R, Kashamuka M, Tshefu A, et al. Male partner voluntary counselling and testing associated with the antenatal services in Kinshasa, Democratic Republic of Congo: a randomized controlled trial. Int J STD AIDS. 2011;22(3):165–70.

23.

Osoti AO, John-Stewart G, Kiarie J, Richardson B, Kinuthia J, Krakowiak D, et al. Home Visits during pregnancy enhance male partner HIV counseling and testing in Kenya: a randomized clinical trial. AIDS. 2014;28(1):95–103.

24.

Katz DA, Kiarie JN, John-Stewart GC, Richardson BA, John FN, Farquhar C. Male perspectives on incorporating men into antenatal HIV counseling and testing. PLoS ONE. 2009;4(11):e7602.

25.

Reece M, Hollub A, Nangami M, Lane K. Assessing male spousal engagement with prevention of mother-to-child transmission (pMTCT) programs in western Kenya. AIDS Care. 2010;22(6):743–50.

26.

Orne-Gliemann J, Tchendjou PT, Miric M, Gadgil M, Butsashvili M, Eboko F, et al. Couple-oriented prenatal HIV counseling for HIV primary prevention: an acceptability study. BMC Public Health. 2010;10(1):197.

27.

Rodriguez M, Cohen S. Social support. Encyclopedia of mental health. New York: Academic Press; 1998.

28.

Bekele T, Rourke SB, Tucker R, Greene S, Sobota M, Koornstra J, et al. Direct and indirect effects of perceived social support on health-related quality of life in persons living with HIV/AIDS. AIDS Care. 2013;25(3):337–46.

29.

Galvan FH, Davis EM, Banks D, Bing EG. HIV stigma and social support among African Americans. AIDS Patient Care STDs. 2008;22(5):423–36.

30.

Earnshaw VA, Lang SM, Lippitt M, Jin H, Chaudoir SR. HIV stigma and physical health symptoms: do social support, adaptive coping, and/or identity centrality act as resilience resources? AIDS Behav. 2015;19(1):41–9.

31.

Takada S, Weiser SD, Kumbakumba E, Muzoora C, Martin JN, Hunt PW, et al. The dynamic relationship between social support and HIV-related stigma in rural Uganda. Ann Behav Med. 2014;48(1):26–37.

32.

Brittain K, Giddy J, Myer L, Cooper D, Harries J, Stinson K. Pregnant women's experiences of male partner involvement in the context of prevention of mother-to-child transmission in Khayelitsha, South Africa. AIDS Care. 2015;27(8):1020–4.

33.

Nyondo-Mipando AL, Chimwaza AF, Muula AS. "He does not have to wait under a tree": perceptions of men, women and health care workers on male partner involvement in prevention of mother to child transmission of human immunodeficiency virus services in Malawi. BMC Health Serv Res. 2018;18(1):187.

34.

Asefa F, Geleto A, Dessie Y. Male partners involvement in maternal ANC care: the view of women attending ANC in Hararipublic health institutions, eastern Ethiopia. Sci J Public Health. 2014;2(3):182–8.

35.

Theuring S, Nchimbi P, Jordan-Harder B, Harms G. Partner involvement in perinatal care and PMTCT services in Mbeya Region, Tanzania: the providers' perspective. AIDS Care. 2010;22(12):1562–8.

36.

Medley AM, Mugerwa GW, Kennedy C, Sweat M. Ugandan men's attitudes toward their partner's participation in antenatal HIV testing. Health Care Women Int. 2012;33(4):359–74.

37.

Mburu G, Ram M, Siu G, Bitira D, Skovdal M, Holland P. Intersectionality of HIV stigma and masculinity in eastern Uganda: implications for involving men in HIV programmes. BMC Public Health. 2014;14(1):1061.

38.

Mankayi N, Vernon Naidoo A. Masculinity and sexual practices in the military: a South African study. Afr J AIDS Res. 2011;10(1):43–50.

39.

Siu GE, Wight D, Seeley JA. Masculinity, social context and HIV testing: an ethnographic study of men in Busia district, rural eastern Uganda. BMC Public Health. 2014;14:33.

40.

Siu GE, Seeley J, Wight D. Dividuality, masculine respectability and reputation: how masculinity affects men's uptake of HIV treatment in rural eastern Uganda. Soc Sci Med. 2013;89:45–52.

41.

Sileo KM, Fielding-Miller R, Dworkin SL, Fleming PJ. What role do masculine norms play in men's HIV testing in sub-Saharan Africa?: a scoping review. AIDS Behav. 2018;22(8):2468–79.

42.

Lindegger G, Quayle M. Masculinity and HIV/AIDS. HIV/AIDS in South Africa 25 years on. New York: Springer; 2009. p. 41–54.

43.

Jewkes R, Morrell R. Sexuality and the limits of agency among South African teenage women: theorising femininities and their connections to HIV risk practises. Soc Sci Med. 2012;74:1729–37.

44.

Johnson LF. Access to antiretroviral treatment in South Africa, 2004-2011. South Afr J HIV Med. 2012. https://doi.org/10.4102/sajhivmed.v13i1.1.

45.

Ratele K. Analysing males in Africa: certain useful elements in considering ruling masculinities. Afr Asian Stud. 2008;7:515–36.

46.

Seeley J, Mbonye M, Ogunde N, Kalanzi I, Wolff B, Coutinho A. HIV and identity: the experience of AIDS support group members who unexpectedly tested HIV negative in Uganda. Sociol Health Illn. 2012;34(3):330–44.

47.

Ramirez-Ferrero E. Male involvement in the prevention of mother-to-child transmission of HIV. Geneva: World Health Organization; 2012.
Acknowledgements
This work is supported by National Institutes of Health grants R34MH107337, funded by the National Institute of Mental Health, and R01HD076673 and R01HD076673-04S1, funded by the Eunice Kennedy Shriver National Institute of Child Health and Human Development. The content is solely the responsibility of the authors and does not necessarily represent the official views of the National Institutes of Health.
Ethics declarations
Conflicts of interest
No potential conflicts exist for all authors.
Ethical Approval
All procedures performed in studies involving human participants were in accordance with the ethical standards of the institutional and/or national research committee and with the 1964 Helsinki declaration and its later amendments or comparable ethical standards. Informed consent was obtained from all individual participants included in the study.
Additional information
Publisher's Note
Springer Nature remains neutral with regard to jurisdictional claims in published maps and institutional affiliations.
About this article
Cite this article
Mabachi, N.M., Brown, M., Sandbulte, M. et al. Using a Social Support Framework to Understand How HIV Positive Kenyan Men Engage in PMTCT/EID Care: Qualitative Insights From Male Partners. AIDS Behav 24, 18–28 (2020). https://doi.org/10.1007/s10461-019-02451-6
Keywords
PMTCT

EID

Social support

Male engagement

Masculinity

Kenya