Abstract
This work studies the effects of forestation on forage mass and its chemical composition, as well as mean air temperature and their impact on beef cattle performance and grazing behaviour when compared to a natural grassland system. The systems comprised 100% natural grassland from the Campos biome (NG) and forested land (FL) 60% 6 y.o. Pinus taeda (500 trees per hectare) and 40% of natural grassland. We found that the crude protein composition of the pasture growing under the trees was higher, while mean air temperature was lower during the hot season. This changed the grazing pattern of the cattle, and was associated with higher average daily gain of the animals grazing in FL. We conclude that the introduction of trees in natural grasslands changed the environmental conditions, providing a better thermic and nutritive situation for growing grazing cattle that ultimately results in an increase in their productivity.
This is a preview of subscription content, log in to check access.
Access options
Buy single article
Instant access to the full article PDF.
US$ 39.95
Price includes VAT for USA
Subscribe to journal
Immediate online access to all issues from 2019. Subscription will auto renew annually.
US$ 199
This is the net price. Taxes to be calculated in checkout.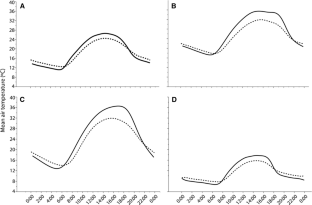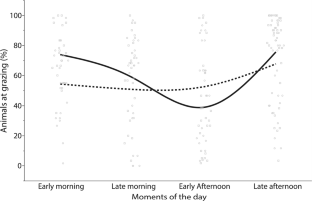 References
Allen VG, Batello C, Berretta EJ et al (2011) An international terminology for grazing lands and grazing animals. Grass Forage Sci 66:2–28. https://doi.org/10.1111/j.1365-2494.2010.00780.x

Arias RA, Mader TL, Escobar PC (2008) Factores climáticos que afectan el desempeño productivo del ganado bovino de carne y leche. Arch Med Vet 40:7–22. https://doi.org/10.4067/S0301-732X2008000100002

Armstrong DV (1994) Heat Stress Interaction with Shade and Cooling. J Dairy Sci 77:2044–2050. https://doi.org/10.3168/jds.S0022-0302(94)77149-6

Buxton DR, Mertens DR, Moore KJ et al (1995) Forage quality for ruminants: plant and animal considerations. Prof Anim Sci 11:121–131. https://doi.org/10.15232/S1080-7446(15)32575-4

Cruz P (1997) Effect of shade on the carbon and nitrogen allocation in a perennial tropical grass, dichanthium aristatum. J Exp Bot 48:15–24. https://doi.org/10.1093/jxb/48.1.15

Cubbage F, Balmelli G, Bussoni A et al (2012) Comparing silvopastoral systems and prospects in eight regions of the world. Agrofor Syst 86:303–314. https://doi.org/10.1007/s10457-012-9482-z

Davis JM, Stamps JA (2004) The effect of natal experience on habitat preferences. Trends Ecol Evol 19:411–416. https://doi.org/10.1016/j.tree.2004.04.006

Davis MS, Mader TL, Holt SM, Parkhurst AM (2003) Strategies to reduce feedlot cattle heat stress: effects on tympanic temperature. J Anim Sci 81:649–661

Drescher M, Heitkönig IMA, Raats JG, Prins HHT (2006) The role of grass stems as structural foraging deterrents and their effects on the foraging behaviour of cattle. Appl Anim Behav Sci 101:10–26. https://doi.org/10.1016/j.applanim.2006.01.011

Enríquez D, Hötzel MJ, Ungerfeld R (2011) Minimising the stress of weaning of beef calves: a review. Acta Vet Scand 53:28. https://doi.org/10.1186/1751-0147-53-28

Fedrigo Ataide PF, Filho JA et al (2018) Temporary grazing exclusion promotes rapid recovery of species richness and productivity in a long-term overgrazed Campos grassland. Restor Ecol 26:677–685. https://doi.org/10.1111/rec.12635

Feldhake CM, Belesky DP (2009) Photosynthetically active radiation use efficiency of Dactylis glomerata and Schedonorus phoenix along a hardwood tree-induced light gradient. Agrofor Syst 75:189–196. https://doi.org/10.1007/s10457-008-9175-9

Garnier E, Roy J (1988) Modular and demographic analysis of plant leaf area in sward and woodland populations of dactylis glomerata and bromus erectus. J Ecol 76:729–743

Gastal F, Lemaire G (2002) N uptake and distribution in crops: an agronomical and ecophysiological perspective. J Exp Bot 53:789–799. https://doi.org/10.1093/jexbot/53.370.789

Guggeri D, Meikle A, Carriquiry N et al (2014) Effect of different management systems on growth, endocrine parameters and puberty in Hereford female calves grazing Campos grassland. Livest Sci 167:455–462. https://doi.org/10.1016/j.livsci.2014.06.026

Hodgson J (1990) Grazing managment. Science into practice. Longman Ha, New York

Kyriazopoulos AP, Abraham EM, Parissi ZM et al (2012) Forage production and nutritive value of Dactylis glomerata and Trifolium subterraneum mixtures under different shading treatments. Grass Forage Sci 68:72–82. https://doi.org/10.1111/j.1365-2494.2012.00870.x

Lopes LB, Eckstein C, Pina DS, Carnevalli RA (2016) The influence of trees on the thermal environment and behaviour of grazing heifers in Brazilian Midwest. Trop Anim Health Prod. https://doi.org/10.1007/s11250-016-1021-x

Martin P, Bateson PFRS (1993) Measuring behaviour. An introductory guide. 6. Recording methods, 2nd edn. Cambridge University press, Cambridge

MGAP/CNFR (2012) Adaptación y mitigación al cambio climático en sistemas agropecuarios del Uruguay. p 240

Moreno G, Franca A, Correia MTP, Godinho S (2014) Multifunctionality and dynamics of silvopastoral systems. Options Méditerranéennes Ser A Mediterr Semin 109:421–436

Ortega-Reyes L, Provenza FD (1993) Amount of experience and age affect the development of foraging skills of goats browsing blackbrush (Coleogyne ramosissima). Appl Anim Behav Sci 36:169–183. https://doi.org/10.1016/0168-1591(93)90008-D

Peri PL, Moot DJ, McNeil DL (2003) An integrated model for predicting maximum net photosynthetic rate of cocksfoot (Dactylis glomerata) leaves in silvopastoral systems. Agrofor Syst 58:173–183. https://doi.org/10.1023/A:1026032721425

Renaudeau D, Collin A, Yahav S et al (2012) Adaptation to hot climate and strategies to alleviate heat stress in livestock production. Animal 6:707–728. https://doi.org/10.1017/s1751731111002448

Roguet C, Dumont B, Prache S (1998) Selection and use of feeding sites and feeding stations by herbivores: a review. Ann Zootech 47:225–244. https://doi.org/10.1051/animres:19980401

Rovira P, Velazco J (2010) The effect of artificial or natural shade on respiration rate, behaviour and performance of grazing steers. N Zeal J Agric Res 53:347–353. https://doi.org/10.1080/00288233.2010.525785

Savsani HH, Padodara RJ, Bhadaniya AR et al (2015) Impact of climate on feeding, production and reproduction of animals-a review. Agric Rev 36:26. https://doi.org/10.5958/0976-0741.2015.00003.3

Young B (1983) Ruminant cold stress: effect on production. J Anim Sci 57:1601–1607
Acknowledgements
We wish to thank the Weyerhaeuser Company and the members of the Sociedad de Fomento Rural Basalto Ruta 31 for making this experiment feasible. We'd also like to thank the graduate students Nelson Rivas and Javier Amaya for the field evaluations and to Pablo Speranza for helping in English grammar and language corrections.
About this article
Cite this article
Fedrigo, J.K., Santa Cruz, R., Benítez, V. et al. Dynamics of forage mass, air temperature and animal performance in a silvopastoral system of Uruguay. Agroforest Syst 93, 2197–2204 (2019). https://doi.org/10.1007/s10457-018-0335-2
Received:

Accepted:

Published:

Issue Date:
Keywords
Forest

Natural grassland

Animal behavior

Productivity