Abstract
The effects of drought stress on growth and dry matter partitioning of seven provenances of Parkia biglobosa were assessed in a nursery experiment. Three different water regimes were applied: soil high, medium and low water content (HWC, MWC and LWC) corresponding respectively to 100, 75 and 50 % of field capacity. A split-plot experimental design was applied with the provenance as main plot and the water regime as sub-plot, replicated three times. Each provenance was represented by 30 seedlings in each replication, corresponding to three test periods with ten seedlings each (6, 12 and 18 months after water stress started). There were significant interactions between provenance and water regime for survival rate and the relative growth rates of diameter and height. After 18 months, the dry matter mean was 20.00 ± 0.65 g for the HWC regime, 11.50 ± 2.90 g for the MWC regime while all plants in the LWC regime died. After 6 months, the accumulated water use efficiency (WUE) showed significant differences between water regimes, but not between provenances. Seedlings from the LWC regime showed higher WUE than those from the MWC regime. However, the HWC regime displayed the highest mean value of WUE. Despite differences between provenances, it was not possible to clearly separate them according to the geographical position or climatic parameters, based on the growth performance or both fresh to dry weight and shoot to root dry weight ratios.
Access options
Buy single article
Instant access to the full article PDF.
US$ 39.95
Tax calculation will be finalised during checkout.
Subscribe to journal
Immediate online access to all issues from 2019. Subscription will auto renew annually.
US$ 119
Tax calculation will be finalised during checkout.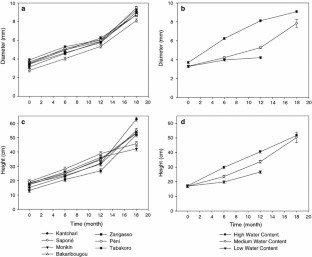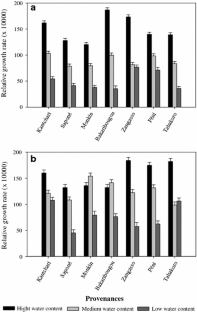 References
Aho N, Daudet FA, Vartanian N (1979) Evolution de la photosynthèse nette et de l'efficience de la transpiration au cours d'un cycle de dessèchement du sol. Comptes rendus hebdomadaires des séances de l'Académie des sciences, Série D 288:501–504

Ali M, Jensen CR, Mogensen VO, Andersen MN, Henson IE (1999) Root signalling and osmotic adjustment during intermittent soil drying sustain grain yield of field grown wheat. Field Crops Res 62:35–52

Allen CD et al (2010) A global overview of drought and heat-induced tree mortality reveals emerging climate change risks for forests. For Ecol Manag 259(2010):660–684

Anyamba A, Tucker CJ (2005) Analysis of Sahelian vegetation dynamics using NOAA-AVHRR NDVI data from 1981 to 2003. J Arid Environ 63:596–614

Arbonnier M (2000) Arbres, arbustes et lianes des zones sèches d'Afrique de l'Ouest. CIRAD-MNHN

Barros LM, Barbosa DCA (1995) Growth of Acacia farnesiana in a greenhouse. Phyton-Buenos-Aires 57(2):179–191

Boukerker H (2007) L'influence des substrats de culture sur l'enracinement de plants sous abri. These de Magister. Université Colonel El Hadj Lakhdar, Batna

Canham CD, Berkowitz AR, Kelly VR, Lovett GM, Ollinger SV, Schnurr J (1996) Biomass allocation and multiple resource limitation in tree seedlings. Can J For Res 26:1521–1530

Chaves Manuela M, Maroco Joao P, Pereira Joao S (2003) Understanding plant responses to drought: from genes to the whole plant. Funct Plant Biol 30(3):239–264

Cheruth AJ, Ragupathi G, Beemarao S, Muthiah G, Rajaram P (2008) Differential responses in water use efficiency in two varieties of Catharanthus roseus under drought stress. C R Biol 331:42–47

Chunying Y, Youhong P, Runguo Z, Yaping Z, Chunyang L (2005) Adaptive responses of Populus kangdingensis to drought stress. Physiol Plantarum 123(4):445–451

Elfeel AA, Warrag EI, Musnad HA (2007) Response of Balanites aegyptiaca (L.) Del. seedlings from varied geographical source to imposed drought stress. Discov Innov 184:319–325

Ericsson T (1995) Growth and shoot: root ratio of seedlings in relation to nutrient availability. Plant Soil 168(169):205–214

Gindaba J, Rozanov A, Negash L (2005) Photosynthetic gas exchange, growth and biomass allocation of two eucalyptus and three indigenous tree species of Ethiopia under moisture deficit. For Ecol Manag 205(1–3):127–138

Hall AE, Richards RA, Condon AG, Wright GC, Farquhar GD (1994) Carbon isotope discrimination and plant breeding. Plant Breed Rev 12:81–113

Hall JB, Thomlinson HF, Oni PI, Buchy M, Aebischer DP (1997) A monograph of Parkia biglobosa. School of Agricultural and Forest Sciences Publication No 9, University of Wales, Bangor

Hay RKM, Porter JR (2006) The physiology of crop yield. OUP, Oxford, UK

Hoffmann WA, Porter H (2002) Avoiding bias in calculations of relative growth rate. Annals Bot 80:37–42

Hopkins HC, White F (1984) The ecology and chorology of Parkia in Africa. Bull Jardin Botanique Naturelle Belgique 54:235–266

Hsiao TC, Acevedo E (1974) Plant responses to water deficits, water-use efficiency, and drought resistance. Agric Meteorol 14:59–84

Hunt R (1982) Plan growth curves: the functional approach to plant growth analysis. Edward Arnold, London, UK

IPCC (2007a) Climate change 2007: the physical science basis. In: Solomon S, Qin D, Manning M, Chen Z, Marquis M, Averyt KB, Tignor M, Miller HL (eds) Contribution of working group I to the fourth assessment report of the intergovernmental panel on climate change. Cambridge University Press, Cambridge, pp 385–432

IPCC (2007b) Climate change 2007: Synthesis Report. Adopted section by section at IPCC Plenary XXVII. Valencia, 12–17 Nov 2007

Joly RJ, Adams WT, Stafford SG (1989) Phenological and morphological responses of mesic and dry site sources of coastal Douglas-fir to water deficit. For Sci 35:987–1005

Junk WJ (2002) Long-term environmental trends and the future of tropical wetlands. Environ Conserv 29(4):414–435

Karacic A, Weih M (2006) Variation in growth and resource utilisation among eight poplar clones grown under different irrigation and fertilisation regimes in Sweden. Biomass Bioenergy 30(2):115–124

Kelly BA, Cuny P (2000) Plantation d'espèces forestières locales sur sol hydromorphe: Bilan d'une expérimentation sylvicole au sud du Mali. Chronique internationale. Revue Forestière Française. Chronique internationale. Revue Forestière Française 5:453–466

Kozlowski TT, Pallardy SG (2002) Acclimation and adaptive responses of woody plants to environmental stresses. Bot Rev 68(2):270–334

Ky-Dembele C, Tigabu M, Bayala J, Ouedraogo SJ, Ode′n PC (2007) The relative importance of different regeneration mechanisms in a selectively cut savanna-woodland in Burkina Faso, West Africa. For Ecol Manag 243:28–38

Ky-Dembele C, Bayala J, Savadogo P, Tigabu M, Odén PC, Boussim IJ (2010) Comparison of growth responses of Khaya senegalensis seedlings and stecklings to four irrigation regimes. Silva Fennica 44(5):787–798

Lamien N, Bayala J (1994) Espèces ligneuses des parcs agroforestiers du terroir de Yasso: fonctions dans le système de production agricole et stratégies de leur gestion rapport de recherche. INERA, Bobo-Dioulasso

Lamien N, Sidibe A, Bayala J (1996) Use and commercialization of non-timber forest products in western Burkina Faso. In: Leakey RRB, Temu AB, Melnyk M (eds) Domestication and commercialization of Non-Timber Forest Products in Agroforestry systems. FAO, Rome. Non-wood Forest Products 9, pp 51–63

Larsen AS (2010) Gene flow and genetic structure in wild fruit trees: DNA-marker based studies of Adansonia digitata, Vitellaria paradoxa, Parkia biglobosa and Malus sysvestris. PhD thesis, University of Copenhagen, Denmark

Li FL, Bao WK, Wu N (2009) Effects of water stress on growth, dry matter allocation and water-use efficiency of a leguminous species, Sophora davidii. Agrofor Syst 77:193–201

Lin D, Wei LJ, Ying Z (1993) Checking the Cox model with cumulative sums of martingale-based residuals. Biometrika 80:557–572

Luvaha E, Netondo GW, Ouma G (2007) Responses of mango (Magnifera indica) root stock seedlings to water stress. Int J Bot. doi:10.3923/ijb.2007.373.378

McDowell N, Pockman WT, Allen CD, Breshears DD, Cobb N, Kolb T, Plaut J, Sperry J, West A, Williams DG, Yepez EA (2008) Mechanisms of plant survival and mortality during drought: why do some plants survive while others succumb to drought? New Phytol 178:719–739

Miao SL, Zou CB, Breshears DD (2009) Vegetation responses to extreme hydrological events: sequence matters. Am Nat 173:113–118

Ministère de l'Environnement et du Cadre de Vie, MECV/BF (2007) Plan d'Action Nationale d'Adaptation à la Variabilité et aux Changements Climatiques (PANA du Burkina Faso). Ouagadougou, Burkina Faso

Namirembe S, Brook RM, Ong CK (2009) Manipulating phenology and water relations in Senna spectabilis in a water limited environment in Kenya. Agrofor Syst 75(3):197–210

Nicholson SE, Davenport ML, Malo AR (1990) A comparison of the vegetation response to rainfall in the Sahel and East Africa, using normalized difference vegetation index from NOAA AVHRR. Clim Chang 17:209–241

Olsson L (2008) Greening of the Sahel. Retrieved 29 Mar 2009 from http://www.eoearth.org/article/Greening_of_the_Sahel. (Accessed 10 June 2011)

Oni PI (2008) Initial evaluation of Parkia biglobosa (Jacq. Benth) provenances from West African countries. Forestry Research Institute of Nigeria in http://www2.bioversityinternational.org/publications/1277/PDF/Initial.pdf. Accessed on 24 Nov 2010

Ouédraogo AS (1995) Parkia biglobosa (Leguminosae) en Afrique de l'Ouest: Biosystématique et Amélioration. Thèse, Université d'agronomie de Wageningen

Paz H (2003) Root/shoot allocation and root architecture in seedlings: variations among forest sites, microhabitats, and ecological groups. Biotropica 35:318–332

Ræbild A, Hansen UB, Kambou S (2011) Regeneration of Vitellaria paradoxa and Parkia biglobosa in a Parkland in Southern Burkina Faso. Agrofor Syst. doi:10.1007/s10457-011-9397-0

Roupsard O (1997) Ecophysiologie et diversité génétique de Faidherbia albida (Del.) A. Chev. (syn. Acacia albida Del.), un arbre à usages multiples d'Afrique semi-aride. Fonctionnement hydrique et efficience d'utilisation de l'eau d'arbres adultes en parc agroforestier et de juvéniles en conditions semi-contrôlées. Tome 1: Partie Svnthèse. Doctoral thesis. Université H. Poincaré de Nancy 1-France

Roupsard O, Joly HI, Dreyer E (1998) Variability of initial growth, water-use efficiency and carbon isotope discrimination in seedlings of Faidherbia albida (Del.) A. Chev., a multipurpose tree of semi-arid Africa. Provenance and drought effects. Annales des sciences forestières 55(3):329–348

Sakalauskaite J, Kviklys D, Lanauskas J, Duchovskis P (2006) Biomass production, dry weight partitioning and leaf area of apple rootstocks under drought stress. Sodininkyste Ir Darzininkyste 25(3):283–291

Sanon Z (2009) Fonctionnement physiologique du karité (Vitellaria paradoxa Gaertn. F Hepper) sous différents régimes d′eau. Engineer Degree Thesis, Université Polytechnique, Bobo Dioulasso, Burkina Faso

Sánchez-Coronado ME, Coates R, Castro-Colina L et al (2007) Improving seed germination and seedling growth of Omphalea oleifera (Euphorbiaceae) for restoration projects in tropical rain forests. For Ecol Manag 243(1):144–155

Sheffield J, Wood EF (2008) Global trends and variability in soil moisture and drought characteristics, 1950–2000, from observation-driven simulations of the terrestrial hydrologic cycle. J Clim 21(3):432–458

Sina S (2006) Reproduction et diversité génétique chez Parkia biglobosa (Jacq.) R.Br. ex G.Don. PhD thesis, Wageningen University, Wageningen. ISBN 90-8504-361-1, p 118

Sterl A, Severijns C, Dijkstra H, Hazeleger W, Jan van Oldenborgh G, van den Broeke M, Burgers G, van den Hurk B, Jan van Leeuwen P, van Velthoven P (2008) When can we expect extremely high surface temperatures? Geophys Res Lett 35:L14703. doi:10.1029/2008GL034071

Teklehaimanot Z (2004) Exploiting the potential of indigenous agroforestry trees: Parkia biglobosa and Vitellaria paradoxa in sub-Saharan Africa. Agrofor Syst 61:207–220

Teklehaimanot Z, Lanek J, Tomlinson HF (1998) Provenance variation in morphology and leaflet anatomy of Parkia biglobosa and its relation to drought tolerance. Trees 13:96–102

Ward RC, Robinson M (2000) Principles of hydrology, 4th edn. McGraw-Hill, London

Yang F, Miao LF (2010) Adaptive responses to progressive drought stress in two poplar species originating from different altitudes. Silva Fennica 44(1):23–37
Acknowledgments
This work was done under the project NuTree (Improving food potential in West African Parkland trees), financed by Danida. Special thanks to Gnoumou Augustin, Ilboudo Harouna, Bazié Paulin, Yonli Hermann, Diasso Ousmane, Kaboré Abel from INERA/DPF and Oubida Regis from CNSF for their support in the data collection.
About this article
Cite this article
Bouda, Z.HN., Bayala, J., Markussen, B. et al. Provenance variation in survival, growth and dry matter partitioning of Parkia biglobosa (Jacq.) R.Br. ex G.Don seedlings in response to water stress. Agroforest Syst 87, 59–71 (2013). https://doi.org/10.1007/s10457-012-9521-9
Received:

Accepted:

Published:

Issue Date:
Keywords
Adaptation

Drought tolerance

Sahel

Shoot–root ratio

Relative growth rate