Abstract
Participatory approaches in agroforestry combine land, labor, and knowledge, by blending local experience with external expert support for sloping land restoration. We describe and analyze over a decade of bottom-up agroforestry development processes that today are influencing national policies. In the 1990s, after economic upheaval following the collapse of trade with the USSR (Soviet Union) rapid conversion of sloping lands to agriculture, in association with heavy rainfall events, caused widespread erosion and landslides. In response, pilot scale 'user groups' obtained rights-to-use, rights-to-harvest and rights-to-plan or access to sloping lands for tree products and food. All three rights were novel in the DPR Korea and jointly contributed to success, together with active research support. Innovations in double-cropping annual food crops together with non-competitive contour strips of valuable fruits (aronia berry: Aronia melanocarpa) and/or high-value timber (larch: Larix leptolepis) emerged as preferred local agroforestry systems. Broad support for agroforestry practices has now emerged within the Ministry of Land and Environmental Protection as well as a number of universities and research centres. Further development will require increased engagement with agricultural and horticultural agencies, while the social dimensions of participatory agroforestry continue to provide rich learning.
Access options
Buy single article
Instant access to the full article PDF.
US$ 39.95
Tax calculation will be finalised during checkout.
Subscribe to journal
Immediate online access to all issues from 2019. Subscription will auto renew annually.
US$ 119
Tax calculation will be finalised during checkout.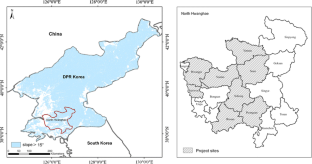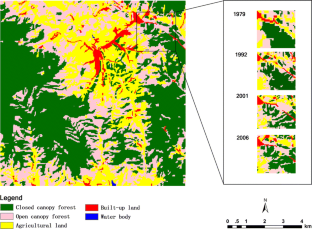 References
Barbier EB (1997) The economic determinants of land degradation in developing countries. Phil Trans R Soc Lond B 352:891–899

Food and Agriculture Organization of the United Nations (FAO) (2009) State of the world's forests 2009. FAO, Rome

Food and Agriculture Organization of the United Nations (FAO) (2011) State of the world's forests. FAO, Rome

Garrity DP (2004) Agroforestry and the achievement of the millennium development goals. Agrofor Syst 61:5–17

Garrity DP, Amoroso VB, Koffa S, Catacutan D, Buenavista G, Fay PD, Dar W (2002) Landcare on the poverty-protection interface in an Asian watershed. Conserv Ecol 6(1):195

Habib B (2010) Climate change and regime perpetuation in North Korea. Asian Surv 50(2):378–401

Haggard S, Noland M (2007) Famine in North Korea: markets, aid and reform. Columbia University Press, New York

Hayes P (2009) Unbearable legacies: the politics of environmental degradation in North Korea. Asia Pac J 41(2):9

He J, Zhou ZM, Weyerhaeuser H, Xu JC (2009) Participatory technology development for incorporating non-timber forest products into forest restoration in Yunnan, southwest China. For Ecol Manage 257:2010–2016

Hippel DV, Peter H (2007) Energy security for North Korea. Science 316:1288–1289

Hoang MH, van Noordwijk M, Nyberg Y (eds) (2005) Development of sustainable land use practices in the uplands for food security—an array of field methods developed in Vietnam. World Agrofor Centre, Hanoi

Josiah SJ, St-Pierre R, Brott H, Brandle J (2004) Productive conservation: diversifying farm enterprises by producing specialty woody products in agroforestry systems. J Sustain Agric 23:93–108

Mercado AR, Patindol M, Garrity DP (2001) The land care experience in the Philippines: technical and institutional innovations for conservation farming. Dev Pract 11:495–508

Pang CJ, Xu JC, Yu HY (2012) Upland deforestation and land cover change assessment in Suan county, DPR Korea. J Mt Sci (in review)

Park PH (ed) (2009) The dynamics of change in North Korea: an institutionalist perspective. Institute for Far Eastern Studies, Kyungnam University. Lynne Riener: Boulder

Poffenberger M (ed) (1990) Keepers of the forest: land management alternatives in southeast Asia. Kumarian, West Hartford

Roshetko JM, Lasco RD, de Los Angeles MD (2007) Smallholder agroforestry systems for carbon storage. Mitig Adapt Strat Glob Change 12:219–242

Santos-Martın F, Bertomeu M, van Noordwijk M, Navarro R (2011) Understanding forest transition in the Philippines: main farm-level factors influencing smallholder's capacity and intention to plant native timber trees. Small Scale For. doi:10.1007/s11842-011-9166-y

Scherr SJ (2000) A downward spiral? Research evidence on the relationship between poverty and natural resource degradation. Food Policy 25:479–498

Sinclair FL, Walker DH (1999) A utilitarian approach to the incorporation of local knowledge in agroforestry research and extension. In: Buck LE, Lassoie JP, Fernandes ECM (eds) Agroforestry in sustainable agricultural systems. CRC Press, Boca Raton, pp 245–275

Suyanto S, Permana RP, Khususiyah N, Joshi L (2004) Land tenure agroforestry adoption and reduction of fire hazard in a forest: a case study from Lampung, Sumatra Indonesia. Agrofor Syst 65:1–11

Tacio HD (1993) Sloping agricultural land technology (SALT): a sustainable agroforestry scheme for the uplands. Agrofor Syst 22:145–152

Tang L, Shao G, Piao Z, Dai L, Jenkins MA, Wang S, Wu G, Wu J, Zhao J (2010) Forest degradation deepens around and within protected areas in east Asia. Biol Conserv 143(5):1295–1298

Van Noordwijk M (2005) Participatory technology development in the context of integrated natural resource management. In: Neef A (ed) Participatory approaches for sustainable land use in southeast Asia. White Lotus Press, Bangkok, pp 183–202

Verbist B, Poesen J, van Noordwijk M, Widianto, Suprayogo D, Agus F, Deckers J (2010) Factors affecting soil loss at plot scale and sediment yield at catchment scale in a tropical volcanic agroforestry landscape. Catena 80:34–46

Verchot LV, Van Noordwijk M, Kandji S, Tomich TP, Ong CK, Albrecht A, Mackensen J, Bantilan C, Anupama KV, Cheryl PCA (2007) Climate change: linking adaptation and mitigation through agroforestry. Mitig Adapt Strat Glob Change 12:901–918

Woodward A, Hales S, Weinstein P (1998) Climate change and human health in the Asia Pacific region: who will be most vulnerable? Climate Res 11:31–38

Xu JC, Kim GJ, He J (2011) Participatory agroforestry development in DRP Korea. World Agroforestry Centre (ICRAF), China and East Asia node, Kunming
Acknowledgments
The Sloping Land Management Project together with agroforestry development activities was financially supported by the Swiss Agency for Development and Cooperation, Swiss Cooperation Office DPR Korea. Additional support is also from the CGIAR Research Program 6: Forests, Trees and Agroforestry.
About this article
Cite this article
Xu, J., van Noordwijk, M., He, J. et al. Participatory agroforestry development for restoring degraded sloping land in DPR Korea. Agroforest Syst 85, 291–303 (2012). https://doi.org/10.1007/s10457-012-9501-0
Received:

Accepted:

Published:

Issue Date:
Keywords
Aronia

Double-cropping

Land use rights

Larix

Restoration