We're sorry, something doesn't seem to be working properly.
Please try refreshing the page. If that doesn't work, please contact support so we can address the problem.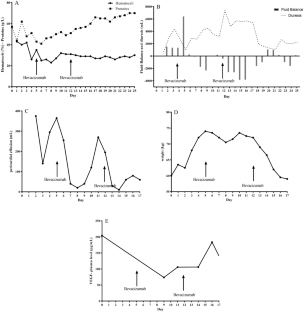 References
1.

Xie Z, Ghosh CC, Patel R et al (2012) Vascular endothelial hyperpermeability induces the clinical symptoms of Clarkson disease (the systemic capillary leak syndrome). Blood 119:4321–4332

2.

Lesterhuis WJ, Rennings AJ et al (2009) Vascular endothelial growth factor in systemic capillary leak syndrome. Am J Med 122:e5–e7

3.

Jeong SJ, Han SH, Kim CO, Choi JY, Kim JM (2013) Anti-vascular endothelial growth factor antibody attenuates inflammation and decreases mortality in an experimental model of severe sepsis. Crit Care 17:R97

4.

Yabe M, Koike T, Shimizu T, Morimoto T, Kato S (2010) Rapid improvement of life-threatening capillary leak syndrome after stem cell transplantation by bevacizumab. Blood 115:1223–1224

5.

Alidzanovic L, Starlinger P, Schauer D et al (2016) The VEGF rise in blood of bevacizumab patients is not based on tumor escape but a host-blockade of VEGF clearance. Oncotarget. https://doi.org/10.18632/oncotarget.11084
Acknowledgements
The authors are grateful to Nikki Sabourin-Gibbs (English native speaker), Rouen University Hospital, for her help in editing the manuscript and to Nicolas Perzo, Normandie University, Inserm U1096, for the measurement of VEGF-A plasma level. The authors are grateful to Vincent Richard and Ebba Brakenhielm from the Inserm U1096 Unit for their help in decision process and VEGF measurement, and to Fabien Doguet from the Rouen hospital cardiac surgery unit.
Funding
No dedicated funding was obtained for this work.
Ethics declarations
Conflict of interest
The authors declare no competing interest for this work.
Consent for publication
The patient allow the authors to publish anonymous data from her medical file.
Additional information
Publisher's Note
Springer Nature remains neutral with regard to jurisdictional claims in published maps and institutional affiliations.
About this article
Cite this article
Kouadri, G., Perzo, N., Sauvetre, G. et al. Refractory severe idiopathic systemic capillary leak syndrome successfully treated with bevacizumab: a case report. Angiogenesis (2021). https://doi.org/10.1007/s10456-021-09769-7
Received:

Accepted:

Published: