Abstract
Mucus and body temperature serve as the first lines of defense against invading pathogens. When the inhaled particles are deposited in the nose, the respiratory mucus and body temperature potentially impact fungal spore germination and prevent pathogen infections. We hypothesized that respiratory mucus and body temperature impact fungal spore germination. This study aimed to investigate the temporal germination dynamics of allergenic Cladosporium, Aspergillus, and Penicillium spp. in respiratory mucus ex situ and the effect of the temperature (28 °C and 37 °C in the upper and lower respiratory tract, respectively) on fungal germination. Fungal spore germination was inhibited at 37 °C in C. oxysporum and C. cladosporioides, but not A. flavus, A. brunneoviolaceus, A. protuberus, P. citrinum, and P. oxalicum. Aspergillus flavus and A. brunneoviolaceus exhibited a high germination rate in the mucus at 28 °C and 37 °C. This indicated that their germination was not limited in the mucus in the upper or lower respiratory tract, where spores of these fungi can overcome the inhibition of germination as in invasive aspergillosis pathogens. The germination rate of A. protuberus in the mucus was very low at both 28 °C and 37 °C. Spore germination of P. citrinum and P. oxalicum occurred at 37 °C (normal body temperature) but was inhibited by the mucus.
Access options
Buy single article
Instant access to the full article PDF.
US$ 39.95
Tax calculation will be finalised during checkout.
Subscribe to journal
Immediate online access to all issues from 2019. Subscription will auto renew annually.
US$ 79
Tax calculation will be finalised during checkout.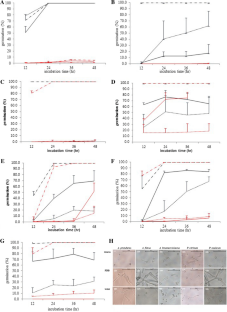 References
Achatz, G., Oberkofler, H., Lechenauer, E., Simon, B., Unger, A., Kandler, D., et al. (1995). Molecular cloning of major and minor allergens of Alternaria alternata and Cladosporium herbarum. Molecular Immunology, 32, 213–227.

Agarwal, R., & Gupta, D. (2011). Severe asthma and fungi: Current evidence. Medical Mycology, 49, S150–S157.

Bains, S. N., & Judson, M. A. (2012). Allergic bronchopulmonary aspergillosis. Clinics in Chest Medicine, 33, 265–281.

Borsa, B. A., Özgün, G., Houbraken, J., & Ökmen, F. (2015). The first case of persistent vaginitis due to Aspergillus protuberus in an immunocompetent patient. Mikrobiyoloji Bulteni, 49, 130–134.

Chen, B.-Y., Jasmine Chao, H., Wu, C.-F., Kim, H., Honda, Y., & Guo, Y. L. (2014). High ambient Cladosporium spores were associated with reduced lung function in schoolchildren in a longitudinal study. The Science of the Total Environment, 481, 370–376.

Cole, A. M., Dewan, P., & Ganz, T. (1999). Innate antimicrobial activity of nasal secretions. Infection and Immunity, 67, 3267–3275.

Dreborg, S. (1989). The skin prick test in the diagnosis of atopic allergy. Journal of the American Academy of Dermatology, 21, 820–821.

Fleming, A. (1922). On a remarkable bacteriolytic element found in tissues and secretions. Proceedings of the Royal Society of London. Series B, Containing Papers of a Biological Character, 93, 306–317.

Green, B. J., Mitakakis, T. Z., & Tovey, E. R. (2003). Allergen detection from 11 fungal species before and after germination. Journal of Allergy and Clinical Immunology, 111, 285–289.

Green, B. J., Tovey, E. R., Beezhold, D. H., Perzanowski, M. S., Acosta, L. M., Divjan, A. I., et al. (2009). Surveillance of fungal allergic sensitization using the fluorescent halogen immunoassay. Journal de Mycologie Medicale, 19, 253–261.

Hedayati, M. T., Pasqualotto, A. C., Warn, P. A., Bowyer, P., & Denning, D. W. (2007). Aspergillus flavus: Human pathogen, allergen and mycotoxin producer. Microbiology, 153, 1677–1692.

Horner, W. E., Helbling, A., Salvaggio, J. E., & Lehrer, S. B. (1995). Fungal allergens. Clinical Microbiology Reviews, 8, 161–179.

Hsu, N.-Y., Chen, P.-Y., Chang, H.-W., & Su, H.-J. (2011). Changes in profiles of airborne fungi in flooded homes in southern Taiwan after Typhoon Morakot. Science of the Total Environment, 409, 1677–1682.

Janahi, I. A., Rehman, A., & Al-Naimi, A. R. (2017). Allergic bronchopulmonary aspergillosis in patients with cystic fibrosis. Annals of Thoracic Medicine, 12, 74–82.

Jia, J., Chen, M., Mo, X., Liu, J., Yan, F., Li, Z., et al. (2019). The first case report of kerion-type scalp mycosis caused by Aspergillus protuberus. BMC Infectious Diseases, 19, 506.

Jurjevic, Z., Peterson, S. W., & Horn, B. W. (2012). Aspergillus section Versicolores: nine new species and multilocus DNA sequence based phylogeny. IMA fungus, 3, 59–79.

Kaliner, M. A. (1991). Human nasal respiratory secretions and host defense. American Review of Respiratory Disease, 144, S52–S56.

Kaliner, M. A. (1992). Human nasal host defense and sinusitis. Journal of Allergy and Clinical Immunology, 90, 424–430.

Kamei, K., & Watanabe, A. (2005). Aspergillus mycotoxins and their effect on the host. Medical Mycology, 1, S95–S99.

Kozak, P. P., Jr., Gallup, J., Cummins, L. H., & Gillman, S. A. (1980). Currently available methods for home mold surveys. II. Examples of problem homes surveyed. Annals of Allergy, 45, 167–176.

Kurup, V. P., Shen, H.-D., & Banerjee, B. (2000). Respiratory fungal allergy. Microbes and Infection, 2, 1101–1110.

Lackner, A., Stammberger, H., Buzina, W., Freudenschuss, K., Panzitt, T., Schosteritsch, S., et al. (2005). Fungi: A normal content of human nasal mucus. American Journal of Rhinology, 19, 125–129.

Lee, R. J., Workman, A. D., Carey, R. M., Chen, B., Rosen, P. L., Doghramji, L., et al. (2016). Fungal aflatoxins reduce respiratory mucosal ciliary function. Scientific Reports, 6, 33221.

Levitz, S. M., & Diamond, R. D. (1985). Mechanisms of resistance of Aspergillus fumigatus conidia to killing by neutrophils in vitro. Journal of Infectious Diseases, 152, 33–42.

Lin, W.-R., Wang, P.-H., Tien, C.-J., Chen, W.-Y., Yu, Y.-A., & Hsu, L.-Y. (2018). Changes in airborne fungal flora along an urban to rural gradient. Journal of Aerosol Science, 116, 116–123.

Ma, J., Dong, J., Shang, Y., Inthavong, K., Tu, J., & Frank-Ito, D. O. (2018). Air conditioning analysis among human nasal passages with anterior anatomical variations. Medical Engineering & Physics, 57, 19–28.

Mitakakis, T. Z., Barnes, C., & Tovey, E. R. (2001). Spore germination increases allergen release from Alternaria. Journal of Allergy and Clinical Immunology, 107, 388–390.

Mitchell, C. G., Slight, J., & Donaldson, K. (1997). Diffusible component from the spore surface of the fungus Aspergillus fumigatus which inhibits the macrophage oxidative burst is distinct from gliotoxin and other hyphal toxins. Thorax, 52, 796–801.

Paulussen, C., Hallsworth, J. E., Álvarez-Pérez, S., Nierman, W. C., Hamill, P. G., Blain, D., et al. (2017). Ecology of aspergillosis: Insights into the pathogenic potency of Aspergillus fumigatus and some other Aspergillus species. Microbial Biotechnology, 10, 296–322.

Perfect, J. R. (2012). The impact of the host on fungal infections. The American Journal of Medicine, 125, S39–S51.

Perrone, G., Stea, G., Kulathunga, C. N., Wijedasa, H., & Arseculeratne, S. N. (2013). Aspergillus fijiensis sp. isolated from bronchial washings in a human case of bronchiectasis with invasive aspergillosis: The first report. Microbiology Discovery, 1, 9.

Pfavayi, L. T., Sibanda, E. N., & Mutapi, F. (2020). The pathogenesis of fungal-related diseases and allergies in the African population: The state of the evidence and knowledge gaps. International Archives of Allergy and Immunology, 181, 257–269.

Philippe, B., Ibrahim-Granet, O., Prevost, M. C., Gougerot-Pocidalo, M. A., Perez, M. S., Van der Meeren, A., et al. (2003). Killing of Aspergillus fumigatus by alveolar macrophages is mediated by reactive oxidant intermediates. Infection and Immunity, 71, 3034–3042.

Pynnonen, M., Stephenson, R. E., Schwartz, K., Hernandez, M., & Boles, B. R. (2011). Hemoglobin promotes Staphylococcus aureus nasal colonization. PLoS Pathogens, 7, e1002104.

R Core Team. (2013). R: A language and environment for statistical computing. R Foundation for Statistical Computing, Vienna, Austria. http://www.R-project.org/.

Reponen, T. (1995). Aerodynamic diameters and respiratory deposition estimates of viable fungal particles in mold problem dwellings. Aerosol Science and Technology, 22, 11–23.

Rocchi, S., Reboux, G., Larosa, F., Scherer, E., Daguindeau, E., Berceanu, A., et al. (2014). Evaluation of invasive aspergillosis risk of immunocompromised patients alternatively hospitalized in hematology intensive care unit and at home. Indoor Air, 24, 652–661.

Sephton-Clark, P. C., & Voelz, K. (2018). Spore germination of pathogenic filamentous fungi. In S. Sariaslani & G. M. Gadd (Eds.), Advances in applied microbiology (pp. 117–157). Cambridge: Academic Press.

Sercombe, J. K., Green, B. J., & Tovey, E. R. (2006). Recovery of germinating fungal conidia from the nasal cavity after environmental exposure. Aerobiologia, 22, 295–304.

Shih, F. M., Lin, W. R., Wang, P. H., Lee, M. F., & Chen, Y. H. (2017). Airborne-allergenic fungal spora and seroepidemiology in Taiwan. In Proceedings of the microbiological society of Korea conference, April 25–April 30, 2017. Busan, Korea (pp. 158–158).

Tanaka, R. J., Boon, N. J., Vrcelj, K., Nguyen, A., Vinci, C., Armstrong-James, D., et al. (2015). In silico modeling of spore inhalation reveals fungal persistence following low dose exposure. Scientific Reports, 5, 13958.

Tomee, J. F., & Kauffman, H. F. (2000). Putative virulence factors of Aspergillus fumigatus. Clinical and Experimental Allergy: Journal of the British Society for Allergy and Clinical Immunology, 30, 476–484.

Wei, D.-L., Chen, J.-H., Jong, S.-C., & Shen, H.-D. (1993). Indoor airborne Penicillium species in Taiwan. Current Microbiology, 26, 137–140.

Woo, A. C., Brar, M. S., Chan, Y., Lau, M. C. Y., Leung, F. C. C., Scott, J. A., et al. (2013). Temporal variation in airborne microbial populations and microbially-derived allergens in a tropical urban landscape. Atmospheric Environment, 74, 291–300.

Wu, P.-C., Tsai, J.-C., Li, F.-C., Lung, S.-C., & Su, H.-J. (2004). Increased levels of ambient fungal spores in Taiwan are associated with dust events from China. Atmospheric Environment, 38, 4879–4886.
Acknowledgements
The study was funded by the Environmental Analysis Laboratory, Environmental Protection Administration, Executive Yuan, Taiwan (EPA-102-E3S5-02-02) and Taichung Veterans General Hospital, Taiwan (TCVGH-T1047807) to P. H Wang.
About this article
Cite this article
Lin, WR., Chen, SY., Hsiao, SC. et al. Germination dynamics of allergenic fungal spores in respiratory mucus. Aerobiologia (2021). https://doi.org/10.1007/s10453-020-09689-x
Received:

Accepted:

Published:
Keywords
Fungal allergy

Cladosporium
Aspergillus
Penicillium

Viability

Mucus