Abstract
Data from European countries participating in the Generations and Gender Surveys showed that mean loneliness scores of older adults are higher in Eastern than in Western European countries. Although co-residence is considered as one of the fundamental types of social integration, and although co-residence is more common in Eastern Europe, the mean loneliness scores of older co-resident adults in Eastern Europe are still very high. This article investigates mechanisms behind the puzzling between-country differences in social integration and loneliness. Firstly, the theoretical framework of loneliness is discussed starting from the individual's perspective using the deficit and the cognitive discrepancy approach and taking into account older adults' deprived living conditions. Secondly, mechanisms at the societal level are investigated: cultural norms, the demographical composition and differences in societal wealth and welfare. It is argued that an integrated theoretical model, as developed in this article, combining individual and societal level elements, is most relevant for understanding the puzzling reality around social integration and loneliness in country-comparative research. An illustration of the interplay of individual and societal factors in the emergence of loneliness is presented.
Access options
Buy single article
Instant access to the full article PDF.
US$ 39.95
Tax calculation will be finalised during checkout.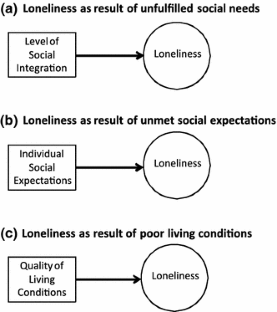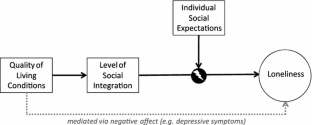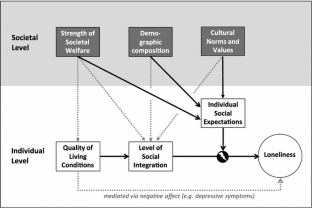 References
Ayalon L (2009) Family and family-like interactions in households with round-the-clock paid foreign carers in Israel. Ageing Soc 29(5):671–686

Aytac IA, Rankin BH (2009) Economic crisis and marital problems in Turkey: testing the family stress model. J Marriage Fam 71(3):756–767

Barrett AE, Turner RJ (2005) Family structure and mental health: the mediating effects of socioeconomic status, family process, and social stress. J Health Soc Behav 46(2):156–169

Berkman LF, Glass T, Brissette I, Seeman TE (2000) From social integration to health: Durkheim in the new millennium. Soc Sci Med 51(6):843–857

Cacioppo JT, Hawkley LC (2009) Perceived social isolation and cognition. Trends Cogn Sci 13(10):447–454

Cacioppo JT, Hawkley LC, Ernst JM, Burleson M, Berntson GG, Nouriani B et al (2006a) Loneliness within a nomological net: an evolutionary perspective. J Res Pers 40(6):1054–1085

Cacioppo JT, Hughes ME, Waite LJ, Hawkley LC, Thisted RA (2006b) Loneliness as a specific risk factor for depressive symptoms: cross-sectional and longitudinal analyses. Psychol Aging 21(1):140–151

Charles ST, Carstensen LL (2007) Emotion regulation and aging. In Gross JJ (ed) Handbook of emotion regulation. Guilford Press, New York

Choi H, Marks NF (2011) Socioeconomic status, marital status continuity and change, marital conflict, and mortality. J Aging Health 23(4):714–742

De Jong Gierveld J (2009) Living arrangements, family bonds and the regional context affecting social integration of older adults in Europe. In: How generations and gender shape demographic change: towards policies based on better knowledge. United Nations, Geneva, pp 107–126

De Jong Gierveld J, Van Tilburg T, Dykstra PA (2006) Loneliness and social isolation. In: Vangelisti A, Perlman D (eds) The Cambridge handbook of personal relationships. Cambridge University Press, Cambridge, pp 485–500

De Jong Gierveld J, Broese van Groenou MI, Hoogendoorn AW, Smit JH (2009) Quality of marriages in later life and emotional and social loneliness. J Gerontol B 64B(4):497–506

De Jong Gierveld J, Dykstra PA, Schenk N (in press) Living arrangements, intergenerational support types and older adult loneliness in Eastern and Western Europe. Demogr Res

Deeg DJH, Thomése FGC (2005) Discrepancies between personal income and neighbourhood status: effects on physical and mental health. Eur J Ageing 2:98–108

Dykstra PA (2009) Older adult loneliness: myths and realities. Eur J Ageing 6:91–100

Dykstra PA, De Jong Gierveld J (1994) The theory of mental incongruity, with a specific application to loneliness among widowed men and women. In: Erber R, Gilmour R (eds) Theoretical frameworks in personal relationships. Lawrence Erlbaum, Hillsdale, NJ, pp 235–259

Dykstra PA, De Jong Gierveld J (2004) Gender and marital-history differences in emotional and social loneliness among Dutch older adults. Can J Aging 23(2):141–155

Dykstra PA, Fokkema T (2007) Social and emotional loneliness among divorced and married men and women: comparing the deficit and cognitive perspectives. Basic Appl Soc Psychol 29(1):1–12

Eurostat (2010) Europe in figures. Eurostat yearbook 2010. Publications Office of the European Union, Luxembourg

Ferraro KF, Shippee TP (2009) Aging and cumulative inequality: how does inequality get under the skin? Gerontologist 49(3):333–343

Fokkema T, De Jong Gierveld J, Dykstra PA (2012) Cross-national differences in older adult loneliness. J Psychol 146(1–2):201–228

Gaymu JL, Ekamper P, Beets G (2008) Future trends in health and marital status: effects on the structure of living arrangements of older Europeans in 2030. Eur J Ageing. doi:10.1007/s10433-008-0072-x

George LK (1992) Economic status and subjective well-being: a review of the literature and an agenda for future research. In: Cutler NE, Gregg DW, Lawton MP (eds) Aging, money, and life satisfaction: aspects of financial gerontology. Springer Publishing, New York, pp 69–99

George LK (2006) Perceived quality of life. In: Binstock RH, George LK (eds) Handbook of aging and the social sciences. Elsevier Academic Press, Amsterdam, pp 320–336

Glaser K, Tomassini C, Grundy E (2004) Revisiting convergence and divergence: support for older people in Europe. Eur J Ageing 1(1):64–72

Halleröd B (2009) Ill, worried or worried sick? Inter-relationships among indicators of wellbeing among older people in Sweden. Ageing Soc 29:563–584

Haukanes H (2001) Anthropological debates on gender and the post-communist transformation. Nordic J Feminist Gender Res 9(1):5–20

Heylen L (2010) The older, the lonelier? Risk factors for social loneliness in old age. Ageing Soc 30(7):1177–1196

Hobfoll SE (1989) Conservation of resources: a new attempt at conceptualizing stress. Am Psychol 44(3):513–524

Kalogirou S, Murphy M (2006) Marital status of people aged 75 and over in nine EU countries in the period 2000–2030. Eur J Ageing 3:74–81

Katz R, Lowenstein A, Phillips J, Daatland SO (2005) Theorizing intergenerational family relations. In: Bengtson VL, Acock AC, Allen KR, Dilworth-Anderson P, Klein DM (eds) Sourcebook of family theory and research. Sage, Thousand Oaks, CA, pp 393–420

Krause N, Newsom JT, Rook KS (2008) Financial strain, negative social interaction, and self-rated health: evidence from two United States nationwide longitudinal surveys. Ageing Soc 28:1001–1023

Lowenstein A, Daatland SO (2006) Filial norms and family support in a comparative cross-national context: evidence from the OASIS study. Ageing Soc 26(2):203–223

Lyon D, Glucksmann M (2008) Comparative configurations of care work across Europe. Sociology 42(4):101–118

O'Rand AM (2001) Stratification and the life course: the forms of life-course capital and their interrelationships. In: Binstock RH, George LK (eds) Handbook of aging and the social sciences, 5th edn. Academic Press, New York, pp 197–213

O'Rand AM (2006) Stratification and the life course: life course capital, life course risks, and social inequality. In: Binstock RH, George LK (eds) Handbook of aging and the social sciences, 6th edn. Academic Press, Amsterdam, pp 145–162

Peplau LA, Perlman D (1982) Perspectives on loneliness. In: Peplau LA, Perlman D (eds) Loneliness. Wiley, New York, pp 1–18

Perlman D, Peplau LA (1981) Toward a social psychology of loneliness. In: Gilmour R, Duck S (eds) Personal relationships 3: personal relationships in disorder. Academic Press, London, pp 31–43

Petrov IC (2007) The elderly in a period of transition: health, personality and social aspects of adaptation. Ann N Y Acad Sci 1114:300–309

Pinquart M, Silbereisen RK (2004) Human development in times of social change: theoretical considerations and research needs. Int J Behav Dev 28(4):289–298

Pinquart M, Sörensen S (2001) Influences on loneliness in older adults: a meta-analysis. Basic Appl Soc Psychol 23(4):245–266

Rosow I (1967) Social integration of the aged. The Free Press, New York

Saraceno C, Keck W (2010) Can we identify intergenerational policy regimes in Europe? Eur Soc 12(5):675–696

Scharf T, De Jong Gierveld JD (2008) Loneliness in urban neighbourhoods: an Anglo-Dutch comparison. Eur J Ageing 5(2):103–115

Scharf T, Phillipson C, Smith AE (2005) Social exclusion of older people in deprived urban communities of England. Eur J Ageing 2:76–87

Stuckelberger A, Vikat A (2008) A Society for all ages: challenges and opportunities. In: Proceedings of the UNECE ministerial conference on ageing, 6–8 November 2007 in León. United Nations, Spain

Sundström G, Fransson E, Malmberg B, Davey A (2009) Loneliness among older Europeans. Eur J Ageing 6(4):267–275

Tchernina NV, Tchernin EA (2002) Older people in Russia's transitional society: multiple deprivation and coping responses. Ageing Soc 22(5):543–562

Tesch-Römer C, von Kondratowitz H-J (2006) Comparative ageing research: a flourishing field in need of theoretical cultivation. Eur J Ageing 3(3):155–167

Tomassini C, Glaser K, Wolf DA, Broese van Groenou M, Grundy E (2004) Living arrangements among older people: an overview of trends in Europe and the USA. Popul Trends 115:2–12

Van Aartsen M, Jylhä M (2011) Onset of loneliness in older adults: results of a 28 year prospective study. Eur J Ageing 8(1):31–38

Van der Haegen H, Niedermaier P (1997) Weisskirch: Ein Siebenbürgisches Dorf im Griff der Zeit. Acta Geogr Lovan 36:1–318

Victor C, Bowling A, Bond J, Scamber S (2003) Loneliness, social isolation and living alone in later life. Research findings: 17, April 2003. Economic and Social Research Council

Weiss RS (1973) Loneliness: the experience of emotional and social isolation. The MIT Press, Cambridge

Wurm W, Schöllgen I, Tesch-Römer C (2010) Gesundheit. In: Motel-Klingebiel A, Wurm S, Tesch-Römer C (eds) Altern im Wandel. Befunde des Deutschen Alterssurveys (DEAS). Kohlhammer, Stuttgart, pp 90–117
Additional information
Communicated by H.-W. Wahl.
About this article
Cite this article
de Jong Gierveld, J., Tesch-Römer, C. Loneliness in old age in Eastern and Western European societies: theoretical perspectives. Eur J Ageing 9, 285–295 (2012). https://doi.org/10.1007/s10433-012-0248-2
Keywords
Social integration

Loneliness

Co-residence

Individual perspective

Societal perspective

Theoretical framework