Abstract
Brain microvascular cells such as brain microvascular endothelial cells (BMEC), pericytes, and astrocytes are major components of the blood–brain barrier (BBB). The BBB regulates substance transport from the blood into the brain and is involved in the progression of many neurological diseases. This has led to significant interest in developing in vitro models to study the characteristics of brain primary microvascular cells and the BBB. However, BMECs only account for 1–2% of the total cell population in the brain and are extremely difficult to obtain. We report a microfluidic immunopanning chip (MIC) for the on-chip isolation and purification of multiple types of primary brain microvascular cells simultaneously. The cell isolation efficiency and purity achieved with the MIC are higher compared with conventional bench-top immunopanning method. We incorporated microcarriers in the MIC as a means to increase cell capturing efficiency and a substrate for subsequent cell culture. With low reagents consumption, multiplexing capabilities, and high isolation efficiency, the MIC shows great potential as a tool for rare cell isolation and have potential broader applications in cell therapy.
Graphic abstract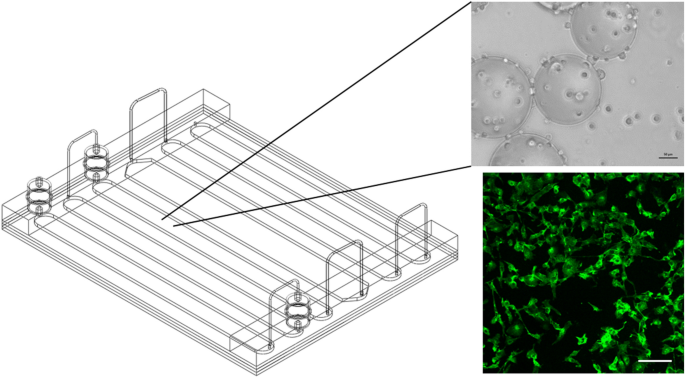 Access options
Buy single article
Instant access to the full article PDF.
US$ 39.95
Tax calculation will be finalised during checkout.
Subscribe to journal
Immediate online access to all issues from 2019. Subscription will auto renew annually.
US$ 79
Tax calculation will be finalised during checkout.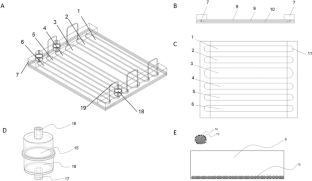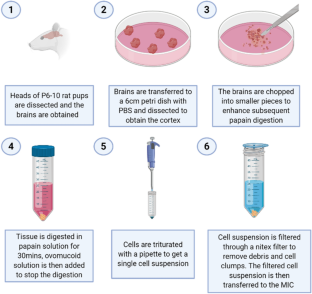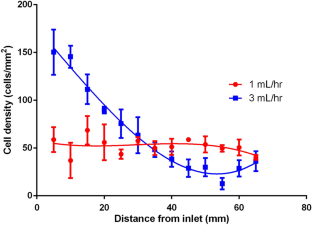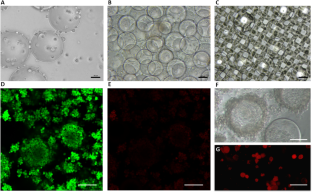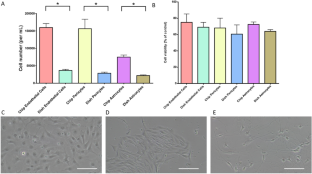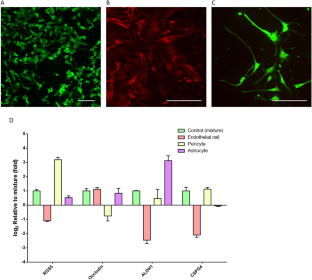 References
Abbott NJ, Patabendige AAK, Dolman DEM, Yusof SR, Begley DJ (2010) Structure and function of the blood–brain barrier. Neurobiol Dis 37(1):13–25. https://doi.org/10.1016/j.nbd.2009.07.030

Adam SA, Schnell O, Poschl J, Eigenbrod S, Kretzschmar HA, Tonn JC, Schuller U (2012) ALDH1A1 is a marker of astrocytic differentiation during brain development and correlates with better survival in glioblastoma patients. Brain Pathol 22(6):788–797. https://doi.org/10.1111/j.1750-3639.2012.00592.x

Ampofo E, Schmitt BM, Menger MD, Laschke MW (2017) The regulatory mechanisms of NG2/CSPG4 expression. Cell Mol Biol Lett 22:4. https://doi.org/10.1186/s11658-017-0035-3

Bonner W, Hulett H, Sweet R, Herzenberg L (1972) Fluorescence activated cell sorting. Rev Sci Instrum 43(3):404–409

Breslin S, O'Driscoll L (2013) Three-dimensional cell culture: the missing link in drug discovery. Drug Discov Today 18(5–6):240–249. https://doi.org/10.1016/j.drudis.2012.10.003

Brown MA, Wallace CS, Anamelechi CC, Clermont E, Reichert WM, Truskey GA (2007) The use of mild trypsinization conditions in the detachment of endothelial cells to promote subsequent endothelialization on synthetic surfaces. Biomaterials 28(27):3928–3935. https://doi.org/10.1016/j.biomaterials.2007.05.009

Burns AR, Bowden RA, MacDonell SD, Walker DC, Odebunmi TO, Donnachie EM, Smith CW (2000) Analysis of tight junctions during neutrophil transendothelial migration. J Cell Sci 113(Pt 1):45–57

Chen Y, Li P, Huang PH, Xie Y, Mai JD, Wang L, Huang TJ (2014) Rare cell isolation and analysis in microfluidics. Lab Chip 14(4):626–645. https://doi.org/10.1039/c3lc90136j

Cho H, Seo JH, Wong KH, Terasaki Y, Park J, Bong K, Irimia D (2015) Three-dimensional blood-brain barrier model for in vitro studies of neurovascular pathology. Sci Rep 5:15222

Chun KW, Yoo HS, Yoon JJ, Park TG (2004) Biodegradable PLGA microcarriers for injectable delivery of chondrocytes: effect of surface modification on cell attachment and function. Biotechnol Prog 20(6):1797–1801. https://doi.org/10.1021/bp0496981

de Vrij FM, Bouwkamp CG, Gunhanlar N, Shpak G, Lendemeijer B, Baghdadi M, Kushner SA (2019) Candidate CSPG4 mutations and induced pluripotent stem cell modeling implicate oligodendrocyte progenitor cell dysfunction in familial schizophrenia. Mol Psychiatry 24(5):757–771. https://doi.org/10.1038/s41380-017-0004-2

del Zoppo GJ (2010) The neurovascular unit in the setting of stroke. J Intern Med 267(2):156–171. https://doi.org/10.1111/j.1365-2796.2009.02199.x

Doh I, Cho Y-H (2005) A continuous cell separation chip using hydrodynamic dielectrophoresis (DEP) process. Sens Actuators A 121(1):59–65

Dorovini-Zis K, Prameya R, Bowman PD (1991) Culture and characterization of microvascular endothelial cells derived from human brain. Lab Investig 64(3):425–436

Foo LC (2013) Purification of rat and mouse astrocytes by immunopanning. Cold Spring Harb Protoc 2013(5):421–432. https://doi.org/10.1101/pdb.prot074211

Griffioen AW, Molema G (2000) Angiogenesis: potentials for pharmacologic intervention in the treatment of cancer, cardiovascular diseases, and chronic inflammation. Pharmacol Rev 52(2):237–268

Herland A, van der Meer AD, FitzGerald EA, Park TE, Sleeboom JJ, Ingber DE (2016) Distinct contributions of astrocytes and pericytes to neuroinflammation identified in a 3D human blood-brain barrier on a chip. PLoS ONE 11(3):e0150360. https://doi.org/10.1371/journal.pone.0150360

James PB (1992) Pathogenesis of multiple sclerosis: a blood-brain barrier disease. J R Soc Med 85(11):713–714

Johansson L, Nikolajeff F, Johansson S, Thorslund S (2009) On-chip fluorescence-activated cell sorting by an integrated miniaturized ultrasonic transducer. Anal Chem 81(13):5188–5196

Kalaria RN (1992) The blood-brain barrier and cerebral microcirculation in Alzheimer disease. Cerebrovasc Brain Metab Rev 4(3):226–260

Li P, Stratton ZS, Dao M, Ritz J, Huang TJ (2013) Probing circulating tumor cells in microfluidics. Lab Chip 13(4):602–609. https://doi.org/10.1039/c2lc90148j

Manda KR, Banerjee A, Banks WA, Ercal N (2011) Highly active antiretroviral therapy drug combination induces oxidative stress and mitochondrial dysfunction in immortalized human blood-brain barrier endothelial cells. Free Radic Biol Med 50(7):801–810. https://doi.org/10.1016/j.freeradbiomed.2010.12.029

Miltenyi S, Müller W, Weichel W, Radbruch A (1990) High gradient magnetic cell separation with MACS. Cytometry 11(2):231–238

Mitchell TS, Bradley J, Robinson GS, Shima DT, Ng YS (2008) RGS5 expression is a quantitative measure of pericyte coverage of blood vessels. Angiogenesis 11(2):141–151. https://doi.org/10.1007/s10456-007-9085-x

Navone SE, Marfia G, Invernici G, Cristini S, Nava S, Balbi S, Parati EA (2013) Isolation and expansion of human and mouse brain microvascular endothelial cells. Nat Protoc 8(9):1680–1693. https://doi.org/10.1038/nprot.2013.107

Nienow AW, Rafiq QA, Coopman K, Hewitt CJ (2014) A potentially scalable method for the harvesting of hMSCs from microcarriers. Biochem Eng J 85:79–88. https://doi.org/10.1016/j.bej.2014.02.005

Nilsson A, Petersson F, Jönsson H, Laurell T (2004) Acoustic control of suspended particles in micro fluidic chips. Lab Chip 4(2):131–135

Sandoval M, Luarte A, Herrera-Molina R, Varas-Godoy M, Santibanez M, Rubio FJ, Wyneken U (2013) The glycolytic enzyme aldolase C is up-regulated in rat forebrain microsomes and in the cerebrospinal fluid after repetitive fluoxetine treatment. Brain Res 1520:1–14. https://doi.org/10.1016/j.brainres.2013.04.049

Schmitt BM, Laschke MW, Rossler OG, Huang W, Scheller A, Menger MD, Ampofo E (2018) Nerve/glial antigen (NG) 2 is a crucial regulator of intercellular adhesion molecule (ICAM)-1 expression. Biochim Biophys Acta Mol Cell Res 1865(1):57–66. https://doi.org/10.1016/j.bbamcr.2017.09.019

Stannard AK, Bradley NJ, Owen JS (1997) Evaluation of the ECV304 spontaneously transformed HUVEC cell line for adhesion molecule research. Biochem Soc Trans 25(3):486S

Szabo CA, Deli M, Joo F (1997) Production of pure primary rat cerebral endothelial cell culture: a comparison of different methods. Neurobiol-Bp 5:1–16

Tornavaca O, Chia M, Dufton N, Almagro LO, Conway DE, Randi AM, Balda MS (2015) ZO-1 controls endothelial adherens junctions, cell-cell tension, angiogenesis, and barrier formation. J Cell Biol 208(6):821–838. https://doi.org/10.1083/jcb.201404140

Wang YI, Abaci HE, Shuler ML (2017) Microfluidic blood-brain barrier model provides in vivo-like barrier properties for drug permeability screening. Biotechnol Bioeng 114(1):184–194. https://doi.org/10.1002/bit.26045

Wu HW, Hsu RC, Lin CC, Hwang SM, Lee GB (2010) An integrated microfluidic system for isolation, counting, and sorting of hematopoietic stem cells. Biomicrofluidics. https://doi.org/10.1063/1.3454767

Wu J, Chen Q, Lin JM (2017) Microfluidic technologies in cell isolation and analysis for biomedical applications. Analyst 142(3):421–441. https://doi.org/10.1039/c6an01939k

Wysocki L, Sato V (1978) " Panning" for lymphocytes: a method for cell selection. Proc Natl Acad Sci 75(6):2844–2848

Yu F, Kumar NDS, Foo LC, Ng SH, Hunziker W, Choudhury D (2019) A pump-free tricellular blood-brain barrier on-a-chip model to understand barrier property and evaluate drug response. Biotechnol Bioeng. https://doi.org/10.1002/bit.27260

Zeng J, Mohammadreza A, Gao W, Merza S, Smith D, Kelbauskas L, Meldrum DR (2014) A minimally invasive method for retrieving single adherent cells of different types from cultures. Sci Rep 4:5424. https://doi.org/10.1038/srep05424

Zhang Y, Sloan SA, Clarke LE, Caneda C, Plaza CA, Blumenthal PD, Barres BA (2016) Purification and characterization of progenitor and mature human astrocytes reveals transcriptional and functional differences with mouse. Neuron 89(1):37–53. https://doi.org/10.1016/j.neuron.2015.11.013
Acknowledgements
This work was supported by A*STAR JCO Grant 15302FG152 awarded to D.C and S.H.N.
Ethics declarations
Conflict of interest
The authors declare no competing financial interest.
Additional information
Publisher's Note
Springer Nature remains neutral with regard to jurisdictional claims in published maps and institutional affiliations.
About this article
Cite this article
Yu, F., Selva Kumar, N., Singh, S. et al. Isolation of primary brain endothelial cells, pericytes and astrocytes on a microfluidic immunopanning chip (MIC). Microfluid Nanofluid 25, 25 (2021). https://doi.org/10.1007/s10404-021-02428-9
Received:

Accepted:

Published:
Keywords
Cell isolation

Blood–brain barrier

Endothelial cells

Pericytes

Astrocytes

Microfluidics