Abstract
Thermal transpiration pumping in multistage assemblies is computationally investigated. Each stage is formed by combining in series-long microchannels with (a) uniform–uniform ("uni–uni"), (b) converging–uniform ("con–uni"), (c) diverging–uniform ("div–uni") and (d) converging–diverging ("con–div") rectangular cross sections. In all four investigated assemblies the generated pressure difference with the associated mass flow rate is fully assessed, in terms of inlet pressure, inclination parameter and number of stages. The analysis is based on linear kinetic modeling and is valid in the whole range of gas rarefaction. It is concluded that the "con–uni" and "div–uni" assemblies provide higher pressure differences and lower mass flow rates than the "uni–uni" assembly and they may be more suitable for specific pumping applications. The characteristics of the "con–uni" and "div–uni" assemblies are very close to each other. The multistage "uni–uni", "con–uni" and "div–uni" assemblies are more stable when operating at small inlet pressures, where the pressure difference remains almost constant in wide ranges of mass flow rate. It is advisable to add as many stages as possible to increase, depending on the application, either the pressure difference or mass flow rate or both. Furthermore, the "con–div" assembly provides smaller pressure differences and mass flow rates than the other three, but it is suitable for diode applications. It is characterized by the so-called blocking inlet pressure, where the deduced pressure difference in the converging and diverging channels is the same. A detailed parametrization of the blocking inlet pressure in terms of inclination ratio, mean height, temperature difference and gas species, has been performed. It is concluded that multistage "con–div" assemblies may be ideally applied as thermally driven microfluidic diodes to control or block the flow, as well as to separate the species in multicomponent gas mixtures.
This is a preview of subscription content, log in to check access.
Access options
Buy single article
Instant access to the full article PDF.
US$ 39.95
Price includes VAT for USA
Subscribe to journal
Immediate online access to all issues from 2019. Subscription will auto renew annually.
US$ 99
This is the net price. Taxes to be calculated in checkout.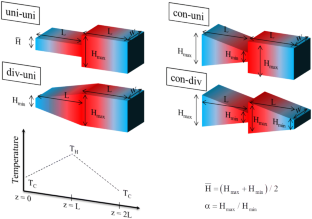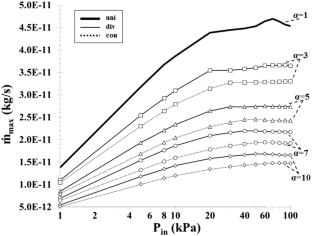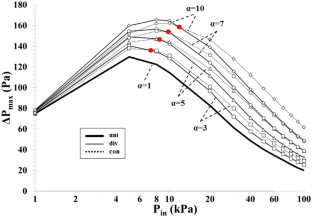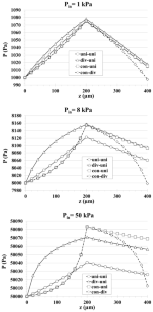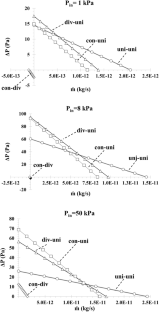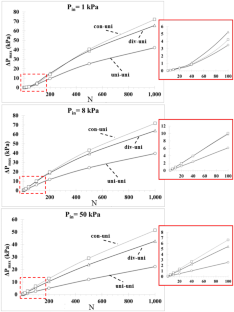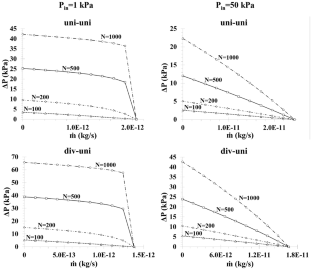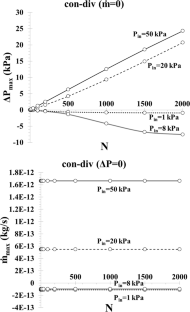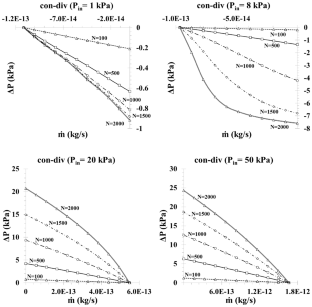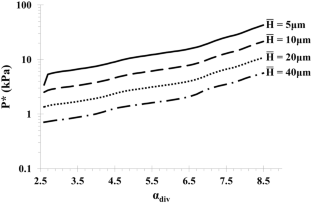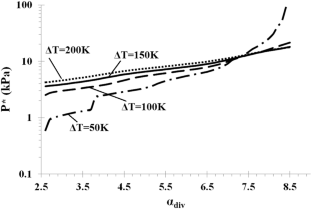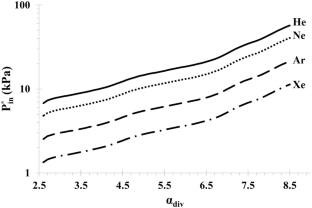 References
Alexeenko AA, Gimelshein SF, Muntz EP, Ketsdever AD (2006) Kinetic modeling of temperature driven flows in short microchannels. Int J Therm Sci 45:1045–1051

An S, Gupta NK, Gianchandani YB (2014) A Si-Micromachined 162-stage two-part knudsen pump for on-chip vacuum. J Microelectromechan Syst 23:406–416

Aoki K, Degond P, Takata S, Yoshida H (2007) Diffusion models for Knudsen compressors. Phys Fluids 19:117103

Aoki K, Mieussens L, Takata S, Degond P, Nishioka M, Takata S (2007) Numerical simulation of a knudsen pump using the effect of curvature of the channel

Aoki K, Takata S, Kugimoto K, Abe T (2008) Diffusion approximation for the knudsen compressor composed of circular tubes In Proceedings of the AIP Conference Proceedings AIP Publishing 1084, pp. 953–958

Aoki K, Degond P, Mieussens L, Takata S, Yoshida H (2008) A Diffusion model for rarefied flows in curved channels. Multiscale Model Simul 6:1281–1316

Bond DM, Wheatley V, Goldsworthy M (2014) Numerical investigation of curved channel Knudsen pump performance. Int J Heat Mass Transf 76:1–15

Bond DM, Wheatley V, Goldsworthy M (2016) Numerical investigation into the performance of alternative Knudsen pump designs. Int J Heat Mass Transf 93:1038–1058

Cheng Q, Qin Y, Gianchandani YB (2017) A bidirectional Knudsen pump with superior thermal management for micro-gas chromatography applications. In Proceedings of the 2017 IEEE 30th International Conference on Micro Electro Mechanical Systems (MEMS); IEEE pp. 167–170.

Chen J, Stefanov SK, Baldas L, Colin S (2016) Analysis of flow induced by temperature fields in ratchet-like microchannels by direct simulation monte carlo. Int J Heat Mass Transf 99:672–680

Chernyak VG, Kalinin VV, Suetin PE (1979) Theory of nonisothermal gas motion in a plane channel. J Eng Phys 36:696–700

Colin S (2014) Single-phase gas flow in microchannels. In Heat Transfer and Fluid Flow in Minichannels and Microchannels; Elsevier, pp. 11–102

Courson R, Cargou S, Conedera V, Fouet M, Blatche MC, Serpentini CL, Gue AM (2014) Low-cost multilevel microchannel lab on chip: DF-1000 series dry film photoresist as a promising enabler. RSC Adv 4:54847–54853

Graur I, Ho MT (2014) Rarefied gas flow through a long rectangular channel of variable cross section. Vacuum 101:328–332

Graur I, Sharipov F (2009) Non-isothermal flow of rarefied gas through a long pipe with elliptic cross section. Microfluid Nanofluidics 6:267–275

Graur I, Méolans JG, Perrier P, Thöming J, Veltzke T (2016) A physical explanation of the gas flow diode effect. Microfluid Nanofluidics 20:145

Gupta NK, Gianchandani YB (2011) Porous ceramics for multistage Knudsen micropumps-modeling approach and experimental evaluation. J Micromech Microeng 21:095029

Gupta NK, An S, Gianchandani YB (2012) A Si-micromachined 48-stage Knudsen pump for on-chip vacuum. J Micromechan Microeng 22:105026

Kim SK, Chang H, Zellers ET (2011) Microfabricated gas chromatograph for the selective determination of trichloroethylene vapor at sub-parts-per-billion concentrations in complex mixtures. Anal Chem 83:7198–7206

Knudsen M (1909) Eine Revision der Gleichgewichtsbedingung der Gase. Thermische Molekularströmung Ann Phys 336:205–229

Knudsen M (1910) Thermischer Molekulardruck der Gase in Röhren. Ann Phys 338:1435–1448

Kugimoto K, Hirota Y, Kizaki Y (2016) Motionless heat pump - A new application of thermal transpiration. In Proceedings of the AIP Conference Proceedings; American Institute of Physics Inc., Vol. 1786, p. 080004

Kugimoto K, Hirota Y, Yamauchi T, Yamaguchi H, Niimi T (2018) A novel heat pump system using a multi-stage Knudsen compressor. Int J Heat Mass Transf 127:84–91

Leontidis V, Chen J, Baldas L, Colin S (2014) Numerical design of a Knudsen pump with curved channels operating in the slip flow regime. Heat Mass Transf 50:1065–1080

Liu K, Zhang W, Chen W, Li K, Dai F, Cui F, Wu X, Ma G, Xiao Q (2009) The development of micro-gyroscope technology. J Micromechan Microeng 19:113001

López Quesada G, Tatsios G, Valougeorgis D, Rojas-Cárdenas M, Baldas L, Barrot C, Colin S (2019) Design Guidelines for Thermally Driven Micropumps Of Different Architectures Based On Target applications via kinetic modeling and simulations. Micromachines 10:249

Maxwell JC (1878) On stresses in rarefied gases arising from inequalities of temperature. Proc R Soc London 27:304–308

McNamara S, Gianchandani YB (2005) On-chip vacuum generated by a micromachined Knudsen pump. J Microelectromech Syst 14:741–746

Nakaye S, Sugimoto H (2016) Demonstration of a gas separator composed of Knudsen pumps. Vacuum 125:154–164

Nakaye S, Sugimoto H, Gupta NK, Gianchandani YB (2015) Thermally enhanced membrane gas separation. Eur J Mech B/Fluids 49:36–49

Naris S, Valougeorgis D, Kalempa D, Sharipov F (2005) Flow of gaseous mixtures through rectangular microchannels driven by pressure, temperature, and concentration gradients. Phys Fluids 17:100607

Naris S, Tantos C, Valougeorgis D (2014) Kinetic modeling of a tapered Holweck pump. Vacuum 109:341–348

Ohwada T, Sone Y, Aoki K (1989) Numerical analysis of the Poiseuille and thermal transpiration flows between two parallel plates on the basis of the Boltzmann equation for hard sphere molecules. Phys Fluids A Fluid Dyn 1:2042–2049

Pantazis S, Naris S, Tantos C, Valougeorgis D, André J, Millet F, Perin JP (2013) Nonlinear vacuum gas flow through a short tube due to pressure and temperature gradients. Fusion Eng Des 88:2384–2387

Qin Y, Gianchandani YB (2014) iGC1: An integrated fluidic system for gas chromatography including knudsen pump, preconcentrator, column, and detector microfabricated by a three-mask process. J Microelectromechanical Syst 23:980–990

Qin Y, An S, Gianchandani YB (2015) Arrayed architectures for multi-stage Si-micromachined high-flow Knudsen pumps. J Micromechan Microeng 25:115026

Qin Y, Gianchandani YB (2016) A fully electronic microfabricated gas chromatograph with complementary capacitive detectors for indoor pollutants. Microsystems Nanoeng 2:15049

Reynolds O (1879) XVIII. On certain dimensional properties of matter in the gaseous state. Philos Trans R Soc London Ser A 170:727–845

Ritos K, Lihnaropoulos Y, Naris S, Valougeorgis D (2011) Pressure- and temperature-driven flow through triangular and trapezoidal microchannels. Heat Transf Eng 32:1101–1107

Rojas-Cárdenas M, Graur I, Perrier P, Meolans JG (2011) Thermal transpiration flow: A circular cross-section microtube submitted to a temperature gradient. Phys Fluids 23:031702

Rojas-Cárdenas M, Graur I, Perrier P, Méolans JG (2013) Time-dependent experimental analysis of a thermal transpiration rarefied gas flow. Phys Fluids 25:072001

Rovenskaya OI (2020) Numerical investigation of thermally generated gas flow between saw-tooth like surfaces. Int J Heat Mass Transf 147:118979

Sharipov F (1996) Rarefied gas flow through a long tube at any temperature ratio. J Vac Sci Technol A Vacuum Surfaces Film 14:2627–2635

Sharipov F (1999) Non-isothermal gas flow through rectangular microchannels. J Micromechan Microeng 9:394–401

Sharipov F, Bertoldo G (2005) Rarefied gas flow through a long tube of variable radius. J Vac Sci Technol A Vacuum Surfaces Film. 23:531–533

Sharipov F, Seleznev V (1998) Data on internal rarefied gas flows. J Phys Chem Ref Data 27:657

Sheng Q, Tang G-H, Gu X-J, Emerson DR, Zhang Y-H (2014) Simulation of thermal transpiration flow using a high-order moment method. Int J Mod Phys C 25:1450061

Sone Y (1966) Thermal creep in rarefied gas. J Phys Soc Japan 21:1836–1837

Sone Y (2000) Flows induced by temperature fields in a rarefied gas and their ghost effect on the behavior of a gas in the continuum limit. Annu Rev Fluid Mech 32:779–811

Sone Y (2007) Molecular gas dynamics: theory, techniques, and applications. Springer Science & Business Media, Berlin

Sone Y, Waniguchi Y, Aoki K (1996) One-way flow of a rarefied gas induced in a channel with a periodic temperature distribution. Phys Fluids 8:2227–2235

Szalmás L, Veltzke T, Thöming J (2015) Analysis of the diodic effect of flows of rarefied gases in tapered rectangular channels. Vacuum 120:147–154

Tatsios G, Lopez Quesada G, Rojas-Cardenas M, Baldas L, Colin S, Valougeorgis D (2017) Computational investigation and parametrization of the pumping effect in temperature-driven flows through long tapered channels. Microfluid Nanofluidics 21:99

Valougeorgis D, Vasileiadis N, Titarev V (2017) Validity range of linear kinetic modeling in rarefied pressure driven single gas flows through circular capillaries. Eur J Mech B/Fluids 64:2–7

van Beek JTM, Puers R (2012) A review of MEMS oscillators for frequency reference and timing applications. J Micromechan Microeng 22:013001

Van Toan N, Inomata N, Trung NH, Ono T (2018) Knudsen pump produced via silicon deep RIE, thermal oxidation, and anodic bonding processes for on-chip vacuum pumping. J Micromechan Microeng 28:055001

Vargo SE (2001) Initial results from the first MEMS fabricated thermal transpiration-driven vacuum pump. In Proceedings of the AIP Conference Proceedings; AIP Vol. 585, pp. 502–509

Yamaguchi H, Rojas-Cárdenas M, Perrier P, Graur I, Niimi T (2014) Thermal transpiration flow through a single rectangular channel. J Fluid Mech 744:169–182

Zeng P, Wang K, Ahn J, Ronney PD (2013) Thermal transpiration based pumping and power generation devices. J Therm Sci Technol 8:370–379
Acknowledgements
This work has received funding from the European Union's Framework Programme for Research and Innovation Horizon 2020 (2014–2020) under the Marie Skłodowska-Curie Grant Agreement No. 643095. This work was partly supported by the French Renatech network: The technical information and constraints received from Laboratoire d'Analyse et d'Architecture des Systèmes in Toulouse, France, regarding the manufacturing process to be implemented in the short future are highly acknowledged.
Additional information
Publisher's Note
Springer Nature remains neutral with regard to jurisdictional claims in published maps and institutional affiliations.
Electronic supplementary material
Below is the link to the electronic supplementary material.
About this article
Cite this article
López Quesada, G., Tatsios, G., Valougeorgis, D. et al. Thermally driven pumps and diodes in multistage assemblies consisting of microchannels with converging, diverging and uniform rectangular cross sections. Microfluid Nanofluid 24, 54 (2020). https://doi.org/10.1007/s10404-020-02357-z
Received:

Accepted:

Published: