Abstract
The rapid pace of environmental change is driving multi-faceted shifts in abiotic factors that influence parasite transmission. However, cumulative effects of these factors on wildlife diseases remain poorly understood. Here we used an information-theoretic approach to compare the relative influence of abiotic factors (temperature, diurnal temperature range, nutrients and pond-drying), on infection of snail and amphibian hosts by two trematode parasites (Ribeiroia ondatrae and Echinostoma spp.). A temperature shift from 20 to 25 °C was associated with an increase in infected snail prevalence of 10–20%, while overall snail densities declined by a factor of 6. Trematode infection abundance in frogs was best predicted by infected snail density, while Ribeiroia infection specifically also declined by half for each 10% reduction in pond perimeter, despite no effect of perimeter on the per snail release rate of cercariae. Both nutrient concentrations and Ribeiroia infection positively predicted amphibian deformities, potentially owing to reduced host tolerance or increased parasite virulence in more productive environments. For both parasites, temperature, pond-drying, and nutrients were influential at different points in the transmission cycle, highlighting the importance of detailed seasonal field studies that capture the importance of multiple drivers of infection dynamics and the mechanisms through which they operate.
Access options
Buy single article
Instant access to the full article PDF.
USD 39.95
Price includes VAT (USA)
Tax calculation will be finalised during checkout.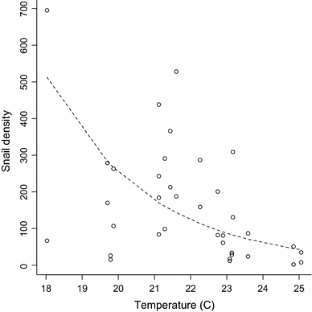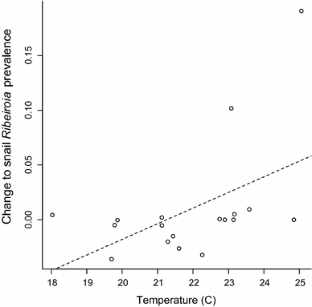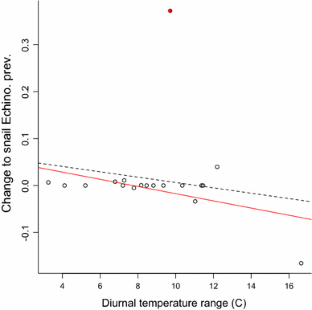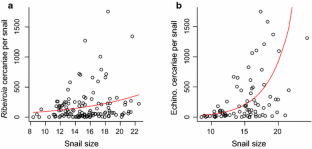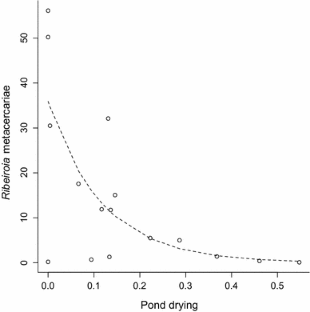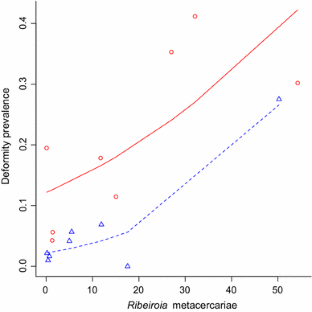 References
Aalto SL, Decaestecker E, Pulkkinen K (2015) A three-way perspective of stoichiometric changes on host-parasite interactions. Trends Parasitol 31:333–340. https://doi.org/10.1016/j.pt.2015.04.005

Altizer S, Ostfeld RS, Johnson PTJ, Kutz S, Harvell CD (2013) Climate change and infectious diseases: from evidence to a predictive framework. Science 341:514–9. https://doi.org/10.1126/science.1239401

Altman KA, Paull SH, Johnson PTJ, Golembieski MN, Stephens JP, Lafonte BE, Raffel TR (2016) Host and parasite thermal acclimation responses depend on the stage of infection. J Anim Ecol. https://doi.org/10.1111/1365-2656.12510

Buck JC, Rohr JR, Blaustein AR (2016) Effects of nutrient supplementation on host-pathogen dynamics of the amphibian chytrid fungus: A community approach. Freshw Biol 61:110–120. https://doi.org/10.1111/fwb.12685

Budria A (2017) Beyond troubled waters: The influence of eutrophication on host-parasite interactions. Funct Ecol. https://doi.org/10.1111/1365-2435.12880

Burnham KP, Anderson DR (2002) Model Selection and Multimodel Inference: A Practical Information-theoretic Approach. Springer-Verlag, New York, NY

Carlson RE (1977) A trophic state index for lakes. Limnol Oceanogr 22:361–369. https://doi.org/10.4319/lo.1977.22.2.0361

Decaestecker E, Verreydt D, De Meester L, Declerck SAJ (2015) Parasite and nutrient enrichment effects on Daphnia interspecific competition. Ecology 96:1421–1430. https://doi.org/10.1890/14-1167.1

Denver RJ (1998) Hormonal correlates of environmentally induced metamorphosis in the Western spadefoot toad, Scaphiopus hammondii. Gen Comp Endocrinol 110:326–336. https://doi.org/10.1006/gcen.1998.7082

Doughty P, Roberts JD (2003) Plasticity in age and size at metamorphosis of Crinia georgiana tadpoles: Responses to variation in food levels and deteriorating conditions during development. Aust J Zool 51:271–284. https://doi.org/10.1071/zo02075

Fried B, Graczyk TK (2004) Recent advances in the biology of echinostoma species in the "revolutum" group. Adv Parasitol 58:139–195. https://doi.org/10.1016/s0065-308x(04)58003-x

Fried B, Toledo R (2004) Criteria for species determination in the "revolutum" group of Echinostoma. J Parasitol 90:917. https://doi.org/10.1645/ge-280

Gage KL, Burkot TR, Eisen RJ, Hayes EB (2008) Climate and vectorborne diseases. Am J Prev Med 35:436–450. https://doi.org/10.1016/j.amepre.2008.08.030

Gethings OJ, Rose H, Mitchell S, Van Dijk J, Morgan ER (2015) Asynchrony in host and parasite phenology may decrease disease risk in livestock under climate warming: Nematodirus battus in lambs as a case study. Parasitology 19:1–12. https://doi.org/10.1017/s0031182015000633

Gosner K (1960) A simple table for staging anuran embryos and larvae with notes on identification. Herpetologica 16:183–190.

Horák P, Kolářová L (2011) Snails, waterfowl and cercarial dermatitis. Freshw Biol 56:779–790. https://doi.org/10.1111/j.1365-2427.2010.02545.x

Jofre MB, Karasov WH (1999) Direct effect of ammonia on three species of north american anuran amphibians. Environ Toxicol Chem 18:1806–1812. https://doi.org/10.1002/etc.5620180829

Johnson PTJ, Chase JM, Dosch KL, Hartson RB, Gross JA, Larson DJ, Sutherland DR, Carpenter SR (2007) Aquatic eutrophication promotes pathogenic infection in amphibians. Proc Natl Acad Sci U S A 104:15781–6. https://doi.org/10.1073/pnas.0707763104

Johnson PTJ, Hartson RB (2009) All hosts are not equal : explaining differential patterns of malformations in an amphibian community. J Anim Ecol 78:191–201. https://doi.org/10.1111/j.1365-2656.2007.0

Johnson PTJ, Kellermanns E, Bowerman J (2011) Critical windows of disease risk: amphibian pathology driven by developmental changes in host resistance and tolerance. Funct Ecol 25:726–734. https://doi.org/10.1111/j.1365-2435.2010.01830.x

Johnson PTJ, Lunde K, Ritchie E, Launer A (1999) The effect of trematode infection on amphibian limb development and survivorship. Science 284:802–804. https://doi.org/10.1126/science.284.5415.802

Johnson PTJ, Lunde KB, Ritchie EG, Reaser JK, Launer A (2001) Morphological abnormality patterns in a California amphibian community. Herpetologica 57:336–352.

Johnson PTJ, Lunde KB, Thurman EM, Ritchie EG, Wray SN, Sutherland DR, Kapfer JM, Frest TJ, Bowerman J, Blaustein AR (2002) Parasite (Ribeiroia ondatrae) infection linked to amphibian malformations in the western United States. Ecol Monogr 72:151–168.

Johnson PTJ, Mckenzie VJ (2009) The Biology of Echinostomes. In: Fried B, Toledo R (eds) The Biology of Echinostomes. Springer: New York, pp 249–280

Johnson PTJ, Preston DL, Hoverman JT, Richgels KLD (2013) Biodiversity decreases disease through predictable changes in host community competence. Nature 494:230–233. https://doi.org/10.1038/nature11883

Johnson PTJ, Sutherland DR, Kinsella JM, Lunde KB (2004) Review of the trematode genus Ribeiroia (Psilostomidae): Ecology, life history and pathogenesis with special emphasis on the amphibian malformation problem. Adv Parasitol 57:191–253.

Johnson PTJ, Townsend AR, Cleveland CC, Glibert PM, Howarth RW, McKenzie VJ, Rejmankova E, Ward MH (2010) Linking environmental nutrient enrichment and disease emergence in humans and wildlife. Ecol Appl 20:16–29.

Karvonen A, Savolainen M, Seppälä O, Valtonen ET (2006) Dynamics of Diplostomum spathaceum infection in snail hosts at a fish farm. Parasitol Res 99:341–345. https://doi.org/10.1007/s00436-006-0137-8

Kelly JP, Stralberg D, Etienne K, McCaustland M (2008) Landscape influence on the quality of heron and egret colony sites. Wetlands 28:257–275. https://doi.org/10.1672/07-152.1

Kiesecker JM, Skelly DK (2001) Effects of disease and pond drying on gray tree frog growth, development, and survival. Ecology 82:1956–1963.

Koprivnikar J, Paull SH, Johnson PTJ, Koprivnikar J, Paull SH, Johnson PTJ (2014) Combined influence of hydroperiod and parasitism on larval amphibian development. Freshw Sci 33:941–949. https://doi.org/10.1086/676674.

Lambrechts L, Paaijmans KP, Fansiri T, Carrington LB, Kramer LD (2011) Impact of daily temperature fluctuations on dengue virus transmission by Aedes aegypti. PNAS. https://doi.org/10.1073/pnas.1101377108//DCSupplemental. www.pnas.org/cgi/doi/10.1073/pnas.1101377108

Laverty C, Brenner D, McIlwaine C, Lennon JJ, Dick JTA, Lucy FE, Christian KA (2017) Temperature rise and parasitic infection interact to increase the impact of an invasive species. Int J Parasitol 47:291–296. https://doi.org/10.1016/j.ijpara.2016.12.004

Lunde KB, Johnson PTJ (2012) A practical guide for the study of malformed amphibians and their causes. J Herpetol 46:429–441. https://doi.org/10.1670/10-319

Marco A, Blaustein AR (1999) The effects of nitrite on behavior and metamorphosis in cascades frogs (Rana cascadae). Environ Toxicol Chem 18:946–949. https://doi.org/10.1002/etc.5620180519

Marcogliese DJ (2016) The distribution and abundance of parasites in aquatic ecosystems in a changing climate: More than just temperature. Integr Comp Biol 56:611–619. https://doi.org/10.1093/icb/icw036

Martinaud G, Billaudelle M, Moreau J (2009) Circadian variation in shedding of the oocysts of Isospora turdi (Apicomplexa) in blackbirds (Turdus merula): An adaptative trait against desiccation and ultraviolet radiation. Int J Parasitol 39:735–739. https://doi.org/10.1016/j.ijpara.2008.11.006

McKenzie VJ, Townsend AR (2007) Parasitic and infectious disease responses to changing global nutrient cycles. Ecohealth 4:384–396. https://doi.org/10.1007/s10393-007-0131-3

Mitchell CE, Reich PB, Tilman D, Groth JV (2003) Effects of elevated CO2, nitrogen deposition, and decreased species diversity on foliar fungal plant disease. Global Change Biology 9: 438–451.

Mordecai EA, Paaijmans KP, Johnson LR, Balzer C, Ben-Horin T, de Moor E, McNally A, Pawar S, Ryan SJ, Smith TC, Lafferty KD (2013) Optimal temperature for malaria transmission is dramatically lower than previously predicted. Ecol Lett 16:22–30. https://doi.org/10.1111/ele.12015

Morley N, Adam M, Lewis J (2010) The effects of host size and temperature on the emergence of Echinomparyphium recurvatum cercariae from Lymnaea peregra under natural light conditions. J Helminthol 84:317–326.

Newman RA (1992) Adaptive plasticity in amphibian metamorphosis. What type of phenotypic variation is adaptive, and what are the costs of such plasticity? Bioscience 42:671–678.

O'Connor LJ, Kahn LP, Walkden-Brown SW (2008) Interaction between the effects of evaporation rate and amount of simulated rainfall on development of the free-living stages of Haemonchus contortus. Vet Parasitol 155:223–234. https://doi.org/10.1016/j.vetpar.2008.05.010

Okamura B, Hartikainen H, Schmidt-Posthaus H, Wahli T (2011) Life cycle complexity, environmental change and the emerging status of salmonid proliferative kidney disease. Freshw Biol 56:735–753.

Paaijmans KP, Read AF, Thomas MB (2009) Understanding the link between malaria risk and climate. Proc Natl Acad Sci U S A 106:13844–9. https://doi.org/10.1073/pnas.0903423106

Pastok D, Hoare MJ, Ryder JJ, Boots M, Knell RJ, Atkinson D, Hurst GDD (2016) The role of host phenology in determining the incidence of an insect sexually transmitted infection. Oikos 125:636–643. https://doi.org/10.1111/oik.02478

Paull SH, Johnson PTJ (2011) High temperature enhances host pathology in a snail-trematode system: possible consequences of climate change for the emergence of disease. Freshw Biol 56:767–778. https://doi.org/10.1111/j.1365-2427.2010.02547.x

Paull SH, Johnson PTJ (2014) Experimental warming drives a seasonal shift in the timing of host-parasite dynamics with consequences for disease risk. Ecol Lett 17:445–53. https://doi.org/10.1111/ele.12244

Paull SH, LaFonte BE, Johnson PTJ (2012) Temperature-driven shifts in a host-parasite interaction drive nonlinear changes in disease risk. Glob Chang Biol 18:3558–3567. https://doi.org/10.1111/gcb.12018

Paull SH, Raffel TR, Lafonte BE, Johnson PTJ (2015) How temperature shifts affect parasite production: Testing the roles of thermal stress and acclimation. Funct Ecol. https://doi.org/10.1111/1365-2435.12401

Peltzer PM, Lajmanovich RC, Sánchez-Hernandez JC, Cabagna MC, Attademo AM, Bassó A (2008) Effects of agricultural pond eutrophication on survival and health status of Scinax nasicus tadpoles. Ecotoxicol Environ Saf 70:185–197. https://doi.org/10.1016/j.ecoenv.2007.06.005

Penttinen R, Kinnula H, Lipponen A, Bamford JKH, Sundberg LR (2016) High nutrient concentration can induce virulence factor expression and cause higher virulence in an environmentally transmitted pathogen. Microb Ecol 72:955–964. https://doi.org/10.1007/s00248-016-0781-1

Råberg L, Graham AL, Read AF (2009) Decomposing health: tolerance and resistance to parasites in animals. Philos Trans R Soc Lond B Biol Sci 364:37–49. https://doi.org/10.1098/rstb.2008.0184

R Core Team (2015) R: A language and environment for statistical computing

Raffel T, Romansic J, Halstead N, McMahon T, Venesky M, Rohr J (2013) Disease and thermal acclimation in a more variable and unpredictable climate. Nat Clim Chang 3:146–151. https://doi.org/10.1038/nclimate1659

Rohr JR, Raffel TR (2010) Linking global climate and temperature variability to widespread amphibian declines putatively caused by disease. Proc Natl Acad Sci U S A 107:8269–74. https://doi.org/10.1073/pnas.0912883107

Rohr JR, Raffel TR, Blaustein AR, Johnson PTJ, Paull SH, Young S (2013) Using physiology to understand climate-driven changes in disease and their implications for conservation. Conserv Physiol 1:1–15. https://doi.org/10.1093/conphys/cot022.

Rohr JR, Raffel TR, Hall CA. (2010) Developmental variation in resistance and tolerance in a multi-host-parasite system. Funct Ecol 24:1110–1121. https://doi.org/10.1111/j.1365-2435.2010.01709.x

Sandland GJ, Minchella DJ (2004) Context-dependent life-history variation in a pond snail (Lymnaea elodes) exposed to desiccation and a sterilizing parasite. Ecoscience 11:181–186.

Schotthoefer AM, Koehler A V, Meteyer CU, Cole R a (2003) Influence of Ribeiroia ondatrae (Trematoda: Digenea) infection on limb development and survival of northern leopard frogs (Rana pipiens): effects of host stage and parasite-exposure level. Can J Zool 81:1144–1153. https://doi.org/10.1139/z03-099

Smith VH, Schindler DW (2009) Eutrophication science: where do we go from here? Trends Ecol Evol 24:201–7. https://doi.org/10.1016/j.tree.2008.11.009

Stopper G, Hecker L, Franssen R, Sessions S (2002) How trematodes cause limb deformities in amphibians. J Exp Zool 294:252–263. https://doi.org/10.1002/jez.10134

Studer A, Thieltges D, Poulin R (2010) Parasites and global warming: net effects of temperature on an intertidal host–parasite system. Mar Ecol Prog Ser 415:11–22. https://doi.org/10.3354/meps08742

Sutherland DR (2005) Parasites of North American frogs. In: The Conservation Status of United States Species, pp 109–123

Szuroczki D, Richardson JML (2009) The role of trematode parasites in larval anuran communities: an aquatic ecologist's guide to the major players. Oecologia 161:371–85. https://doi.org/10.1007/s00442-009-1388-8

Thackeray SJ, Henrys PA, Hemming D, Bell JR, Botham MS, Burthe S, Helaouet P, Johns DG, Jones ID, Leech DI, Mackay EB, Massimino D, Atkinson S, Bacon PJ, Brereton TM, Carvalho L, Clutton-brock TH, Duck C, Edwards M, Elliott JM, Hall SJG, Harrington R, James W, Thompson PM, White I, Winfield IJ, Wanless S, Pemberton JM, Sparks TH (2016) Phenological sensitivity to climate across taxa and trophic levels. Nature. https://doi.org/10.1038/nature18608

Thomas DJ, McClintock J (1996) Aspects of the population dynamics and physiological ecology of the gastropod Physella cubensis (Pulmonata: Physidae) living in a warm-temperate stream and ephemeral pond habitat. Malacologia 37:333–348.

van Dijk J, Sargison ND, Kenyon F, Skuce PJ (2010) Climate change and infectious disease: helminthological challenges to farmed ruminants in temperate regions. Animal 4:377–392. https://doi.org/10.1017/s1751731109990991

Zuur AF, Ieno EN, Walker NJ, Saveliev AA, Smith GM (2009) Mixed Effects Models and Extensions in Ecology with R. Springer New York, New York, NY
Acknowledgements
I would like to thank P. Hoffman for help with fieldwork, E. Kellermans for help with dissections, C. Ray for analytical advice, and Sarah Orlofske, Katie Richgels, Dan Preston, Joe Mihaljevic, Max Joseph, S. Collinge, R. Guralnick, and E. Root for feedback on earlier versions of the manuscript. This work was funded, in part, by the United States Environmental Protection Agency under the Science to Achieve Results (STAR) Graduate Fellowship Program (S.H.P). EPA has not officially endorsed this dissertation and the views expressed herein may not reflect the views of the EPA. We gratefully acknowledge the financial support provided by the National Science Foundation (DEB-0841758, DEB-1149308), the National Institutes of Health (R01GM109499), the National Geographic Society, the University of Colorado Graduate School, the Department of Ecology and Evolutionary Biology, and the David and Lucile Packard Foundation.
Electronic supplementary material
Below is the link to the electronic supplementary material.
About this article
Cite this article
Paull, S.H., Johnson, P.T.J. How Temperature, Pond-Drying, and Nutrients Influence Parasite Infection and Pathology. EcoHealth 15, 396–408 (2018). https://doi.org/10.1007/s10393-018-1320-y
Received:

Revised:

Accepted:

Published:

Issue Date:
Keywords
Eutrophication

Global warming

Infectious disease

Malformations

Multiple stressors

Phenology