Abstract
Climate change is expected to increase the prevalence of acute and chronic diseases among human and animal populations within the Arctic and subarctic latitudes of North America. Warmer temperatures are expected to increase disease risks from food-borne pathogens, water-borne diseases, and vector-borne zoonoses in human and animal populations of Arctic landscapes. Existing high levels of mercury and persistent organic pollutant chemicals circulating within terrestrial and aquatic ecosystems in Arctic latitudes are a major concern for the reproductive health of humans and other mammals, and climate warming will accelerate the mobilization and biological amplification of toxic environmental contaminants. The adverse health impacts of Arctic warming will be especially important for wildlife populations and indigenous peoples dependent upon subsistence food resources from wild plants and animals. Additional research is needed to identify and monitor changes in the prevalence of zoonotic pathogens in humans, domestic dogs, and wildlife species of critical subsistence, cultural, and economic importance to Arctic peoples. The long-term effects of climate warming in the Arctic cannot be adequately predicted or mitigated without a comprehensive understanding of the interactive and synergistic effects between environmental contaminants and pathogens in the health of wildlife and human communities in Arctic ecosystems. The complexity and magnitude of the documented impacts of climate change on Arctic ecosystems, and the intimacy of connections between their human and wildlife communities, makes this region an appropriate area for development of One Health approaches to identify and mitigate the effects of climate warming at the community, ecosystem, and landscape scales.
Access options
Buy single article
Instant access to the full article PDF.
USD 39.95
Price includes VAT (USA)
Tax calculation will be finalised during checkout.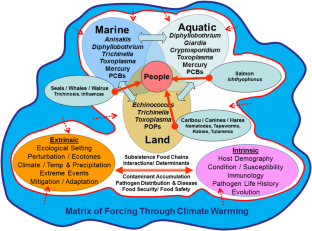 References
ACIA (2005) Arctic Climate Impact Assessment, Cambridge UK: Cambridge University Press

AMAP (1997) Arctic Pollution Issues: A State of the Arctic Environment Report, Oslo: Arctic Monitoring and Assessment Programme (AMAP)

AMAP (2003) AMAP Assessment 2002: Human Health in the Arctic, Oslo: Arctic Monitoring and Assesment Programme (AMAP)

AMAP (2013). Identification of Arctic marine areas of heightened ecological and cultural significance: Arctic Marine Shipping Assessment (AMSA) IIc, Oslo: Arctic Monitoring and Assessment Programme (AMAP)

Aramini JJ, Stephen C, Dubey JP, Engelstoft C, Schwantje H, Ribble CS (1999) Potential contamination of drinking water with Toxoplasma gondii oocysts. Epidemiology and Infection 122:305–315

Artsob H, Gubler DJ, Enria DA, Morales MA, Pupo M, Bunning ML, Dudley JP (2009) West Nile Virus in the New World: trends in the spread and proliferation of West Nile Virus in the Western Hemisphere. Zoonoses and Public Health 56:357–359

Belser JA, Bridges CB, Katz JM, Tumpey TM (2009) Past, present, and possible future human infection with influenza virus A subtype H7. Emerging Infectious Diseases 15:859–865

Ben Ari T, Gershunov A, Gage KL, Snäll T, Ettestad P, Kausrud KL, Stenseth NC (2008) Human plague in the USA: the importance of regional and local climate. Biology Letters 4:737–740

Bentzen TW, Follmann EH, Amstrup SC, York GS, Wooller MJ, Muir DCG, et al. (2008) Dietary biomagnification of organochlorine contaminants in Alaskan polar bears. Canadian Journal of Zoology 86(3):177–191

Bodewes R, Bestebroer TM, van der Vries E, Verhagen JH, Herfst S, Koopmans MP, et al. Avian influenza A(H10N7) virus–associated mass deaths among harbor seals. Emerging Infectious Diseases 21(4). http://wwwnc.cdc.gov/eid/article/21/4/14-1675_article. Accessed Feb 26 2015

Boucher O, Jacobson SW, Plusquellec P, Dewailly É, AyotteP, Forget-Dubois, et al. (2012) Prenatal methylmercury, postnatal lead exposure, and evidence of attention deficit/hyperactivity disorder among Inuit children in Arctic Québec. Environmental Health Perspectives 120(10):1456–1461

Braune BM, Outridge PM, Fisk AT, Muir DC, Helm PA, Hobbs K, Hoekstra PF, Kuzyk ZA, Kwan M, Letcher RJ, Lockhart WL, Norstrom RJ, Stern GA, Stirling I (2005) Persistent organic pollutants and mercury in marine biota of the Canadian Arctic: an overview of spatial and temporal trends. Science of the Total Environment 351–352:4–56

Burkow IC, Weber J-P (2003) Priority contaminants, new toxic substances, and analytical issues. In: AMAP Assessment 2002: Human Health in the Arctic, Hansen JC, Gilman A, Klopov V, Odland JØ (editors), Viborg: Nørhaven Books, pp 21–30

CBD-WHO (2015) Connecting Global Priorities: Biodiversity and Human Health, A State of Knowledge Review, Montreal: Secretariat of the Convention on Biological Diversity and the World Health Organization. http://www.cbd.int/getattachment/health/stateofknowledge/SOK-Summary-Finalv4_reduced-(1).pdf. Accessed Feb 26 2015

Chen C-C, Jenkins E, Epp T, Waldner C, Curry PS, Soos C (2013) Climate change and West Nile virus in a highly endemic region of North America. International Journal of Environmental Research and Public Health 10(7):3052–3071

Coker R, Rushton J, Mounier-Jack S, Karimuribo E, Lutumba P, Kambarage D, et al. (2011) Towards a conceptual framework to support One-Health research for policy and emerging zoonoses. Lancet Infectious Diseases 11:326–331

Costanza R, Norton BG, Haskell BD (1992) Ecosystem Health: New Goals for Environmental Management, Washington, DC: Island Press

Cunsolo Willox A, Stephenson E, Allen J, Bourque F, Drossos A, Elgarøy S, et al. (2014) Examining relationships between climate change and mental health in the Circumpolar North. Regional Environmental Change. doi:10.1007/s10113-0140630-z

Curren MS, Davis K, Liang CL, Adlard B, Foster WG, Donaldson SG et al. (2014) Comparing plasma concentrations of persistent organic pollutants and metals in primiparous women from northern and southern Canada. Science of the Total Environment 479:306–318

Dallaire F, Dewailly É, Vézina C, Muckle G, Weber J P, Bruneau S, et al. (2006) Effect of prenatal exposure to polychlorinated biphenyls on incidence of acute respiratory infections in preschool Inuit children. Environmental Health Perspectives 8:1301–1305

Dietz R, Born EW, Riget F, Aubail A, Sonne C, Drimmie R, Basu N (2011) Temporal trends and future predictions of mercury concentrations in Northwest Greenland polar bear (Ursus maritimus) hair. Environmental Science & Technology 45(4):1458–1465

Donaldson SG, Van Oostdam J, Tikhonov C, Feeley M, Armstrong B, Ayotte P, et al. (2010) Environmental contaminants and human health in the Canadian Arctic. Science of the Total Environment 408(22):5165–5234

Dudley JP (2008) Public health and epidemiological considerations for avian influenza risk mapping and risk assessment. Ecology and Society 13:21

Dusek RJ, Hallgrimsson GT, Ip HS, Jónsson JE, Sreevatsan S, Nashold SW, et al. (2014) North Atlantic migratory bird flyways provide routes for intercontinental movement of Avian Influenza Viruses. PLoS One 9(3):e92075

Eckert J, Conraths FJ, Tackmann K (2000) Echinococcosis: an emerging or reemerging zoonosis? International Journal Parasitology 30:1283–1294

El Adlouni S, Beaulieu C, Ouarda TB, Gosselin PL, Saint-Hilaire A (2007) Effects of climate on West Nile Virus transmission risk used for public health decision-making in Quebec. International Journal Health Geographics 6:40. doi:10.1186/1476-072X6-40

Elmore SA, Jenkins EJ, Huyvaert KP, Polley L, Root JJ, Moore CG (2012) Toxoplasma gondii in circumpolar people and wildlife. Vector Borne Zoonotic Diseases 12(1):1–9. doi:10.1089/vbz.2011.0705

Ely CR, Hall JS, Schmutz JA, Pearce JM, Terenzi J, Sedinger JS, Ip HS (2013) Evidence that life history characteristics of wild birds influence infection and exposure to influenza A Viruses. PLoS One 8(3):e57614

Environment Canada (2013) Climate Trends and Variations Bulletin – Annual 2013. http://www.ec.gc.ca/adsc-cmda/default.asp?lang=En&n=8C7AB86B-1. Accessed Feb 26 2015

Evander M, Ahlm C (2009) Milder winters in northern Scandinavia may contribute to larger outbreaks of haemorrhagic fever virus. Global Health Action. doi:10.3402/gha.v2i0.2020

Fernández-González R, Yebra-Pimentel I, Martinez-Carballo E, Simal-Gandara J (2013) A critical review about the human exposure to polychlorinated dibenzo-p-dioxins (PCDDs), polychlorinated dibenzofurans (PCDFs) and polychlorinated biphenyls (PCBs) through foods. Critical Reviews in Food Science and Nutrition 55(11):1590–1617

Flanagan K, McCauley E, Wrona F, and Prowse T (2003) Climate change: the potential for latitudinal effects on algal biomass in aquatic ecosystems. Canadian Journal of Fisheries and Aquatic Science 60:635–639

Fontaine J, Dewailly E, Benedetti J-L, Pereg D, Ayotte P, et al. (2008) Reevaluation of blood mercury, lead and cadmium concentrations in the Inuit population of Nunavik (Québec): a cross-sectional study. Environmental Health 7:25

Ford JD, Pearce T, Duerden F, Furgal C, Smit B (2010) Climate change policy responses for Canada's Inuit population: the importance of and opportunities for adaptation. Global Environmental Change 20:177–191

Ford JD, Bolton K, Shirley J, Pearce T, Tremblay M, Westlake M (2012) Mapping human dimensions of climate change research in the Canadian Arctic. Ambio 41(8):808–822

Forget G, Lebel J. (2001) An ecosystem approach to human health. International Journal of Occupational Environmental Health 7(2 Suppl):S3–38

Gilbert M, Slingenbergh MJ, Xiao X (2008) Climate change and avian influenza. Revue Scientifique et Technique Office International Epizooties 27(2):459–466

Gilg O, Kovacs KM, Ars J, Fort J, Gauthier G, Grémillet D. et al. (2012) Climate change and the ecology and evolution of Arctic vertebrates. Annals of the New York Academy of Sciences 1249:166–190

Handeland K, Sletbakk T (1994) Outbreaks of clinical cerebrospinal elaphostrongylosis in reindeer (Rangifer tarandus tarandus) in Finnmark, Norway, and their relations to climate conditions. Journal of Veterinary Medicine Series B (Germany) 41:407–410

Harper SL, Edge VL, Cunsolo Willox A (2012) 'Changing climate, changing health, changing stories'. profile: using an EcoHealth approach to explore impacts of climate change on Inuit Health. EcoHealth 9:89–101

Heilmann C (2012). Environmental toxicants and susceptibility to infection. In: Immunotoxicity, Immune Dysfunction, and Chronic Disease, Dietert RR, Leubke RW (editors), New York: Springer, pp 389–398

Herrick KA, Hettmann F, Lindgren MA (2013) A global model of avian influenza prediction in wild birds: the importance of northern regions. Veterinary Research 44:42

Hinshaw VS, Bean WJ, Geraci J, Fiorelli P, Early G, Webster RG (1986) Characterization of two influenza A viruses from a pilot whale. Journal of Virology 58:655–656

Hinshaw VS, Bean WJ, Webster RG, Rehg JE, Fiorelli P, Early G, et al. (1984) Are seals frequently infected with avian influenza viruses? Journal of Virology 51(3):863865

Hinzman LD, Bettez ND, Bolton WR, Chapin FS, Dyurgerov MB, Fastie CL, et al. (2005). Evidence and implications of recent climate change in northern Alaska and other arctic regions. Climatic Change 72(3):251–298

Hoberg EP, Agosta SJ, Boeger WA, Brooks DR (2015) An integrated parasitology: revealing the elephant through tradition and invention. Trends in Parasitology 31:128–133

Hoberg EP, Brooks DR (2015) Evolution in action: Climate change, biodiversity dynamics and emerging infectious disease. Philosophical Transactions of the Royal Society B 370:20130553

Hoberg EP, Galbreath KE, Cook JA, Kutz SJ, Polley L (2012) Northern host–parasite assemblages: history and biogeography on the borderlands of episodic climate and environmental transition. Advances in Parasitology 79:1–97

Hoberg EP, Kutz SJ, Cook JA, Galaktionov K, Haukisalmi V, Henttonen H, Laaksonen S, Makarikov A, Marcogliese DJ (2013). Parasites. In: Arctic Biodiversity Assessment, Status and Trends in Arctic Biodiversity, H. Meltofte, A.P. Josefson, D. Payer (editors). Tromsø: Arctic Council, Conservation of Arctic Fauna and Flora (CAFF), pp 529–557

Hoberg EP, Polley L, Jenkins EJ, Kutz SJ, Veitch A, Elkin B (2008) Integrated approaches and empirical models for investigation of parasitic diseases in northern wildlife. Emerging Infectious Diseases 14:10–17

Hueffer K, O'Hara TM, and Follmann EH (2011) Adaptation of mammalian host-pathogen interactions in a changing arctic environment. Acta Veterinaria Scandinavica 53(1):17

Hueffer K, Parkinson AJ, Gerlach R, and Berner J (2013) Zoonotic infectious in Alaska: Disease prevalence, potential impact of climate change and recommended actions for earlier disease detection, research, prevention and control. International Journal of Circumpolar Health 72:19562

Hueston W, Appert J, Denny T, King L, Umber J, Valeri L (2013) Assessing global adoption of One Health approaches. EcoHealth 10:228–233

Hutchins DA, Teyssié J-L, Boisson F, Fowler SW, Fisher NS (1996) Temperature effects on uptake and retention of contaminant radionuclides and trace metals by the brittle star Ophiothrix fragilis. Marine Environmental Research 41:363–378

Imbeault P, Findlay CS, Robidoux MA, Haman F, Blais JM, et al. (2012) Dysregulation of cytokine response in Canadian First Nations Communities: Is there an association with persistent organic pollutant levels? PLoS One 7(7):e39931

Ip HS, Flint PL, Franson JC, Dusek RJ, Derksen DV, Gill RE Jr, et al. (2008) Prevalence of Influenza A viruses in wild migratory birds in Alaska: patterns of variation in detection at a crossroads of intercontinental flyways. Virology Journal 5:71

IPCC (2013) Climate Change 2013: The Physical Science Basis. IPCC Working Group I Contribution to AR5, Geneva: Intergovernmental Panel on Climate Change (IPCC). https://www.ipcc.ch/report/ar5/wg1/. Accessed Feb 26 2015

IPCC (2014) Climate Change 2014: impacts, adaptation, and vulnerability. Part B: regional aspects. In: Contribution of Working Group II to the Fifth Assessment Report of the Intergovernmental Panel on Climate Change, Barros VR, et al. (editors), Cambridge, UK: Cambridge University Press

Jacobson JL, Jacobson SW (1996) Intellectual impairment in children exposed to polychlorinated biphenyls in utero. New England Journal of Medicine 335(11):783–789

Jenkins EJ, Castrodale LJ, de Rosemond SJ, Dixon BR, Elmore SA, Gesy KM, et al. (2013) Tradition and transition: parasitic zoonoses of people and animals in Alaska, Northern Canada, and Greenland. In: Advances in Parasitology, Rollinson D (editor), London: Academic Press, pp 36–204

Jenkins DJ, Romig T, Thompson RCA (2005) Emergence/re-emergence of Echinococcus spp. – a global update. International Journal of Parasitology 35:12051219

Jenkins, EJ, Schurer JM, Gesy KM (2011) Old problems on a new playing field: helminth zoonoses transmitted among dogs, wildlife, and people in a changing northern climate. Veterinary Parasitology 182(1):54–69

Jenkins EJ, Veitch AM, Kutz SJ, Hoberg EP, Polley L (2006) Climate change and the epidemiology of protostrongylid nematodes in northern ecosystems: Parelaphostrongylus odocoilei and Protostrongylus stilesi in Dall's sheep (Ovis d. dalli). Parasitology 132:387–401

Jensse BM (2006) Endocrine-disrupting chemicals and climate change: a worst-case combination for Arctic marine mammals and seabirds. Environmental Health Perspectives 114(S-1):76–80

Keawcharoen J, van Riel D, van Amerongen G, Bestebroer T, Beyer WE, van Lavieren R, et al. (2008) Wild ducks as long-distance vectors of highly pathogenic avian influenza virus (H5N1). Emerging Infectious Diseases 14:600–607

Kelly BC, Ikonomou MG, Blair JD, Morin AE, Gobas FAP (2007) Food web–specific biomagnification of persistent organic pollutants. Science 317:236–239

Kelly BP, Bengtson JL, Boveng PL, Cameron MF, Dahle SP, Jansen JK, et al. (2010) Status Review of the Ringed Seal (Phoca hispida). NOAA Technical Memorandum NMFSAFSC-212. Washington, DC: U.S. Department of Commerce. http://www.afsc.noaa.gov/Publications/AFSC-TM/NOAA-TM-AFSC-212.pdf. Accessed Feb 26 2015

Kiceniuk JW, Holzbecher J, Chatt A (1997) Extractable organohalogens in tissues of beluga whales from the Canadian Arctic and the St. Lawrence estuary, Environmental Pollution 97:205–211

Kim BI, Blanton JD, Gilbert A, Castrodale L, Hueffer K, Slate D, Rupprecht CE (2013) A conceptual model for the impact of climate change on fox rabies in Alaska, 1980–2010. Zoonoses and Public Health 61:72–80

Kirk JL, Lehnherr I, Andersson M, Braune BM, Chan L, Dastoor AP, et al. (2012). Mercury in Arctic marine ecosystems: Sources, pathways, and exposure. Environmental Research 119:64–87

Knapp GP (2000) The population of the circumpolar north. In: The Arctic: Environment, People, Policy, Nuttall M, Callaghan TV (editors), Amsterdam: Harwood Academic Publishers

Kocan R, Hershberger P, Winton J (2004) Icthyophoniasis: An emerging disease of Chinook salmon in the Yukon River. Journal of Aquatic Animal Health 16:16–58

Krey A, Ostertag SK, Chan HM (2015) Assessment of neurotoxic effects of mercury in beluga whales (Delphinapterus leucas), ringed seals (Pusa hispida), and polar bears (Ursus maritimus) from the Canadian Arctic. Science of the Total Environment 509–510:237–247

Kuhnlein HV, Chan HM (2000) Environment and contaminants in traditional food systems of northern indigenous peoples. Annual Review of Nutrition 20:595–626

Kutz SJ (2007) An evaluation of the role of climate change in the emergence of pathogens and diseases in Arctic and Sub-Arctic caribou populations. Climate Change Action Fund. Project A760. Report to the Government of Canada.

Kutz SJ, Jenkins EJ, Veitch AM, Ducrocq J, Polley L, Elkin B, Lair S (2009) The Arctic as a model for anticipating, preventing, and mitigating climate change impacts on host-parasite interactions. Veterinary Parasitology 163:217–228

Kutz SJ, Ducrocq J, Verocai G, Hoar B, Colwell D, Beckmen K, Polley L, Hoberg E. (2012) Parasites in ungulates of Arctic North America and Greenland: A view of contemporary diversity, ecology, and impact in a world under change. Advances in Parasitology 79:99–252

Kutz SJ, Checkly S, Verocai GG, Dumond M, Hoberg EP, Peacock R, Wu JP, Orsel K, Seegers K, Warren AL, Abrams A (2013) Invasion, establishment, and range expansion of two parasitic nematodes in the Canadian Arctic. Global Change Biology 19:3254–3262

Kutz S, Hoberg EP, Molnár PK, Dobson A, Verocai G (2014) A walk on the tundra: Host-parasite interactions in an extreme environment. International Journal for Parasitology-Parasites and Wildlife 3:198–208

Laaksonen S, Kuusela J, Nikander S, Nylund M, Oksanen A (2007) An outbreak of parasitic peritonitis in reindeer (Rangifer tarandus tarandus) in Finland. Veterinary Record 160:835–841

Laaksonen S, Pusenious J, Kumpula J, Venäläinen A, Kortet R, Oksanen A, Hoberg EP (2010) Climate change promotes the emergence of serious disease outbreaks of Filarioid nematodes. EcoHealth 7(1):7–13

Lafferty KD (2009) The ecology of climate change and infectious diseases. Ecology 90:888–900

la Guardia L, Derocher AE, Myers PG, Scheltinga AD, Lunn NJ (2013) Future sea ice conditions in western Hudson Bay and consequences for polar bears in the 21st century. Global Change Biology 19(9):2675–2687

Laird BD, Goncharov AB, Chan HM (2013) Body burden of metals and persistent organic pollutants among Inuit in the Canadian Arctic. Environment International 59:33–40

Lavoie É, Lévesque B, Proulx J-F, Grant J, Ndassebe AD, Gingras S, et al. (2008) Évaluation du programme de dépistage de la toxoplasmose chez les femmes enceintes du Nunavik, 1994–2003. Canadian Journal of Public Health 99:397–400

Leighton FA, Artsob HA, Chu MC, Olson JG (2001) A serological survey of rural dogs and cats on the southwestern Canadian prairie for zoonotic pathogens. Canadian Journal of Public Health 92(1):67–71

Macdonald RW, Harner T, Fyfe J (2005) Recent climate change in the Arctic and its impact on contaminant pathways and interpretation of temporal trend data. Science of the Total Environment 342:5–86

Mallory ML, Braune BM, Wayland M, Gilchrist HG, Dickson D (2004) Contaminants in common eiders (Somateria mollissima) of the Canadian Arctic. Environmental Review 12:197–218

Mas-Coma S, Valero MA, Bargues MD (2008) Effects of climate change on animal and zoonotic helminthiases. Revue Scientifique et Technique de l'Organisation Mondiale de la Sante Animale 27:443–452

McIvor O, Napoleon A (2009) Language and culture as protective factors for at-risk communities. Journal of Aboriginal Health 5(1):6–25

McDonald JC, Gyorkos TW, Alberton B, MacLean JD, Richer G, Jaranek D (1990) An outbreak of toxoplasmosis in pregnant women in northern Quebec. Journal of Infectious Diseases 161:769–774

McLean DM, Grass PN, Judd BD, Ligate LV, Peter KK (1977) Bunyavirus isolations from mosquitoes in the western Canadian Arctic. Journal Hygiene (London) 79:61–71

Meier-Stephenson V, Langley JM, Drebot M, Artsob H (2007) Encephalitis in the summer: a case of snowshoe hare (California serogroup) virus infection in Nova Scotia. Canadian Communicable Diseases Report 33(11):23–26

Meltofte H, Barry T, Berteaux D, Bultman H, Christianson JS, Cook JA, et al. (2013) Arctic biodiversity assessment, status and trends in Arctic biodiversity: Synthesis. In: Arctic Biodiversity Assessment, Status and Trends in Arctic Biodiversity, H. Meltofte, A.P. Josefson, D. Payer (editors), Tromsø: Arctic Council -Conservation of Arctic Fauna and Flora (CAFF), pp 1–120

Muir DC, Backus S, Derocher AE, Dietz R, Evans TJ, Gabrielsen GW, et al. (2006) Brominated flame retardants in polar bears (Ursus maritimus) from Alaska, the Canadian Arctic, East Greenland, and Svalbard. Environmental Science Technology 40:449–455

Nuttall M, Berkes F, Forbes B, Kofinas G, Vlassova T, Wenzel G (2005) Hunting, herding, fishing and gathering: indigenous peoples and renewable resource use in the Arctic, EDS Arctic Climate Impact Assessment, Cambridge: Cambridge University Press, pp 649–690

Odland JØ (2005) The importance of diet on exposure and effects of Persistent Organic Pollutants on human health in the Arctic. Annual Review of Biomedical Science 7:161–181

O'Hara TM, Krahn MM, Boyd D, Becker PR, Philo LM (1999) Organochlorine contaminant levels in Eskimo harvested bowhead whales of Arctic Alaska. Journal of Wildlife Diseases 35:741–752

Outridge PM, Macdonald RW, Wang F, Stern GA, Dastoor AP (2008). A mass balance inventory of mercury in the Arctic Ocean. Environmental Chemistry 5:89–111

Parkinson, AJ. (2008) Climate change and infectious diseases: the Arctic environment. In: Relman D, Hamburg M, Choffnes E, Mack A (Rapporteurs), Global Climate Change and Extreme Weather Events: Understanding the Contributions to Infectious Disease Emergence, Washington DC: National Academies Press, pp 155–178

Parkinson AJ (2013) The Arctic Human Health Initiative: a legacy of the International Polar Year 2007–2009. International Journal of Circumpolar Health 72:21655

Parlee BL, Goddard E, First Nation Lutsël K'é Dene, Smith M (2014) Tracking change: Traditional knowledge and monitoring of wildlife health in northern Canada. Human Dimensions of Wildlife 19:47–61

Pasick J, Berhane Y, Kehler H, Hisanaga T, Handel K, Robinson J, et al. (2010). Survey of influenza A viruses circulating in wild birds in Canada 2005 to 2007. Avian Diseases 54:440–445

Patra RW, Chapman JC, Lim RP, Gehrke PC. (2007) The effects of three organic chemicals on the upper thermal tolerances of four freshwater fishes. Environmental Toxicology and Chemistry 26:1454–1459

Pettersson L, Boman J, Juto P, Evander M, Ahlm C (2008) Outbreak of Puumala virus infection, Sweden. Emerging Infectious Diseases 14:808–810

Poland JS, Mitchell S, Rutter A (2001) Remediation of former military bases in the Canadian Arctic. Cold Regions Science and Technology 32:93–105

Post E, Bhatt US, Bitz CM, Brodie JF, Fulton TL, Hebblewhite M, et al. (2013) Ecological consequences of sea-ice decline. Science 341:519–524

Quinn CL, Armitage JM, Breivik K, Wania F (2012) A methodology for evaluating the influence of diets and intergenerational dietary transitions on historic and future human exposure to persistent organic pollutants in the Arctic. Environment International 49:83–91

Rabinowitz P, Conti L (2013) Links among human health, animal health, and ecosystem health. Annual Review of Public Health 34:189–204

Rapport DJ, Costanza R, McMichael AJ (1998) Assessing ecosystem health. Trends in Ecology and Evolution 13:397–402

Rausch RL, George JC, Brower HK (2007). Effect of climate warming on the Pacific walrus, and potential modification of its helminth fauna. Journal of Parasitology 93:1247–1251

Receveur O, Boulay M, Kuhnlein HV (1997) Decreasing traditional food use affects diet quality for adult Dene/Métis in 16 communities of the Canadian Northwest Territories. Journal of Nutrition 127:2179–2186

Reed C, Bruden D, Byrd KK, Veguilla V, Bruce M, Hurlburt D, et al. (2014) Characterizing wild bird contact and seropositivity to highly pathogenic avian influenza A (H5N1) virus in Alaskan residents. Influenza Other Respiratory Viruses 8(5):516–23

Reist JD, Wrona FJ, Prowse TD, Dempson JB, Günter Köck MP, Carmichael TJ, et al. (2006) Effects of climate change and UV radiation on fisheries for Arctic freshwater and anadromous species. Ambio 35:402–410

Reperant LA, Rimmelzwaan GF, Kuiken T (2009) Avian influenza viruses in mammals. Revue Scientifique et Technique Office Internationale Epizooties 28(1):137–59

Revich B, Tokarevich N, Parkinson AJ (2012) Climate change and zoonotic infections in the Russian Arctic. International Journal of Circumpolar Health 71:18792

Rubin CH, Lanier A, Socha M, Brock JW, Kieszak S, Zahm S (2001) Exposure to persistent organochlorines among Alaska Native women. International Journal of Circumpolar Health 60(2):157–169

Salb AL, Barkema HW, Elkin BT, Thompson RC, Whiteside DP, Black SR, et al. (2008) Dogs as sources and sentinels of parasites in humans and wildlife, northern Canada. Emerging Infectious Diseases 14(1):60–63

Sistili B, Metatawabin M, Iannucci G, Tsuji LJS (2006) An aboriginal perspective on the remediation of mid-Canada Radar Line Sites in the subarctic: a partnership evaluation. Arctic 59:142–154

Singh K, Bjerregaard P, Chan HM (2014) Association between environmental contaminants and health outcomes in indigenous populations of the Circumpolar North. International Journal of Circumpolar Health 73:25808

Sonne C, Letcher RJ, Bechshøft TØ, Rigét FF, Muir DC, Leifsson PS, et al. (2012) Two decades of biomonitoring polar bear health in Greenland: a review. Acta Veterinaria Scandinavica 54(Suppl 1):S15

Stow J, Krümmel E, Leech T, Donaldson S (2011) Chapter 8: What is the impact of mercury contamination on human health in the arctic. IN: AMAP Assessment 2011: Mercury in the Arctic. Oslo: Arctic Monitoring and Assessment Programme

Stroeve JC, Serreze MC, Holland MM, Kay JE, Malanik J, Barrett AP (2012). The Arctic's rapidly shrinking sea ice cover: a research synthesis. Climatic Change 110(3–4):1005–1027

Traavik T, Mehl R, Wiger R (1985) Mosquito-borne arboviruses in Norway: further isolations and detection of antibodies to California encephalitis viruses in human, sheep and wildlife sera. Journal of Hygiene London 94:111–122

Tryland M, Godfroid J, Arneberg P (2009) Impact of climate change on infectious diseases of animals in the Norwegian arctic. Brief Report Series/Norsk Polarinstitutt. Tromsø: Norwegian Polar Institute -Polar Environmental Centre. http://noracia.npolar.no/noracia-prosjekter-2/rapport-veths-2007-workshop.pdf. Accessed April 17 2015

United Nations (1948) Constitution of the World Health Organization. Signed at New York, on 22 July 1946. United Nations -Treaty Series 1948:185–286

UNEP (2002) Regionally Based Assessment of Persistent Toxic Substances: Arctic Regional Report. Châtelaine: United Nations Environmental Program. http://www.chem.unep.ch/pts/regreports/Arctic%20full%20report.pdf. Accessed Feb 26 2015

Valera B, Dewailly E, Poirier P (2012) Association between methylmercury and cardiovascular risk factors in a native population of Quebec (Canada): a retrospective evaluation. Environmental Research 120:102–108

van Oostdam J, Donaldson SG, Feeley M, Arnold D, Ayotte P, Bondy G, et al. (2005) Human health implications of environmental contaminants in Arctic Canada: a review. Science of the Total Environment 351–352:165–246

Wassmann PF, Duarte CM, Agustí S, Sejr MK (2011) Footprints of climate change in the Arctic marine ecosystem. Global Change Biology 17:1235–1249

Webster GA, Cameron TWM (1967) Epidemiology and diagnosis of Echinococcosis in Canada. Canadian Medical Association Journal 96:600–607

Weladji RB, Klein DR, Holand Ø, Mysterud A (2010) Comparative response of Rangifer tarandus and other northern ungulates to climatic variability. Rangifer 22(1):33–50

Welch DW, Ishida Y, Nagasawa K (1998) Thermal limits and ocean migrations of sockeye salmon (Oncorhynchus nerka): long-term consequences of global warming. Canadian Journal of Fisheries Aquatic Science 55:937–948

Wilson HM, Hall JS, Flint PL, Franson JC, Ely CR, Schmutz JA, et al. (2013) High seroprevalence of antibodies to avian influenza viruses among wild waterfowl in Alaska: Implications for surveillance. PLoS One 8(3):e58308

Witter LA, Johnson CJ, Croft B, Gunn A, Poirier LM (2012) Gauging climate change effects at local scales: weather-based indices to monitor insect harassment in caribou. Ecological Applications 22:1838–1851

Wobeser G, Ngeleka M, Appleyard G, Bryden L, Mulvey MR (2007) Tularemia in deer mice (Peromyscus maniculatus) during a population irruption in Saskatchewan, Canada. Journal of Wildlife Diseases 43:23–31

Young KT, Bjerregaard P (editors) (2008) Health Transitions in Arctic Populations, Toronto: University of Toronto

Ytrehus B, Bretten T, Bergsjø B, Isaksen K (2008) Fatal pneumonia epizootic in musk ox (Ovibos moschatus) in a period of extraordinary weather conditions. EcoHealth 5:213–223

Zinsstag J, MacKenzie JS, Jeggo M, Heymann DL, Patz JA, Daszak P (2012) Mainstreaming One Health. EcoHealth 9:107–110
Acknowledgments
This article is a contribution of the Beringian Coevolution Project and the Integrated Inventories of Biomes of the Arctic, supported by grants from the National Science Foundation (DEB-Biodiversity, Discovery and Analysis Program-125810) to J. A. Cook (University of New Mexico), E. P. Hoberg (U.S. National Parasite Collection), K. E. Galbreath (Northern Michigan University), and E. Dechaine (Western Washington University). Emily Jenkins' contribution was derived in part from research funded by the Public Health Agency of Canada and the Natural Sciences and Engineering Research Council of Canada. The findings and conclusions in this article are those of the authors and do not necessarily represent those of any government agency or funding institution.
About this article
Cite this article
Dudley, J.P., Hoberg, E.P., Jenkins, E.J. et al. Climate Change in the North American Arctic: A One Health Perspective. EcoHealth 12, 713–725 (2015). https://doi.org/10.1007/s10393-015-1036-1
Received:

Revised:

Accepted:

Published:

Issue Date:
Keywords
climate change

cultural resilience

environmental pollutants

indigenous peoples

One Health

parasites

wildlife diseases

zoonosis