Abstract
Cities around the world are undergoing rapid urbanization, resulting in the growth of informal settlements or slums. These informal settlements lack basic services, including sanitation, and are associated with joblessness, low-income levels, and insecurity. Families living in such settlements may turn to a variety of strategies to improve their livelihoods and household food security, including urban agriculture. However, given the lack of formal sanitation services in most of these informal settlements, residents are frequently exposed to a number of environmental risks, including biological and chemical contaminants. In the Kibera slums of Nairobi, Kenya, households practice a form of urban agriculture called sack gardening, or vertical gardening, where plants such as kale and Swiss chard are planted into large sacks filled with soil. Given the nature of farming in slum environments, farmers and consumers of this produce in Kibera are potentially exposed to a variety of environmental contaminants due to the lack of formal sanitation systems. Our research demonstrates that perceived and actual environmental risks, in terms of contamination of food crops from sack gardening, are not the same. Farmers perceived exposure to biological contaminants to be the greatest risk to their food crops, but we found that heavy metal contamination was also significant risk. By demonstrating this disconnect between risk perception and actual risk, we wish to inform debates about how to appropriately promote urban agriculture in informal settlements, and more generally about the trade-offs created by farming in urban spaces.
Access options
Buy single article
Instant access to the full article PDF.
US$ 39.95
Tax calculation will be finalised during checkout.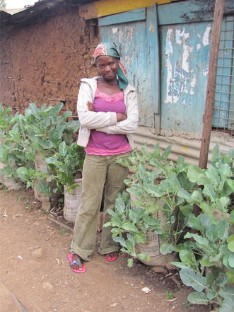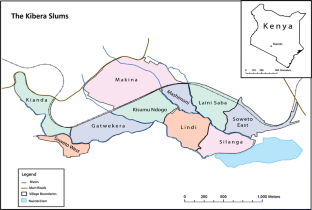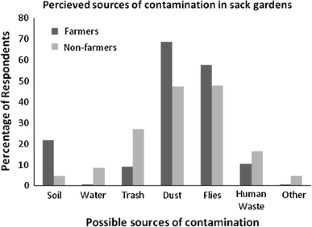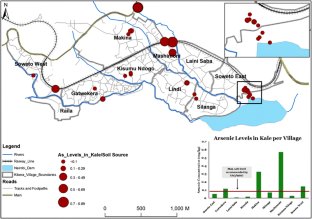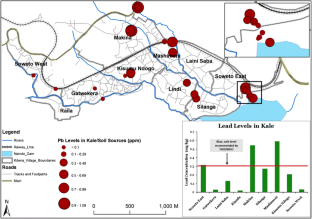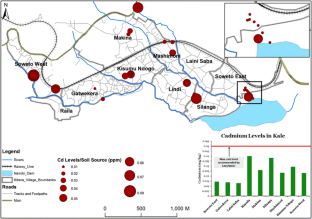 Notes
1.

In this study, we call people who participate in urban sack gardening 'farmers' and those who do not 'non-farmers.'

2.

Human subjects protected under Michigan State University's IRB protocol # 10-568; r036781.

3.

Our survey did not define the term 'sick'; many respondents described it as a stomachache or diarrhea following the consumption of vegetables.
References
Alloway BJ, editor. (1990). Heavy Metals in Soils. John Wiley and Sons, Inc, New York.

Alloway BJ, and Jackson AP (1991). The behaviour of heavy metals in sewage sludge amended soils The Science of the Total Environment 100:151-176.

Baumgartner B, Belevi H (2001) A Systematic Overview of Urban Agriculture in Developing Countries. Duebendorf: Swiss Federal Institute for Environmental Science and Technology, Department of Water and Sanitation in Developing Countries

Bickel G, Nord M, Price C, Hamilton W, and Cook J (2000). Guide to measuring household food security, revised 2000. USDA, Food and Nutrition Service, Alexandria, VA.

Binns T, and Lynch KA (1998). Feeding Africa's growing cities into the 21st century: the potential of urban agriculture. Journal of International Development 10:777-793.

de Vries MPC, and Tiller KG (1978). Sewage sludge as a soil amendment, with special reference to Cd, Cu, Mn, Ni, Pb and Zn— comparison of results from experiments conducted inside and outside a glasshouse. Environmental Pollution (1970) 16:231-240.

Dosman DM, Adamowicz WL, and Hrudey SE (2001). Socioeconomic determinants of health and food safety related risk perceptions. Risk Analysis 21:307-317.

Doyle MP, and Erickson MC (2006). Closing the door on the fecal coliform assay. Microbe 1:162-163.

Erulkar AS, and Matheka JK (2007). Adolescence in the Kibera slums of Nairobi, Kenya. Population Council, Nairobi, Kenya.

FAO and WHO (2010). CODEX general standards for contaminants and toxins in food and feed. Food and Agriculture Organization, Rome.

Flynn J, Slovic P, and Mertz CK (1994). Gender, race, and perception of environmental health risks. Risk Analysis 14:1101-1108.

Freeman DB (1991). A City of Farmers: Informal Urban Agriculture in the Open Spaces of Nairobi. McGill-Queen's University Press, Quebec.

Gallaher CM, Kerr JM, Njenga M, Karanga NK, WinklerPrins AMGA (2013). Urban agriculture, social capital and food security in the Kibera slums of Nairobi, Kenya. Agriculture and Human Values. doi:10.1007/s10460-013-9425-y

Gronewold AD, and Wolpert RL (2008). Modeling the relationship between most probable number (MPN) and colony-forming unit (CFU) estimates of fecal coliform concentration. Water Research 42:3327-3334.

Itanna F (2004). Metals in leafy vegetables grown in Addis Ababa and toxicological implications. Ethiopian Journal of Health and Development 16:295-302.

Jarup L (2003). Hazards of heavy metal contamination. British Medical Bulletin 68:167-182.

Karanja N, Njenga M (2011). Feeding the cities, Chap. 10. In N Saltmarsh (ed) State of the World: Innovations that Nourish the Planet. The World Watch Institute, Washington, pp 109–117.

Karanja N, Njenga M, Prain G, Kang'ethe E, Kironchi G, Githuku C, et al. (2010). Assessment of environmental and public health hazards in wastewater used for urban agriculture in Nairobi, Kenya Tropical and Subtropical Agroecosystems 12:85-97.

Kelly J, Thornton I, and Simpson PR (1996). Urban geochemistry: A study of the influence of anthropogenic activity on the heavy metal content of soils in traditionally industrial and non-industrial areas of Britain. Applied Geochemistry 11:363-370.

Khan S, Cao Q, Zheng YM, Huang YZ, and Zhu YG (2008). Health risks of heavy metals in contaminated soils and food crops irrigated with wastewater in Beijing, China. Environmental Pollution 152:686-692.

Kutto E, Ngigi M, Karanja N, Kange'the E, Bebora LC, Carl Johan Lagerkvist J, et al. (2011). Bacterial contamination of kale (Brassica oleracea Acephala) along the supply chain in Nairobi and its environs. East African Medial Journal 88(2).

Lee-Smith D (2010). Cities feeding people: an update on urban agriculture in equatorial Africa. Environment and Urbanization 22:483-499.

Li X, Poon C-s, and Liu PS (2001). Heavy metal contamination of urban soils and street dusts in Hong Kong. Applied Geochemistry 16:1361-1368.

Mireri C, Atekyereza P, Kyessi A, and Mushi N (2007). Environmental risks of urban agriculture in the Lake Victoria drainage basin: A case of Kisumu municipality, Kenya. Habitat International 31:375-386.

Muchuweti M, Birkett JW, Chinyanga E, Zvauya R, Scrimshaw MD, and Lester JN (2006). Heavy metal content of vegetables irrigated with mixtures of wastewater and sewage sludge in Zimbabwe: Implications for human health. Agriculture, Ecosystems & Environment 112:41-48.

Mwangi AM (1995). The Role of Urban Agriculture for Food Security in Low Income Areas in Nairobi. African Studies Center, Food and Nutrition Studies Programme Report No. 54, Leiden.

Okello JJ, Lagerkvist C-J, Hessb S, Ngigi M, and Karanja N (2011). Choice of fresh vegetable retail outlets by developing country urban consumers: the case of kale consumers in Nairobi, Kenya. The European Journal of Development Research, 24:434–449

Olayemi A (1997). Microbiological hazards associated with agricultural utilization of urban polluted river water. International Journal of Environmental Health Research 7:149-154.

Rarneke PW, Bhattacharjee JW, Pathak SP, and Kalra N (1991). Evaluation of coliforms as indicators of water quality in India. Journal of Applied Bacteriology 72:352-356.

Umande Trust, Centre on Housing Rights and Evictions (COHRE), and Hakijamii (2007). The right to water and sanitation in Kibera, Nairobi, Kenya.

UN Habitat (2009). Integrated water sanitation and waste management in Kibera http://www.unhabitat.org/content.asp?cid=3220&catid=206&typeid=13&subMenuId=0. Accessed on July 6, 2011,

Waitt G (2005). Doing discourse analysis. In Hay I (ed) Qualitative Research Methods in Human Geography. Oxford University Press, Oxford. pp. 163-191.

Wandel M (1994). Understanding consumer concern about food-related health risks. British Food Journal 96:35-40.
About this article
Cite this article
Gallaher, C.M., Mwaniki, D., Njenga, M. et al. Real or Perceived: The Environmental Health Risks of Urban Sack Gardening in Kibera Slums of Nairobi, Kenya. EcoHealth 10, 9–20 (2013). https://doi.org/10.1007/s10393-013-0827-5
Received:

Revised:

Accepted:

Published:

Issue Date:
Keywords
urban agriculture

heavy metals

total coliform bacteria

environmental risk

Kibera

Kenya