Abstract
Aim
To determine the prevalence, types, time of disability, and the factors leading to disability in all age groups in the population.
Subject and methods
A cross-sectional design was used to study a group of 1069 people in the center of Hazro province in Turkey's Southeastern Anatolia Region. Data were collected by visiting 199 households and by face-to-face questionnaire. A survey form for households and a Disabled Person Evaluation Form were used.
Results
Of the participants, 55.7% were male, 27.1% primary school graduates, and 39.5% were married. The frequency of consanguineous marriages in the region was 44.6%. The prevalence of disability was determined as 13.8%. The most common types of disability are; chronic visceral disorders (56.0%), skeletal system disorders (29.8%), hearing disorders (13.5%). It was determined that 21.6% of the disabled were born with disabilities, and for 78.4% it occurred after birth. The prevalence of congenital disabilities in those with consanguineous marriage of parents (p = 0.000) and those with disabilities in family history (p < 0.05) was higher than that of the non-disabled.
Conclusion
Disability prevalence was higher than the average in Turkey. It has been determined that chronic diseases are common in the society; most of the disabilities occur after birth and genetic disorders, and consanguineous marriages are an important problem.
This is a preview of subscription content, log in to check access.
Access options
Buy single article
Instant access to the full article PDF.
US$ 39.95
Price includes VAT for USA
Subscribe to journal
Immediate online access to all issues from 2019. Subscription will auto renew annually.
US$ 99
This is the net price. Taxes to be calculated in checkout.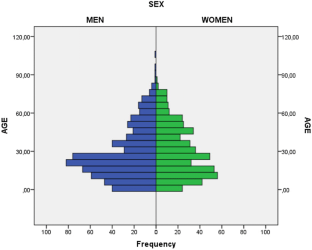 References
Akbaba M, Uludağ Kis S, Nazlıcan E, Gündüz E (2012) Investigation of disability in Adana Havutlu plain and relative marriage in disabled people. Turkish Armed Forces Preventive Medicine Bulletin 11(6)

Al Khabori M, Khandekar R (2004) The prevalence and causes of hearing impairment in Oman: a community-based cross-sectional study. Int J Audiol 43(8):486–492. https://doi.org/10.1080/14992020400050062

Alıc S (2007) Factors affecting the disability and affecting factors in a selected city type health center in Kayseri Province. Dissertation, Erciyes University Institute of Health Sciences, Turkey

Beser E, Atasoylu G, Akgor Ş, Ergin F, Cullu E (2006) Disability prevalence, etiology and social dimension in Aydın city center. Turkish Armed Forces Preventive Medicine Bulletin 5(4):267–227

Briggs AM, Cross MJ, Hoy DG, Sanchez-Riera L, Blyth FM, Woolf AD, March L (2016) Musculoskeletal health conditions represent a global threat to healthy aging: a report for the 2015 World Health Organization world report on ageing and health. Gerontologist 56(Suppl 2):S243–S255. https://doi.org/10.1093/geront/gnw002

Cappa C et al (2018) The development and testing of a module on child functioning for children with disabilities on surveys. III. Field testing. Disabil Health J 11(4):510–518. https://doi.org/10.1016/j.dhjo.2018.06.004

Ghimire A et al (2009) An epidemiological study of injury among urban population. Kathmandu University Medical Journal 7(4):402–407. https://doi.org/10.3126/kumj.v7i4.2762

Guler C, Akin L (2006) Handicapped children. In: Guler C (ed) Basic information of public health books, 1st edn. Hacettepe University Publications, Ankara, pp 402–420

WHO (2004) ICF, International Classification of Functioning Disability and Health. WHO, Geneva

WHO (2003) International Consultation to Review Community-Based Rehabilitation (CBR), Helsinki May 2003. WHO, Geneva. https://apps.who.int/iris/bitstream/handle/10665/68466/WHO_DAR_03.2.pdf

Kathryn W, Jason DP (2007) Health profile of deaf Canadians. Can Fam Physician 53:2140–2141

Kearney PM (2004) The International Classification of Functioning, Disability and Health (ICF) and nursing. J Adv Nurs 46:162–170. https://doi.org/10.1111/j.1365-2648.2003.02976.x

Kempen GIJM, Sonderen E (2002) Psychological attributes and changes in disability among low functioning older persons. J Clin Epidemiol 55(3):224–229. https://doi.org/10.1016/S0895-4356(01)00474-7

Krug EG, Sharma GK, Lozano R (2000) The global burden of injuries. Am J Public Health 90(4):523–526. https://doi.org/10.2105/ajph.90.4.523

Li CM, Zhao G, Hoffman HJ, Town M, Themann CL (2018) Hearing disability prevalence and risk factors in two recent national surveys. Am J Prev Med 55(3):326–335. https://doi.org/10.1016/j.amepre.2018.03.022

Lollar DJ, Andresen EM (2015) People with disabilities. In: Detelts R (ed) Oxford textbook of global public health, 6th edn. Oxford University Press, United Kingdom, pp 1392–1407

Morton R, Sharma V, Nicholson J, Broderick M, Poyser J (2003) Disability in children from different ethnic populations. Child Care Health Dev 28(1):87–93. https://doi.org/10.1046/j.1365-2214.2002.00245.x

National Statistical Offices (2017) United Nations Statistics Division Department of Economic and Social Affairs. New York https://unstats.un.org/home/documents/brochures/2017-UNSD-Brochure.pdf Available 17 March 2020

Open Source Epidemiologic Statistics for Public Health, 2013 http://www.openepi.com/Menu/OE_Menu.htm Available 18 March 2020

Ozgul A, Beyazova M (2000) Principles of geriatric pathology. In: Kutsal Y (ed) Physical medicine and rehabilitation, 1st edn. Gunes, Ankara, pp 1341–1352

Schroll KB, Ferry M, Schlienger JL (2002) Changes in physical performance in elderly Europeans SENECA 1993-1999. J Nutr Health Aging 6(1):9–14

Tekbas OF, Ogur R, Ucar M (2005) Investigation of the frequency and causes of consanguineous marriage among young adult males. Turkish Armed Forces Preventive Medicine Bulletin 4(3):120–128

Turhanoğlu DA, Saka G, Karabulut Z, Kılınç S, Ertem M (2000) Disability and chronic disease frequency in 55 year olds and above living in Diyarbakır city center. Turkish Journal of Geriatrics 3:146–150

Hacettepe University Institute of Population Studies (2014) 2013 Turkey Demographic and Health Survey. Hacettepe University Institute of Population Studies, T.R. Ministry of Development and TÜBITAK, Ankara, Turkey

Turkish Statistical Institute (2004) Turkey Disability Survey. State Statistics Institute Publications. Ankara

Turkish Statistical Institute (2013) TurkStat Population and Housing Census. Turkey Statistical Institute Publications. Ankara

Uskun E (2002) Disability Epidemiology in Isparta Province. Dissertation, SDU Faculty of Medicine Public Health Publicity Specialization, Turkey

WHO (1996) Control of hereditary disease technical report series 865. WHO, Geneva

WHO (2008) The global burden of disease: 2004 update. WHO, Geneva

WHO (2011) Disability and Health World report on disability. WHO, Geneva
Financial disclosures
This research did not receive any specific grant from funding agencies in the public, commercial, or not for profit sectors.
Funding
This research did not receive any specific grant from funding agencies in the public, commercial, or not-for-profit sectors.
Ethics declarations
Conflict of interest
The authors declare that they have no conflict of interest.
Ethical approval
In order for the research to be conducted, the Ethics Research Board of the Dicle University Faculty of Medicine gave approval. Permission was obtained from the Hazro District Office for the execution of the work. Participants were informed about the study and signed a written informed consent form stating that they agreed to participate. The use of human beings within the 1964 Helsinki Declaration requires protection of personal rights, so the "Informed Consent Principle", "Volunteering Principle" and "Protecting Privacy Principle" were complied with, within the framework of relevant ethical principles.
Additional information
Publisher's note
Springer Nature remains neutral with regard to jurisdictional claims in published maps and institutional affiliations.
Conference presentation
Arca M., Saka G. (2018). The prevalance of disability in the Hazro district and the contributory factors. 17th International Eastern Mediterranean Family Medicine Congress. Adana, Turkey, May 10-13.
Electronic supplementary material
About this article
Cite this article
Arca, M., Saka, G. The prevalence of disability and contributory factors in Turkey's Southeastern Anatolia region. J Public Health (Berl.) (2020). https://doi.org/10.1007/s10389-020-01324-w
Received:

Accepted:

Published:
Keywords
Chronic diseases

Consanguinity

Disability

Epidemiology