Abstract
Aim
Iran is facing the consequences of the hubristic period and the level of mortalities is affected by lifestyles. Residents of underprivileged neighborhoods of the Iranian Kermanshah Metropolis encounter numerous socioeconomic, physical, and cultural challenges. Hence, this study aims to investigate the ecocultural and physical conditions of underprivileged neighborhoods and their effects on the residents' health promotion lifestyles in the neighborhoods in Kermanshah Metropolis, Western Iran.
Subjects and methods
In this cross-sectional study, the statistical population included the underprivileged neighborhoods of the Kermanshah Metropolis. The ecocultural and physical conditions of these neighborhoods were assessed using the population and housing census data, and lifestyle was measured using the Health Promoting Lifestyle Profile II (HPLP II). As for data analysis, the descriptive statistics analysis of variance (ANOVA) and the Pearson correlation coefficient were employed in SPSS v.21.
Results
The results of the present study revealed that the total mean score of lifestyles in underprivileged neighborhoods was low (111.67 ± 23.59). It was shown that females had a better quality of life than males, and the highest and lowest mean scores belonged to interpersonal relations and physical activity, respectively. Comparison of the findings also indicated that the underprivileged neighborhoods were significantly different in terms of health promotion lifestyles. As for the economic, physical, and cultural indexes, it was demonstrated that only cultural indices were significantly correlated with health promotion lifestyles, with a correlation coefficient of 0.716. The negative correlation coefficient of the young population was indicative of the inverse relationship between the growth of the young population and health promotion lifestyles. A negative relationship was also observed between nutrition and the young population. It was also shown that interpersonal relations negatively and positively correlated with the young population and migration rate, respectively.
Conclusion
The findings of this study revealed the urgent need for attention and emphasis to be given to the planning of activities to improve residents' conditions of health promotion lifestyle in underprivileged neighborhoods by the urban managers and policymakers in the health and associated fields.
This is a preview of subscription content, log in to check access.
Access options
Buy single article
Instant access to the full article PDF.
US$ 39.95
Tax calculation will be finalised during checkout.
Subscribe to journal
Immediate online access to all issues from 2019. Subscription will auto renew annually.
US$ 99
Tax calculation will be finalised during checkout.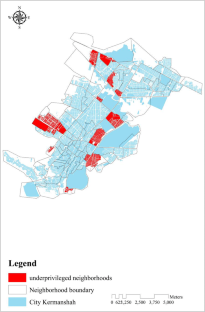 References
Baum S, Kendall E, Muenchberger H, Gudes O, Yigitcanlar T (2010) Geographical information systems: an effective planning and decision-making platform for community health coalitions in Australia. Health Inf Manag 39(3):28–33

Chalabi M, Amirkaphi M (2004) Multiple-level analysis of social isolation. J Sociol Iran 5(2):3–31

Cockerham WC, Abel T, Lüschen G (1993) Max Weber, formal rationality, and health lifestyles. Sociol Q 34(3):413–425. https://doi.org/10.1111/j.1533-8525.1993.tb00119.x

Cockerham WC, Snead MC, DeWaal DF (2002) Health lifestyles in Russia and the socialist heritage. J Health Soc Behav 43(1):42–55

Dearden JS, Sheahan SL (2002) Counseling middle-aged women about physical activity using the stages of change. J Am Acad Nurse Pract 14(11):492–497. https://doi.org/10.1111/j.1745-7599.2002.tb00081.x

Ezeh A, Oyebode O, Satterthwaite D, Chen YF, Ndugwa R, Sartori J, Mberu B, Melendez-Torres GJ, Haregu T, Watson SI (2017) The history, geography, and sociology of slums and the health problems of people who live in slums. Lancet 389(10068):547–558. https://doi.org/10.1016/S0140-6736(16)31650-6

Ferrini K, Ghelfi F, Mannucci R, Titta L (2015) Lifestyle, nutrition and breast cancer: facts and presumptions for consideration. Ecancermedicalscience 9:557–568. https://doi.org/10.3332/ecancer.2015.557

Ghasemi V, Rabbani Khorasgani R, Rabbani Khorasgani A, Alizadeh Aghdam M (2008) Structural and capital determinants of health-based lifestyle. Q Soc Res Iran 16(63):181–213. https://doi.org/10.22059/jisr.2014.53138

Goonetilleke A, Yigitcanlar T, Ayoko GA, Egodawatta P (2014) Sustainable urban water environment: climate, pollution and adaptation. Edward Elgar Publishing, Cheltenham

Hsiao CY, Chien MJ, Wu HS, Chiao CY (2017) Correlates of health-promoting lifestyle behaviors among Vietnamese female immigrants in Taiwan. Women Health 57(3):342–357. https://doi.org/10.1080/03630242.2016.1160966

Irandoost K, Sarrafi M (2007) Despair and hope in informal settlements, case study: the city of Kermanshah. J Soc Welf 26(7):201–221

Jahanbakhsh E, Hashemi M (2014) Study health-based life style aspects in Shushtar residents. Nurs Dev Health 5(8/9):83–89

Jones P (2016) Informal urbanism as a product of socio-cultural expression: insights from the Island Pacific. In: Attia S, Shabka S, Shafik Z, Ibrahim A (eds) Dynamics and resilience of informal areas. Springer, Cham, pp 165–181. https://doi.org/10.1007/978-3-319-29948-8_10

Kavlak O, Atan SU, Sirin A, Sen E, Guneri SE, Dag HY (2013) Pregnant Turkish women with low income: their anxiety, health-promoting lifestyles, and related factors. Int J Nurs Pract 19(5):507–515. https://doi.org/10.1111/ijn.12093

Kelly DL, Lyon DE, Garvan C, Wingard JR (2016) Associations among health-promoting lifestyle behaviors, perceived stress, and inflammatory responses of individuals with chronic graft-versus-host disease (cGVHD) following allogeneic blood and marrow transplantation. Biol Blood Marrow Transpl 22(3):S470–S471. https://doi.org/10.1016/j.bbmt.2015.11.1079

Khademi N, Reshadat S, Zanganeh A, Saeidi S, Ghasemi S, Zakiei A (2016) Identifying HIV distribution pattern based on clustering test using GIS software, Kermanshah, Iran. HIV AIDS Rev 15(4):147–152. https://doi.org/10.1016/j.hivar.2016.11.003

Khademi N, Reshadat S, Zangeneh A, Saeidi S, Ghasemi SR, Rajabi-Gilan N, Zakiei A (2017) A comparative study of the spatial distribution of HIV prevalence in the metropolis of Kermanshah, Iran, in 1996−2014 using geographical information systems. HIV Med 18(3):220–224. https://doi.org/10.1111/hiv.12416

Mahmoud SA, Hanaa AA, Ismail SS (2011) Health promotion program to improve the lifestyle of school children living in slum areas in Helwan governorate. Life Sci J Acta Zhengzhou Univ Overseas Ed 8(4):618–627

Nugent R, Bertram MY, Jan S, Niessen LW, Sassi F, Jamison DT, Pier EG, Beaglehole R (2018) Investing in non-communicable disease prevention and management to advance the Sustainable Development Goals. Lancet 391(10134):2029–2035. https://doi.org/10.1016/S0140-6736(18)30667-6

Pang PCP, Wu CST (2019) The journey of service-learning: promoting health and quality of life for slum residents in Cambodia. In: Shek DTL, Ngai G, Chan SCF (eds) Service-learning for youth leadership. Springer, Singapore, pp 211–225. https://doi.org/10.1007/978-981-13-0448-4_13

Parsamehr M, Rasoulinezhad SP (2015) The study of the relationship between lifestyle and social health among people of Talesh City. Sci J Manage Syst 10(1):35–66. https://doi.org/10.22055/qjsd.2015.11936

Puddu PE, Menotti A (2018) Lifestyle factors and the impact on lifetime incidence and mortality of coronary heart disease. In: Watson RR, Zibadi S (eds) Lifestyle in heart health and disease. Elsevier, London, pp 47–61. https://doi.org/10.1016/B978-0-12-811279-3.00005-7

Reshadat S, Saeidi S, Zangeneh AR, Khademi N, Khasi K, Ghasemi SR, Gilan NR (2015) Spatiotemporal distribution of gastrointestinal tract cancer through GIS over 2007–2012 in Kermanshah-Iran. Asian Pac J Cancer Prev 16(17):7737–7742. https://doi.org/10.7314/APJCP.2015.16.17.7737

Reshadat S, Zangeneh A, Saeidi S, Khademi N, Izadi N, Ghasemi SR, Rajabi-Gilan N (2016) The spatial clustering analysis of HIV and poverty through GIS in the metropolis of Kermansha, western Iran. Acta Med Mediterr 32(5):1995–1999

Reshadat S, Zangeneh A, Saeidi S, Izadi N, Ghasemi SR, Rajabi-Gilan N (2018a) A feasibility study of implementing the policies on increasing birth rate with an emphasis on socio-economic status: a case study of Kermanshah Metropolis, western Iran. Soc Ind Res 140(2):619–636. https://doi.org/10.1007/s11205-017-1790-2

Reshadat S, Zangeneh A, Saeidi S, Teimouri R, Yigitcanlar T (2018b) Measures of spatial accessibility to health centers: investigating urban and rural disparities in Kermanshah, Iran. J Public Health 1–11. https://doi.org/10.1007/s10389-018-0966-9

Roustaei S, Ahadnezhad M, Asghari Zamani A, Zangeneh AR, Saeidi S (2015) Evaluation of urban poverty in informal settlements across Kermanshah, Iran through factor analysis (a case study of Dolat Abad & Shater Abad settlements in 2006). J Geogr Plan 19(53):137–166

Simler KR, Harrower S, Massingarela C (2004) Estimating poverty indices from simple indicator surveys. In: Proceedings of the conference on growth, poverty reduction and human development in Africa, Centre for the Study of African Economies, University of Oxford. Citeseer, 24 pp

Stock C, Wille L, Krämer A (2001) Gender-specific health behaviors of German university students predict the interest in campus health promotion. Health Promot Int 16(2):145–154. https://doi.org/10.1093/heapro/16.2.145

Ulla Díez SM, Pérez-Fortis A (2010) Socio-demographic predictors of health behaviors in Mexican college students. Health Promot Int 25(1):85–93. https://doi.org/10.1093/heapro/dap047

Vaeztavakoli A, Lak A, Yigitcanlar T (2018) Blue and green spaces as therapeutic landscapes: health effects of urban water canal areas of Isfahan. Sustainability 10(11):4010. https://doi.org/10.3390/su10114010

Varì R, Scazzocchio B, D'Amore A, Giovannini C, Gessani S, Masella R (2016) Gender-related differences in lifestyle may affect health status. Ann Ist Super Sanita 52(2):158–166

Von Bothmer MIK, Fridlund B (2005) Gender differences in health habits and in motivation for a healthy lifestyle among Swedish university students. Nurs Health Sci 7(2):107–118. https://doi.org/10.1111/j.1442-2018.2005.00227.x

Walker D (1997) Psychometric evaluation of Health-Promoting Lifestyle Profile II. Unpublished manuscript. College of Nursing, University of Nebraska Medical Center, Lincoln

World Health Organization (WHO) (1998) Health promotion glossary. Available online at: http://www.bvsde.ops-oms.org/bvsast/e/fulltext/relcosta/anexo7.html

World Health Organization (WHO) (2013) A global brief on hypertension: silent killer, global public health crisis. Available online at: https://www.who.int/cardiovascular_diseases/publications/global_brief_hypertension/en

Yigitcanlar T, Kamruzzaman M (2014) Investigating the interplay between transport, land use and the environment: a review of the literature. Int J Environ Sci Technol 11(8):2121–2132. https://doi.org/10.1007/s13762-014-0691-z

Yigitcanlar T, Kamruzzaman M, Teriman S (2015) Neighborhood sustainability assessment: evaluating residential development sustainability in a developing country context. Sustainability 7(3):2570–2602. https://doi.org/10.3390/su7032570

Yigitcanlar T, Sabatini-Marques J, Lorenzi C, Bernardinetti N, Schreiner T, Fachinelli A, Wittmann T (2018) Towards smart Florianópolis: what does it take to transform a tourist island into an innovation capital? Energies 11(12):3265. https://doi.org/10.3390/en11123265

Zhao Y, Hu Y, Smith JP, Strauss J, Yang G (2014) Cohort profile: the China Health and Retirement Longitudinal Study (CHARLS). Int J Epidemiol 43(1):61–68. https://doi.org/10.1093/ije/dys203
Acknowledgements
This study was supported by the Kermanshah University of Medical Sciences under grant number 93461. The authors acknowledge the financial and emotional support provided by the Deputy Head of the Research and Technology Department of the Kermanshah University of Medical Sciences.
Ethics declarations
This study was approved by the institutional ethics committee of the Kermanshah University of Medical Sciences with ID 93461. Research involving human participants.
Conflict of interest
The authors declare that they have no conflict of interest.
Additional information
Publisher's note
Springer Nature remains neutral with regard to jurisdictional claims in published maps and institutional affiliations.
Electronic supplementary material
Below is the link to the electronic supplementary material.
About this article
Cite this article
Reshadat, S., Tohidi, M., Ghasemi, M. et al. Interrelationship between underprivileged neighborhoods and health promotion lifestyles: insights from Kermanshah, Iran. J Public Health (Berl.) 28, 693–702 (2020). https://doi.org/10.1007/s10389-019-01086-0
Received:

Accepted:

Published:

Issue Date:
Keywords
Health promotion lifestyle

Public health

Health policy

Underprivileged neighborhoods

Kermanshah

Iran