Knowledge, attitudes, and practices regarding the leishmaniases among inhabitants from a Paraguayan district in the border area between Argentina, Brazil, and Paraguay
Abstract
Aims
Leishmaniasis is caused by parasites of the genus Leishmania sp. that differ in their geographical distribution, hosts, and vectors. Knowledge, attitudes, and practices (KAP) of the population are important to understand their relation to the disease. The aim of this study was to characterize KAP with regard to the leishmaniases in inhabitants of the triple border area Argentina–Brazil–Paraguay in specific neighborhoods where infected dogs were found and phlebotomine were captured, identifying a transmission focus.
Methods
This is an observational, descriptive design based on a quantitative transversal survey. Sixty-two surveys were applied in homes located in areas at risk. Surveys were carried out in households in the San Francisco and Santa Rosa neighborhoods where the presence of infected reservoirs (dogs) was confirmed and Lu. longipalpis had been previously identified and captured.
Results
Seventy-one percent of respondents stated that they had heard about the disease. Knowledge about types, mode of transmission, and symptoms of the disease was rare. Attitudes and practices were closely related to pet dogs, and confusion between human and canine cases was noticed. There was a major flaw in the public services responsible for the transfer of knowledge to the population.
Conclusion
These results suggest the necessity of conducting an educational intervention in these vulnerable populations, to improve conditions for prevention and control of leishmaniasis in the triple border where the flux of people is very intense and the chances of outbreaks are currently very high.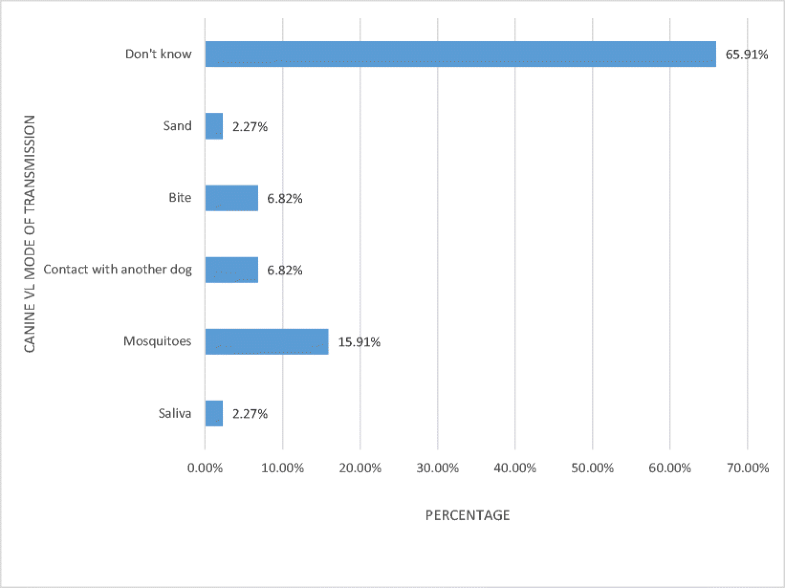 Keywords
Leishmaniasis, knowledge, attitudes, practices in health, border areas 
Notes
Acknowledgements
Researchers benefited from The National Program of Incentive to the Investigator (PRONII in Spanish) from the National Council of Science and Technology (CONACYT), Paraguay.
Authors contribution
AG, MR, and ARdA conceived and designed the protocol; NG, AG, and MR performed the surveys; AG and ArdA analyzed the data; AG and ARdA wrote the paper.
Compliance with ethical standards
Financial support
This work was partially supported by the International Development Research Centre (IDRC) (Grant no. 103696–009) and the Project Research, Education and Biotechnology applied to Health — FOCEM/MERCOSUR. COF 03/11.
Ethical statement
All procedures performed in studies involving human participants were in accordance with the ethical standards of the institutional and/or national research committee and with the 1964 Helsinki Declaration and its later amendments or comparable ethical standards."
Informed consent
Informed consent was previously obtained from all individual participants included in the study.
Ethical approval
The Fundación Moisés Bertoni Ethical Committee approved the protocol of this study in July 2014.
Conflict of interest
Andrea Giménez-Ayala declares that she has no conflict of interest.
Nilsa González-Brítez declares that she has no conflict of interest.
Antonieta Rojas de Arias declares that she has no conflict of interest.
Mónica Ruoti declares that she has no conflict of interest.
Copyright information
© Springer-Verlag GmbH Germany, part of Springer Nature 2018