Abstract
Background
Radical lymph-node dissection along the recurrent laryngeal nerves (RLN) improves the prognosis of patients with esophageal cancer. The RLN is a landmark for achieving adequate lymph-node dissection. However, the right RLN is sometimes covered by the right vertebral veins (VVs), making it undetectable. We investigated the relationship between this anomaly of the right VVs and the challenges of performing lymphadenectomy along the right RLN.
Methods
Patients with esophageal cancer, who underwent thoracoscopic esophagectomy with radical lymph-node dissection, were registered. The patterns of the right VVs were evaluated by preoperative computed tomography. The time required for identifying the right RLN or completing the lymphadenectomy was determined by reviewing surgical videos.
Results
In total, 178 patients were enrolled. Eighty patients (45%) had right VVs passing dorsal to the right subclavian artery (Dorsal group). More time was required to detect the right RLN in these cases (11 vs 9.5 min for the other cases, p = 0.034). In the Dorsal group, there were 15 patients who had specific VV patterns: The right VV converged on the lower portion of the right brachiocephalic vein (BCV), or passed through to the more medial side of the mediastinum. These patients required more time for detecting the right RLN (25 vs 9 min, p < 0.0001) and for completing the lymphadenectomy (41 vs 32 min, p = 0.048) than the other cases.
Conclusion
The right VVs behind the subclavian artery, joining the lower part of the BCV or passing through the medial side, made it difficult to identify the right RLN and complete the lymphadenectomy.
This is a preview of subscription content, log in to check access.
Access options
Buy single article
Instant access to the full article PDF.
US$ 39.95
Price includes VAT for USA
Subscribe to journal
Immediate online access to all issues from 2019. Subscription will auto renew annually.
US$ 99
This is the net price. Taxes to be calculated in checkout.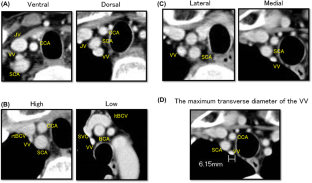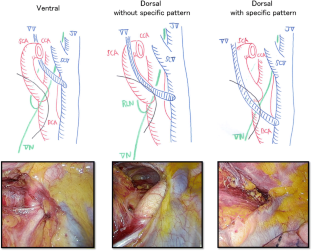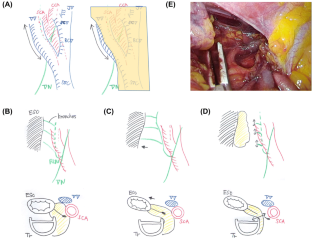 Abbreviations
LN:

Lymph node

RLN:

Recurrent laryngeal nerve

VV:

Vertebral vein

SCA:

Subclavian artery

BCV:

Brachiocephalic vein

BCA:

Brachiocephalic artery

CCA:

Common carotid artery

SVC:

Superior vena cava

JV:

Internal jugular vein

VN:

Vagus nerve

ESO:

Esophagus

Tr:

Trachea
References
1.

Napier KJ, Scheerer M, Misra S. Esophageal cancer: a Review of epidemiology, pathogenesis, staging workup and treatment modalities. World J Gastrointest Oncol. 2014;6:112–20.

2.

Tsurumaru M, Kajiyama Y, Udagawa H, et al. Outcomes of extended lymph node dissection for squamous cell carcinoma of the thoracic esophagus. Ann Thorac Cardiovasc Surg. 2001;7:325–9.

3.

Shiozaki H, Yano M, Tsujinaka T, et al. Lymph node metastasis along the recurrent nerve chain is an indication for cervical lymph node dissection in thoracic esophageal cancer. Dis Esophagus. 2001;14:191–6.

4.

Watanabe H, Kato H, Tachimori Y. Significance of extended systemic lymph node dissection for thoracic esophageal carcinoma in Japan. Recent Results Cancer Res. 2000;155:123–33.

5.

Mizutani M, Murakami G, Nawata S, et al. Anatomy of right recurrent nerve node: why does early metastasis of esophageal cancer occur in it? Surg Radiol Anat. 2006;28:333–8.

6.

Gockel I, Kneist W, Keilmann A, et al. Recurrent laryngeal nerve paralysis (RLNP) following esophagectomy for carcinoma. Eur J Surg Oncol. 2005;31:277–81.

7.

Benouaich V, Porterie J, Bouali O, et al. Anatomical basis of the risk of injury to the right laryngeal recurrent nerve during thoracic surgery. Surg Radiol Anat. 2012;34:509–12.

8.

Miyake H, Kiyosue H, Tanoue S, et al. Termination of the vertebral veins: evaluation by multidetector row computed tomography. Clin Anat. 2010;23:662–72.

9.

Richard HM 3rd, Selby JB Jr, Gay SB, et al. Normal venous anatomy and collateral pathways in upper extremity venous thrombosis. Radiographics. 1992;12:527–34.

10.

Takahashi T, Fukaya M, Miyata K, et al. Retrosternal reconstruction can be a risk factor for upper extremity deep vein thrombosis after esophagectomy. World J Surg. 2017;41:3154–63.
Ethics declarations
Ethical Statement
All procedures performed in studies involving human participants were in accordance with the ethical standards of the institutional review board and with the Helsinki declaration.
Conflict of interest
All authors declare that they have no conflicts of interest.
Additional information
Publisher's Note
Springer Nature remains neutral with regard to jurisdictional claims in published maps and institutional affiliations.
About this article
Cite this article
Yajima, S., Fukuda, T., Oka, D. et al. Anomalies of the right vertebral vein increasing the difficulty of lymph-node dissection along the right recurrent laryngeal nerve: a single-institution, retrospective study. Esophagus 17, 257–263 (2020). https://doi.org/10.1007/s10388-020-00723-y
Received:

Accepted:

Published:

Issue Date:
Keywords
Esophageal neoplasms

Recurrent laryngeal nerve

Subclavian artery

Vascular malformations

Lymph-node excision