Abstract
Purpose
Prolapse of multiple pelvic organs causes a variety of symptoms that impair a patient's quality of life. A laparoscopic procedure is described that uses a mesh fixation of the mid-compartment vagina to the sacrum with additional rectopexy to correct both the anatomical deformities and the dysfunction of the posterior compartment.
Methods
Patients with significant rectal and vaginal prolapse with or without rectocele were recruited. A thorough preoperative physiological assessment of each of the compartments of the pelvic floor was carried out. Patients also completed the Pelvic Floor Distress Inventory before and six months after surgery.
Results
Ten patients underwent the procedure of laparoscopic sacrocolporectopexy (median age 47 years, interquartile range 43–53). No mortality or morbidity occurred. Median global distress inventory scores were significantly lower postoperatively (8.3, interquartile range 0–20.8 vs. 37.5, interquartile range 16.6–60.4) P = 0.012. All three median subscales were also significantly lower postoperatively. The procedure corrected associated rectoceles and descent of the perineum on straining.
Conclusion
The described laparoscopic procedure of mesh sacrocolpopexy with rectopexy was safe and feasible and conferred good symptomatic improvement in pelvic floor dysfunction.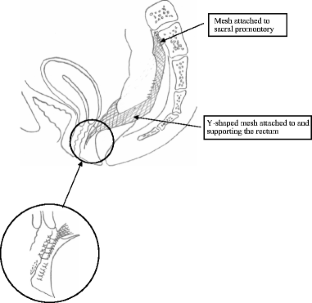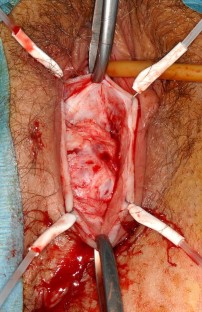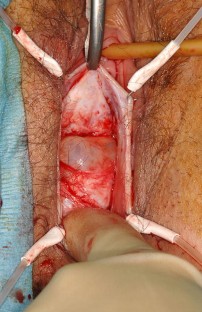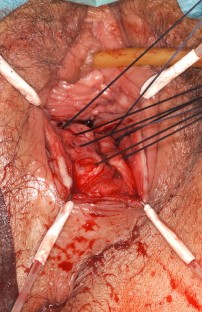 References
1.

Swift SE. The distribution of pelvic organ support in a population of female subjects seen for routine gynecologic health care. Am J Obst Gynecol 2000;183:277–85.

2.

Samuelsson EC, Victor FT, Tibblin G, et al. Signs of genital prolapse in a Swedish population of women 20 to 59 years of age and possible related factors. Am J Obstet Gynecol 1999;180:299–05.

3.

Versi E, Harvey MA, Cardozo L, et al. Urogenital prolapse and atrophy at menopause: a prevalence study. Int Urogynecol J 2001;12:107–10.

4.

Mellgren A, Johansson C, Dolk A, et al. Enterocoele demonstrated by defecography is associated with other pelvic floor disorders. Int J Colorectal Dis 1994;9:121–4.

5.

Kuijpers HC, Scheuer M. Disorders of impaired fecal control: a clinical and manometric study. Dis Colon Rectum 1990;33:207–11.

6.

Onwude JL. Genital prolapse in women. Clin Evid 2006;15:1–2.

7.

Salkeld G, Bagia M, Solomon M. Economic impact of laparoscopic versus open abdominal rectopexy. Br J Surg 2004;91:1188–91.

8.

Barber MD, Walters MD, Bump RC. Short forms of two condition-specific quality of life questionnaires for women with pelvic floor disorders (PFDI-20 and PFIQ-7). Am J Obstet Gynecol 2005;93:103–13.

9.

Lim M, Sagar PM, Gonsalves S, Thekkinkattil D, Landon C. Surgical management of pelvic organ prolapse in females: functional outcome of mesh sacrocolpopexy and rectopexy as a combined procedure. Dis Colon Rectum 2007;50:1412–21.

10.

Collopy BT, Barham KA. Abdominal colporectopexy with pelvic cul-de-sac closure. Dis Colon Rectum 2002;45:522–29.

11.

Solomon MJ, Young CJ, Eyers AA, Roberts RA. Randomized clinical trial of laparoscopic versus open abdominal rectopexy for rectal prolapse. Br J Surg 2002;89:35–9.

12.

Paraiso MF, Walters MD, Rackley RR, Melek S, Hugney C. Laparoscopic and abdominal sacral colpopexies: a comparative cohort study. Am J Obstet Gynecol 2005;192:1752–8.

13.

D'Hoore, Penninckx F. Laparoscopic ventral recto(colpo)pexy for rectal prolapse: surgical technique and outcome for 109 patients. Surg Endosc 2006;20:1919–23.

14.

Slawik S, Soulsby R, Carter H, Payne H, Dixon AR. Laparoscopic ventral rectopexy, posterior colporrhaphy and vaginal scarocolpopexy for the treatment of recto-genital prolapse and mechanical outlet obstruction. Colorectal Dis 2008;10:138–43.

15.

Altman D, Falconer C. Perioperative morbidity using transvaginal mesh in pelvic organ prolapse repair. Obstet Gynecol 2007;109:303–08.

16.

Su KC, Mutone MF, Terry CL, Hale DS. Abdominovaginal sacral colpoperineopexy: patient perceptions, anatomical outcomes, and graft erosions. Int Urogynecol J Pelvic Floor Dysfunct 2007;18:503–11.

17.

Snyder TE, Krantz KE. Abdomino-retroperitoneal sacral colpopexy for correction of vaginal prolapse. Obstet Gynecol 1991;77:944–9.

18.

Hardiman PJ, Drutz HP. Sacrospinous vault suspension and abdominal colposacropexy: success rates and complications. Am J Obstet Gynecol 1996;175:612–6.

19.

Varner RE, Plessala KJ, Richter H. Effects of sacrocolposuspension on the lower urinary tract. Am J Obstet Gynecol 1995;173:1684–9.

20.

Purkayastha S, Tekkis P, Athanasiou T, Aziz O, Paraskevas P, Ziprin P, Darzi A. A comparison of open vs. laparoscopic abdominal rectopexy for full-thickness rectal prolapse: a meta-analysis. Dis Colon Rectum 2005;48:1930–40.
Electronic supplementary material
Below is the link to the electronic supplementary material.
About this article
Cite this article
Sagar, P.M., Thekkinkattil, D.K., Heath, R.M. et al. Feasibility and Functional Outcome of Laparoscopic Sacrocolporectopexy for Combined Vaginal and Rectal Prolapse. Dis Colon Rectum 51, 1414–1420 (2008). https://doi.org/10.1007/s10350-008-9371-8
Received:

Revised:

Accepted:

Published:

Issue Date:
Key words
Rectal prolapse

Pelvic floor dysfunction

Laparoscopic repair

Multidisciplinary management