Abstract
Purpose
This study was designed to identify question items required for a comprehensive symptom and quality of life assessment for individuals with anal incontinence.
Methods
Three substudies addressed the goals: 1) convenience sample of clinical experts was asked to identify symptom items essential to characterize anal incontinence; 2) free-text comments by patients involved in a treatment intervention trial (Norton et al., Gastroenterology 2003;125:1320–9) underwent content analysis to highlight themes regarding life restriction caused by anal incontinence; and 3) qualitative interviews were conducted by using a grounded theory approach with symptomatic patients to identify issues causing impact on quality of life. Terminology for this condition was explored in the interviews to identify the most acceptable phraseology. Finally, the capability of existing anal incontinence questionnaires to capture and assess issues identified as important by patients was assessed.
Results
Seven clinical experts reached consensus that assessment should include the type, frequency and severity of incontinence, whether passive or associated with urgency, ability to delay and discriminate stool type, and "normal" bowel pattern. A total of 284 patients' comments were reviewed and 31 patients were interviewed, highlighting five key issues: unpredictability, toilet location, coping strategies, embarrassment, and social activity restriction. Assessment of available questionnaires for their inclusion of these themes indicates that none currently captures comprehensive information on these issues identified as important by patients.
Conclusions
Fundamental issues as identified by patients are not currently represented in one overall comprehensive measure. The mixed method approach identified key issues to be assessed to ensure accurate symptomatic assessment and a comprehensive assessment of quality of life impact associated with anal incontinence.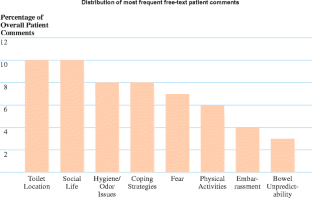 References
1.

Norton C, Chelvanayagam S, Wilson-Barnett J, Redfern S, Kamm MA. Randomized controlled trial of biofeedback for fecal incontinence. Gastroenterology 2003;125:1320–9.

2.

Jensen L. Fecal incontinence: evaluation and treatment. JWOCN 1997;24:277–82.

3.

Kouraklis G, Andromanakos N. Evaluating patients with anorectal incontinence. Surg Today 2004;34:304–12.

4.

Nicholls T. Ano-rectal physiology investigation techniques. In: Norton C, Chelvanayagam S. Bowel continence nursing. Beaconsfield: Beaconsfield Publishers Ltd, 2004:69–82.

5.

Donovan J, Bosch JL, Gotoh M, et al. Symptom and quality of life assessment. In: Abrams P, Cardozo L, Khoury S, Wein A. Incontinence. 3rd ed. Plymouth: Health Publication Ltd, 2005:519–84.

6.

Khullar V, Damiano R, Toozs-Hobson P, Cardozo L. Prevalence of faecal incontinence among women with urinary incontinence. BJOG 1998;105:1211–3.

7.

Leigh RJ, Turnberg LA. Faecal incontinence: the unvoiced symptom. Lancet 1982;1:1349–51.

8.

Edwards NI, Jones D. The prevalence of faecal incontinence in older people living at home. Age Ageing 2001;30:503–7.

9.

Johanson JF, Lafferty J. Epidemiology of fecal incontinence: the silent affliction. Am J Gastroenterol 1996;91:33–6.

10.

Boreham MK, Richter HE, Kenton KS, et al. Anal incontinence in women presenting for gynecologic care: prevalence, risk factors, and impact upon quality of life. Am J Obstet Gynecol 2005;192:1637–42.

11.

Bugg GJ, Hosker G, Kiff ES. Routine symptom screening for postnatal urinary and anal incontinence in new mothers from a district. Int Urogynecol J 2005;16:405–8.

12.

Bakx R, Sprangers MA, Oort FJ, et al. Development and validation of a colorectal functional outcome questionnaire. Int J Colorectal Dis 2005;20:126–36.

13.

Bugg GJ, Kiff ES, Hosker G. A new condition-specific health-related quality of life questionnaire for the assessment of women with anal incontinence. BJOG 2001;108:1057–67.

14.

Cockell SJ, Oates-Johnson T, Gilmour DT, Vallis TM, Turnbull GK. Postpartum flatal and fecal incontinence quality-of-life scale: a disease- and population-specific measure. Qualitative Health Res 2003;13:1132–44.

15.

Hiller L, Radley S, Mann CH, et al. Development and validation of a questionnaire for the assessment of bowel and lower urinary tract symptoms in women. BJOG 2002;109:413–23.

16.

Rockwood TH, Church JM, Fleshman JW, et al. Fecal incontinence quality of life scale: quality of life instrument for patients with fecal incontinence. Dis Colon Rectum 2000;43:9–16.

17.

Wei JT, Dunn RL, Litwin MS, Sandler HM, Sanda MG. Development and validation of the expanded prostate cancer index composite (EPIC) for comprehensive assessment of health-related quality of life in men with prostate cancer. Urology 2000;56:899–905.

18.

Bowling A. Research methods in health: Investigating health in health services. Maidenhead: Open University Press, 2002.

19.

Barber MD, Walters MD, Bump RC. Short forms of two condition-specific quality of life questionnaires for women with pelvic floor disorders. Am J Obstet Gynecol 2005;193:103–13.

20.

Bharucha AE, Locke GR III, Seide BM, Zinsmeister AR. A new questionnaire for constipation and faecal incontinence. Aliment Pharmacol Ther 2004;20:355–64.

21.

Bharucha AE, Wald A, Enck P, Rao SS. Functional anorectal disorders. Gastroenterology 2006;130:1510–8.

22.

Eypasch E, Williams JI, Wood-Dauphinee S, et al. Gastrointestinal quality of life index: development, validation and application of a new instrument. Br J Surg 1995;82:216–22.

23.

Hull TL, Floruta C, Piedmonte M. Preliminary results of an outcome tool used for evaluation of surgical treatment for fecal incontinence. Dis Colon Rectum 2001;44:799–805.

24.

Jorge JM, Wexner SD. Etiology and management of fecal incontinence. Dis Colon Rectum 1993;36:77–97.

25.

O'Keefe EA, Talley NJ, Tangalos EG, Zinsmeister AR. A bowel symptom questionnaire for the elderly. J Gerontol 1992;47:M116–21.

26.

Parks AG. Anorectal incontinence. Proc R Soc Med 1975;68:681–90.

27.

Pescatori M, Anastasio G, Bottini C, Mentasti A. New grading and scoring for anal incontinence. Dis Colon Rectum 1992;35:482–7.

28.

Reilly WT, Talley NJ, Pemberton JH, Zinsmeister AR. Validation of a questionnaire to assess fecal incontinence and associated risk factors: fecal incontinence questionnaire. Dis Colon Rectum 2000;43:146–54.

29.

Rockwood TH, Church JM, Fleshman JW, et al. Patient and surgeon ranking of the severity of symptoms associated with fecal incontinence: the fecal incontinence severity index. Dis Colon Rectum 1999;42:1525–31.

30.

Talley NJ, Phillips SF, Melton LJ III, Wiltgen C, Zinsmeister AR. A patient questionnaire to identify bowel disease. Ann Intern Med 1989;111:671–4.

31.

Vaizey CJ, Carapeti E, Cahill JA, Kamm MA. Prospective comparison of faecal incontinence grading systems. Gut 1999;44:77–80.

32.

Gantley M, Harding G, Kumar S, Tissier J. An introduction to qualitative methods for health professionals. London: The Royal College of General Practitioners, 1999.

33.

Streiner DL, Norman GR. Health measurement scales: a practical guide to their development and use. New York: Oxford University Press, 2004.

34.

Oppenheim AN. Questionnaire design, interviewing and attitude measurement. London: Continuum, 1992.

35.

Charmaz K. Qualitative interviewing and grounded theory analysis. In: Gubrium JF, Holstein JA. Handbook of interview research: context and method. California: Sage Publications, 2002:675–94.

36.

Fielding J. Coding and managing data. In: Gilbert N. Researching social life. London: Sage Publications, 1993.

37.

Byrne CM, Pager CK, Rex J, Roberts R, Solomon MJ. Assessment of quality of life in the treatment of patients with neuropathic fecal incontinence. Dis Colon Rectum 2002;45:1431–6.
Acknowledgments
The authors thank the patients who participated in this study, the clinical experts involved, and the staff at St. Mark's Hospital and Southmead Hospital for their assistance with recruitment.
Additional information
Presented at the meeting of the International Continence Society, Montreal, Canada, August 31 to September 2, 2005.
Reprints are not available.
About this article
Cite this article
Cotterill, N., Norton, C., Avery, K.N.L. et al. A Patient-Centered Approach to Developing a Comprehensive Symptom and Quality of Life Assessment of Anal Incontinence. Dis Colon Rectum 51, 82–87 (2008). https://doi.org/10.1007/s10350-007-9069-3
Received:

Revised:

Accepted:

Published:

Issue Date:
Key words
Fecal incontinence

Quality of life

Qualitative research

Questionnaires

Terminology

Outcome assessment