Abstract
The Ladinian Pseudozilian formation in the central part of the Sava Folds, Slovenia, was deposited in a deeper marine basin situated among the carbonate platforms lining the western margin of the Neotethys. The formation consists of shale and sandstone, hemipelagic limestone, volcanics, and volcanoclastics. At Dole pri Litiji, tuffaceous sandstone contains metre-scale olistoliths dominated by microbialites, solenoporacean algae, sponges, microproblematica and, to a minor extent, corals. Six types of fossil reef associations were recognized based on different proportions of these components. The presence of Ladinella porata Ott, dasycladaceans, and solenoporacean algae suggests the olistoliths originate from within the photic zone, perhaps the platform margin or the upper slope. Similar or even identical associations can be found in other Anisian to early Carnian reefs, suggesting the perseverance of reef associations that established themselves during the Middle Triassic recovery. Rather than replacing the older associations, new associations were added through time. The Anisian–early Carnian reef associations thus probably remained present even after the Late Triassic rise of scleractinian corals to dominance.
This is a preview of subscription content, log in to check access.
Access options
Buy single article
Instant access to the full article PDF.
US$ 39.95
Price includes VAT for USA
Subscribe to journal
Immediate online access to all issues from 2019. Subscription will auto renew annually.
US$ 99
This is the net price. Taxes to be calculated in checkout.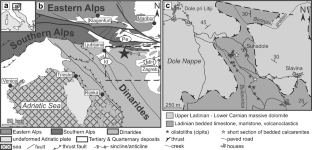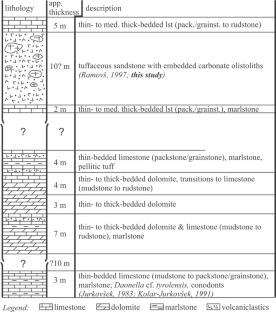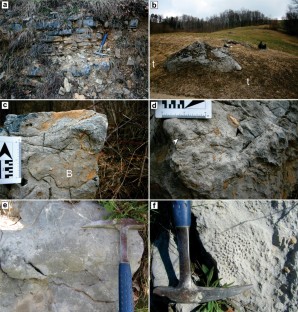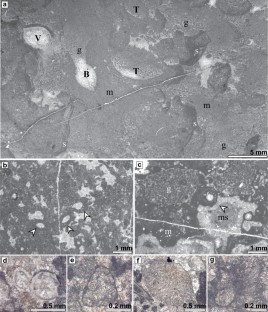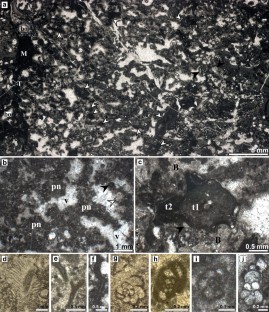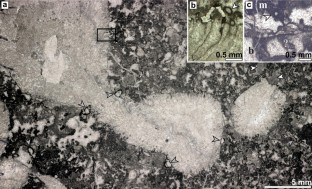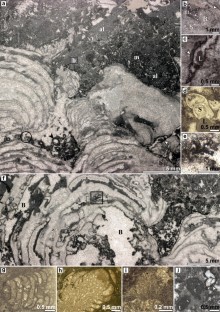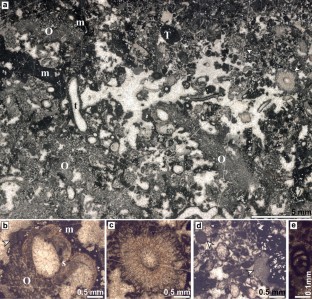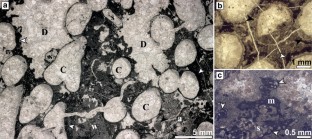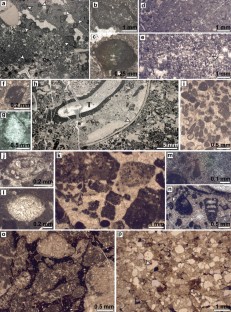 References
Brandner R, Flügel E, Senowbari-Daryan B (1991) Microfacies of carbonate slope boulders: indicator of the source area (Middle Triassic: Mahlknecht Cliff, Western Dolomites). Facies 25:279–296

Buser S (1978) Basic geological map SFRY. Scale 1:100.000. Sheet Celje, L 33-67. Federal Geological Survey, Beograd

Buser S (1979) Explanatory book to Basic Geological Map SFRY. Sheet Celje, L 33-67. Federal Geological Survey, Beograd

Buser S, Ramovš A, Turnšek D (1982) Triassic reefs in Slovenia. Facies 6:15–24

Dimitrijević MN, Dimitrijević MD (1991) Triassic carbonate platform of the Drina–Ivanjica element (Dinarides). Acta Geol Hung 34:15–44

Dullo W-C, Lein R (1982) Facies and environment of the Leckkogel Beds (Carnian; Alps). Facies 6:25–36

Dunham RJ (1962) Classification of carbonate rocks according to depositional texture. In: Han WE (ed) Classification of carbonate rocks, a symposium. AAPG Memoir, pp 108–121

Embry AF, Klovan JE (1971) A late Devonian reef tract on northeastern Banks Island. NWT Bull Can Petrol Geol 19:730–781

Emmerich A, Zamparelli V, Bechstädt T, Zühlke R (2005) The reefal margin and slope of a Middle Triassic carbonate platform: the Latemar (Dolomites, Italy). Facies 50:573–614

Enos P, Jiayong W, Yangji Y (1997) Facies distribution and retreat of Middle Triassic platform margin, Guizhou province, south China. Sedimentology 44:563–584

Flügel E (1981) Paleoecology and facies of Upper Triassic reefs in the Northern Calcareous Alps. SEPM Spec Publ 30:291–359

Flügel E (1982) Evolution of Triassic reefs: current concepts and problems. Facies 6:297–328

Flügel E (2002) Triassic reef patterns. In: Kiessling W, Flügel E, Golonka J (eds) Phanerozoic reef patterns, vol 72. SEMP Special Publications, Tulsa, pp 391–463

Flügel E (2004) Microfacies of carbonate rocks: analysis, interpretation and application. Springer, Berlin

Flügel E, Stanley GD Jr (1984) Reorganization, development and evolution of post-Permian reefs and reef organisms. Palaeontogr Am 54:177–186

Fois E, Gaetani M (1984) The recovery of reef-building communities and the role of cnidarians in carbonate sequences of the Middle Triassic (Anisian) in the Italian Dolomites. Paleontogr Am 54:191–200

Fürsich FT, Wendt J (1977) Biostratinomy and palaeoecology of the Cassian Formation (Triassic) of the Southern Alps. Palaeogeogr Palaeoclimatol Palaeoecol 22:257–323

Gaetani M, Fois E, Jadoul F, Nicora A (1981) Nature and evolution of Middle Triassic carbonate buildups in the Dolomites (Italy). Marine Geol 44:25–57

Gale L, Skaberne D, Paybernes C, Martini R, Čar J, Rožič B (2016) Carnian reefal blocks in the Slovenian Basin, eastern Southern Alps. Facies 62:23

Gale L, Peybernes C, Celarc B, Hočevar M, Šelih VS, Martini R (2018) Biotic composition and microfacies distribution of Upper Triassic build-ups: new insights from the lower Carnian limestone of Lesno Brdo, Central Slovenia. Facies 64:17

Grad K (1969) Pseudo-Zilian beds between Celje and Vransko. Geologija 12:91–105

Harris MT (1993) Reef fabrics, biotic crusts and syndepositional cements of the Latemar reef margin (Middle Triassic), northern Italy. Sedimentology 40:383–401

Henrich R (1982) Middle Triassic carbonate margin development: Hochstaufen-Zwieselmassif, Northern Calcareous Alps, Germany. Facies 6:85–106

Jurkovšek B (1983) Fassanian beds with daonellas in Slovenia. Geologija 26:29–70

Kelley BM, Lehrmann DJ, Yu M, Minzoni M, Enos P, Li X, Lau KV, Payne JL (2017) The Late Permian to Late Triassic Great Bank of Guizhou: An isolated carbonate platform in the Nanpanjiang Basin of Guizhou Province, China. AAPG Bull 101:553–562

Kiessling W (2001) Phanerozoic reef trends based on the Paleoreefs database. In: Stanley GD (ed) The history and sedimentology of ancient reef systems. Plenum Press, New York, pp 41–88

Kiessling W (2009) Geologic and biologic control on the evolution of reefs. Annu Rev Ecol Evol Syst 40:173–192

Kiessling W (2010) Reef expansion during the Triassic: spread of photosymbiosis balancing climatic cooling. Palaeogeogr Palaeoclimatol Palaeoecol 290:11–19

Kolar-Jurkovšek T (1991) Microfauna of Middle and Upper Triassic in Slovenia and its biostratigraphic significance. Geologija 33:21–170

Kolar-Jurkovšek T, Jurkovšek B (2019) Conodonts of Slovenia. Geological Survey of Slovenia, Ljubljana

Kolar-Jurkovšek T, Placer L (1990) O starosti psevdoziljskih skladov v vzhodnih Posavskih gubah. Min Metal Q 37:529–534

Lehrmann DJ, Enos P, Payne JL, Montgomery P, Wei J, Yu Y, Xiao J, Orchard MJ (2005) Permian and Triassic depositional history of the Yangtze platform and Great Bank of Guizhou in the Nanpanjiang basin of Guizhou and Guangxi, south China. Albertiana 33:149–168

Levinton JS (1995) Marine biology: function, biodiversity, ecology. Oxford University Press, New York

Marangon A, Gattolin G, Della Porta G, Preto N (2011) The Latemar: a flat-topped, steep fronted platform dominated by microbialites and synsedimentary cements. Sed Geol 240:97–114

Martindale RC, Zonneweld J-P, Bottjer DJ (2010) Microbial framework in Upper Triassic (Carnian) patch reefs from Williston Lake, British Columbia, Canada. Palaeogeogr Palaeoclimatol Palaeoecol 297:609–620

Martindale RC, Krystyn L, Corsetti FA, Bottjer DJ (2013) From fore reef to lagoon: evolution of the Upper Triassic Dachstein carbonate platform on the Tennengebirge (Salzburg, Austria). Palaios 28:755–770

Martindale RC, Foster WJ, Velledits F (2017) The survival, recovery, and diversification of metazoan reef ecosystems following the end-Permian mass extinction event. Palaeogeogr Palaeoclimatol Palaeoecol 513:100–115

Mircescu CV, Bucur II, Ghionea S, Popa GL (2019) Facies associations and microfossils from the Middle-Upper Triassic limestones of the Transilvanian Nappes (Perşani Mountains, Eastern Carpathians, Romania). Acta Palaeont Romaniae 15:29–39

Missoni S, Gawlick H-J, Sudar MN, Jovanović D, Lein R (2012) Onset and demise of the Wetterstein Carbonate Platform in the mélange areas of the Zlatibor Mountain (Sirogojno, SW Serbia). Facies 58:95–111

Peybernes C, Chablais J, Martini R (2015) Upper Triassic (Ladinian?-Carnian) reef biota from the Sambosan Accretionary Complex, Shikoku, Japan. Facies 61:20. https://doi.org/10.1007/s10347-015-0446-4

Peybernes C, Chablais J, Onoue T, Escarguel G, Martini R (2016) Paleoecology, biogeography, and evolution of reef ecosystems in the Panthalassa Ocean during the Triassic: Insights from reef limestone of the Sambosan Accretionary Complex, Shikoku, Japan. Palaeogeogr Palaeoclimatol Palaeoecol 457:31–51

Placer L (1999a) Contribution to the macrotectonic subdivision of the border region between Southern Alps and External Dinarides. Geologija 41:223–255

Placer L (1999b) Structural meaning of the Sava folds. Geologija 41:191–221

Rakovec I (1950) O nastanku in pomenu psevdoziljskih skladov. Geogr Bull 22:191–214

Ramovš A (1997) Solenopora ladinica n. sp. und Solenopora suhadolica n. sp. (Rotalgen) und Paragondolella ?trammeri (Kozur, 1972) (Conodonta) aus dem Ladin (Mitteltrias) bei Suhadole, östlich von Ljubljana, Slowenien. Geologija 39:79–90

Riding R (2000) Microbial carbonates: the geological record of calcified bacterial-algal mats and biofilms. Sedimentology 47:179–204

Russo F (2005) Biofacies evolution of the Triassic platforms of the Dolomites, Italy. Ann Univ Studi Ferrara Museol Sci Natur Vol Spec 2005:33–44

Sánchez-Beristain F, Reitner J (2012) Paleoecology of microencrusters and encrusting "coralline" sponges in Cipit boulders from the Cassian formation (upper Ladinian-lower Carnian, Dolomites, Northern Italy). Paläontol Z 86:113–133

Sánchez-Beristain F, Reitner J (2016) Palaeoecology of new fossil associations from the Cipit boulders, St. Cassian Formation (Ladinian-Carnian, Middle-Upper Triassic; Dolomites, NE Italy). Paläontol Z 90:243–269

Sánchez-Beristain F, Reitner J (2018) Four new fossil associations identified in the Cipit boulders from the St. Cassian Formation (Ladinian-Carnian; Dolomites, NE Italy). Paläontol Z 92:535–556. https://doi.org/10.1007/s12542-017-0391-3

Sánchez-Beristain F, Reitner J (2019a) Microbialite-dominated fossil associations in Cipit Boulders from Alpe di Specie and Misurina (St. Cassian Formation, Middle to Upper Triassic, Dolomites, NE Italy). Rev Esp Ciencias Quím Biol 22:1–18

Sánchez-Beristain F, Reitner J (2019b) Numerical analysis of selected microencrusters from the Cipit boulders of the St Cassian Formation (Dolomites, NE Italy): palaeoecological implications. Lethaia 52:287–295

Schlager W (2003) Benthic carbonate factories of the Phanerozoic. Int J Earth Sci (Geol Rundsch) 92:445–464

Schlagintweit F, Bover-Arnal T (2012) Remarks on Bačinella Radoičić, 1959 (type species D. irregularis) and its representatives. Facies 59:59–73

Senowbari-Daryan B (2013) Tubiphytes Maslov, 1956 and description of similar organisms from Triassic reefs of the Tethys. Facies 59:75–112

Senowbari-Daryan B, Zühlke R, Bechstädt T, Flügel E (1993) Anisian (Middle Triassic) buildups of the northern Dolomites (Italy): the recovery of reef communities after the Permian/Triassic crisis. Facies 28:181–256

Senowbari-Daryan B, StanleyJr GD, Onoue T (2012) Upper Triassic (Carnian) reef biota from the Sambosan Accretionary Complex, Kyushu, Japan. Facies 58:671–684. https://doi.org/10.1007/s10347-012-0305-5

Stanley GD Jr (1988) The history of Early Mesozoic reef communities: a three-step process. Palaios 3:170–183

Stanley GD Jr (2001) Introduction to reef ecosystems and their evolution. In: Stanley GD (ed) The history and sedimentology of ancient reef systems. Topics Geobiology 17:1–39

Teller F (1889) Daonella lommeli in the Pseudo-Gailthalerschieferen von Cilli. Verh Geol RA 1:210–211

Tomljenović B, Csontos L (2001) Neogene-Quaternary structures in the border zone between Alps, Dinarides and Pannonian Basin (Hrvatsko Zagorje and Karlovac Basins, Croatia). Int J Earth Sci 90:560–578

Tosti F, Guiso A, Demasi F, Mastandrea A, Naccarato A, Tagarelli A, Russo F (2011) Microbialites as primary builders of the Ladinian–Carnian platforms in the Dolomites: biogeochemical characterization. Geo Alp 8:156–162

Trombetta GL (2011) Facies analysis, geometry and architecture of a Carnian carbonate platform: the Settsass/Richthofen reef system (Dolomites, Southern Alps, northern Italy). Geo Alp 8:56–75

Turnšek D (1997) Mesozoic corals of Slovenia. Research Center of Slovenian Academy of Sciences and Arts, Ljubljana

Velledits F (2008) Evolution of the Triassic reef communities. In: Galácz A (ed.): 125th Anniversary of the Department of Palaeontology at Budapest University. Hantkeniana, Jub, vol 6, pp 9–16

Velledits F, Péró C, Blau J, Senowbari-Daryan B, Kovács S, Piros O, Pocsai T, Szügyi-Simon H, Dumitrica P, Palfy J (2011) The oldest Triassic platform margin reef from the Alpine-Carpathian region (Aggtelek, NE Hungary): platform evolution, reefal biota and biostratigraphic framework. Riv It Paleont Strat 117:221–268

Vlahović I, Tišljar J, Velić I, Matičec D (2005) Evolution of the Adriatic Carbonate Platform: palaeogeography, main events and depositional dynamics. Palaeogeogr Palaeoclimatol Palaeoecol 220:333–360

Vrabec M, Fodor L (2006) Late Cenozoic tectonics of Slovenia: structural styles at the northeastern corner of the Adriatic microplate. In: Pinter N, Grenerczy G, Weber J, Stein S, Medek D (eds) The Adria microplate: GPS geodesy, tectonics and hazards. NATO Sci Ser IV Earth Environ Sci 61:151–168

Wendt J (1982) The Cassian patch reefs (lower Carnian, Southern Alps). Facies 6:185–202

Wendt J (1993) Solenoporacean stromatolites. Palaios 8:101–110

Wendt J (2001) Upper Triassic (Carnian) mud mounds from northern Sichuan (China). Acta Geol Pol 51:1–13

Wood R (1998) The ecological evolution of reefs. Annu Rev Ecol Syst 29:179–206
Acknowledgements
The study was financially supported by the Slovenian Research Agency (Programme no. P1-0011). We thank Goce Mitrevski who provided valuable information related to the situation in the field. We are grateful to reviewers Francisco Sánchez-Beristain and Michael Link for their thorough check and constructive remarks.
About this article
Cite this article
Gale, L., Peybernes, C., Mavrič, T. et al. Facies and fossil associations in Ladinian carbonate olistoliths at Dole pri Litiji, Slovenia. Facies 66, 18 (2020). https://doi.org/10.1007/s10347-020-00601-0
Received:

Accepted:

Published:
Keywords
Dinarides

Sava folds

Middle Triassic

Reef

Association

Pseudozilian formation