Abstract
On July 23, 2019, a large catastrophic landslide occurred in Shuicheng, Guizhou, China. It was a rapid and long run-out landslide that resulted in more than 50 casualties. The displaced materials traveled an approximate distance of 1250 m, with a descending height of around 465 m. In this paper, seismic record analyses and numerical simulation were conducted to determine the run-out behavior of the Shuicheng landslide. To determine the main characteristics of the landslide, geological and climatic settings were obtained by conducting a detailed field survey. The DAN3D model was used to simulate the propagation and run-out process of the landslide. It was observed that a combined Frictional-Voellmy model provides assuring results in simulating the Shuicheng landslide. The total duration of the landslide is 60 s with an average velocity of 20 m/s. The maximum velocity is estimated to be 40 m/s along the right bank of the valley, while a high initial velocity of 24 m/s was recorded at the initiation of the landslide. Seismic records obtained from the nearby seismic stations were used to calculate the location of the event and interpret the dynamic process of the landslide. The Arias intensity, Hilbert-Huang transform, and Empirical mode decomposition were used to obtain a detailed time history of the landslide. The results of the numerical simulation and seismic record analyses are expected to portray the process of similar landslides. This will improve the accuracy of landslide hazard mapping in the region.
This is a preview of subscription content, log in to check access.
Access options
Buy single article
Instant access to the full article PDF.
US$ 39.95
Price includes VAT for USA
Subscribe to journal
Immediate online access to all issues from 2019. Subscription will auto renew annually.
US$ 99
This is the net price. Taxes to be calculated in checkout.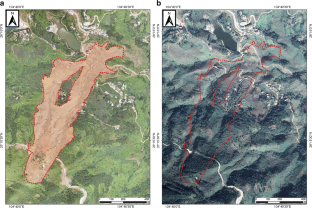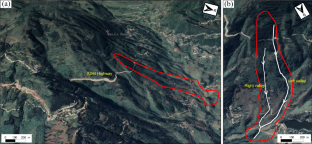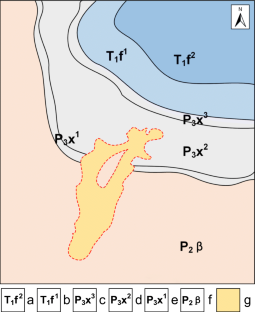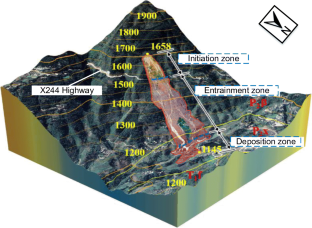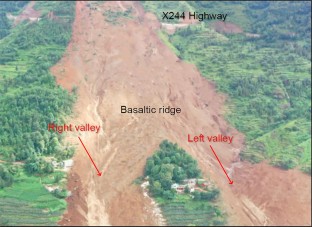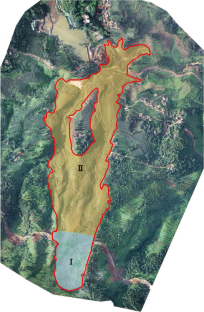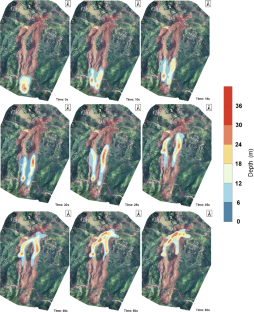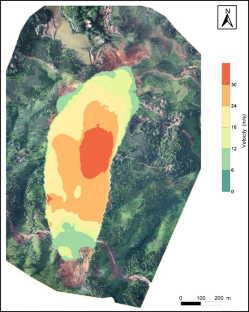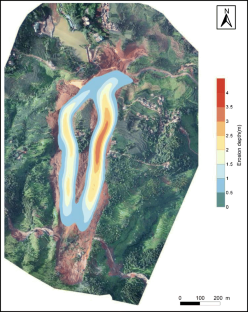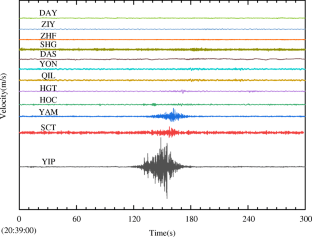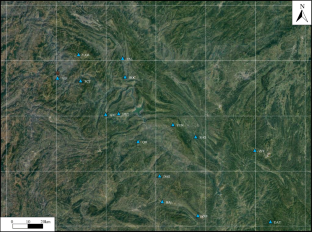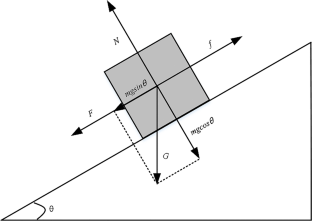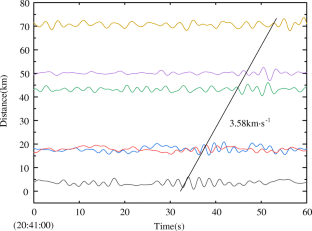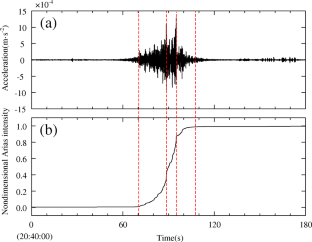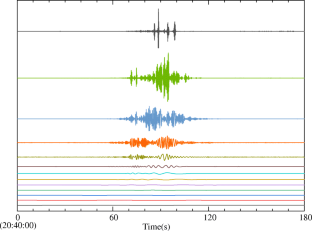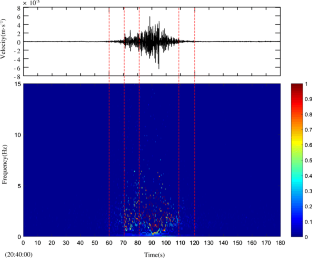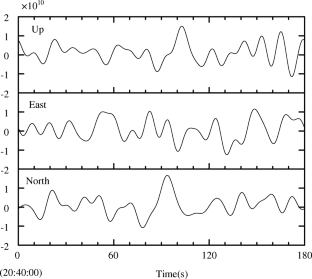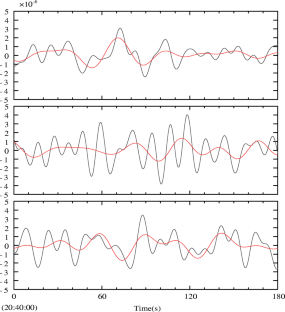 References
Allstadt K (2013) Extracting source characteristics and dynamics of the August 2010 Mount Meager landslide from broadband seismograms. Journal of Geophysical Research:Earth Surface, 2013 118(3):1472–1490

Arias A (1970) A measure of earthquake intensity. In: Hansen RJ (ed) Seismic design for nuclear power plants, vol 1970. MIT Press, Cambridge, Massachusetts, pp 438–483

Bai X, Jian J, He S, Liu W (2019) Dynamic process of the massive Xinmo landslide, Sichuan (China), from joint seismic signal and morphodynamic analyses. Bull Eng Geol Environ. 78(5):3269–3279. https://doi.org/10.1007/s10064-018-1360-0

Cascini L, Cuomo S, De Santis A (2011) Numerical modelling of the December 1999 Cervinara flow-like mass movements (Southern Italy). In: International Conference on Debris-Flow Hazards Mitigation: Mechanics, Prediction, and Assessment, Proceedings, (December 1999), pp 635–644. https://doi.org/10.4408/IJEGE.2011-03.B-069

Cascini L, Cuomo S, Pastor M, Rendina I (2016) SPH-FDM propagation and pore water pressure modelling for debris flows in flume tests. Engineering Geology 213:74–83

Chigira M, Wu X, Inokuchi T, Wang G (2010) Landslides induced by the 2008 Wenchuan earthquake, Sichuan, China. Geomorphology 118(3–4):225–238. https://doi.org/10.1016/j.geomorph.2010.01.003

Coe JA, Baum RL, Allstadt KE, Kochevar BF Jr, Schmitt RG, Morgan ML, White JL, Stratton BT, Hayashi TA, Kean JW (2016) Rock-avalanche dynamics revealed by large-scale field mapping and seismic signals at a highly mobile avalanche in the West Salt Creek valley, western Colorado. Geosphere. 12(2):607–631. https://doi.org/10.1130/GES01265.1

Cuomo S, Pastor M, Capobianco V, Cascini L (2016) Modelling the space–time evolution of bed entrainment for flow-like landslides. Engineering Geology 212:10–20. https://doi.org/10.1016/j.enggeo.2016.07.011

Dai Z, Wang F, Huang Y, Song K, Iio A (2016) SPH-based numerical modeling for the post-failure behavior of the landslides triggered by the 2016 Kumamoto earthquake. Geoenvironmental Disasters 2016:3(1). https://doi.org/10.1186/s40677-016-0058-5

Denlinger RP, Iverson RM (2004) Granular avalanches across irregular three-dimensional terrain: 1. Theory and computation. Journal of Geophysical Research: Earth Surface 109(F1):1–14

Fukao K (1995) Single force representation of earthquakes due to land- slides or the collapse of caverns. Geophys. J. Int. 122:243–248

Helmstetter A, Garambois S (2010) Seismic monitoring of Schilienne rockslide (French Alps): analyses of seismic signals and their correlation with rainfalls. J Geophys Res Earth Surf. 115(3):1–15. https://doi.org/10.1029/2009JF001532

Huang NE, Wu Z (2008) A review on Hilbert-Huang transform: method and its applications. Rev Geophys 46(2007):1–23. https://doi.org/10.1029/2007RG000228.1.INTRODUCTION

Hungr O (1995) A model for the run-out analyses of rapid flow slides, debris flows, and avalanches. Can Geotech J 32(4):610–623

Hungr O, McDougall S (2009) Two numerical models for landslide dynamic analyses. Computers & Geosciences 35:978–992

Hungr O, McDougall S, Bovis M (2005) Entrainment of material by debris flows. In: Debris-flow Hazards and Related Phenomena. Springer Praxis Books. Springer, Berlin, Heidelberg https://doi.org/10.1007/3-540-27129-5_7

Kawakatsu H (1989) Centroid single force inversion of seismic waves generated by landslides. J Geophys Res 94(B9):12, 363–12, 374

Leprettre B, Navarre JP, Taillefer A (1996) First results from a pre-operational system for automatic detection and recognition of seismic signals associated with avalanches. J Glaciol. 42(141):352–363. https://doi.org/10.1017/S0022143000004202

Leprettre B, Navarre JP, Panel JM, Touvier F, Taillefer A, Roulle J (1998) Prototype for operational seismic detection of natural avalanches. Ann Glaciol. 26(1):313–318. https://doi.org/10.3189/1998aog26-1-313-318

Li B, Xing A, Xu C (2017) Simulation of a long-runout rock avalanche triggered by the Lushan earthquake in the Tangjia Valley, Tianquan, Sichuan, China. Eng Geol. 218:107–116. https://doi.org/10.1016/j.enggeo.2017.01.007

Liu W, He S, Li X (2015) Numerical simulation of landslide over erodible surface. Geoenvironmental Disasters 2015:2(1). https://doi.org/10.1186/s40677-015-0027-4

McDougall S, Hungr O (2004) A model for the analyses of rapid landslide motion across three-dimensional terrain. Can Geotech J 41(6):1084–1097

McDougall S, Hungr O (2005) Dynamic modelling of entrainment in rapid landslides. Can Geotech J 42(5):1437–1448

Moran SC, Matoza RS, Garcés MA, Hedlin MAH, Bowers D, Scott WE, Sherrod DR, Vallance JW (2008) Seismic and acoustic recordings of an unusually large rockfall at Mount St. Helens, Washington. Geophys Res Lett. 35(19):2–7. https://doi.org/10.1029/2008GL035176

Moretti L, Allstadt K, Mangeney A et al (2015) Numerical modeling of the Mount Meager landslide constrained by its force history derived from seismic data. J Geophys Res: Solid Earth, 2015 120(4):2579–2599

Navarre JP, Bourova E, Roulle J, Deliot Y (2009) The seismic detection of avalanches: an information tool for the avalanche forecaster. ISSW 09 - Int Snow Sci Work Proc. January:379–383

Pastor M, Quecedo M, Fernández Merodo JA, Herrores MI, Gonzalez E, Mira P (2002) Modelling tailings dams and mine waste dumps failures. Geotechnique 52(8):579–591

Pastor M, Haddad B, Sorbino G, Cuomo S, Drempetic V (2009) A depth-integrated, coupled SPH model for flow-like landslides and related phenomena. International Journal for numerical and analytical methods in geomechanics 33(2):143–172

Pastor M, Yague A, Stickle MM, Manzanal D, Mira P (2018) A two-phase SPH model for debris flow propagation. International Journal for Numerical and Analytical Methods in Geomechanics 42(3):418–448

Quan Luna B, Blahut J, van Asch T, van Westen C, Kappes M (2016) ASCHFLOW - a dynamic landslide run-out model for medium scale hazard analyses. Geoenvironmental Disasters. 2016;3(1). doi:https://doi.org/10.1186/s40677-016-0064-7

Rubin MJ, Camp T, Van Herwijnen A, Schweizer J (2012) Automatically detecting avalanche events in passive seismic data. Proc - 2012 11th Int Conf Mach Learn Appl ICMLA 2012. 1:13-20. doi:10.1109/ICMLA. 2012.12

Sassa K (1988) Geotechnical model for the motion of landslides. In: Proc. 5th International Symposium on Landslides, "Landslides", Balkema, Rotterdam, vol 1, pp 37–56

Van Herwijnen A, Schweizer J (2011a) Monitoring avalanche activity using a seismic sensor. Cold Reg Sci Technol. 69(2-3):165–176. https://doi.org/10.1016/j.coldregions.06.008

Van Herwijnen A, Schweizer J (2011b) Seismic sensor array for monitoring an avalanche start zone: design, deployment and preliminary results. J Glaciol. 57(202):267–276. https://doi.org/10.3189/002214311796405933

Vilajosana I, Suriñach E, Abellán A, Khazaradze G, Garcia D, Llosa J (2008) Rockfall induced seismic signals: case study in Montserrat, Catalonia. Nat Hazards Earth Syst Sci. 8(4):805–812. https://doi.org/10.5194/nhess-8-805-2008

Ward SN, Day S (2006) Particulate kinematic simulations of debris avalanches: interpretation of deposits and landslide seismic signals of Mount Saint Helens, 1980 May 18. Geophys J Int. 167(2):991–1004. https://doi.org/10.1111/j.1365-246X.2006.03118.x

Xing AG, Wang GH, Li B, Jiang Y, Feng Z, Kamai T (2015) Long run-out mechanism and landsliding behaviour of a large catastrophic landslide triggered by a heavy rainfall in Guanling, Guizhou. China. Can. Geotech. J. 52:971–981

Xing A, Xu Q, Zhu Y, Zhu J, Jiang Y (2016) The August 27, 2014, rock avalanche and related impulse water waves in Fuquan, Guizhou, China. Landslides 13(2):411–422. https://doi.org/10.1007/s10346-016-0679-5

Xu Q, Fan X, Huang RQ, Yin Y, Hou S, Dong X, Tang M (2010) A catastrophic rockslide-debris flow in Wulong, Chongqing, China in 2009: background, characterization, and causes. Landslides 7(1):75–87. https://doi.org/10.1007/s10346-009-0179-y

Yamada M, Kumagai H, Matsushi Y, Matsuzawa T (2013) Dynamic landslide processes revealed by broadband seismic records. Geophys Res Lett. 40(12):2998–3002. https://doi.org/10.1002/grl.50437

Yin Y, Xing A (2012) Aerodynamic modeling of the Yigong gigantic rock slide-debris avalanche, Tibet, China. Bulletin of Engineering Geology and the Environment 71(1):149–160. https://doi.org/10.1007/s10064-011-0348-9

Zhu L, Rivera L (2002) A note on the dynamic and static displacements from a point source in multilayered media. Geophys J Int 148:619–627

Zhu Y, Xu S, Zhuang Y, Dai X, Lv G, Xing A (2019) Characteristics and run-out behaviour of the disastrous August 28 2017 rock avalanche in Nayong, Guizhou, China. Eng Geol 259(August 2017):105154. https://doi.org/10.1016/j.enggeo.2019.105154
Funding
This study was supported by the National Key R&D Program of China (2018YFC1504804) and the National Natural Science Foundation of China (No. 41977215).
About this article
Cite this article
Zhang, Y., Xing, A., Jin, K. et al. Investigation and dynamic analyses of rockslide-induced debris avalanche in Shuicheng, Guizhou, China. Landslides (2020). https://doi.org/10.1007/s10346-020-01436-0
Received:

Accepted:

Published:
Keywords
Shuicheng landslide

Numerical simulation

DAN3D

Seismic records