Abstract
Sexually selected infanticides (SSI) committed by male bears during the mating season has attracted a great research attention, although this type of behavior has been rarely observed in the wild. Here, we document a bear infanticide attempt in the Cantabrian Mountains in which the male killed the adult female during the fight and, subsequently, consumed the carcass for several days. Interestingly, in this case, the bear male tried to reach the cub with the apparent intention of killing it, even though the female was already dead. We complement this observation with data on documented cases of SSI events between 1996 and 2020 in the Cantabrian Mountains. We hypothesize that when females are unintentionally killed while defending their cubs in SSI events, males can benefit by feeding on the carcasses.
Access options
Buy single article
Instant access to the full article PDF.
US$ 39.95
Tax calculation will be finalised during checkout.
Subscribe to journal
Immediate online access to all issues from 2019. Subscription will auto renew annually.
US$ 79
Tax calculation will be finalised during checkout.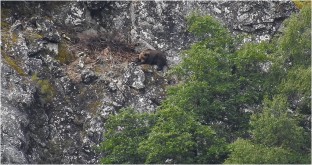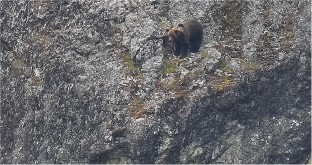 References
Bellemain E, Swenson JE, Taberlet P (2006) Mating strategies in relation to sexually selected infanticide in a non-social carnivore: the brown bear. Ethology 112:238–246

Ciucci P, Tosoni E, Di Domenico G, Quatrociocchi F, Boitani L (2014) Seasonal and annual variation in the food habits of Apennine brown bears, central Italy. Journal of Mammalogy 95(3):572–586

Davoli F, Cozzo M, Angeli F, Groff C, Randi E (2018) Infanticide in brown bear: a case-study in the Italian Alps. Genetic identification of perpetrator and implications in small populations. Nature Conservation 25:55–75

Karamanlidis AA, Beecham JJ, Chatziioannou C, de Gabriel HM, Grivas K, Krambokoukis L, Papakostas G (2015) Intraspecific predation on a subadult brown bear in Greece. Ursus 26(1):7–10

McLellan B (2005) Sexually Selected Infanticide in grizzly bears: the effects of hunting on cub survival. Ursus 16(2):141–156

Palomero G, Ballesteros F, Blanco JC, García-Serrano A, Herrero J, Nores C (2011) Osas. El comportamiento de las osas y sus crías en la Cordillera Cantábrica. Segunda edición. Fundación Oso Pardo, Fundación Biodiversidad. Madrid

Planella A, Jiménez J, Palomero G, Ballesteros F, Blanco JC, López-Bao JV (2019) Integrating critical periods for bear cub survival into temporal regulations of human activities. Biological Conservation 236:489–495

Steyaert SM, Endrestol A, Hacklaender K, Swenson JE, Zedrosser A (2012) The mating system of the brown bear Ursus arctos. Mammal Review 42(1):12–34

Swenson J, Dahle B, Sandegren F (2001) Intraspecific predation in Scandinavian brown bears older than cubs-of- the-year. Ursus 12:81–92
Acknowledgements
FOP rangers Elías Suárez and Luis Fernández have collaborated intensively in the monitoring, together with rangers and technicians of Asturias regional government. J.V.L.B. was supported by a Ramon & Cajal research contract (RYC-2015-18932) from the Spanish Ministry of Economy, Industry and Competitiveness.
Additional information
Publisher's note
Springer Nature remains neutral with regard to jurisdictional claims in published maps and institutional affiliations.
Supplementary Information
About this article
Cite this article
Ballesteros, F., Palomero, G., Blanco, J.C. et al. Sexually selected infanticide or predation? Killing and consumption of a female brown bear in a male infanticide attempt. Eur J Wildl Res 67, 17 (2021). https://doi.org/10.1007/s10344-021-01466-6
Received:

Revised:

Accepted:

Published:
Keywords
Brown Bear

Cantabrian Mountains

Sexually selected infanticide