Abstract
As spatially fine-scale foraging decisions are intrinsic to browsing herbivores such as deer, the search and selection of individual plants may be shaped by the density of neighbouring plants. However, how such neighbourhood effects may modify herbivore foraging decisions at different spatial scales is largely unexplored. Our main goal was to examine deer foraging preferences for tree species and seedling sizes, and to ask whether the spatial relationship of unbrowsed and browsed seedlings was indicative of different neighbourhood effects at the spatial scale of seedling neighbourhoods. We used two data sets from an old-growth temperate forest: (1) a seedling inventory and (2) fully mapped transect data, and applied a generalized linear mixed model and spatial point pattern analyses, respectively. We found that neighbourhood effects modified deer foraging behaviour depending on the proximity, density and species identity of neighbours, which, in turn, determined the strength and spatial extent of browsing impacts on tree seedlings. While sycamore maple seedlings experienced the highest levels of deer selectivity, deer were selective for European beech seedlings only within short distances. Beyond these distances, beech seedlings were browsed only opportunistically, as conspecific neighbours ceased to modify deer selectivity. Beech seedlings were also more susceptible to browsing within short distances from silver fir seedlings, indicating an associational susceptibility. As fir seedlings experienced strong and extensive density-dependent deer selectivity both near conspecific and beech neighbours, using such neighbourhood effects may not be a promising tool to prevent deer browsing on tree seedlings at the spatial scale of seedling neighbourhoods.
Access options
Buy single article
Instant access to the full article PDF.
US$ 39.95
Tax calculation will be finalised during checkout.
Subscribe to journal
Immediate online access to all issues from 2019. Subscription will auto renew annually.
US$ 79
Tax calculation will be finalised during checkout.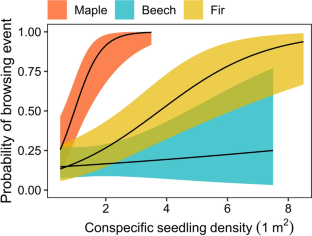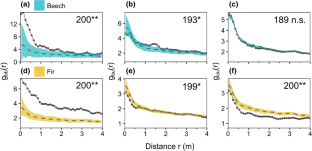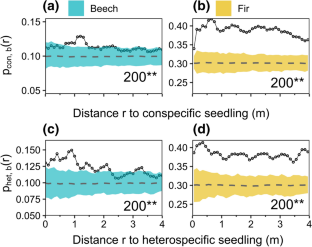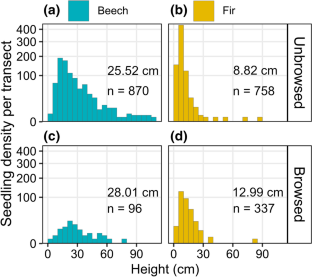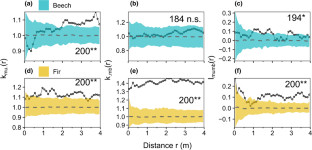 References
Abbas F, Morellet N, Hewison AJM, Merlet J, Cargnelutti B, Lourtet B, Angibault JM, Daufresne T, Aulagnier S, Verheyden H (2011) Landscape fragmentation generates spatial variation of diet composition and quality in a generalist herbivore. Oecologia 167:401–411. https://doi.org/10.1007/s00442-011-1994-0

Alm U, Birgersson B, Leimar O (2002) The effect of food quality and relative abundance on food choice in fallow deer. Anim Behav 64:439–445. https://doi.org/10.1006/anbe.2002.3057

Ammer C (1996) Impact of ungulates on structure and dynamics of natural regeneration of mixed mountain forests in the Bavarian Alps. For Ecol Manage 88:43–53. https://doi.org/10.1016/s0378-1127(96)03808-x

Arditi R, Dacorogna B (1988) Optimal foraging on arbitrary food distributions and the definition of habitat patches. Am Nat 131:837–846. https://doi.org/10.1086/284825

Atsatt PR, O'Dowd DJ (1976) Plant defense guilds. Science 193:24–29. https://doi.org/10.1126/science.193.4247.24

Baddeley A, Rubak E, Turner R (2015) Spatial point patterns: methodology and applications with R. Chapman and Hall/CRC, London

Bailey DW, Gross JE, Laca EA, Rittenhouse LR, Coughenour MB, Swift DM, Sims PL (1996) Mechanisms that result in large herbivore grazing distribution patterns. J Range Manag 49:386–400. https://doi.org/10.2307/4002919

Baraza E, Zamora R, Hodar JA (2006) Conditional outcomes in plant–herbivore interactions: neighbours matter. Oikos 113:148–156. https://doi.org/10.1111/j.0030-1299.2006.14265.x

Barbosa P, Hines J, Kaplan I, Martinson H, Szczepaniec A, Szendrei Z (2009) Associational resistance and associational susceptibility: having right or wrong neighbors. Annu Rev Ecol Evol Syst 40:1–20. https://doi.org/10.1146/annurev.ecolsys.110308.120242

Beckerman AP, Oksanen L (2005) The shape of things eaten: the functional response of herbivores foraging adaptively. Oikos 110:591–601. https://doi.org/10.1111/j.0030-1299.2005.13546.x

Bee JN, Tanentzap AJ, Lee WG, Lavers RB, Mark AF, Mills JA, Coomes DA (2009) The benefits of being in a bad neighbourhood: plant community composition influences red deer foraging decisions. Oikos 118:18–24. https://doi.org/10.1111/j.1600-0706.2008.16756.x

Bergman M, Iason GR, Hester AJ (2005) Feeding patterns by roe deer and rabbits on pine, willow and birch in relation to spatial arrangement. Oikos 109:513–520. https://doi.org/10.1111/j.0030-1299.2005.13794.x

Bergvall UA, Rautio P, Kesti K, Tuomi J, Leimar O (2006) Associational effects of plant defences in relation to within- and between-patch food choice by a mammalian herbivore: neighbour contrast susceptibility and defence. Oecologia 147:253–260. https://doi.org/10.1007/s00442-005-0260-8

Bobrowski M, Gillich B, Stolter C (2015) Modelling browsing of deer on beech and birch in northern Germany. For Ecol Manag 358:212–221. https://doi.org/10.1016/j.foreco.2015.08.031

Bolker BM, Brooks ME, Clark CJ, Geange SW, Poulsen JR, Stevens MHH, White JSS (2009) Generalized linear mixed models: a practical guide for ecology and evolution. Trends Ecol Evol 24:127–135. https://doi.org/10.1016/j.tree.2008.10.008

Čermák P, Horsák P, Špiřík M, Mrkva R (2009) Relationships between browsing damage and woody species dominance. J For Sci 55:23–31. https://doi.org/10.17221/73/2008-JFS

Champagne E, Tremblay JP, Côté SD (2016) Spatial extent of neighboring plants influences the strength of associational effects on mammal herbivory. Ecosphere 7:13. https://doi.org/10.1002/ecs2.1371

Connell JH (1971) On the role of natural enemies in preventing competitive exclusion in some marine animals and in rain forest trees. In: Den Boer PJ, Gradwell GR (eds) Dynamics of populations. Centre for Agricultural Publishing and Documentation, Wageningen, pp 298–312

Danell K, Edenius L, Lundberg P (1991) Herbivory and tree stand composition—moose patch use in winter. Ecology 72:1350–1357. https://doi.org/10.2307/1941107

Efron B, Tibshirani R (1993) An introduction to the bootstrap. Chapman and Hall, New York

Forrister DL, Endara MJ, Younkin GC, Coley PD, Kursar TA (2019) Herbivores as drivers of negative density dependence in tropical forest saplings. Science 363:1213. https://doi.org/10.1126/science.aau9460

Fryxell JM, Hazell M, Borger L, Dalziel BD, Haydon DT, Morales JM, McIntosh T, Rosatte RC (2008) Multiple movement modes by large herbivores at multiple spatiotemporal scales. Proc Natl Acad Sci USA 105:19114–19119. https://doi.org/10.1073/pnas.0801737105

Furniss TJ, Larson AJ, Kane VR, Lutz JA (2020) Wildfire and drought moderate the spatial elements of tree mortality. Ecosphere 11:e03214. https://doi.org/10.1002/ecs2.3214

Gautestad AO, Loe LE, Mysterud A (2013) Inferring spatial memory and spatiotemporal scaling from GPS data: comparing red deer Cervus elaphus movements with simulation models. J Anim Ecol 82:572–586. https://doi.org/10.1111/1365-2656.12027

Goreaud F, Pélissier R (2003) Avoiding misinterpretation of biotic interactions with the intertype K12-function: population independence vs. random labelling hypotheses. J Veg Sci 14:681–692. https://doi.org/10.1111/j.1654-1103.2003.tb02200.x

Hämback PA, Björkman M, Rämert B, Hopkins RJ (2009) Scale-dependent responses in cabbage herbivores affect attack rates in spatially heterogeneous systems. Basic Appl Ecol 10:228–236. https://doi.org/10.1016/j.baae.2008.06.004

Hämback PA, Inouye BD, Andersson P, Underwood N (2014) Effects of plant neighborhoods on plant–herbivore interactions: resource dilution and associational effects. Ecology 95:1370–1383. https://doi.org/10.1890/13-0793.1

Häsler H, Senn J (2012) Ungulate browsing on European silver fir Abies alba: the role of occasions, food shortage and diet preferences. Wildl Biol 18:67–74. https://doi.org/10.2981/09-013

Häsler H, Senn J, Edwards PJ (2008) Light-dependent growth responses of young Abies alba to simulated ungulate browsing. Funct Ecol 22:48–57. https://doi.org/10.1111/j.1365-2435.2007.01346.x

Hester AJ, Baillie GJ (1998) Spatial and temporal patterns of heather use by sheep and red deer within natural heather/grass mosaics. J Appl Ecol 35:772–784. https://doi.org/10.1046/j.1365-2664.1998.355348.x

Hjältén J, Danell K, Lundberg P (1993) Herbivore avoidance by association—vole and hare utilization of woody plants. Oikos 68:125–131. https://doi.org/10.2307/3545317

Illian J, Penttinen A, Stoyan H, Stoyan D (2008) Statistical analysis and modelling of spatial point patterns, 1st edn. Wiley, Chichester

Illius AW, Duncan P, Richard C, Mesochina P (2002) Mechanisms of functional response and resource exploitation in browsing roe deer. J Anim Ecol 71:723–734. https://doi.org/10.1046/j.1365-2656.2002.00643.x

Janzen DH (1970) Herbivores and the number of tree species in tropical forests. Am Nat 104:501–528. https://doi.org/10.1086/282687

Jarnemo A, Minderman J, Bunnefeld N, Zidar J, Månsson J (2014) Managing landscapes for multiple objectives: alternative forage can reduce the conflict between deer and forestry. Ecosphere 5:1–14. https://doi.org/10.1890/ES14-00106.1

Kim TN, Underwood N (2015) Plant neighborhood effects on herbivory: damage is both density and frequency dependent. Ecology 96:1431–1437. https://doi.org/10.1890/14-1097.1

Klopčič M, Jerina K, Bončina A (2010) Long-term changes of structure and tree species composition in Dinaric uneven-aged forests: are red deer an important factor? Eur J For Res 129:277–288. https://doi.org/10.1007/s10342-009-0325-z

Kupferschmid AD (2018) Selective browsing behaviour of ungulates influences the growth of Abies alba differently depending on forest type. For Ecol Manag 429:317–326. https://doi.org/10.1016/j.foreco.2018.06.046

Kupferschmid AD, Zimmermann S, Bugmann H (2013) Browsing regime and growth response of naturally regenerated Abies alba saplings along light gradients. For Ecol Manag 310:393–404. https://doi.org/10.1016/j.foreco.2013.08.048

Kupferschmid AD, Butikofer L, Hothorn T, Schwyzer A, Brang P (2020) Ungulate species and abundance as well as environmental factors determine the probability of terminal shoot browsing on temperate forest trees. Forests 11:22. https://doi.org/10.3390/f11070764

Law R, Illian J, Burslem D, Gratzer G, Gunatilleke CVS, Gunatilleke I (2009) Ecological information from spatial patterns of plants: insights from point process theory. J Ecol 97:616–628. https://doi.org/10.1111/j.1365-2745.2009.01510.x

Liang SY, Seagle SW (2002) Browsing and microhabitat effects on riparian forest woody seedling demography. Ecology 83:212–227. https://doi.org/10.2307/2680133

Loosmore NB, Ford ED (2006) Statistical inference using the G or K point pattern spatial statistics. Ecology 87:1925–1931. https://doi.org/10.1890/0012-9658(2006)87[1925:SIUTGO]2.0.CO;2

Magnusson A, Skaug H, Nielsen A, Berg C, Kristensen K, Maechler M, van Bentham K, Bolker B, Brooks M, Brooks MM (2017) Package 'glmmTMB'. R Package Version 02 0

Maltoni A, Mariotti B, Tani A, Martini S, Jacobs DF, Tognetti R (2019) Natural regeneration of Pinus pinaster facilitates Quercus ilex survival and growth under severe deer browsing pressure. For Ecol Manag 432:356–364. https://doi.org/10.1016/j.foreco.2018.09.045

Massé A, Côté SD (2012) Linking habitat heterogeneity to space use by large herbivores at multiple scales: from habitat mosaics to forest canopy openings. For Ecol Manag 285:67–76. https://doi.org/10.1016/j.foreco.2012.07.039

Michéli E, Schad P, Spaargaren O, Dent D, Nachtergale F (2006) World reference base for soil resources 2006. World Soil Resour Rep 103:1–128

Milchunas DG, Noy-Meir I (2002) Grazing refuges, external avoidance of herbivory and plant diversity. Oikos 99:113–130. https://doi.org/10.1034/j.1600-0706.2002.990112.x

Miller AM, McArthur C, Smethurst PJ (2006) Characteristics of tree seedlings and neighbouring vegetation have an additive influence on browsing by generalist herbivores. For Ecol Manag 228:197–205. https://doi.org/10.1016/j.foreco.2006.03.003

Miller AM, McArthur C, Smethurst PJ (2007) Effects of within-patch characteristics on the vulnerability of a plant to herbivory. Oikos 116:41–52. https://doi.org/10.1111/j.2006.0030-1299.15331.x

Milligan HT, Koricheva J (2013) Effects of tree species richness and composition on moose winter browsing damage and foraging selectivity: an experimental study. J Anim Ecol 82:739–748. https://doi.org/10.1111/1365-2656.12049

Morellet N, Van Moorter B, Cargnelutti B, Angibault JM, Lourtet B, Merlet J, Ladet S, Hewison AJM (2011) Landscape composition influences roe deer habitat selection at both home range and landscape scales. Landsc Ecol 26:999–1010. https://doi.org/10.1007/s10980-011-9624-0

Moser B, Schütz M, Hindenlang KE (2006) Importance of alternative food resources for browsing by roe deer on deciduous trees: the role of food availability and species quality. For Ecol Manag 226:248–255. https://doi.org/10.1016/j.foreco.2006.01.045

Ohse B, Hammerbacher A, Seele C, Meldau S, Reichelt M, Ortmann S, Wirth C (2017) Salivary cues: simulated roe deer browsing induces systemic changes in phytohormones and defence chemistry in wild-grown maple and beech saplings. Funct Ecol 31:340–349. https://doi.org/10.1111/1365-2435.12717

Ohse B, Seele C, Holzwarth F, Wirth C (2017) Different facets of tree sapling diversity influence browsing intensity by deer dependent on spatial scale. Ecol Evol 7:6779–6789. https://doi.org/10.1002/ece3.3217

Oom SP, Hester AJ, Elston DA, Legg CJ (2002) Spatial interaction models: from human geography to plant–herhivore interactions. Oikos 98:65–74. https://doi.org/10.1034/j.1600-0706.2002.980107.x

Otway SJ, Hector A, Lawton JH (2005) Resource dilution effects on specialist insect herbivores in a grassland biodiversity experiment. J Anim Ecol 74:234–240. https://doi.org/10.1111/j.1365-2656.2005.00913.x

Palmer SCF, Hester AJ, Elston DA, Gordon IJ, Hartley SE (2003) The perils of having tasty neighbors: grazing impacts of large herbivores at vegetation boundaries. Ecology 84:2877–2890. https://doi.org/10.1890/02-0245

Pellissier F (2013) Early physiological responses of Abies alba and Rubus fruticosus to ungulate herbivory. Plant Ecol 214:127–138. https://doi.org/10.1007/s11258-012-0151-0

Perea R, Gil L (2014) Shrubs facilitating seedling performance in ungulate-dominated systems: biotic versus abiotic mechanisms of plant facilitation. Eur J For Res 133:525–534. https://doi.org/10.1007/s10342-014-0782-x

Pietrzykowski E, McArthur C, Fitzgerald H, Goodwin AN (2003) Influence of patch characteristics on browsing of tree seedlings by mammalian herbivores. J Appl Ecol 40:458–469. https://doi.org/10.1046/j.1365-2664.2003.00809.x

R Core Team (2020) R: a language and environment for statistical computing. R Foundation for Statistical Computing, Vienna. http://www.R-projectorg

Reimoser F, Gossow H (1996) Impact of ungulates on forest vegetation and its dependence on the silvicultural system. For Ecol Manag 88:107–119. https://doi.org/10.1016/s0378-1127(96)03816-9

Root RB (1973) Organization of a Plant-Arthropod Association in simple and diverse habitats: the fauna of collards (Brassica oleracea). Ecol Monogr 43:95–124. https://doi.org/10.2307/1942161

Rozenbergar D, Mikac S, Anić I, Diaci J (2007) Gap regeneration patterns in relationship to light heterogeneity in two old-growth beech-fir forest reserves in South East Europe. Forestry 80:431–443. https://doi.org/10.1093/forestry/cpm037

Schlather M, Ribeiro PJ Jr, Diggle PJ (2004) Detecting dependence between marks and locations of marked point processes. J Roy Stat Soc Ser B (Stat Method) 66:79–93. https://doi.org/10.1046/j.1369-7412.2003.05343.x

Senft RL, Coughenour MB, Bailey DW, Rittenhouse LR, Sala OE, Swift DM (1987) Large herbivore foraging and ecological hierarchies. Bioscience 37:789–799. https://doi.org/10.2307/1310545

Shimatani K (2002) Point processes for fine-scale spatial genetics and molecular ecology. Biom J 44:325–352. https://doi.org/10.1002/1521-4036(200204)44:3%3c325::AID-BIMJ325%3e3.0.CO;2-B

Simončič T, Bončina A, Jarni K, Klopčič M (2019) Assessment of the long-term impact of deer on understory vegetation in mixed temperate forests. J Veg Sci 30:108–120. https://doi.org/10.1111/jvs.12702

Storms D, Aubry P, Hamann JL, Said S, Fritz H, Saint-Andrieux C, Klein F (2008) Seasonal variation in diet composition and similarity of sympatric red deer Cervus elaphus and roe deer Capreolus capreolus. Wildl Biol 14:237–250. https://doi.org/10.2981/0909-6396(2008)14[237:svidca]2.0.co;2

Suchomel J, Heroldova M, Purchart L, Homolka M (2010) Herbivore impact on beech in selected tree plantations in the Beskydy and Jeseniky Mountains, vol 3. Mendel University in Brno, Beskydy, pp 187–192

Tahvanainen JO, Root RB (1972) The influence of vegetational diversity on the population ecology of a specialized herbivore, Phyllotreta cruciferae (Coleoptera: Chrysomelidae). Oecologia 10:321–346. https://doi.org/10.1007/BF00345736

Tsegai AT, Wang L, Wang DL, Huang Y, Lin HJ, Li J, Liu C (2013) Effects of spatial distribution on plant associational defense against herbivory. Basic Appl Ecol 14:680–686. https://doi.org/10.1016/j.baae.2013.09.007

Underwood N, Inouye BD, Hämback PA (2014) A conceptual framework for associational effects: when do neighbours matter and how would we know? Q Rev Biol 89:1–19. https://doi.org/10.1086/674991

Visscher DR, Merrill EH, Fortin D, Frair JL (2006) Estimating woody browse availability for ungulates at increasing snow depths. For Ecol Manag 222:348–354. https://doi.org/10.1016/j.foreco.2005.10.035

Wang L, Wang DL, Bai YG, Jiang GT, Liu JS, Huang Y, Li YX (2010) Spatial distributions of multiple plant species affect herbivore foraging selectivity. Oikos 119:401–408. https://doi.org/10.1111/j.1600-0706.2009.17774.x

Wiegand T, Moloney KA (2004) Rings, circles, and null-models for point pattern analysis in ecology. Oikos 104:209–229. https://doi.org/10.1111/j.0030-1299.2004.12497.x

Wiegand T, Moloney KA (2014) Handbook of spatial point-pattern analysis in ecology, 1st edn. Chapman and Hall/CRC, Boca Raton

Wiggins NL, McArthur C, Davies NW (2006) Diet switching in a generalist mammalian folivore: fundamental to maximising intake. Oecologia 147:650–657. https://doi.org/10.1007/s00442-005-0305-z

Zambrano J, Fagan WF, Worthy SJ, Thompson J, Uriarte M, Zimmerman JK, Umana MN, Swenson NG (2019) Tree crown overlap improves predictions of the functional neighbourhood effects on tree survival and growth. J Ecol 107:887–900. https://doi.org/10.1111/1365-2745.13075

Zollner PA, Lima SL (1999) Search strategies for landscape-level interpatch movements. Ecology 80:1019–1030. https://doi.org/10.2307/177035
Acknowledgements
The authors thank to the administration of the Beskydy Protected Landscape Area for open and helpful approach to the long-term research activities in the National Nature Reserve Salajka.
Funding
This research was funded by the Czech Science Foundation (Grant/Award No. 20-17282S).
Ethics declarations
Conflict of interest
The authors declare no conflicts of interest.
Consent to participate
All authors agreed to participate in the work presented in this manuscript.
Consent for publication
All authors agreed with the publication of the manuscript.
Availability of data
Data are available from the corresponding author on request.
Additional information
Publisher's Note
Springer Nature remains neutral with regard to jurisdictional claims in published maps and institutional affiliations.
The original online version of this article was revised due to the Fig. 2 was published incorrectly and it has been corrected.
Communicated by Christian Ammer.
Electronic supplementary material
Below is the link to the electronic supplementary material.
About this article
Cite this article
Holík, J., Janík, D., Hort, L. et al. Neighbourhood effects modify deer herbivory on tree seedlings. Eur J Forest Res 140, 403–417 (2021). https://doi.org/10.1007/s10342-020-01339-8
Received:

Revised:

Accepted:

Published:

Issue Date:
Keywords
Deer browsing

Foraging behaviour

Seedling dynamics

Tree regeneration

Spatial point patterns

Deer diet preferences

Density-dependent effects

Plant–herbivore interactions

Associational effects

Deer herbivory

Old-growth forest