Abstract
The characteristics of rootstock have impacts scion's nutritional status, resistance to environmental stresses and adaptation to a specific region. Thus the performance of a cultivar is largely dependent on the rootstock-scion interactions. In this study, seasonal variations in mineral nutrients of 'Nova' and 'Robinson' mandarin cultivars budded on different citrus rootstocks were investigated under Dörtyol-Hatay (Turkey) ecological conditions. Nitrogen (N), phosphorus (P) and potassium (K) contents of the leaves exhibited slightly similar trends with each other. In general, these nutrients decreased from January to March-April and increased in the subsequent growing season until mid- and late summer, then decreased again until December. Similar trends were also observed in calcium (Ca) and magnesium (Mg) concentrations of leaves. Leaf Ca and Mg concentrations decreased from January to March, then increased during fruit development until July-August and decreased again during autumn and winter. Also, micro elements such as iron (Fe), zinc (Zn), manganese (Mn) and copper (Cu) increased from January to May–June and then gradually decreases began during the growing season until December. Throughout the entire growing season, mean macro nutrients such as N, K and Ca concentrations ranged from 1.89% ('Nova'/Carrizo citrange) to 2.02% ('Robinson'/Carrizo citrange), from 1.10% ('Robinson'/Carrizo citrange) to 1.39% ('Nova'/Carrizo citrange) and from 2.62% ('Nova' /sour orange) to 3.48% ('Robinson'/Troyer citrange), respectively. Phosphorus and Mg concentrations showed slightly similar trends and varied between 0.14–0.16% and between 0.31–0.39%, respectively. The ranges of mean micro nutrients such as Fe, Zn, Mn and Cu concentrations were between 65.3 and 75.4 mg kg−1, 33.7 and 39.6 mg kg−1, 64.1 and 70.6 mg kg−1, and 10.5 and 11.4 mg kg−1, respectively. It can be concluded that rootstock-scion relations can cause considerable differences in seasonal nutrition of mandarin cultivars.
Access options
Buy single article
Instant access to the full article PDF.
US$ 39.95
Tax calculation will be finalised during checkout.
Subscribe to journal
Immediate online access to all issues from 2019. Subscription will auto renew annually.
US$ 72.19
Tax calculation will be finalised during checkout.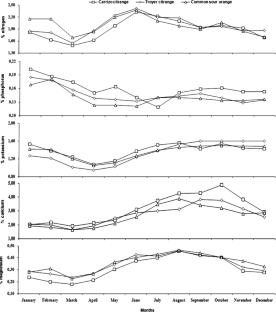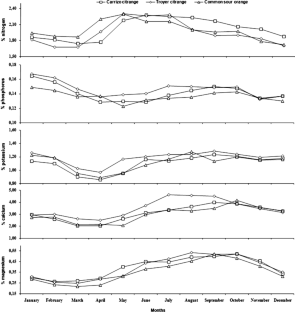 References
Alva AK, Fares A, Dou H (2003) Managing citrus trees to optimize dry mass and nutrient partitioning. J Plant Nutr 26:1541–1559

Calatayud A, Iglesias DJ, Talon M, Barreno E (2006) Effects of long-term ozone exposure on citrus: chlorophyll a fluorescence and gas exchange. Photosynthetica 44:548–554

Chatzisavvidis CA, Therios IN, Molassiotis AN (2005) Seasonal variation of nutritional status of olive plants as affected by boron concentration in nutrient solution. J Plant Nutr 28:309–321

Chatzistathis TH, Therios I, Alifragis D, Dimassi K (2010) Effect of sampling time and soil type on Mn, Fe, Zn, Ca, Mg, K and P concentrations of olive (Olea europaea L., cv. 'Koroneiki') leaves. Sci Hortic 126:291–296

Demirkeser TH, Kaplankiran M, Toplu C, Yildiz E (2009) Yield and fruit quality performance of 'Nova' and 'Robinson' mandarins on three rootstocks in Eastern Mediterranean. Afr J Agric Res 4(4):262–268

El-Fouly MM, Shaaban SHA, El-Sayed AA (2008) Evaluation of seasonal nutrient status in the leaves of different olive varieties grown on calcareous soils. J Appl Hortic 10(1):59–62

Fan XL, Huang CL, Juhani U, Danny D (2005) NPK nutrition dynamics of lychee during the annual growth cycles. Acta Hortic 665:319–330

FAO (2016) Statistics. http://www.fao.org/corp/statistics/en/. Last access: 25 September 2018

Fernandez-Escobar R, Moreno R, Garcia-Creus M (1999) Seasonal changes of mineral nutrients in olive leaves during the alternate-bearing cycle. Sci Hortic 82:25–45

Georgiou A (2002) Evaluation of rootstocks for Clementine mandarin in Cyprus. Sci Hortic 93:29–38

Gonzalez-Mas MC, Llosa MJ, Quijano A, Forner-Giner MA (2009) Rootstock effects on leaf photosynthesis in 'Navelina' trees grown in calcareous soil. HortScience 44:280–283

Kacar B (1972) Plant and soil chemical analysis (II. Plant analysis) vol 453. Agric Faculty of Ankara Univ Publishing, Ankara

Kacar B, Katkat AV (2007) Plant Nutrition vol 849. Nobel, Ankara

Kaplankiran M, Demirkeser TH, Toplu C, Ulbegi IE (1995) The effect of scion-rootstock relations on plant nutrient element contents of leaves in mandarins. In: 2nd Turkish National Horticultural Congress Adana, Turkey, 3–6 October 1995, pp 526–530

Kaplankiran M, Demirkeser TH, Toplu C, Ulbegi E, Uysal M (1999) The effect of rootstocks-scion combination plant nutrient element contents of leaves in Valencia oranges. In: 3nd Turkish National Horticultural Congress Ankara, Turkey, 14–17 September 1999, pp 93–97

Karacali I (2002) Storage and marketing of horticultural products vol 494. Agric Faculty of Ege Univ Publishing, Izmir, Turkey

Lees R (1971) Laboratory handbook of methods of food analysis. Leonard Hill, London

Mirsoleimani A, Shahsavar AR, Kholdebarin B (2014) Seasonal changes of mineral nutrient concentrations of leaves and stems of 'Kinnow' mandarin trees in relation to alternate bearing. Int J Fruit Sci 14(2):117–132

Quinones A, Martínez-Alcantara B, Primo-Millo E, Legaz F (2011) Fertigation: concept and application in citrus. In: Srivastava AK (ed) Advances in citrus nutrition. Springer, Dordrecht

Roccuzzo G, Zanotelli D, Allegra M, Giuffrida A, Torrisi BF, Leonardi A, Quinones A, Intrigliolo F, Tagliavini M (2012) Assessing nutrient uptake by field-grown orange trees. Eur J Agron 41:73–80

SAS (1999) SAS Online Doc, version 8. SAS Inst, Cary, NC

Sheng O, Yan X, Peng SA, Deng XX, Fang YW (2009) Seasonal changes in nutrient concentrations of 'Newhall' and 'Skagg's Bonanza' navel oranges. Commun Soil Sci Plant Anal 40:3061–3076

Singh S, Aulakh PS, Gill PPS (2016) Seasonal variation in leaf nutrient concentration of grapefruit. Indian J Hortic 73(1):42–47

Smith MW, Shaw RG, Chapman JC, Owen-Turner J, Lee LS, McRae KB, Jorgensen KR, Mungomery WV (2004) Long-term performance of 'Ellendale' mandarin on seven commercial rootstocks in subtropical Australia. Sci Hortic 102:75–89

Soyergin S, Katkat AV (2002) Studies on nutrient contents and seasonal element fluctuations of the olive variety Gemlik in Bursa area. Acta Hortic 586:405–407

Toplu C, Uygur V, Kaplankiran M, Demirkeser TH, Yildiz E (2012) Effect of citrus rootstocks on leaf mineral composition of 'Okitsu', 'Clausellina', and 'Silverhill' mandarin cultivars. J Plant Nutr 35(9):1329–1340

Tsakelidou K, Papanikolaou X, Protopapadakis E (2002) Rootstock effects on the yields, tree and fruit characteristics of the mandarin cultivar 'Clementine' on the Island of Rhodes. Exp Agric 38:351–358

Tucker DPH, Alva AK, Jackson LK, Wheaton TA (1995) Nutrition of Florida citrus trees. SP169. Univ Fla, Coop Ext Serv, Gainesville, FL, p 40

Vu JCV, Newman YC, Allen LH Jr, Gallo-Meagher M, Zhang M (2002) Photosynthetic acclimation of young sweet orange trees to elevated growth CO2 and temperature. J Plant Physiol 159:147–157

Xiao JX, Yan X, Peng SA, Fang YW (2007) Seasonal changes of mineral nutrients in fruit and leaves of 'Newhall' and 'Skagg's Bonanza' Navel oranges. J Plant Nutr 30:671–690

Xiao JX, Yan X, Peng SA, Fang YW (2008) Dynamics of several mineral nutrients concentrations during fruit development of Washington Navel orange in southern Jiangxi Province. Chin J Ecoagric 16(1):134–138

Yildiz E, Kaplankiran M, Demirkeser TH, Toplu C (2013) Seasonal patterns of carbohydrates in mandarin cvs. 'Fremont', 'Nova' and 'Robinson' on different rootstocks. Not Bot Horti Agrobot Cluj Napoca 41(1):255–262
Funding
This study was financially supported from the Scientific Research Projects Department of Mustafa Kemal University (Project number: 1206 M 0107).
Ethics declarations
Conflict of interest
E. Yildiz, M. Kaplankiran and V. Uygur declare that they have no competing interests.
About this article
Cite this article
Yildiz, E., Kaplankiran, M. & Uygur, V. Seasonal Variations in Mineral Nutrients in Leaves of 'Nova' and 'Robinson' Mandarins Budded on Different Rootstocks. Erwerbs-Obstbau 63, 53–60 (2021). https://doi.org/10.1007/s10341-020-00534-6
Received:

Accepted:

Published:

Issue Date:
Keywords
Mandarin

Rootstock

Macro nutrients

Seasonal variation
Schlüsselwörter
Mandarine

Unterlage

Makronährstoffe

Jahreszeitliche Schwankung