Abstract
Yellow Cardinal is an Endangered Species. Its populations are in constant decline due to habitat reduction and loss and illegal capture. There are approximately 50 free-living animals in the south of Brazil (state of Rio Grande do Sul), but estimates indicate more than 1000 in captivity. Our goals were to investigate the genetic variability of captive animals in Brazil, compare it with the genetic variability found in free-living populations, estimate the kinship of captive individuals, and obtain updated data about the number of captive animals. We found only 13% of the registered captive Yellow Cardinals. Analysis of mitochondrial sequences of captive and free-living populations was performed. We obtained 14 haplotypes, one of them (H14) exclusive of captive individuals. Furthermore, we found a haplotype exclusive to the La Pampa population in a male born in captivity in 2013. The most frequent haplotype in captive animals was the same reported for northern Argentina and Uruguay populations, which border Brazil. We found a high number of alleles by locus (mean = 9.6) for microsatellite markers, with high average heterozygosity (HO = 0.605 and HE = 0.727). The global F was 0.168. Kinship analysis of captive birds indicates a degree of kinship means of 0.082. In addition, the probability of relationship indicates that 79.4% of them are unrelated. Our data demonstrated that the captive group retains a high degree of genetic diversity with a low level of kinship. Nevertheless, the presence of haplotype exclusive for Argentina's population in captive birds, and the low level of parentage among captive animals may be representing cases of illegal wildlife trade.
Zusammenfassung
Genetische Diversität bei in Gefangenschaft gehaltenen Grüntangaren Gubernatrix cristata aus Südbrasilien: Konsequenzen für Management und Schutz einer stark gefährdeten Vogelart
Die Grüntangare ist eine stark gefährdete Vogelart, deren Populationen aufgrund von schrumpfenden Lebensräumen und Habitatverlust sowie illegalem Fang stetig abnehmen. In freier Wildbahn leben etwa 50 Vögel im Süden Brasiliens (Bundesstaat Rio Grande do Sul), Schätzungen zufolge allerdings mehr als 1.000 in Gefangenschaft. Unser Ziel war es, die genetische Variabilität der Volierenvögel in Brasilien zu untersuchen und diese mit der genetischen Variabilität der freilebenden Populationen zu vergleichen sowie den Verwandtschaftsgrad der Individuen in Volierenhaltung zu bestimmen und aktualisierte Daten zur Anzahl der Vögel in Gefangenschaft zu erhalten. Wir konnten nur 13% der registrierten Grüntangaren in Gefangenschaft ausfindig machen. Wir führten Analysen mitochondrialer Sequenzen der gefangenen und freilebenden Populationen durch. Wir entdeckten 14 Haplotypen, von denen einer (H14) ausschließlich bei Individuen aus Gefangenschaft vorkam. Des Weiteren konnten wir einen ausschließlich in der La Pampa-Population vertretenen Haplotyp bei einem 2013 in Gefangenschaft geschlüpften Männchen nachweisen. Der bei den Volierenvögeln häufigste Haplotyp war derjenige, welcher von den Populationen im Norden Argentiniens und Uruguays an der Grenze zu Brasilien bekannt ist. Wir stellten eine hohe Anzahl von Allelen pro Genlokus (Mittelwert = 9,6) bei den Mikrosatellitenmarkern fest, bei einer hohen Durchschnittsheterozygosität (HO = 0,605 und HE = 0,727). Der globale F-Wert betrug 0,168. Verwandtschaftsanalysen an Vögeln in Gefangenschaft deuten auf einen mittleren Verwandtschaftsgrad von 0,082 hin. Außerdem weist die Verwandtschaftswahrscheinlichkeit darauf hin, dass 79.4% der Individuen nicht verwandt sind. Unsere Daten zeigen, dass sich die Volierenpopulation ein hohes Maß an genetischer Diversität in Verbindung mit einem niedrigen Verwandtschaftsgrad bewahrt hat. Dennoch könnten das Vorhandensein eines für die argentinische Population typischen Haplotyps sowie der geringe Abstammungsgrad bei den Volierenvögeln Fälle illegalen Vogelhandels widerspiegeln.
Access options
Buy single article
Instant access to the full article PDF.
US$ 39.95
Tax calculation will be finalised during checkout.
Subscribe to journal
Immediate online access to all issues from 2019. Subscription will auto renew annually.
US$ 79
Tax calculation will be finalised during checkout.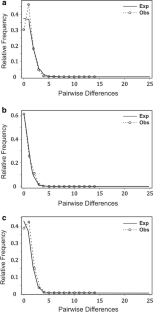 Availability of data and material (data transparency)
All DNA sequences from this study are available on GenBank, Accession Numbers MW029496 – MW029606.
References
Alacs EA, Georges A, FitzSimmons NN, Robertson J (2010) DNA detective: A review of molecular approaches to wildlife forensics. Forensic Sci Med Pathol 6:180–194. https://doi.org/10.1007/s12024-009-9131-7

Alexander KA, Sanderson CE (2017) Battling the illegal wildlife trade. Nat Ecol Evol 1:0090. https://doi.org/10.1038/s41559-017-0090

Alves RRN, De Farias Lima JR, Araujo HFP (2013) The live bird trade in Brazil and its conservation implications: An overview. Bird Conserv Int 23:53–65. https://doi.org/10.1017/S095927091200010X

Alves RRN, Nogueira EEG, Araujo HFP, Brooks SE (2010) Bird-keeping in the Caatinga, NE Brazil. Hum Ecol 38:147–156. https://doi.org/10.1007/s10745-009-9295-5

Avise JC (2000) Phylogeography: The History and Formation of Species. Harvard University Press, Harvad

Azpiroz AB (2003) Aves Del Uruguay: Lista e introducción a su biología y conservación. Aves Uruguay-GUPECA, Montevideo

Batalha-Filho H, Cabanne GS, Miyaki CY (2012) Phylogeography of an Atlantic forest passerine reveals demographic stability through the last glacial maximum. Mol Phylogenet Evol 65:892–902. https://doi.org/10.1016/j.ympev.2012.08.010

Beier C, Repenning M, Pereira MS et al (2017) Cooperative breeding and demography of yellow cardinal Gubernatrix cristata in Brazil. Revista Brasileira de Ornitologia 25:12–19. https://doi.org/10.1007/bf03544371

Bencke GA (2009) Diversidade e conservação da fauna dos Campos do Sul do Brasil. In: Pillar VDP, Müller SC, Castilhos ZM de S, Jacques AVA (eds) Campos Sulinos: conservação e uso sustentável da biodiversidade. MMA, Brasília, pp 101–121

Bertonatti C, Guerra AL (1997) Hibridación entre cardenal amarillo (Gubernatrix cristata) y diuca comun (Diuca diuca minor) en estado silvestre, en la Argentina. El Hornero 14:235–242

Biondo C, Izar P, Miyaki CY, Bussab VSR (2014) Social structure of collared peccaries (Pecari tajacu): Does relatedness matter? Behav Proc 109:70–78. https://doi.org/10.1016/j.beproc.2014.08.018

BirdLife International (2019) Species factsheet: Gubernatrix cristata. In: Species factsheet: Gubernatrix cristata. http://datazone.birdlife.org/species/factsheet/22721578. Accessed 13 Mar 2019

Botstein D, White RL, Skolnick M, Davis RW (1980) Construction of a genetic linkage map in man using restriction fragment length polymorphisms. Am J Hum Genet 32:314–331

Bush ER, Baker SE, Macdonald DW (2014) Global trade in exotic pets 2006–2012. Conserv Biol 28:663–676. https://doi.org/10.1111/cobi.12240

Cabanne GS, Sari EHR, Meyer D et al (2013) Matrilineal evidence for demographic expansion, low diversity and lack of phylogeographic structure in the Atlantic forest endemic Greenish Schiffornis Schiffornis virescens (Aves: Tityridae). J Ornithol 154:371–384. https://doi.org/10.1007/s10336-012-0901-8

Camargo CMJ, Camargo LJJ, Sueiro RF (2010) A criação amadora de pássaros nativos e os danos ambientais à fauna do Mato Grosso do Sul. Atualidades Ornitológicas 155 [on li:56–61

Caparroz R, Miyaki CY, Baker AJ (2011) Genetic evaluation of the mating system in the blue-and-yellow macaw (Ara ararauna, Aves, Psittacidae) by DNA fingerprinting. Genet Mol Biol 34:161–164

Chan CH, Robertson HA, Saul EK et al (2011) Genetic variation in the kakerori (Pomarea dimidiata), an endangered endemic bird successfully recovering in the Cook Islands. Conserv Genet 12:441–447. https://doi.org/10.1007/s10592-010-0152-2

Chebez JC (1994) Los que se van: especies Argentinas en peligro. Albatros, Buenos Aires

Coetzer WG, Downs CT, Perrin MR, Willows-Munro S (2017) Testing of microsatellite multiplexes for individual identification of Cape Parrots ( Poicephalus robustus ): paternity testing and monitoring trade. PeerJ 5:e2900. https://doi.org/10.7717/peerj.2900

Collar NJ, Gonzaga LP, Krabbe N, et al (1992) Threatened birds of the Americas: The I.C.B.P. / I.U.C.N. Red Data Book, Third. Smithsonian Inst. Press, ICBP, Cambridge

De Woody JA (2005) Molecular approaches to the study of parentage, relatedness, and fitness: practical applications for wild animals. J Wildlife Manag 69:1400–1418. https://doi.org/10.2193/0022-541x(2005)69[1400:mattso]2.0.co;2

DeMay SM, Becker PA, Rachlow JL, Waits LP (2017) Genetic monitoring of an endangered species recovery: Demographic and genetic trends for reintroduced pygmy rabbits (Brachylagus idahoensis). J Mammal 98:350–364. https://doi.org/10.1093/jmammal/gyw197

Destro GFG, Pimentel TL, Sabaini RM et al (2012) Efforts to combat wild animals trafficking in Brazil. In: Lameed GA (ed) Biodiversity Enrichment in a Diverse World. InTech, Rijeka, pp 33–36

Di Giacomo AS (ed) (2005) Áreas importantes para la conservación de las aves en Argentina: sítios prioritários para la conservación de la biodiversidad. Temas de Naturaleza y Conservácion, 5th edn. Aves Argentinas/Asociación Ornitológica del Plata, Buenos Aires

Domínguez M, Lapido R, Gorrindo A et al (2020) A citizen science survey discloses the current distribution of the endangered Yellow Cardinal Gubernatrix cristata in Argentina. Bird Conserv Int. https://doi.org/10.1017/S0959270920000155

Domínguez M, Reboreda JC, Mahler B (2015) Impact of shiny cowbird and botfly parasitism on the reproductive success of the globally endangered yellow cardinal Gubernatrix cristata. Bird Conserv Int 25:294–305. https://doi.org/10.1017/S095927091400015X

Domínguez M, Tiedemann R, Reboreda JC et al (2017) Genetic structure reveals management units for the yellow cardinal (Gubernatrix cristata), endangered by habitat loss and illegal trapping. Conserv Genet 18:1131–1140. https://doi.org/10.1007/s10592-017-0964-4

Doyle JJ, Doyle JL (1987) A rapid isolation procedure for small quanties of freash leaf tissue. Phitochem Bull 9(1):11–15

Excoffier L (2004) Patterns of DNA sequence diversity and genetic structure after a range expansion: lessons from the infinite-island model. Mol Ecol 13:853–864. https://doi.org/10.1046/j.1365-294X.2003.02004.x

Excoffier L, Lischer HEL (2010) Arlequin suite ver 3.5: a new series of programs to perform population genetics analyses under Linux and Windows. Mol Ecol Resour 10:564–567. https://doi.org/10.1111/j.1755-0998.2010.02847.x

Faria PJ, Guedes NMR, Yamashita C et al (2008) Genetic variation and population structure of the endangered Hyacinth Macaw (Anodorhynchus hyacinthinus): Implications for conservation. Biodivers Conserv 17:765–779. https://doi.org/10.1007/s10531-007-9312-1

Ferreira JM, Burnham-Curtis M, Schunck F et al (2014) Development of novel polymorphic microsatellite markers for four bird species exploited by the illegal wildlife trade in Brazil. Conserv Genet Resour 7:435–436. https://doi.org/10.1007/s12686-014-0389-z

Fontana CS, Bencke GA, Reis RE (2003) Livro vermelho da fauna ameaçada de extinção no Rio Grande do Sul. EDIPUCRS, Porto Alegre

Frankham R, Ballou JD, Briscoe DA (2002) Introduction to Conservation Genetics. Cambridge University Press, Cambridge

Fu YX (1997) Statistical tests of neutrality of mutations against population growth, hitchhiking and background selection. Genetics 147:915–925

Gonçalves PFM, Oliveira-Marques AR, Matsumoto TE, Miyaki CY (2015) DNA barcoding identifies illegal parrot trade. J Hered 106:560–564. https://doi.org/10.1093/jhered/esv035

Guix JC, Jove L, Ruiz X (1997) Muestreos del comercio de psitácidos neotropicales en la ciudad de Barcelona, España: 1991–1996. Ararajuba 5:159–167

Harpending H (1994) Infertility and forager demography. Am J Phys Anthropol 93:385–390. https://doi.org/10.1002/ajpa.1330930310

IBAMA (2011) Instrução Normativa No10/2011, de 19 de setembro de 2011. Dispõe sobre as atividades dos criadores amadoristas e comerciais de passeriformes da fauna nativa brasileira. Diário Oficial da União, Brasília, Brasil

IBAMA (1994) Manual de anilhamento de aves silvestres, 2nd edn. Instituto Brasileiro do Meio Ambiente e dos Recursos Naturais Renováveis, Brasília

IUCN (2019) The IUCN red list of threatened species. Version 2018–2. https://www.iucnredlist.org/. Accessed 20 Jan 2019

IUCN (2002) IUCN technical guidelines on the management of ex-situ populations for conservation. https://doi.org/10.1017/CBO9781107415324.004

Jones AG, Small CM, Paczolt KA, Ratterman NL (2010) A practical guide to methods of parentage analysis. Mol Ecol Resour 10:6–30. https://doi.org/10.1111/j.1755-0998.2009.02778.x

Kalinowski ST, Taper ML (2006) Maximum likelihood estimation of the frequency of null alleles at microsatellite loci. Conserv Genet 7:991–995. https://doi.org/10.1007/s10592-006-9134-9

Kalinowski ST, Taper ML, Marshall TC (2007) Revising how the computer program CERVUS accommodates genotyping error increases success in paternity assignment. Mol Ecol 16:1099–1006

Kalinowski ST, Wagner AP, Taper ML (2006) ML-Relate: a computer program for maximum likelihood estimation of relatedness and relationship. Mol Ecol Notes 6:576–579. https://doi.org/10.1111/j.1471-8286.2006.01256.x

Konovalov DA, Heg D (2008) A maximum likelihood relatedness estimator allowing for negative relatedness values. Mol Ecol Resour 8:256–263. https://doi.org/10.1111/j.1471-8286.2007.01940.x

Kumar S, Stecher G, Li M et al (2018) MEGA X: Molecular evolutionary genetics analysis across computing platforms. Mol Biol Evol 35:1547–1549. https://doi.org/10.1093/molbev/msy096

Kurland J, Pires SF (2017) Assessing U.S. wildlife trafficking patterns: how criminology and conservation science can guide strategies to reduce the illegal wildlife trade. Deviant Behavior 38:375–391. https://doi.org/10.1080/01639625.2016.1197009

Kvist L, Rytkönen S (2006) Characterization of a secondary contact zone of the Great Tit Parus major and the Japanese Tit P. minor (Aves: Passeriformes) in Far Eastern Siberia with DNA markers. Zootaxa 73:55–73

Lacy RC (1993) Impacts of inbreeding in natural and captive populations of vertebrates: implications for conservation. Perspect Biol Med 36:480–496. https://doi.org/10.1353/pbm.1993.0081

Lawrence HA, Taylor GA, Millar CD, Lambert DM (2008) High mitochondrial and nuclear genetic diversity in one of the world's most endangered seabirds, the Chatham Island Taiko. Conserv Genet 9:1293–1301. https://doi.org/10.1007/s10592-007-9471-3

Lawson K, Vines A (2014) Global impacts of the illegal wildlife trade: the costs of crime, insecurity and institutional erosion. Chatham House, Londres

Librado P, Rozas J (2009) DnaSP v5: a software for comprehensive analysis of DNA polymorphism data. Bioinformatics 25:1451–1452. https://doi.org/10.1093/bioinformatics/btp187

Lyons JA, Natusch DJD (2014) Wildlife laundering through breeding farms: illegal harvest, population declines and a means of regulating the trade of green pythons (Morelia viridis) from Indonesia. Biolog Conserv 144:073–3081. https://doi.org/10.1016/j.biocon.2011.10.002

Marini MA, Garcia FI (2005) Conservação de aves no Brasil. Megadiversidade 1:95–102

Martins-Ferreira C, Repenning M, Damiani RV (2013) Gubernatrix cristata. In: Serafini PP (ed) Plano de ação nacional para a conservação dos passeriformes ameaçados dos campos sulinos e espinilho. Instituto Chico Mendes de Conservação da Biodiversidade, ICMBio, Brasília, pp 116–119

Martins-Ferreira C, Santos MO, Hadddrath O et al (2010) Isolation and characterization of 10 microsatellite loci in the Yellow Cardinal Gubernatrix cristata En. Mol Ecol Resour 10:751–754

Mayrink RR (2016) Exame pericial para detecção de fraudes em anilhas oficiais de passeriformes: Uma ferramenta para o combate ao tráfico de animais silvestres. Dissertation ,Programa de Pós-graduação em Perícias Criminais Ambientais, Universidade Federal de Santa Catarina, Florianópolis, Brasil. (In Portuguese)

Miyaki CY, Pereira SL, Biasia I, Wantjal A (1997) DNA fingerprinting applied to parrot captive breeding program. Ararajuba 5:127–133

Ortiz D (2008) Distribución histórica y actual del cardenal amarillo (Gubernatrix cristata) en el litoral fluvial argentino. In: Aceñolaza FG (ed) Temas de la biodiversidad del litoral fluvial argentino, III. São Miguel de Tucumán, pp 121–126

Pessino M, Tittarelli RF (2006) Cardenal amarillo (Gubernatrix cristata): diagnóstico de su situación con respecto al comercio ilegal en la provincia de La Pampa, Argentina. Gestión Ambiental 12:69–76

Pessino MEM (2006) Nuevo registro y descripción de híbridos entre cardenal amarillo (Gubernatrix cristata) y diuca común (Diuca diuca) en la provincia de La Pampa, Argentina. Revista Nuestras Aves 52:16–18

Presti FT, Guedes NMR, Antas PTZ, Miyaki CY (2015) Population genetic structure in hyacinth macaws (Anodorhynchus hyacinthinus) and identification of the probable origin of confiscated individuals. J Hered 106:491–502. https://doi.org/10.1093/jhered/esv038

Presti FT, Wasko AP (2014) A review of microsatellite markers and their application on genetic diversity studies in parrots. Open J Genet 04:69–77. https://doi.org/10.4236/ojgen.2014.42010

Ramos-Onsins SE, Rozas J (2002) Statistical properties of new neutrality tests against population growth. Mol Biol Evol 19:2092–2100. https://doi.org/10.1093/oxfordjournals.molbev.a004034

Ridgely RS, Tudor G (1989) The birds of South America, vol I. University of Texas Press, Austin, The Oscine Passerines

Rogers AR (1995) Genetic Evidence for a Pleistocene Population Explosion. Evolution 49:608–615

Russello MA, Amato G (2004) Ex situ population management in the absence of pedigree information. Mol Ecol 13:2829–2840. https://doi.org/10.1111/j.1365-294X.2004.02266.x

Scheffers BR, Oliveira BF, Lamb I, Edwards DP (2019) Global wildlife trade across the tree of life. Science 366:71–76. https://doi.org/10.1126/science.aav5327

Schneider S, Excoffier L (1999) Estimation of past demographic parameters from the distribution of pairwise differences when the mutation rates vary among sites: application to human mitochondrial DNA. Genetics 152:1079–1089

Serafini PP, Martins-Ferreira C, Bencke GA et al (2013) Plano de ação nacional para a conservação dos passeriformes ameaçados dos campos sulinos e espinilho. Instituto Chico Mendes de Conservação da Biodiversidade, ICMBio, Brasília

de Souza T, O, Vilela DA da R, Câmara BG de O, (2014) Pressões sobre a avifauna brasileira: Aves recebidas pelo CETAS/IBAMA, Belo Horizonte, Minas Gerais. Ornithologia 7:1–11

Tajima F (1989) The effect of change in population size on DNA polymorphism. Genetics 123:597–601

Tarr CL (1995) Primers for amplification and determination of mitochondrialn control-region sequences in oscine passerines. Mol Ecol 4:527–529

Wagner AP, Creel S, Frank LG, Kalinowski ST (2007) Patterns of relatedness and parentage in an asocial, polyandrous striped hyena population. Mol Ecol 16:4356–4369. https://doi.org/10.1111/j.1365-294X.2007.03470.x

Wagner AP, Creel S, Kalinowski ST (2006) Estimating relatedness and relationships using microsatellite loci with null alleles. Heredity 97:336–345. https://doi.org/10.1038/sj.hdy.6800865

Wakchaure R, Ganguly S (2016) Captive Breeding in Endangered Wildlife: a Review. J Biolog Sci Opin 4:186–187. https://doi.org/10.7897/2321-6328.04544

Westneat DF, Webster MS (1994) Molecular analysis of kinship in birds: Interesting questions and useful techniques. In: Schierwater B, Streit B, Wagner GP, DeSalle R (eds) Molecular Ecology and Evolution: Approaches and Applications. Experientia Supplementum, Birkhäuser, Basel, pp 91–126

White NE, Dawson R, Coghlan ML et al (2012) Application of STR markers in wildlife forensic casework involving Australian black-cockatoos (Calyptorhynchus spp.). Forensic Sci Int Genet 6:664–67. https://doi.org/10.1016/j.fsigen.2011.10.003

Wright TF, Toft CA, Enkerlin-Hoeflich E et al (2001) Nest poaching in neotropical parrots. Conserv Biol 15:710–720. https://doi.org/10.1046/j.1523-1739.2001.015003710.x
Acknowledgements
This research was supported by the Coordenação de Aperfeiçoamento de Pessoal de Nível Superior (CAPES) through fellowship for Sandra Eloisa Bülau and Willian Thomaz Peçanha, Fundação de Amparo à Pesquisa do Estado do Rio Grande do Sul (FAPERGS) and Conselho Nacional de Desenvolvimento Científico e Tecnológico (CNPq). Thales Renato Ochotorena de Freitas received financial support from CAPES, CNPq, and FAPERGS. The authors are grateful to Centro Nacional de Pesquisa e Conservação de Aves Silvestres (CEMAVE) and Instituto Brasileiro do Meio Ambiente e recursos Naturais Renováveis (IBAMA) for all their support and assistance with this research. We also thank the Programa de Desenvolvimento Tecnológico em Ferramentas para a Saúde – PDTISFIOCRUZ for the use of nucleotide sequencing facilities at Instituto René Rachou – Fiocruz Minas.
Funding
This research was supported by the Coordenação de Aperfeiçoamento de Pessoal de Nível Superior (CAPES), Fundação de Amparo à Pesquisa do Estado do Rio Grande do Sul (FAPERGS) and Conselho Nacional de Desenvolvimento Científico e Tecnológico (CNPq).
Ethics declarations
Conflicts of interest
The authors declare that they have no conflict of interest.
Ethics approval (include appropriate approvals or waivers)
This work was carried out with the authorization of Brazilian Institute of Environment and Renewable Natural Resources (IBAMA)–Brazilian Biodiversity Authorization and Information System (SISBIO) under licenses Nº 40312–1; 40312–2. All information about the licenses required to carry out this work is present in the 'Methods' section.
Additional information
Publisher's Note
Springer Nature remains neutral with regard to jurisdictional claims in published maps and institutional affiliations.
Communicated by M. Wink.
Supplementary Information
Below is the link to the electronic supplementary material.
About this article
Cite this article
Bülau, S.E., Peçanha, W.T., Martins-Ferreira, C. et al. Genetic diversity in captive Yellow Cardinals (Gubernatrix cristata) from Southern Brazil: implications for the management and conservation of an endangered species. J Ornithol (2021). https://doi.org/10.1007/s10336-021-01857-1
Received:

Revised:

Accepted:

Published:
Keywords
Passeriformes

Birds

South america

habitat reduction

mtDNA

Microsatellite