Abstract
Bird migration has evolved under the influence of annual and daily fluctuations in resource availability. Numerous passerine migrants migrate exclusively by night, maximizing the time available for foraging and feeding during the day. When held in captivity, and in total absence of environmental cues, nocturnal migrants typically show rhythms of night-time restlessness (Zugunruhe), which persist with a periodicity of about 24 h. Experimental evidence suggests that these circadian rhythms of Zugunruhe may either result from a "redefinition" of the diurnal clock or from changes in the phase relationship between independent endogenous oscillators. The role of melatonin in this control system remains ambiguous. Lowered levels of circulating melatonin found during migratory nights could either be the positive stimulus, a permissive factor or a side effect of nocturnal wakefulness. Although the nutritional state of a migrant is known to strongly influence the incidence of migratory activity, the physiological link between the circadian clock controlling Zugunruhe and the metabolic/hormonal path-ways that regulate the incidence of migration is uncertain. A functional genetic approach promises to bring behavioural and physiological knowledge together. Determining the mechanisms that are involved in the day-to-day scheduling of migration is crucial for understanding the overall control of migration, as the sum of migratory nights determines for how long, and how far, a migrant potentially travels.
Zusammenfassung
Der Vogelzug ist unter dem Einfluss von jährlichen und tageszeitlichen Fluktuationen in der Ressourcenverfügbarkeit entstanden. Zahlreiche Singvögel ziehen ausschließlich nachts, wodurch sie die tagsüber zur Nahrungssuche und -aufnahme verfügbare Zeit maximieren. In Gefangenschaft zeigen Nachtzieher in völliger Abwesenheit von Umweltreizen typischerweise Rhythmen nächtlicher Aktivität (Zugunruhe), die mit einer Periodizität von etwa 24 Stunden andauern. Experimentelle Befunde lassen vermuten, dass diese circadianen Zugrhythmen entweder durch eine "Umdefinierung" der tageszeitlichen Uhr oder durch eine Phasenverschiebung zwischen unabhängigen, endogenen Oszillatoren verursacht werden. Die Rolle des Hormons Melatonin bleibt dabei unklar. In Zugnächten reduzierte Melatoninkonzentrationen könnten der positive Stimulus, ein permissiver Faktor oder eine Folge nächtlicher Wachheit sein. Obwohl bekannt ist, dass der Ernährungszustand eines Zugvogels einen starken Einfluss auf das Auftreten von Zugunruhe hat, ist der physiologische Zusammenhang zwischen der circadianen Zuguhr und den metabolischen/hormonellen Regulationsmechanismen von Zugereignissen unbekannt. Ein funktionell-genetischer Ansatz verspricht die Lücke zwischen verhaltensbiologischem und physiologischem Wissen zu schließen. Die Aufklärung der Mechanismen, die bei der täglichen Zeitplanung des Zugs beteiligt sind, ist entscheidend für das übergeordnete Verständnis der Steuerung des Vogelzugs, da die Summe der Zugnächte bestimmt, wie lange und wie weit ein Individuum zu ziehen vermag.
Access options
Buy single article
Instant access to the full article PDF.
US$ 39.95
Tax calculation will be finalised during checkout.
Subscribe to journal
Immediate online access to all issues from 2019. Subscription will auto renew annually.
US$ 79
Tax calculation will be finalised during checkout.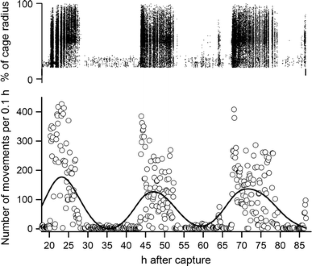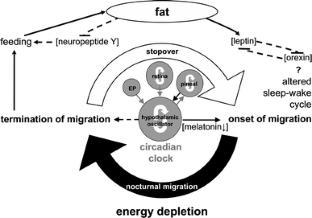 References
Able KP (1980) Mechanisms of orientation, navigation, and homing. In: Gauthreaux S (ed) Animal migration, orientation, and navigation. Academic, New York, pp 283–373

Bairlein F (1985) Body weights and fat deposition of Palaearctic passerine migrants in the central Sahara. Oecologia 66:141–146

Bairlein F, Gwinner E (1994) Nutritional mechanisms and temporal control of migratory energy accumulation in birds. Annu Rev Nutr 14:187–215

Bartell PA, Gwinner E (2005) A separate circadian oscillator controls nocturnal migratory restlessness in the songbird Sylvia borin. J Biol Rhythm 20:538–549

Berthold P (1973) Relationships between migratory restlessness and migration distance in six Sylvia species. Ibis 115:594–599

Berthold P (1976) Über den Einfluß der Fettdeposition auf die Zugunruhe bei der Gartengrasmücke Sylvia borin. Vogelwarte 28:263–266

Berthold P (1978) Das Zusammenwirken von endogenen Zugzeit-Programmen und Umweltfaktoren beim Zugablauf bei Grasmücken: Eine Hypothese. Vogelwarte 29:153–159

Berthold P (1996) Control of bird migration. Chapman and Hall, London

Berthold P (2001) Bird migration. Oxford University Press, Oxford

Berthold P, Querner U (1981) Genetic basis of migratory behavior in European warblers. Science 212:77–79

Bertin A, Houdelier C, Richard-Yris MA, Guyomarc'h C, Lumineau S (2007) Stable individual profiles of daily timing of migratory restlessness in European quail. Chronobiol Int 24:253–267

Biebach H (1985) Sahara stopover in migratory flycatchers: fat and food affect the time program. Experientia 41:695–697

Biebach H, Friedrich W, Heine G (1986) Interaction of body mass, fat, foraging and stopover period in trans-Sahara migrating passerine birds. Oecologia 69:370–379

Birkhead TR (2008) The wisdom of birds: an illustrated history of ornithology. Bloomsbury, London

Bolshakov CV, Bulyuk VN, Kosarev V, Ktitorov P, Leoke D, Mukhin A, Chernetsov N, Tsvey A (2007) Time of nocturnal departures in European robins, Erithacus rubecula, in relation to celestial cues, season, stopover duration and fat stores. Anim Behav 74:855–865

Both C, Bouwhuis S, Lessells CM, Visser ME (2006) Climate change and population declines in a long-distance migratory bird. Nature 441:81–83

Bradshaw WE, Holzapfel CM (2010) What season is it anyway? Circadian tracking vs. photoperiodic anticipation in insects. J Biol Rhythms 25:155–165

Bünning E (1936) Die endonome Tagesrhythmik als Grundlage der photoperiodischen Reaktion. Ber Dtsch Bot Ges 54:590–607

Chernetsov N, Kishkinev D, Mouritsen H (2008) A long-distance avian migrant compensates for longitudinal displacement during spring migration. Curr Biol 18:188–190

Cochran WW, Mouritsen H, Wikelski M (2004) Migrating songbirds recalibrate their magnetic compass daily from twilight cues. Science 304:405–408

Cochran WW, Bowlin MS, Wikelski M (2008) Wingbeat frequency and flap-pause ratio during natural migratory flight in thrushes. Integr Comp Biol 48:134–151

Coppack T (2007) Experimental determination of the photoperiodic basis for geographic variation in avian seasonality. J Ornithol 148 (Suppl 2):459–467

Coppack T, Both C (2002) Predicting life-cycle adaptation of migratory birds to global climate change. Ardea 90:369–378

Coppack T, Becker SF, Becker PJJ (2008) Circadian flight schedules in night-migrating birds caught on migration. Biol Lett 4:619–622

Coverdill AJ, Bentley GE, Ramenofsky M (2008) Circadian and masking control of migratory restlessness in Gambel's white-crowned sparrow (Zonotrichia leucophrys gambelii). J Biol Rhythm 23:59–68

Czeschlik D (1977) Der Einfluß der Beleuchtungsstärke auf die Zugunruhe von Garten- und Mönchsgrasmücken (Sylvia borin und S. atricapilla). J Ornithol 118:268–281

Dawson A, King VM, Bentley GE, Ball GF (2001) Photoperiodic control of seasonality in birds. J Biol Rhythms 16:366–381

Emlen ST (1975) Migration: orientation and navigation. In: Famer DS, King JR (eds) Avian biology, vol V. Academic, New York, pp 129–219

Farner DS (1950) The annual stimulus for migration. Condor 52:104–122

Fuchs T, Haney A, Jechura TJ, Moore FR, Bingman VP (2006) Daytime naps in night-migrating birds: behavioural adaptation to seasonal sleep deprivation in the Swainson's thrush (Catharus ustulatus). Anim Behav 72:951–958

Fuchs T, Maury D, Moore FR, Bingman VP (2009) Daytime micro-naps in a nocturnal migrant: an EEG analysis. Biol Lett 5:77–80

Fusani L, Gwinner E (2001) Reduced amplitude of melatonin secretion during migration in the blackcap (Sylvia atricapilla). In: Goos HJT, Rastogi RK, Vaudry H, Pierantoni R (eds) Perspective in comparative endocrinology: unity and diversity. Proceedings of 14th international congress of comparative endocrinology, Sorrento, Italy, May 2001. Monduzzi Bologna, pp 295–300

Fusani L, Gwinner E (2004) Simulation of migratory flight and stopover affects night levels of melatonin in a nocturnal migrant. Proc R Soc Lond B 271:205–211

Fusani L, Gwinner E (2005) Melatonin and nocturnal migration. Ann NY Acad Sci 1046:264–270

Fusani L, Cardinale M, Carere C, Goymann W (2009) Stopover decision during migration: physiological conditions predict nocturnal restlessness in wild passerines. Biol Lett 5:302–305

Gätke H (1895) Heligoland as an ornithological observatory. The results of fifty years experience. David Douglas, Edinburgh

Goymann W, Spina F, Ferri A, Fusani L (2010) Body fat influences departure from stopover sites in migratory birds: evidence from whole-island telemetry. Biol Lett 6:478–481

Gwinner E (1967) Circannuale Periodik der Mauser und der Zugunruhe bei einem Vogel. Naturwiss 54:447

Gwinner E (1975) Circadian and circannual rhythms in birds. In: Farner DS, King JR (eds) Avian biology, vol 5. Academic, New York, pp 221–285

Gwinner E (1989) Einfluss der Photoperiode auf das circannuale system des Halsbandschnäppers (Ficedula albicollis) und des Trauerschnäppers (F. hypoleuca). J Ornithol 130:1–13

Gwinner E (1990) Circannual rhythms in bird migration: control of temporal patterns and interactions with photoperiod. In: Gwinner E (ed) Bird migration: physiology and ecophysiology. Springer, Berlin, pp 257–268

Gwinner E (1996) Circadian and circannual programmes in avian migration. J Exp Biol 199:39–48

Gwinner E, Brandstätter R (2001) Complex bird clocks. Philos Trans R Soc Lond B 356:1801–1810

Gwinner E, Helm B (2003) Circannual and circadian contributions to the timing of avian migration. In: Berthold P, Gwinner E, Sonnenschein E (eds) Avian migration. Springer, New York, pp 81–95

Gwinner E, Biebach H, von Kries I (1985) Food availability affects migratory restlessness in caged garden warblers (Sylvia borin). Naturwiss 72:51–52

Gwinner E, Schwabl H, Schwabl-Benzinger I (1988) Effects of food-deprivation on migratory restlessness and diurnal activity in the garden warbler Sylvia borin. Oecologia 77:321–326

Gwinner E, Zeman M, Schwabl-Benzinger I, Jenni-Eiermann S, Jenni L, Schwabl H (1992) Corticosterone levels of passerine birds during migratory flight. Naturwiss 79:276–278

Gwinner E, Schwabl-Benzinger I, Schwabl H, Dittami J (1993) Twenty-four hour melatonin profiles in a nocturnally migrating bird during and between migratory seasons. Gen Comp Endocr 90:119–124

Halberg F, Stephens AN (1959) Susceptibility to ouabain and physiologic circadian periodicity. Proc Minn Acad Sci 27:139–143

Helm B, Gwinner E, Trost L (2005) Flexible seasonal timing and migratory behavior: results from Stonechat breeding programs. Ann NY Acad Sci 1046:216–227

Helms CW (1963) The annual cycle and Zugunruhe in birds. Proc Int Ornithol Congr 13:925–939

Jenni L, Jenni-Eiermann S, Spina F, Schwabl H (2000) Regulation of protein breakdown and adrenocortical response to stress in birds during migratory flight. Am J Physiol 278:1182–1189

Jones SG, Paletz EM, Obermeyer WM, Hannan CT, Benca RM (2010) Seasonal influences on sleep and executive function in the migratory White-crowned Sparrow (Zonotrichia leucophrys gambelii). BMC Neurosci 11:87

King JR, Farner DS (1963) The relationship of fat deposition to Zugunruhe and migration. Condor 65:200–223

Kochan Z, Karbowska J, Meissner W (2006) Leptin is synthesized in the liver and adipose tissue of the dunlin (Calidris alpina). Gen Comp Endocrinol 148:336–339

Kumar V, Wingfield JC, Dawson A, Ramenofsky M, Rani S, Bartell P (2010) Biological clocks and regulation of seasonal reproduction and migration in birds. Physiol Biochem Zool 83:827–835

Landys MM, Wingfield JC, Ramenofsky M (2004) Plasma corticosterone increases during migratory restlessness in the captive white-crowned sparrow Zonotrichia leucophrys gambelii. Horm Behav 46:574–581

Lehikoinen E, Sparks TH (2010) Changes in migration. In: Møller AP, Fiedler W, Berthold P (eds) Birds and climate change. Oxford University Press, Oxford, pp 89–112

Maggini I, Bairlein F (2010) Endogenous rhythms of seasonal migratory body mass changes and nocturnal restlessness in different populations of northern wheatear Oenanthe oenanthe. J Biol Rhythms 25:268–276

McMillan JP (1972) Pinealectomy abolishes the circadian rhythm of migratory restlessness. J Comp Physiol 79:105–112

McMillan JP, Gauthreaux SA Jr, Helms CW (1970) Spring migratory restlessness in caged birds: a circadian rhythm. Bioscience 20:1259–1260

Merkel FW (1938) Zur Physiologie der Zugunruhe bei Vögeln. Ber Ver Schles Ornithol 23:l–l72

Merkel FW, Fromme HG, Wiltschko W (1964) Nichtvisuelle Orientierung bei Rotkehlchen. Vogelwarte 22:168–173

Mueller JC, Pulido F, Kempenaers B (2011) Identification of a gene associated with avian migratory behaviour. Proc R Soc Lond B, published online, doi:https://doi.org/10.1098/rspb.2010.2567

Németh Z (2009) Observation of daytime sleep-like behavior in a migratory songbird during stopover. Wilson J Ornithol 121:644–646

Newton I (2008) The migration ecology of birds. Academic, London

Ohkubo T, Adachi H (2008) Leptin signaling and action in birds. J Poultry Sci 45:233–240

Palmgren P (1944) Studien über die Tagesrhythmik gekäfigter Zugvögel. Z Tierpsychol 6:44–86

Pohl H (2000) Circadian control of migratory restlessness and the effects of exogenous melatonin in the brambling, Fringilla montifringilla. Chronobiol Internat 17:471–488

Pulido F, Berthold P (2003) Quantitative genetic analyses of migratory behaviour. In: Berthold P, Gwinner E, Sonnenschein E (eds) Avian migration. Springer, Berlin, pp 53–77

Ramenofsky M, Savard R, Greenwood MRC (1999) Seasonal and diel transitions in physiology and behavior in the migratory dark-eyed junco. Comp Biochem Physiol A 122:385–397

Ramenofsky M, Moffat J, Bentley GE (2008) Corticosterone and migratory behaviour of captive White-crowned Sparrows. In: Morris S, Vosloo A (eds) The pressures of life: molecules to migration. Proceedings of 4th CPB meeting, pp 575–582

Rani S (2010) Role of food availability in regulation of daily and seasonal responses in birds. 25. International ornithology congress, Campos do Jordao Brazil, abstract

Rani S, Malik S, Trivedi AK, Singh S, Kumar V (2006) A circadian clock regulates migratory restlessness in the blackheaded bunting, Emberiza melanocephala. Curr Sci 91:1093–1096

Rattenborg NC, Mandt BH, Obermeyer WH, Winsauer PJ, Huber R, Wikelski M, Benca RM (2004) Migratory sleeplessness in the white-crowned sparrow (Zonotrichia leucophrys gambelii). PLoS Biol 2:e212

Salewski V, Schaub M (2007) Stopover duration of palearctic passerine migrants in the western Sahara—independent of fat stores? Ibis 149:223–236

Saper CB, Lu J, Chou TC, Gooley TC (2005) The hypothalamic integrator for circadian rhythms. Trends Neurosci 28:152–157

Schildmacher H (1933) Zur Physiologie des Zugtriebes I. Versuche mit weiblichem Sexualhormon. Vogelzug 4:21–24

Schwabl H, Bairlein F, Gwinner E (1991) Basal and stress-induced corticosterone levels of garden warblers Sylvia borin during migration. J Comp Physiol 161:576–580

Sharp PJ, Dunn IC, Waddington D, Boswell T (2008) Chicken leptin. Gen Comp Endocrinol 158:2–4

Singletary KG (2009) Nocturnal bird migration and disrupted sleep/wake cycle. PhD thesis, University of Texas, Austin, USA

Underwood H, Steele CT, Zivkovic B (2001) Circadian organization and the role of the pineal in birds. Microsc Res Tech 53:48–62

Van Noordwijk AJ, Pulido F, Helm B, Coppack T, Delingat J, Dingle H, Hedenström A, Van der Jeugd H, Marchetti C, Nilsson A, Pérez-Tris J (2006) A framework for the study of genetic variation in migratory behaviour. J Ornithol 147:221–233

Wagner HO (1930) Über Jahres-und Tagesrhythmus bei Zugvögeln. Z Vgl Physiol 12:703–724

Wikelski M, Martin LB, Robinson MT, Robinson ND, Helm B, Scheuerlein A, Hau M, Gwinner E (2008) Avian circannual clocks: adaptive significance and possible involvement of energy turnover in their proximate control. Philos Trans R Soc Lond B 363:411–423

Wiltschko W, Wiltschko R (1972) Magnetic compass of European robins. Science 176:62–64

Wingfield JC, Schwabl H, Mattocks PW Jr (1990) Endocrine mechanisms of migration. In: Gwinner E (ed) Bird migration. Springer, Berlin, pp 232–256

Yasuo S, Watanabe M, Okabayashi N, Ebihara S, Yoshimura T (2003) Circadian clock genes and photoperiodism: comprehensive analysis of clock genes expression in the mediobasal hypothalamus, the suprachiasmatic nucleus and the pineal gland of Japanese quail under various light schedules. Endocrinology 144:3742–3748

Yong W, Moore FR (1993) Relation between migratory activity and energetic condition among thrushes (Turdinae) following passage across the Gulf of Mexico. Condor 95:934–943

Yoshimura T, Yasuo S, Watanabe M, Iigo M, Yamamura T, Hirunagi K, Ebihara S (2003) Light-induced hormone conversion of T4 to T3 regulates photoperiodic response of gonads in birds. Nature 426:178–181
Acknowledgments
This review was stimulated by a centenary symposium on bird migration held April 2010 in Wilhelmshaven, Germany, and by an invitation to the 12th Biennial Meeting of the Society for Research on Biological Rhythms (SRBR) held May 2010 in Sandestin, FL, USA. Two anonymous referees provided helpful comments on a previous version of the manuscript.
Additional information
Communicated by C. G. Guglielmo.
About this article
Cite this article
Coppack, T., Bairlein, F. Circadian control of nocturnal songbird migration. J Ornithol 152, 67–73 (2011). https://doi.org/10.1007/s10336-011-0708-z
Received:

Revised:

Accepted:

Published:

Issue Date:
Keywords
Circadian clock

Melatonin

Migratory restlessness

Photoperiod

Zugunruhe