Abstract
The island of Helgoland (or Heligoland; in the North Sea) was the very first place on Earth to be the focus of systematic studies on bird migration (since the mid-nineteenth century). The "Vogelwarte Helgoland" was founded in 1910, and since 1909 more than 800,000 birds have been ringed. Most of these are nocturnally migrating songbirds that cross the German Bight in a broad front on their way to or from their Scandinavian breeding grounds. In good weather conditions (tail winds, clear sky), the majority of the migrants does not land on Helgoland, but deteriorating weather strongly increases their attraction to this island. Wind can cause rare birds such as raptors and continental landbirds to be blown offshore or pelagic seabirds to be blown into the German Bight, where they can drift to Helgoland. Migrants stay for hours to weeks, depending on species, age, sex, body condition, season, weather, food availability, intra- and interspecific competition, and predation pressure. The direction of departure also appears to be influenced by body and weather conditions. The reported circumstances for the almost 7,000 recoveries have changed substantially over the last 100 years, and show definite regional differences. Indices from constant-effort trapping reveal decreased numbers of long-distance migrants, while numbers of short/medium-distance migrants have not changed much. In all "true migrants," the mean spring passage time has become earlier since 1960 (by up to 18 days). Whereas changes in autumn are less uniform, the time between both periods has increased in most species. This earliness in spring is best explained by local temperatures in short/medium-distance migrants, and by the winter NAO index in long-distance migrants.
Access options
Buy single article
Instant access to the full article PDF.
US$ 39.95
Tax calculation will be finalised during checkout.
Subscribe to journal
Immediate online access to all issues from 2019. Subscription will auto renew annually.
US$ 79
Tax calculation will be finalised during checkout.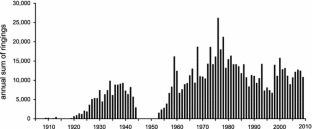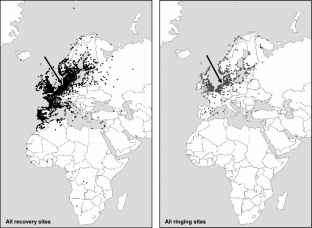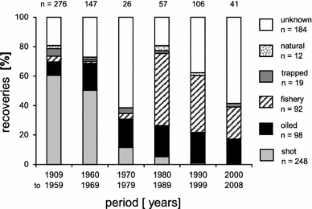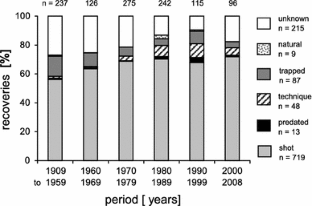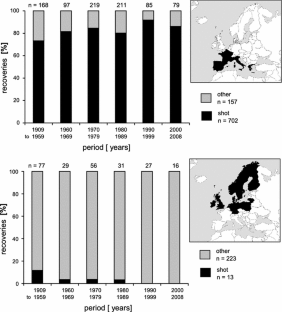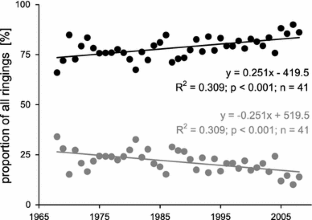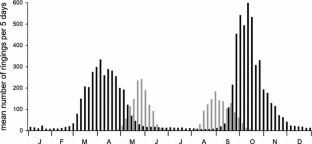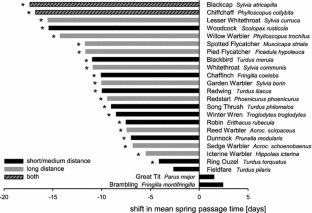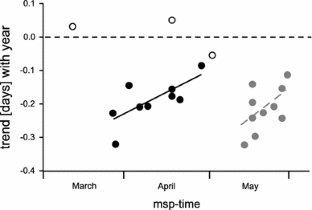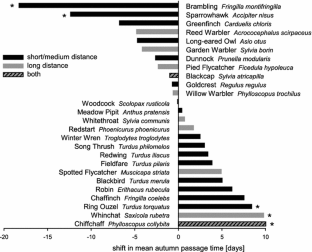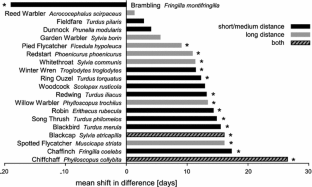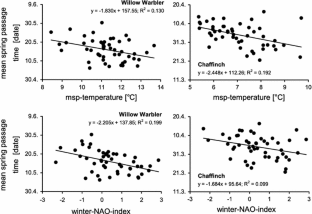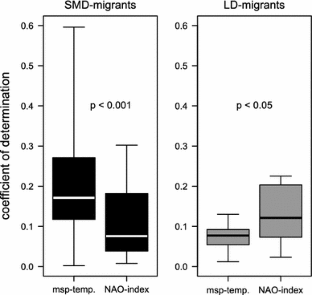 References
Ahola M, Laaksonen T, Sippola K, Eeva T, Rainio K, Lehikoinen E (2004) Variation in climate warming along the migration route uncouples arrival and breeding dates. Glob Change Biol 10:1610–1617

Alerstam T (1978) Analysis and a theory of visible bird migration. Oikos 30:273–349

Antoniazza M, Catzeflis F, Roulier C, Winkler R (1974) Verluste an Helgoländer Durchzüglern auf dem Wegzug 1973. Corax 5, Beiheft I:58–62

Archer M, Grantham M, Howlett P, Stansfield S (2010) Bird observatories of Britain and Ireland. Poyser, London

Bairlein F, Becker PH (2010) 100 Jahre Institut für Vogelforschung "Vogelwarte Helgoland". Aula, Wiebelsheim

Bairlein F, Hüppop O (1997) Heinrich Gätke - sein ornithologisches Werk heute. Vogelwarte 39:3–13

Bairlein F, Hüppop O (2004) Migratory fuelling and clobal climate change. In: Møller AP, Fiedler W, Berthold P (eds) Birds and climate change (Adv Ecol Res 35). Elsevier, Amsterdam, pp 33–47

Bairlein F, Schaub M (2009) Ringing and the study of mechanisms of migration. Ringing Migr 24:162–168

Bairlein F, Winkel W (2001) Birds and climate. In: Lozan JL, Graßl H, Hupfer P (eds) Climate of the 21st century: changes and risks. Scientific facts. GEO, Hamburg, pp 278–282

Bauer HG, Berthold P (1997) Die Brutvögel Mitteleuropas. Bestand und Gefährdung, Aula, Wiesbaden

Berthold P (1996) Control of bird migration. Chapman and Hall, London

Berthold P (2001) Bird migration. A general survey, 2nd edn. Oxford University Press, Oxford

Berthold P, Schlenker R (1975) Das "Mettnau-Reit-Illmitz-Programm"—ein langfristiges Vogelfangprogramm der Vogelwarte Radolfzell mit vielfältiger Fragestellung. Vogelwarte 28:97–123

Berthold P, Fiedler W, Schlenker R, Querner U (1998) 25-Year study of the population development of central European songbirds: a general decline most evident in long-distance migrants. Naturwissenschaften 85:350–353

Bønløkke J, Madsen JJ, Thorup K, Pedersen KT, Bjerrum M, Rahbek C (2006) Dansk Trækfugleatlas. Rhodos, Humlebæk

Both C, van Turnhout CAM, Bijlsma RG, Siepel H, van Strien AJ, Foppen RPB (2010) Avian population consequences of climate change are most severe for long-distance migrants in seasonal habitats. Proc R Soc Lond B 277:1259–1266

Bub H (1985) Atlas der Wanderungen des Berghänflings (Carduelis f. flavirostris) 1952–1970 in Mitteleuropa. Beitr Vogelkd. Jena 31:189–213

Burton JF (1995) Birds and climate change. Black, London

Busche G, Dierschke V (2007) Jahreszeitliches Auftreten und Bestandsentwicklung der Turteltaube Streptopelia turtur an der Deutschen Bucht. Vogelwelt 128:149–157

Clarke WE (1912) Studies in bird migration. Gurney and Jackson, Edinburgh

Cotton PA (2003) Avian migration phenology and global climate change. Proc Nat Acad Sci USA 100:12219–12222

Day KR, Ayres MP, Harrington R (2010) Interannual dynamics of aerial and arboreal green spruce aphid populations. Popul Ecol 52:317–327

Delingat J, Hobson KA, Dierschke V, Schmaljohann H, Bairlein F (2010) Morphometrics and stable isotopes differentiate populations of Northern Wheatears (Oenanthe oenanthe). J Ornithol. doi:https://doi.org/10.1007/s10336-010-0599-4

Dierschke V (1989) Automatisch-akustische Erfassung des nächtlichen Vogelzuges bei Helgoland im Sommer 1987. Vogelwarte 35:115–131

Dierschke V (1998) Site fidelity and survival of Purple Sandpipers (Calidris maritima) at Helgoland (SE North Sea). Ringing Migr 19:41–48

Dierschke V (2001) Das Vorkommen von Greifvögeln auf Helgoland: regulärer Zug oder Winddrift? Vogelwelt 122:247–256

Dierschke V (2006) Factors determining stopover decisions in migrating passerines at an offshore island. Acta Zool Sinica 52(Suppl):594–598

Dierschke V, Bindrich F (2001) Body condition of migrant passerines crossing a small ecological barrier. Vogelwarte 41:119–132

Dierschke V, Delingat J (2001) Stopover behaviour and departure decision of Northern Wheatears, Oenanthe oenanthe, facing different onward non-stop flight distances. Behav Ecol Sociobiol 50:535–545

Dierschke J, Dierschke V, Hüppop K, Hüppop O, Jachmann KF (2011) Die Vogelwelt der Insel Helgoland. OAG Helgoland, Helgoland

Drost R (1925) Eine gewaltige Zugnacht auf Helgoland als Folge ungünstiger Wetterverhältnisse im Frühjahr 1924. Ornithol Monatsber 33:11–13

Drost R (1928) Unermeßliche Vogelscharen über Helgoland. Ornithol Monatsber 36:3–6

Drost R (1929) Die Europäischen Beringungszentralen. Ornithol Monatsber 37:161–172

Drost R (1933) Eine selbsttätige Kleinvogelreuse mit Wasser als Köder. Vogelzug 4:37–38

Drost R (1940) Im Oktober auf Helgoland rastende Zugvögel infolge ungünstigen Wetters verhungert. Vogelzug 11:40–41

Drost R (1960) Über den nächtlichen Vogelzug auf Helgoland. In: Proc 12th Int Ornithological Congr, Helsinki, Finland, 5–12 June 1958, pp 178–192

Dunn EH, Hussell DJT, Francis CM (2004) A comparison of three count methods for monitoring songbird abundance during spring migration: capture, census, and estimated totals. Stud Avian Biol 29:116–122

Fiedler W (2001) Vogelwarte Rossitten—ornithology on the Courish Spit between 1901 and 1944. Avian Ecol Behav 7:3–9

Filippi-Codaccioni O, Moussus J-P, Urcun J-P, Jiguet F (2010) Advanced departure dates in long-distance migratory raptors. J Ornithol 151:687–694

Förschler M, del Val E, Bairlein F (2010) Extraordinary high natal philopatry in a migratory passerine. J Ornithol 151:745–748

Furness RW, Greenwood JJD (1993) Birds as monitors of environmental change. Chapman and Hall, London

Gätke H (1891) Die Vogelwarte Helgoland. Meyer, Braunschweig

Gätke H (1895) Heligoland as an ornithological observatory. Douglas, Edinburgh

Gätke H (1900) Die Vogelwarte Helgoland, 2nd edn. Meyer, Braunschweig

Gregory RD, Willis SG, Jiguet F, Voříšek P, Klvaňová A et al. (2009) An indicator of the impact of climatic change on European bird populations. PLoS ONE. doi:https://doi.org/10.1371/journal.pone.0004678

Gwinner E (1996) Circadian and circannual programmes in avian migration. J Exp Biol 199:39–48

Harrington R, Woiwod I, Sparks T (1999) Climate change and trophic interactions. Trends Ecol Evol 14:146–150

Heldbjerg H, Fox AD (2008) Long-term population declines in Danish trans-Saharan migrant birds. Bird Study 55:267–279

Hilgerloh G (1977) Der Einfluß einzelner Wetterfaktoren auf den Herbstzug der Singdrossel (Turdus philomelos) über der Deutschen Bucht. J Ornithol 118:416–435

Hullé M, Cœur d'Acier A, Bankhead-Dronnet S, Harrington R (2010) Aphids in the face of global changes. Comptes Rendus Biologies 333:497–503

Hüppop O (1996) Causes and trends of the mortality of Guillemots (Uria aalge) ringed on the island of Helgoland, German Bight. Vogelwarte 38:217–224

Hüppop K, Hüppop O (2002) Atlas zur Vogelberingung auf Helgoland Teil 1: Zeitliche und regionale Veränderungen der Wiederfundraten und Todesursachen auf Helgoland beringter Vögel (1909 bis 1998). Vogelwarte 41:161–181

Hüppop O, Hüppop K (2003) North Atlantic Oscillation and timing of spring migration in birds. Proc R Soc Lond B 270:233–240

Hüppop K, Hüppop O (2004) Atlas zur Vogelberingung auf Helgoland. Teil 2: Phänologie im Fanggarten von 1961 bis 2000. Vogelwarte 42:285–343

Hüppop K, Hüppop O (2007) Atlas zur Vogelberingung auf Helgoland Teil 4: Fangzahlen im Fanggarten auf Helgoland von 1960 bis 2004. Vogelwarte 45:145–207

Hüppop O, Hüppop K (2008) Climate changes and timing of bird migration. In: Chae HY, Choi CY, Nam HY (eds) Monitoring climate changes: migratory birds and wetlands in stopover islands. In: Proceedings of the Second International Symposium on Migratory Birds, Changwon, Korea, 27 Oct 2008, pp 17–26

Hüppop K, Hüppop O (2009) Atlas zur Vogelberingung auf Helgoland Teil 5: Ringfunde von 1909 bis 2008. Vogelwarte 47:189–249

Hüppop O, Winkel W (2006) Climate change and timing of spring migration in the long-distance migrant Ficedula hypoleuca in central Europe: the role of spatially different temperature changes along migration routes. J Ornithol 147:344–353

Hüppop O, Dierschke J, Wendeln H (2004) Zugvögel und Offshore-Windkraftanlagen: Konflikte und Lösungen. Ber Vogelschutz 41:127–218

Hüppop O, Dierschke J, Exo K-M, Fredrich E, Hill R (2006) Bird migration and offshore wind turbines. In: Köller J, Köppel J, Peters W (eds) Offshore wind energy. Research on environmental impacts. Springer, Berlin, New York, pp 91–116

Hüppop K, Dierschke J, Dierschke V, Hill R, Jachmann KF, Hüppop O (2010) Phänologie des "sichtbaren" Vogelzugs über der Deutschen Bucht. Vogelwarte 48:181–267

Hurrell JW, Kushnir Y, Visbeck M (2001) The North Atlantic Oscillation. Science 291:603–605

IPCC (2007) Climate change 2007: synthesis report. Contribution of working groups I, II and III to the Fourth Assessment Report of the Intergovernmental Panel on Climate Change. IPCC, Geneva

Jellmann J, Vauk G (1978) Untersuchungen zum Verlauf des Frühjahrszuges über der Deutschen Bucht nach Radarstudien und Fang- und Beobachtungsergebnissen auf Helgoland. J Ornithol 119:265–286

Jenni L (1984) Zugmuster von Vögeln auf dem Col de Bretolet unter besonderer Berücksichtigung nachbrutzeitlicher Bewegungen. Orn Beob 81:183–213

Jenni L, Kéry M (2003) Timing of autumn bird migration under climate change: advances in long-distance migrants, delays in short-distance migrants. Proc R Soc Lond B 270:1467–1471

Jonzén N, Ergon T, Lindén A, Stenseth NC (2007) Bird migration and climate: the general picture and beyond. Clim Res 35:177–180

Krüger T, Dierschke J (2006) Das Vorkommen des Wellenläufers Oceanodroma leucorhoa in Deutschland. Vogelwelt 127:145–162

Lehikoinen E, Sparks TH (2010) Changes in migration. In: Møller AP, Fiedler W, Berthold P (eds) Effects of climate change on birds. Oxford University Press, Oxford, pp 89–112

Lehikoinen E, Sparks TH, Zalakevicius M (2004) Arrival and departure dates. In: Møller AP, Fiedler W, Berthold P (eds) Birds and climate change (Adv Ecol Res 35). Elsevier, London, pp 1–31

Loarie SR, Duffy PB, Hamilton H, Asner GP, Field CB, Ackerly DD (2009) The velocity of climate change. Nature 462:1052–1055

Mason CF (1995) Long-term trends in the arrival dates of spring migrants. Bird Study 42:182–189

McCulloch MN, Tucker GM, Baillie SR (1992) The hunting of migratory birds in Europe: a ringing recovery analysis. Ibis 134(Suppl 1):55–65

Mead C (1993) Auk mortality causes and trends. In: Andrews J, Carter SP (eds) Britain's birds in 1990–91: the conservation and monitoring review. Brit Trust Ornithol and Joint Nature Cons Comm, Thetford, pp 66–67

Miller-Rushing AJ, Lloyd-Evans TL, Primack RB, Satzinger P (2008) Bird migration times, climate change, and changing population sizes. Glob Change Biol 14:1959–1972

Milwright RDP (2006) Post-breeding dispersal, breeding site fidelity and migration/wintering areas of migratory populations of Song Thrush Turdus philomelos in the Western Palearctic. Ringing Migr 23:21–32

Møller AP, Fiedler W, Berthold P (2004) Birds and climate change (Adv Ecol Res 35). Elsevier, Amsterdam

Møller AP, Fiedler W, Berthold P (2010) Effects of climate change on birds. Oxford University Press, Oxford

Moore FR, Kerlinger P, Simons TR (1990) Stopover on a Gulf Coast barrier island by spring trans-Gulf migrants. Wilson Bull 102:487–500

Moritz D (1982) Langfristige Bestandsschwankungen ausgewählter Passeres nach Fangergebnissen auf Helgoland. Seevögel 3(Suppl):13–24

Moritz D (1983) Zum Vorkommen des Neuntöters (Lanius collurio) auf Helgoland nach Fangergebnissen von 1953 bis 1979. Vogelwarte 32:142–148

Naumann JF (1820–1844) Naturgeschichte der Vögel Deutschlands. Fleischer, Leipzig

Naumann JF (1846) Über den Vogelzug, mit besonderer Hinsicht auf Helgoland. Rhea 1:18–27

Newton I (2008) The migration ecology of birds. Academic, London

Newton I (2011) Migration within the annual cycle: species, sex and age differences. J Ornithol. doi:https://doi.org/10.1007/s10336-011-0689-y

Ottich I, Dierschke V (2003) Exploitation of resources modulates stopover behaviour of passerine migrants. J Ornithol 144:307–316

Parmesan C (2007) Influences of species, latitudes and methodologies on estimates of phenological response to global warming. Glob Change Biol 13:1860–1872

Payevsky V, Vysotsky VA (2003) Migratory Song Thrushes Turdus philomelos hunted in Europe: survival rates and other demographic parameters. Avian Sci 3:13–20

Prüter J (1984) Methoden und vorläufige Ergebnisse der Großmöwenberingung auf Helgoland. Seevögel 5, Sonderbd 61–65

Pyle P, Nur N, Henderson RP, DeSante DF (1993) The effects of weather and lunar cycle on nocturnal migration of landbirds at Southeast Farallon Island, California. Condor 95:343–361

Raiss R (1979) Resting behaviour as an indicator for different migration strategies in three species of European Thrushes (Turdus sp). Abh Geb Vogelkd 6:203–213

Ringleben H (1958) Zur Entstehungsgeschichte der Bezeichnung "Vogelwarte". Vogelwarte 19:206–207

Robinson A, Crick HQP, Learmonth JA, Maclean IMD, Thomas CD, Bairlein F, Forchhammer MC, Francis CM, Gill JA, Godley BJ, Harwood J, Hays GC, Huntley B, Hutson AM, Pierce GJ, Rehfisch MM, Sims DW, Vieira dos Santos MC, Sparks TH, Stroud D, Visser ME (2009) Travelling through a warming world: climate change and migratory species. Endang Species Res 7:87–99

Root TL, Price JT, Hall KR, Schneider SH, Rosenzweig C, Pounds JA (2003) Fingerprints of global warming on wild animals and plants. Nature 421:57–60

Rubolini D, Møller AP, Rainio K, Lehikoinen E (2007) Intraspecific consistency and geographic variability in temporal trends of spring migration phenology among European bird species. Clim Res 35:135–146

Sacher T, Engler J, Gorschewski A, Gottschling M, Hesler N, Bairlein F, Coppack T (2006) Die Helgoländer Amselpopulation: ein Modell für Populationsgenetik und Zugbiologie. Ornithol Jahresber Helgoland 16:76–84

Saino N, Rubolini D, von Hardenberg J, Ambrosini R, Provenzale A, Romano M, Spina F (2010) Spring migration decisions in relation to weather are predicted by wing morphology among trans-Mediterranean migratory birds. Funct Ecol 24:658–669

Saino N, Ambrosini R, Rubolini D, von Hardenberg J, Provenzale A, Hüppop K, Hüppop O, Lehikoinen A, Lehikoinen E, Rainio K, Romano M, Sokolov L (2011) Climate warming, ecological mismatch at arrival and population decline in migratory birds. Proc R Soc B. doi:https://doi.org/10.1098/rspb.2010.1778

Sanderson FJ, Donald PF, Pain DJ, Burfield IJ, van Bommel FPJ (2006) Long-term population declines in Afro-Palearctic migrant birds. Biol Cons 131:93–105

Schmaljohann H, Dierschke V (2005) Optimal bird migration and predation risk: a field experiment with Northern Wheatears Oenanthe oenanthe. J Anim Ecol 74:131–138

Schmaljohann H, Becker PJJ, Karaardic H, Liechti F, Naef-Daenzer B, Grande C (2010) Nocturnal exploratory flights, departure time, and direction in a migratory songbird. J Ornithol. doi:https://doi.org/10.1007/s10336-010-0604-y

Schüz E, Weigold H (1931) Atlas des Vogelzuges nach den Beringungsergebnissen bei paläarktischen Vögeln. Friedländer & Sohn, Berlin

Solomon S, Plattner GK, Knutti R, Friedlingstein P (2009) Irreversible climate change due to carbon dioxide emissions. Proc Nat Acad Sci USA 106:1704–1709

Spaeth C (1990) Zur Geologie der Insel Helgoland. Küste 49:1–32

Sparks TH, Mason CF (2004) Can we detect change in the phenology of winter migrant birds in the UK? Ibis 146:57–60

Sparks TH, Roberts DR, Crick HQP (2001) What is the value of first arrival dates of spring migrants in phenology? Avian Ecol Behav 7:75–85

Stresemann E (1967) Vor-und Frühgeschichte der Vogelforschung auf Helgoland. J Ornithol 108:377–429

Thomas CD, Lennon JJ (1999) Birds extend their range northwards. Nature 399:213

Tøttrup AP, Thorup K, Rahbek C (2006) Changes in timing of autumn migration in North European songbird populations. Ardea 94:527–536

van Belle J, Shamoun-Baranes J, van Loon E, Bouten W (2007) An operational model predicting autumn bird migration intensities for flight safety. J Appl Ecol 44:864–874

Vaughan R (2009) Wings and rings. A history of bird migration studies in Europe. Isabelline, Penryn

Vauk G (1972) Die Vögel Helgolands. Paul Parey, Hamburg

Vauk G, Gräfe F (1962) Volierenfalle zum Türkentaubenfang. Vogelwarte 21:204–206

Visbeck MH, Hurrell JW, Polvani L, Cullen HM (2001) The North Atlantic Oscillation: past, present, and future. Proc Natl Acad Sci USA 98:12876–12877

Walther G-R, Post E, Convey P, Menzel A, Parmesan C, Beebee TJC, Fromentin J-M, Hoegh-Guldberg O, Bairlein F (2002) Ecological responses to recent climate change. Nature 416:389–395

Weigold H (1922) Die wissenschaftliche Vogelfangstation im Biologischen Versuchsgarten zu Helgoland. Naturwissenschaften 10:360–364

Westgarth-Smith AR, Leroy SAG, Collins PEF, Harrington R (2007) Temporal variations in English populations of a forest insect pest, the green spruce aphid (Elatobium abietinum), associated with the North Atlantic Oscillation and global warming. Quat Int 173–174:153–160

Zink G (1973) Der Zug europäischer Singvögel. Ein Atlas der Funde beringter Vögel, 1. Lieferung. Vogelzug-Verlag, Möggingen

Žydelis R, Bellebaum J, Österblom H, Vetemaa M, Schirmeister B, Stipniece A, Dagys M, van Eerden M, Garthe S (2009) Bycatch in gillnet fisheries—an overlooked threat to waterbird populations. Biol Cons 142:1269–1281
Acknowledgments
We are grateful to the thousands of people who have worked as staff or volunteers for the Vogelwarte Helgoland and the Institute of Avian Research, respectively, on the island of Helgoland. In particular, we take our hats off to those who ensured that ornithological studies on this small rock survived, even during the worst periods of the last century. We thank Franz Bairlein and Heiko Schmaljohann for useful comments on an earlier version of this paper.
Additional information
Communicated by H. Mouritsen.
About this article
Cite this article
Hüppop, O., Hüppop, K. Bird migration on Helgoland: the yield from 100 years of research. J Ornithol 152, 25 (2011). https://doi.org/10.1007/s10336-011-0705-2
Received:

Accepted:

Published:
Keywords
Bird migration

Island

Ringing

Weather

Climate change

History