Abstract
Effective integration of information in conservation decision making requires explicit consideration of conservation goals and objectives, specification of a range of potential actions, and the willingness to use information to assist in making and improving decisions. If these conditions are met, monitoring programs would benefit from the creative interplay between predictions, designs and models. Prediction, a basic component of scientific endeavor, is also a key component of scientific decision-making. Effective application of information to decision making typically requires integration of several types of information in a common framework, including "found" data and retrospective studies, innovative sampling designs, and the use of hierarchical data structures (e.g., demographic studies nested with occupancy sampling and analysis of community structure). Sampling designs can also include quasi-experimentation, in which confounding factors are accounted for by spatial or temporal "controls" or covariates. Hierarchical and state-space modeling, often most effectively performed in a Bayesian framework, provide a unified modeling structure for such designs and data. We illustrate these ideas with the problem of investigating and mitigating the effects of climate change on terrestrial birds in North America. Ecological theory and available data provide predictions about the impacts of global, regional, and local climate changes on avian communities. We outline a hierarchical sampling design providing for assessment and monitoring of key state variables. The design integrates broad-scale metrics such as species richness and turnover from existing monitoring programs, with directed monitoring using combinations of occupancy and capture–mark–recapture sampling to address specific questions of local extinction and colonization as well as demographic rates in relation to latitudinal and altitudinal gradients. The design would incorporate temporal, spatial, and management controls (presence/absence of selective interventions) as feasible, and manipulative experiments such as supplemental feeding to test specific predictions at specific sites. Data would be incorporated into a hierarchical modeling structure directed specifically at informing and updating the predictive management model.
Access options
Buy single article
Instant access to the full article PDF.
US$ 39.95
Tax calculation will be finalised during checkout.
Subscribe to journal
Immediate online access to all issues from 2019. Subscription will auto renew annually.
US$ 79
Tax calculation will be finalised during checkout.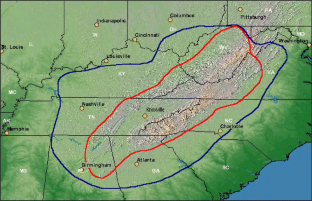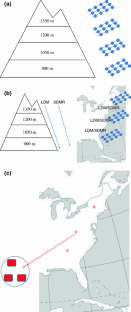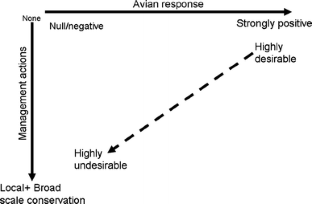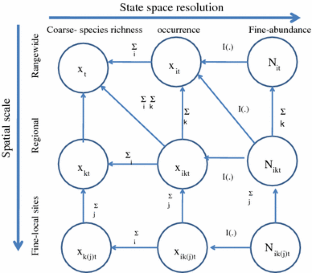 References
Ahola MP, Laaksonen T, Eeva T, Lehikoinen E (2007) Climate change can alter competitive relationships between resident and migratory birds. J Anim Ecol 76:1045–1052

Alerstam T, Hedenstrom A, Akesson S (2003) Long-distance migration: evolution and determinants. Oikos 103:247–260

Allen MR, Stott PA, Mitchell JFB, Schnur R, Delworth TL (2000) Quantifying the uncertainty in forecasts of anthropogenic climate change. Nature 407:617–620

Anderson DR, Burnham KP, Thompson WL (2000) Null hypothesis testing: problems, prevalence, and an alternative. J Wildl Manag 64:912–913

Armstrong JS (1967) Derivation of theory by means of factor analysis, or Tom Swift and his electric factor analysis machine. Am Stat 21:17–21

Baillie SR (1995) Uses of ringing data for the conservation and management of bird populations: a ringing scheme perspective. J Appl Stat 22:967–987

Berliner LM (2003) Uncertainty and climate change. Stat Sci 18:430–435

Beverton RJH, Holt SJ (1957) On the dynamics of exploited fish populations. Her Majesty's Stationery Office, London

Both C, Bouwhuis S, Lessells CM, Visser ME (2006) Climate change and population declines in a long-distance migratory bird. Nature 441:81–83

Buckland ST, Anderson DR, Burnham KP, Laake JL, Borchers DL, Thomas L (2001) Introduction to distance sampling: estimating abundance of biological populations. Oxford University Press, New York

Caughley G (1977) Analysis of vertebrate populations. Wiley, New York

Chamberlin TC (1897) The method of multiple working hypotheses. J Geol 5:837–848

Christensen JH, Hewitson B, Busuioc A, Chen A, Gao X, Held I, Jones R, Kolli R, Kwon WT-, Laprise R, Magaña Rueda V, Mearns L, Menéndez CG, Räisänen J, Rinke A, Sarr A, Whetton P (2007) Regional climate projections. In: Solomon S, Qin D, Manning M, Chen Z, Marquis M, Averyt KB, Tignor M, Miller HL (eds) Climate change 2007: the physical science basis. Constribution of Working Group I to the Fourth Assessment Report of the Intergovernmental Panel on Climate Change

Clark CW (1976) Mathematical bioeconomics: the optimal control of renewable resources. Wiley, New York

Cochran WG (1977) Sampling techniques. Wiley, New York

Cochran WG, Cox GM (1957) Experimental designs, 2nd edn. Wiley, New York

Conroy MJ, Peterson JT (2009) Integrating management, research and monitoring: balancing the 3-legged stool. In: Cederbaum SB, Faircloth BC, Terhune TM, Thompson JJ, Carroll JP (eds) Gamebird 2006: Quail VI and Perdix XII. 31 May–4 June 2006. Warnell School of Forestry and Natural Resources, Athens, pp 413–421

Conroy MJ, Miller MW, Hines JE (2002) Identification and synthetic modeling of factors affecting American black duck populations. Wildl Monogr 15

Conroy MJ, Runge JP, Barker RJ, Schofield MR, Fonnesbeck CJ (2008) Efficient estimation of abundance for patchily distributed populations via 2-phase, adaptive sampling. Ecology 89:3362–3370

Cox GW (1985) The evolution of avian migration systems between temperate and tropical regions of the new world. Am Nat 126:451–474

Crick HQP, Sparks TH (1999) Climate change related to egg-laying trends. Nature 399:423–424

DeSante DF, Saracco JF, Pyle P, Kaschube DR, Chambers MK (2008) Integrating the MAPS Program into Coordinated Bird Monitoring in the Northeast (U.S. Fish and Wildlife Service Region 5). Report submitted to the Northeast Coordinated Bird Monitoring Partnership and the American Bird Conservancy. The Institute for Bird Populations, Point Reyes Station, California

Fisher RA (1947) The design of experiments, 4th edn. Hafner, New York

Gillis EA, Green DJ, Middleton HA, Morrissey CA (2008) Life history correlates of alternative migratory strategies in American dippers. Ecology 89:1687–1695

Goodman D (1987) The demography of chance extinction. In: Soule ME (ed) Viable populations for conservation. Cambridge University Press, New York, pp 11–34

Greene AM, Goddard L, Lall U (2006) Probabilistic multimodel regional temperature change projections. J Clim 19:4326–4343

Gwinner E (1996) Circannual clocks in avian reproduction and migration. Ibis 138:47–63

Hurlbert SH (1984) Pseudoreplication and the design of ecological field experiments. Ecology 54:187–211

Johnson DH (1999) The insignificance of statistical significance testing. J Wildl Manag 63:763–772

Ketterson ED, Nolan V (1982) The role of migration and winter mortality in the life-history of a temperate-zone migrant, the dark-eyed junco, as determined from demographic analyses of winter populations. Auk 99:243–259

Knutti RM, Allen R, Friedlingstein P, Gregory JM, Hegerl GC, Meehl GA, Meinshausen M, Murphy JM, Plattner GK, Raper SCB, Stocker TF, Stott PA, Teng H, Wigley TML (2008) A review of uncertainties in global temperature projections over the twenty-first century. J Clim 21:2651–2663

Lakatos I (1970) Falsification and the methodology of scientific research programmes. In: Lakatos I, Musgrave A (eds) Criticism and the growth of knowledge. Cambridge University Press, Cambridge, pp 91–195

Larkin PA (1977) An epitaph for the concept of maximum sustained yield. Am Fish Soc 106:1–11

Lemoine N, Bohning-Gaese K (2003) Potential impact of global climate change on species richness of long-distance migrants. Conserv Biol 17:577–586

Levey DJ, Stiles FG (1992) Evolutionary precursors of long-distance migration: resource availability and movement patterns in Neotropical landbirds. Am Nat 140:447–476

MacArthur RH, MacArthur JW (1961) On bird species diversity. Ecology 42:594–598

MacKenzie DI, Nichols JD, Royle JA, Pollock KH, Bailey LL, Hines JE (2005) Occupancy estimation and modeling: inferring patterns and dynamics of species occurrence. Elsevier, Burlington

Martin TE, Paine CR, Conway CJ, Hochachka WM, Allen P, Jenkins W (1997) BBIRD field protocol. Montana Cooperative Wildlife Research Unit, University of Montana, Missoula

Mattsson BJ, Cooper RJ (2007) Which life-history components determine breeding productivity for individual songbirds? A case study of the louisiana waterthrush (Seiurus motacilla). Auk 124:1186–1200

McWilliams JC (2007) Irreducible imprecision in atmospheric and oceanic simulations. Proc Natl Acad Sci USA 104:8709–8713

Mountford MD (1985) An index of population change with application to the Common Birds Census. In: Morgan BJT, North PM (eds) Statistics in ornithology. Springer, Berlin, pp 121–132

Naef-Daenzer B, Keller LF (1999) The foraging performance of great and blue tits (Parus major and P. caeruleus) in relation to caterpillar development, and its consequences for nestling growth and fledgling weight. J Anim Ecol 68:708–718

Nichols JD, Williams BK (2006) Monitoring for conservation. Trends Ecol Evol 21:668–673

Parmesan C, Yohe G (2003) A globally coherent fingerprint of climate change impacts across natural systems. Nature 421:37–42

Peach WJ, Baillie SR (1994) Implementation of the Mountford indexing method for the Common Birds Census. Bird numbers 1992: distribution, monitoring, and ecological aspects. In: Hagermeiger W, Verstrael T (eds) Proceedings of the 12th international conference on IBCC and EOAC, pp 653–662

Perrins CM (1970) The timing of birds' breeding seasons. Ibis 112:242–255

Peters RH (1991) A critique for ecology. Cambridge University Press, New York

Platt JR (1964) Strong inference. Science 146:347–353

Popper KR (1959) The logic of scientific discovery. Harper and Row, New York

Popper KR (1963) Conjectures and refutations: the growth of scientific knowledge. Harper and Row, New York

Popper KR (1972) Objective knowledge. Clarendon Press, Oxford

Raïsänen J (2007) How reliable are climate models? Tellus Ser A Dyn Meteorol Oceanogr 59:2–29

Rexstad EA, Miller DD, Flather CH, Anderson EM, Hupp JW, Anderson DR (1988) Questionable multivariate statistical inference in wildlife habitat and community studies. J Wildl Manag 52:794–798

Robbins CS, Bystrak D, Geissler PH (1986) The breeding bird survey: its first fifteen years 1965–1979. USDI Fish and Wildlife Service, Washington, DC

Robbins CS, Sauer JR, Greenberg RS, Droege S (1989) Population declines in North American birds that migrate to the neotropics. Proc Natl Acad Sci USA 86:7658–7662

Robinson SK, Holmes RT (1982) Foraging behavior of forest birds: the relationships among search tactics, diet, and habitat structure. Ecology 63:1918–1931

Romesburg HC (1981) Wildlife science: gaining reliable knowledge. J Wildl Manag 48:293–313

Root T (1988a) Energy constraints on avian distributions and abundances. Ecology 69:330–339

Root T (1988b) Environmental factors associated with avian distributional boundaries. J Biogeogr 15:489–505

Root TL, Price JT, Hall KR, Schneider SH, Rosensweig C, Pounds JA (2003) Fingerprints of global warming on wild animals and plants. Nature 421:57–60

Royle J, Dorazio RM (2008) Hierarchical modeling and inference in ecology. Elsevier, Burlington

Shaffer ML (1987) Minimum viable populations: coping with uncertainty. In: Soule ME (ed) Viable populations for conservation. Cambridge University Press, Cambridge, pp 69–86

Studds CE, Kyser TK, Marra PP (2008) Natal dispersal driven by environmental conditions interacting across the annual cycle of a migratory songbird. Proc Natl Acad Sci USA 105:2929–2933

Tebaldi C, Smith RL, Nychka D, Mearns LO (2005) Quantifying uncertainty in projections of regional climate change: a Bayesian approach to the analysis of multimodel ensembles. J Clim 18:1524–1540

Thomas DW, Perret BJP, Lambrechts MM, Speakman JR (2001) Energetic and fitness costs of mismatching resource supply and demand in seasonally breeding birds. Science 291:2598–2600

Thomas CD, Cameron A, Green RE, Bakkenes M, Beaumont LJ, Colingham YC, Erasmus BFN, de Siqueira MF, Grainger A, Hannah L, Hughes L, Huntley B, van Jaarsveld AS, Midgley GF, Miles L, Ortega-Huerta MA, Peterson AT, Phillips OL, Williams SE (2004) Extinction risk from climate change. Nature 427:145–148

Thompson SK (2002) Sampling, 2nd edn. Wiley, New York

Verhulst S, Nilsson JA (2008) The timing of birds' breeding seasons: a review of experiments that manipulated timing of breeding. Philos Trans R Soc Lond B 363:399–410

Visser ME, Both C (2005) Shifts in phenology due to global climate change: the need for a yardstick. Proc R Soc Lond B 272:2561–2569

Watson AJ (2008) Certainty and uncertainty in climate change predictions: what use are climate models? Environ Resource Econ 39:37–44

Williams BK, Nichols JD, Conroy MJ (2002) Analysis and management of animal populations. Elsevier, San Diego

Yoccoz NG, Nichols JD, Boulinier T (2001) Monitoring of biological diversity in space and time. Trends Ecol Evol 16:446–453
Additional information
Communicated by W. L. Kendall.
Electronic supplementary material
Below is the link to the electronic supplementary material.
About this article
Cite this article
Conroy, M.J., Stodola, K.W. & Cooper, R.J. Effective use of data from monitoring programs and field studies for conservation decision making: predictions, designs and models working together. J Ornithol 152, 325–338 (2012). https://doi.org/10.1007/s10336-011-0687-0
Received:

Revised:

Accepted:

Published:

Issue Date:
Keywords
Birds

Climate change

Adaptive management

Models

Prediction