Abstract
The pectoral muscle is the biggest organ within a passerine bird. It provides flight locomotion and is known to act as a protein source during periods with increased protein demands or decreased protein availability. The mass of the flight muscle is dynamic and changes during juvenile growth, reproduction, seasonal acclimatization, fasting and migration. Thus, a tool that accurately and non-invasively quantifies this phenotypic flexibility in flight muscle mass is of interest to ornithologists. We provide a calibration and validation of a "muscle meter" device designed to accurately measure the shape of the flight muscle. For two species of different size, the European starling (Sturnus vulgaris) and the garden warbler (Sylvia borin), we compared the accuracy and precision of different linear regression models for predicting flight muscle mass. The multifactorial linear regression model with the most support for both species included "muscle meter score" (mmscore), tarsus length and body mass (m b), although a simpler model with mmscore and m b had as much support for predicting flight muscle mass of European starlings. A validation exercise revealed that flight muscle mass of these two species could be estimated with a relative error of about 3%. The muscle meter is a simple device, easy and quick to handle, that can reliably and non-invasively estimate flight muscle mass of captive and wild birds when used in conjunction with standard measurements of tarsus length and m b.
Zusammenfassung
Der große Flugmuskel (Musculus pectoralis) ist das größte Organ im Singvogelkörper. Er ermöglicht das Fliegen, stellt aber auch eine körpereigene Proteinquelle dar, die bei erhöhtem Proteinbedarf oder reduzierter Proteinverfügbarkeit genutzt wird. Die Masse des großen Flugmuskels zeigt ein dynamisches Verhalten und ändert sich beispielsweise während des jugendlichen Wachstums, der Reproduktion, der jahreszeitlichen Anpassung, des Fastens und des Zuges. Ein Hilfsmittel, zu einer exakten und nicht-invasiven Erfassung dieser phänotypischen Flexibilität des Flugmuskels ist deshalb von großem Interesse für Ornithologen. Hierzu stellen wir hier das 'Muskel-Meter' sowie seine Kalibrierung und Validierung, zur exakten Messung der Form des Flugmuskels vor. Bei zwei unterschiedlich großen Vogelarten, dem Europäischen Star (Sturnus vulgaris) und der Gartengrasmücke (Sylvia borin), haben wir multifaktorielle lineare Regressionsmodelle auf ihre Genauigkeit hinsichtlich einer präzisen Voraussage der Flugmuskelmasse überprüft. Das Regressionsmodell mit der besten Anpassung an die empirischen Daten beider Vogelarten beinhaltet den 'Muskel-Meter Score' (mmscore), die Tarsuslänge und die Körpermasse (m b). Das einfachere Modell mit mmscore und m b erzielt eine ähnliche Übereinstimmung, allerdings nur für den Europäischen Star. Eine Validitätsprüfung zeigt, dass die Flugmuskelmasse der beiden Arten mit einem relativen Fehler von 3% abgeschätzt werden kann. In Kombination mit Standardmessungen, wie der Tarsuslänge und der Körpermasse, ist somit das Muskel-Meter bestens für eine rasche und genaue, nicht-invasive Abschätzung der Flugmuskelmasse von Wildvögeln und Vögeln in Tierhaltung geeignet.
Access options
Buy single article
Instant access to the full article PDF.
US$ 39.95
Tax calculation will be finalised during checkout.
Subscribe to journal
Immediate online access to all issues from 2019. Subscription will auto renew annually.
US$ 79
Tax calculation will be finalised during checkout.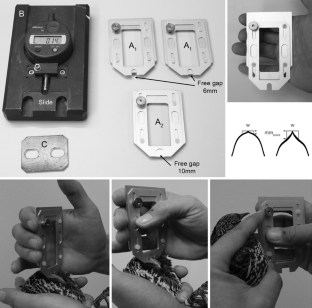 References
Bairlein F (1987) Nutritional requirements for maintenance of body weight and fat deposition in the long-distance migratory garden warbler, Sylvia borin (Boddaert). Comp Biochem Physiol A 86:337–347

Bairlein F (1991) Body mass of Garden Warblers (Sylvia borin) on migration: a review of field data. Die Vogelwarte 36:48–61

Bairlein F (1995) Manual of field methods ESF (http://www.ifv-vogelwarte.de/ESF/manual.pdf)

Bauchinger U, Biebach H (1998) The role of protein during migration in passerine birds. Biol Conserv Fauna 102:299–305

Bauchinger U, Biebach H (2001) Differential catabolism of muscle protein in garden warblers (Sylvia borin): flight and leg muscle act as a protein source during long-distance migration. J Comp Physiol B 171:293–301

Bauchinger U, Biebach H (2005) Phenotypic flexibility of skeletal muscles during long-distance migration of garden warblers: muscle changes are differentially related to body mass. In: Goymann W, Jenni-Eiermann S, Bauchinger U (eds) Analysis of hormones in bird droppings and optimality in bird migration, Ann NY Acad Sci 1046:271–281

Bauchinger U, Biebach H (2006) Transition between moult and migration in a long-distance migratory passerine: organ flexibility in the African wintering area. J Ornithol 147:266–273

Bauchinger U, Wohlmann A, Biebach H (2005) Flexible remodeling of organ size during spring migration of the garden warbler (Sylvia borin). Zoology 108:97–106

Biebach H (1998) Phenotypic organ flexibility in garden warblers Sylvia borin during long-distance migration. J Avian Biol 29:529–535

Bize P, Klopfenstein A, Jeanneret C, Roulin A (2007) Intra-individual varation in body temperature and pectoral muscle size in nestling Alpine swifts Apus melba in response to an episode of inclement weather. J Ornithol 148:387–393

Bolton M, Monaghan P, Houston DC (1991) An improved technique for estimating pectoral muscle protein condition from body measurements of live gulls. Ibis 133:264–270

Burnham KP, Anderson DR (2002) Model selection and multi-model inference: a practical information theoretic approach. Springer-Verlag, New York

Calder WA (1984) Size, function and life history. Havard University Press, Cambridge

Cottam M, Houston D, Lobley G, Hamilton I (2002) The use of muscle protein for egg production in the Zebra Finch Taeniopygia guttata. Ibis 144:210–217

Dietz MW, Dekinga A, Piersma T, Verhulst S (1999a) Estimating organ size in small migrating shorebirds with ultrasonography: an intercalibration exercise. Phys Biochem Zool 72:28–37

Dietz MW, Piersma T, Dekinga A (1999b) Body-building without power training: endogenously regulated pectoral muscle hypertrophy in confined shorebirds. J Exp Biol 292:2831–2837

Dietz MW, Piersma T, Hedenström A, Brugge M (2007) Intraspecific variation in avian pectoral muscle mass: constraints on maintaining manoeuvrability with increasing body mass. Funct Ecol 21:317–326

Fry CH, Ferguson-Lee IJ, Dowsett RJ (1972) Flight muscle hypertrophy and ecophysiological variation of yellow wagtail Motacilla flava races at Lake Chad. J Zool 167:293–306

Gaunt AS, Hikida RS, Jehl JR, Fenbert L (1990) Rapid atrophy and hypertrophy of an avian flight muscle. Auk 107:649–659

Hartman FA (1961) Locomotor mechanisms of birds. Smithson Miscell Coll 143:1–91

Houston DC, Donnan D, Jones PJ (1995) Use of labeled methionine to investigate the contribution of muscle proteins to egg-production in zebra finches. J Comp Physiol B 165:161–165

Hume ID, Biebach H (1996) Digestive tract function in the long-distance migratory garden warbler, Sylvia borin. J Comp Physiol B 166:388–395

Jehl JR (1997) Cyclical changes in body composition in the annual cycle and migration of the eared grebe Podiceps nigricollis. J Avian Biol 28:132–142

Jenni L, Jenni-Eiermann S (1998) Fuel supply and metabolic constraints in migrating birds. J Avian Biol 29:521–528

Jones PJ, Ward P (1976) Level of reserve protein as proximate factor controlling timing of breeding and clutch-size in red-billed quelea Quelea quelea. Ibis 118:547–574

Lessels CM, Boag PT (1987) Unrepeatable Repeatabilities: a common mistake. Auk 104:116–121

Lindtsröm Å, Kvist A, Piersma T, Dekinga A, Dietz MW (2000) Avian pectoral muscle size rapidly tracks body mass changes during flight, fasting and fuelling. J Exp Biol 203:913–919

Marsh RL (1984) Adaptations of the gray catbird Dumetella carolinensis to long-distance migration: flight muscle hypertrophy associated with elevated body mass. Physiol Zool 57:105–117

Nyeland J, Fox AD, Kahlert J, Therkildsen OR (2003) Field methods to assess pectoral muscle mass in moulting geese. Wildlife Biol 9:155–159

Piersma T, Drent J (2003) Phenotypic flexibility and the evolution of organismal design. TREE 18:228–233

Piersma T, Jukema J (1990) Budgeting the flight of a longdistance migrant: changes in nutrient reserve levels of bartailed godwits at successive spring staging sites. Ardea 78:315–337

Piersma T, Lindström Å (1997) Rapid reversible changes in organ size as a component of adaptive behaviour. TREE 12:134–138

Schmidt-Wellenburg CA, Biebach H, Daan S, Visser GH (2007) Energy expenditure and wing beat frequency in relation to body mass in free flying Barn Swallows (Hirundo rustica). J Comp Physiol B 177:327–337

Schmidt-Wellenburg CA, Engel S, Visser GH (2008) Energy expenditure during flight in relation to body mass: effects of natural increases in mass and artificial load in rose coloured starlings. J Comp Physiol B 178:767–777

Schwilch R, Grattarola A, Spina F, Jenni L (2002) Protein loss during long-distance migratory flight in passerine birds: adaptation and constraint. J Exp Biol 205:687–695

Scott I, Selman C, Mitchell PI, Evans PR (2001) The use of total body electrical conductivity (TOBEC) to determine body composition in vertebrates. In: Speakman JR (ed) Body composition analysis of animals: a handbook of non-destructive methods. Cambridge University Press, Cambridge, pp 127–160

Selman RG, Houston DC (1996) A technique for measuring lean pectoral muscle mass in live small birds. Ibis 138:348–350

Skagen SK, Knopf FL, Cade BS (1993) Estimation of lipids and lean mass of migrating sandpipers. Condor 95:944–956

Snow DW, Perrins CM, Doherty P, Cramp S (1998) Birds of the Western Palearctic. BWPi 2.01. Oxford University Press, Oxford

Svensson L (1992) Identification guide to Europe passerines, 4th edn. Published by the author, Sturegatan 60, Stockholm, Sweden

Swaddle JP, Biewener AA (2000) Exercise and reduced muscle mass in starlings. Science 406:585–586

Swanson DL (2010) Seasonal metabolic variation in birds: functional and mechanistic correlates. Current Ornithology 17:75–129

Wiersma P, Salomons HM, Verhulst S (2005) Metabolic adjustment to increasing foraging costs of starlings in a closed economy. J Exp Biol 208:4099–4108
Acknowledgments
The muscle meter development started in 1996 when H.B, H.K and U.B developed the first prototype. We thank Franz Antoni and Klaus Pichler for their excellent support constructing the muscle meter and their help in finding solutions to simplify the measurement envisioning an easy to handle device. Josef Chernichko and other members of the Azov-Black Sea Ornithological Station, Ukraine, made the collection of garden warblers possible. We thank Chris Guglielmo, and other "AFAR" members, for their generous support of the European starling project, and Lillie Langlois, Michelle Boyles and Alexander Gerson for their contributions in running the experiment. David Swanson and an anonymous reviewer provided constructive comments that helped to improve the manuscript. The research project on starlings performed in Canada was approved by the University of Western Ontario Animal Use Sub-Committee (Starlings, protocol no. 2006-011-04). The field trip to Ukraine was funded by an ESF-travel grant to U.B.; the research on European starlings was funded by a NSF-research grant to S.McW.
Additional information
Communicated by C.G. Guglielmo.
About this article
Cite this article
Bauchinger, U., McWilliams, S.R., Kolb, H. et al. Flight muscle shape reliably predicts flight muscle mass of migratory songbirds: a new tool for field ornithologists. J Ornithol 152, 507–514 (2011). https://doi.org/10.1007/s10336-010-0644-3
Received:

Revised:

Accepted:

Published:

Issue Date:
Keywords
Calibration

Validation

Pectoral muscle

Body condition

Passerine