Abstract
Many of the mechanisms involved in visual signalling in birds are based on pigment-based plumage ornamentation and colouration rather than the expression of other, non-plumage-based displays. We have analysed the colouration of the tarsi and ceres of free-ranging Chimango Caracaras Milvago chimango, a controversial morphological trait for this species, and examined the proximal causes related to the expression of colour in these featherless body parts. The tarsi–ceres of 81 Chimango Caracaras captured in central Argentina between 2005 and 2008 were either yellow–yellow or bluish–pink coloured. Differences in colour were not linked with plasma carotenoid levels and did not vary seasonally. Rather, expression of the two colours was affected by the gender and age of individuals. Yellow-coloured tarsi and ceres were recorded only in adult males, while the remaining age and gender groups showed pinkish- and bluish-coloured bare parts, which is the suspected neutral developmental stage under low hormonal levels. These results support sexual rather than natural selection forces acting on the expression of yellow colouration in the bare parts of adult males. However, an exaggeration of yellowish colour during mating periods in accordance with an increase of circulating carotenoid levels may be expected due to the sexually-related nature of this trait. This documented partitioning of colour variation among sexes and ages that is unrelated to melanin-dependent plumages is unusual and contrary to the most widely observed types of sexual dichromatism in birds.
Zusammenfassung
Viele der Mechanismen für den Austausch visueller Signale bei Vögeln beruhen auf pigmentbasiertem Gefiederschmuck und -farbe statt auf der Zurschaustellung anderer, von den Federn unabhängiger Signale. In unserer Untersuchung analysierten wir die Farbgebung der Tarsi frei lebender Chimangokarakaras (Milvago chimango), einer für diese Art kontrovers beschriebenen morphologischen Eigenheit, und prüften die proximalen Ursachen für die Farbgebung dieser federlosen Körperteile. Die Tarsi-Ceres der 81 zwischen 2005 und 2008 in Argentinien gefangenen Chimangokarakaras waren entweder gelblich oder pink-blau. Die Farbunterschiede zeigten weder einen Zusammenhang mit den Carotinoid-Pegeln im Plasma, noch jahreszeitlich bedingte Unterschiede. Stattdessen gab es einen Zusammenhang mit dem Geschlecht und dem Alter der Tiere. Gelbe Tarsi und Ceres traten nur bei erwachsenen Männchen auf, während diese Körperteile bei den übrigen Geschlechts- und Altersgruppen pink und bläulich waren, dem vermuteten neutralen Entwicklungsstadium bei niedrigen Hormonpegeln. Diese Ergebnisse sprechen eher für einen Geschlechtsunterschied als für einen Selektionsdruck auf die Ausbildung gelber Färbung der federlosen Körperteile ausgewachsener Männchen. Es wäre dann allerdings zu erwarten, dass die gelbe Färbung während der Balzzeit besonders stark ausgeprägt sein würde, zusammen mit einem Anstieg des Karotinoid-Pegels. Im Gegensatz zu der in der Regel beobachteten geschlechtsbedingten Färbung bei Vögeln ist dieses Ergebnis insofern ungewöhnlich, als es eine unterschiedliche Farbgebung bei Geschlechts- und Altersgruppen aufzeigt, die nicht mit der Melanin-abhängigen Gefiederfärbung zusammenhängt.
Access options
Buy single article
Instant access to the full article PDF.
US$ 39.95
Tax calculation will be finalised during checkout.
Subscribe to journal
Immediate online access to all issues from 2019. Subscription will auto renew annually.
US$ 79
Tax calculation will be finalised during checkout.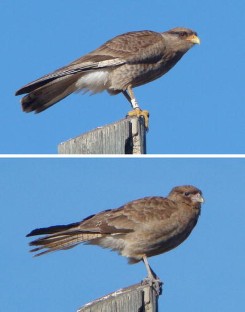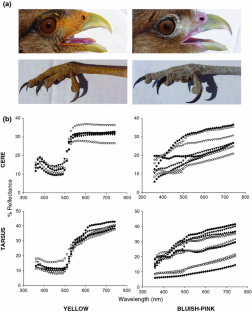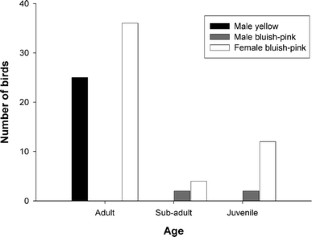 References
Alonso-Alvarez C, Bertrand S, Devevey G, Prost J, Faivre B, Sorci G (2004) Are carotenoids limiting ressources? An experimental test of dose-dependent effect of carotenoids and immune activation on sexual signals and antioxidant activity. Am Nat 164:651–659

Anderson M (1994) Sexual selection. Princeton University Press, Princeton

Blake ER (1977) Manual of neotropical birds, vol 1. Spheniscidae (Penguins) to Laridae (Gulls and Allies). University of Chicago Press, Chicago

Blas J, Pérez-Rodriguez L, Bortolotti GR, Viñuela J, Marchant TA (2006) Testosterone increases bioavailability of carotenoids: insights into the honesty of sexual signaling. Proc Natl Acad Sci USA 103:18633–18637

Bloom PH, Clark WS, Kidd JW (2007) Capture techniques. In: Bird D, Bildstein KL (eds) Raptor research and management techniques. Hancock House, Blaine, pp 193–220

Bortolotti GR, Negro JJ, Tella JL, Marchant TA, Bird DM (1996) Sexual dichromatism in birds independient of diet, parasites and androgens. Proc R Soc Lond B 263:1171–1176

Bortolotti GR, Fernie KJ, Smits JE (2003) Carotenoid concentration and coloration of American kestrels (Falco sparverius) disrupted by experimental exposure to PBBs. Funct Ecol 17:651–657

Brown L, Amadon D (1968) Hawks, eagles and falcons of the word. McGraw-Hill Book, New York

Coleman SW (2009) Taxonomic and sensory biases in the mate-choice literature: there are far too few studies of chemical and multimodal communication. Acta Ethol 12:45–48

De la Peña MR, Rumboll M (1998) Birds of southern South America and Antartica. Harper Collins Publishers, London

Del Hoyo J, Elliot A, Sargatal J (1994) Handbook of the birds of the world, vol 2. New worlds vultures to Guineafowl. Lynx editions, Barcelona

Ellegren H (1996) First gene on the avian W chromosome (CHD) provides a tag for universal sexing of non-ratite birds. Proc R Soc Lond B 263:1635–1641

Fergusson-Lees J, Christie DA (2001) Raptors of the world. Helm Identification Guides, London

Gautier P, Barroca M, Bertrand S, Eraud C, Gaillard M, Hamman M, Motreuil S, Sorci G, Faivre B (2008) The presence of females modulates the expression of a carotenoid-based sexual signal. Behav Ecol Sociobiol 62:1159–1166

Hill GE (2002) A red bird in a brown bag: the function and evolution of colourful plumage in the house finch. Oxford University Press, New York

Lozano GA (1994) Carotenoids, parasites, and sexual selection. Oikos 70:309–311

Maynard-Smith J, Harper D (2004) Animal signals. Oxford series in ecology and evolution. Oxford University Press, Oxford

McCullagh P, Nelder JA (1989) Generalized linear models, 2nd edn. Chapman and Hall, London

McGraw KJ (2006) Mechanics of carotenoid-based coloration. In: Hill GE, McGraw K (eds) Bird coloration, vol I. Mechanisms and measurements. Harvard University Press, Cambridge, pp 177–242

McGraw KJ, Ardia DR (2003) Carotenoids, immunocompetence, and the information content of sexual colors: an experimental test. Am Nat 162:704–712

McGraw KJ, Toomey MB (2010) Carotenoid accumulation in the tissues of zebra finches: predictors of integumentary pigmentation and implications for carotenoid allocation strategies. Physiol Biochem Zool 83:97–109

Muñoz-Pedreros A, Rau J, Yáñez J (2004) Aves rapaces de Chile. CEA Ediciones, Centro de Estudios Agrarios y Ambientales, Valdivia

Narosky T, Yzurieta D (2003) Guía para la identificación de las aves de Argentina y Uruguay, 15th edn. Asociación Ornitológica del Plata/BirdLife International y Vázquez Mazzini Editores, Buenos Aires

Negro JJ, Bortolotti GR, Tella JL, Fernie KJ, Bird DM (1998) Regulation of integumentary colour and plasma carotenoids in American kestrels consistent with sexual selection theory. Funct Ecol 12:307–312

Negro JJ, Sarasola JH, Fariñas F, Zorrilla I (2006) Function and occurrence of facial flushing in birds. Comp Biochem Physiol A 143:78–84

Olrog CC (1968) Las aves sudamericanas. Fundación Miguel Lillo, Tucumán, Argentina

Owens IPF, Short RV (1995) Hormonal basis of sexual dimorphism in birds: implications for a new theories of sexual selection. Trend Ecol Evol 10:44–47

Parejo D, Aviles JM, Rodriguez J (2010) Visual cues and parental favouritism in a nocturnal bird. Biol Lett 6:171–173

Rodríguez-Mata JR, Erize F, Rumboll M (2006) Birds of South America. Non-passerines: from rheas to woodpeckers. Harper Collins, London

Sick H (1993) Birds in Brazil: a natural history. Princeton University Press, Princeton

Tella JL, Figuerola J, Negro JJ, Blanco G, Rodriguez-Estrella R, Forero MG, Blázquez MC, Green AJ, Hiraldo F (2004) Ecological, morphological and phylogenetic correlates of interspecific variation in plasma carotenoid concentration in birds. J Evol Biol 17:156–164

Toomey MB, McGraw KJ (2009) Seasonal, sexual, and quality related variation in retinal carotenoid accumulation in the house finch (Carpodacus mexicanus). Funct Ecol 23:321–329

Toral GM, Figuerola J, Negro JJ (2008) Multiple ways to become red: pigment identification in red feathers using spectrometry. Comp Biochem Physiol B 150:147–152
Acknowledgments
We are grateful to Miguel Santillán, Maximiliano Galmes, Claudina Solaro, María Soledad Liébana, Sonia Cabezas, Marcos Reyes, Laura Beinticinco, Hebe Álvarez, Andrea Costan, Juan Ignacio Zanón-Martínez, Elena Macías, and Camila and Lucía Sarasola for help in trapping Chimango Caracaras. This study received financial support from the Universidad Nacional de La Pampa (Argentina), Idea Wild (USA) and the Raptor Research Center, Boise State University. JHS was founded by the National Research Council of Argentina (CONICET) and the Spanish Ministry of Education and Science through the postdoctoral program "Juan de la Cierva". This study was carried out with permission from the Dirección de Recursos Naturales de la Provincia de La Pampa.
Additional information
Communicated by Jon Fjeldså.
About this article
Cite this article
Sarasola, J.H., Negro, J.J., Bechard, M.J. et al. Not as similar as thought: sexual dichromatism in Chimango Caracaras is expressed in the exposed skin but not in the plumage. J Ornithol 152, 473–479 (2011). https://doi.org/10.1007/s10336-010-0606-9
Received:

Revised:

Accepted:

Published:

Issue Date:
Keywords
Sexual dichromatism

Chimango Caracara

Milvago chimango

Skin colour

Sexual selection

Visual signalling