Abstract
Nest predation patterns and processes cannot be understood without studying the behaviour of predators. I videotaped the behaviour of 22 species of predators at 171 depredated nests of 13 passerine species, in woodland in the Czech Republic. About 32% (60/187) of all events occurred during the night; mammals accounted for 95% (57/60) and 22% (28/127) of nocturnal and diurnal predation, respectively. About 67% (57/85) of mammalian predation, but only 3% (3/102) of avian predation, occurred during night. Multiple predations by the same species were detected in at least 7% (6/82) and 42% (37/88) of nests depredated by mammals and birds, respectively. Martens Martes martes/foina took nest content mostly all at once; birds (mainly Jay Garrulus glandarius) revisited partially depredated nest during 1–4 consecutive days. Martens stayed at the depredated nest about five times longer than Jays. Martens spent similar time at nests with eggs and nestling, while Jays stayed about twice longer at nests with eggs. Mammals consumed eggs always at the nest (23/23), but took nestlings away in at least 48% (31/64) cases. Birds took the eggs and nestling away in at least 31% (18/58) and 76% (71/94) cases, respectively. Predator visits to active nests without taking the content, repeated partial predation and revisitation of previously depredated nests suggest an effect of memory on predator's foraging behaviour.
Access options
Buy single article
Instant access to the full article PDF.
US$ 39.95
Tax calculation will be finalised during checkout.
Subscribe to journal
Immediate online access to all issues from 2019. Subscription will auto renew annually.
US$ 79
Tax calculation will be finalised during checkout.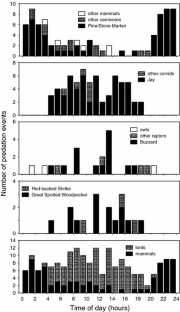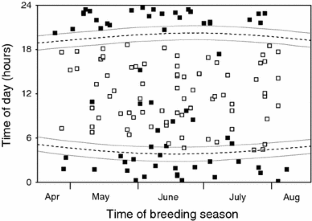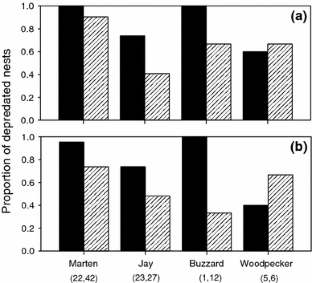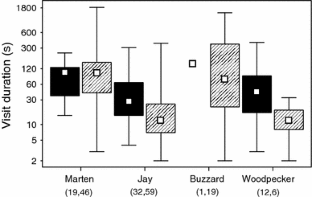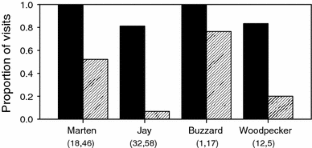 References
Caro TM (2005) Antipredator defenses in birds and mammals. University of Chicago Press, Chicago

Carter GM, Legare ML, Breininger DR, Oddy DM (2007) Nocturnal nest predation: a potential obstacle to recovery of a Florida Scrub-Jay population. J Field Ornithol 78:390–394

Dreibelbis JZ, Melton KB, Aguirre R, Collier BA, Hardin J, Silvy NJ, Peterson MJ (2008) Predation of Rio Grande Wild Turkey nests on the Edwards Plateau, Texas. Wilson J Ornithol 120:906–910

Leimgruber P, McShea WJ, Rappole JH (1994) Predation on artificial nests in large forest blocks. J Wildl Manag 58:254–260

Liebezeit JR, George TL (2002) Nest predators, nest-site selection, and nesting success of the Dusky Flycatcher in a managed ponderosa pine forest. Condor 104:507–517

Liebezeit JR, George TL (2003) Comparison of mechanically egg-triggered cameras and time-lapse video cameras in identifying predators at dusky flycatcher nests. J Field Ornithol 74:261–269

Lima SL (2002) Putting predators back into behavioral predator-prey interactions. Trends Ecol Evol 17:70–75

Lima SL (2009) Predators and the breeding bird: behavioral and reproductive flexibility under the risk of predation. Biol Rev 84:485–513

MacDonald MA, Bolton M (2008) Predation on wader nests in Europe. Ibis 150:54–73

Morris AJ, Gilroy JJ (2008) Close to the edge: predation risks for two declining farmland passerines. Ibis 150:168–177

O'Brien TG, Kinnaird MF (2008) A picture is worth a thousand words: the application of camera trapping to the study of birds. Bird Conserv Int 18:S144–S162

Pietz PJ, Granfors DA (2000) Identifying predators and fates of grassland passerine nests using miniature video cameras. J Wildl Manag 64:71–87

Pietz PJ, Granfors DA (2005) Parental nest defence on videotape: more reality than "myth". Auk 122:701–705

Rastogi AD, Zanette L, Clinchy M (2006) Food availability affects diurnal nest predation and adult antipredator behaviour in song sparrows, Melospiza melodia. Anim Behav 72:933–940

Richardson TW, Gardali T, Jenkins SH (2009) Review and meta-analysis of camera effects on avian nest success. J Wildl Manag 73:287–293

Sanders MD, Maloney RF (2002) Causes of mortality at nests of ground-nesting birds in the Upper Waitaki Basin, South Island, New Zealand: a 5-year video study. Biol Conserv 106:225–236

Schaefer T (2004) Video monitoring of shrub-nests reveals nest predators. Bird Study 51:170–177

Schmidt KA (1999) Foraging theory as a conceptual framework for studying nest predation. Oikos 85:151–160

Schmidt KA, Goheen JR, Naumann R (2001) Incidental nest predation in songbirds: behavioral indicators detect ecological scales and processes. Ecology 82:2937–2947

Sealy SG (1994) Observed acts of egg destruction, egg removal, and predation on nests of passerine birds at Delta Marsh, Manitoba. Can Field-Nat 108:41–51

Small SL (2005) Mortality factors and predators of spotted towhee nests in the Sacramento Valley, California. J Field Ornithol 76:252–258

Sonerud GA, Fjeld PE (1987) Long-term memory in egg predators: an experiment with a hooded crow. Ornis Scand 18:323–325

Stake MM, Cimprich DA (2003) Using video to monitor predation at black-capped vireo nests. Condor 105:348–357

Stevens DK, Anderson GQA, Grice PV, Norris K, Butcher N (2008) Predators of spotted flycatcher Muscicapa striata nests in southern England as determined by digital nest cameras. Bird Study 55:179–187

Teunissen W, Schekkerman H, Willems F, Majoor F (2008) Identifying predators of eggs and chicks of lapwing Vanellus vanellus and black-tailed godwit Limosa limosa in the Netherlands and the importance of predation on wader reproductive output. Ibis 150:74–85

Thompson FR (2007) Factors affecting nest predation on forest songbirds in North America. Ibis 149:98–109

Vigallon SM, Marzluff JM (2005) Is nest predation by Steller's jays (Cyanocitta stelleri) incidental or the result of a specialized search strategy? Auk 122:36–49

Weidinger K (2001) Does egg colour affect predation rate on open passerine nests? Behav Ecol Sociobiol 49:456–464

Weidinger K (2002) Interactive effects of concealment, parental behaviour and predators on the survival of open passerine nests. J Anim Ecol 71:424–437

Weidinger K (2008a) Identification of nest predators: a sampling perspective. J Avian Biol 39:640–646

Weidinger K (2008b) Nest monitoring does not increase nest predation in open-nesting songbirds: inference from continuous nest-survival data. Auk 125:859–868

Weidinger K (2009) Nest predators of woodland open-nesting songbirds in central Europe. Ibis 151:352–360

Weidinger K, Kočvara R (2010) Repeatability of nest predation in passerines depends on predator species and time scale. Oikos 119:138–146
Acknowledgments
This work was supported by the Czech Science Foundation (GAČR 206/07/0483) and by the Ministry of Education of the Czech Republic (MSM 6198959212). I would like to thank T. Koutný for help with inspection of video records and P. Adamík for comments on the manuscript. All procedures used in this study comply with the current laws of the Czech Republic.
Additional information
Communicated by T. Friedl.
Electronic supplementary material
Below is the link to the electronic supplementary material.
About this article
Cite this article
Weidinger, K. Foraging behaviour of nest predators at open-cup nests of woodland passerines. J Ornithol 151, 729–735 (2010). https://doi.org/10.1007/s10336-010-0512-1
Received:

Revised:

Accepted:

Published:

Issue Date:
Keywords
Nest predation

Predatory behaviour

Predator–prey interactions

Activity patterns

Songbirds