Abstract
Male songbirds assess their rivals by listening to their songs and, in some species, are especially sensitive to certain parts of the song. Yellowhammers (Emberiza citrinella) sing songs with different structures consisting of an initial phrase of stereotyped and repeated notes in a trill, and a terminal phrase, present or not, which consists of low or high frequency whistles that we called elements. We analyzed 1,055 songs from 25 different males and found that four different structures could be distinguished in a French Yellowhammer population. We found that the frequency ranges of the elements were more constant across individuals than the ranges of the notes, and among them, the low frequency element was nearly twice as conserved as the high frequency element. Then, in the wild, we tested the territorial responses of males to the four different structures and found that the full song structure, which is composed of the initial phrase followed by a high frequency element and a low frequency element, induced stronger territory defence responses from the males than any of the other structures. As only the structure containing the initial phrase and the low frequency element also induced a strong response, we propose that the main element responsible for the enhanced reaction of the males is the low frequency element, which is consistent with the fact that it is more conserved than the other constituents.
Access options
Buy single article
Instant access to the full article PDF.
US$ 39.95
Tax calculation will be finalised during checkout.
Subscribe to journal
Immediate online access to all issues from 2019. Subscription will auto renew annually.
US$ 79
Tax calculation will be finalised during checkout.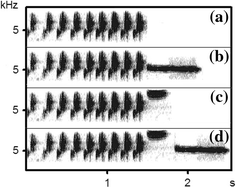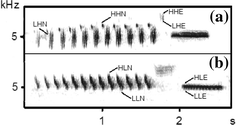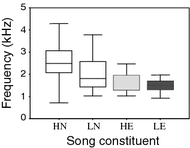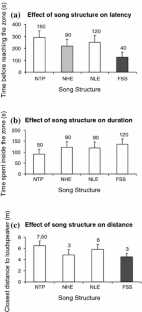 References
Baker MC, Bjerke TK, Lampe H, Espmark YO (1987) Sexual response of female yellowhammers to differences in regional song dialects and repertoires sizes. Anim Behav 35:395–401

Beecher MD, Campbell SE, Burt JM, Hill CE, Nordby JC (2000) Song-type matching between neighbouring song sparrows. Anim Behav 59:21–27

Brooks RJ, Falls JB (1975) Individual recognition by song in white-throated sparrows. I: discrimination of songs of neighbors and strangers. Can J Zool 53:879–888

Catchpole CK (1980) Sexual selection and the evolution of complex songs among European warblers of the genus Acrocephalus. Behaviour 74:149–166

Catchpole CK (1981) Why do birds sing? New Sci 90:29–31

Catchpole CK, Slater PJB (1995) Bird song: biological themes and variations. Cambridge University Press, Cambridge

Hansen P (1978) Song variations in the yellowhammer, Emberiza citrinella. Biophon 6:7–8

Hansen P (1984) Neighbour-stranger song discrimination in territorial yellowhammer Emberiza citrinella males, and a comparison with responses to own and alien song dialects. Ornis Scand 15:240–247

Hiett JC, Catchpole CK (1982) Song repertoires and seasonal song in the yellowhammer, Emberiza citrinella. Anim Behav 30:568–574

Kaiser W (1965) Der Gesang der Goldammer und die Verbreitung ihrer Dialekte. Falke 12:40–42, 92–93, 131–135, 169–170, 188–191

Krebs JR (1977) The significance of song repertoires: the Beau Geste hypothesis. Anim Behav 25:475–478

Krebs J, Ashcroft R, Webber MI (1978) Song repertoires and territory defence in the great tit. Nature 271:539–542

Kroodsma DE (1986) Design of song playback experiments. Auk 103(3):640–642

Luschi P, del Seppia C (1996) Song-type function during territorial encounters in male Cetti's warblers Cettia cetti. Ibis 138:327–334

Marler P (1997) Three models of song learning: evidence from behavior. J Neurobiol 33(5):501–516

Mennill DJ, Ratcliffe LM (2004) Do male black-capped chickadees eavesdrop on song contests? A multi-speaker playback experiment. Behaviour 141:125–139

Nagle L, Couroux C (2000) The influence of song mode on responses of male American redstarts. Ethology 106:1049–1055

Naguib M (2003) Reverberation of rapid and slow trills: implication for single adaptations to long-range communication. J Acoust Soc Am 113:1749–1756

Naguib M, Kipper S (2006) Effects of different levels of song overlapping on singing behaviour in male territorial nightingales (Luscinia megarhynchos). Behav Ecol Soc 59:419–426

Naguib M, Fichtel C, Todt D (1999) Nightingales respond more strongly to vocal leaders of simulated dyadic interactions. Proc R Soc Lond B 266:537–542

Naguib M, Klump G, Hillmann H, Grießmann B, Teige T (2000) Assessment of auditory distance in a territorial song bird: accurate feat or rule of thumb? Anim Behav 59:715–721

Osiejuk TS (2001) Repertoire and temporal organization of song bouts in the yellowhammer (Emberiza citrinella) from Western Poland. In: Tryjanowski P, Osiejuk TS, Kupczyk M (eds) Bunting studies in Europe. Bogucki Wydawnictwo Naukowe, Poznań, pp 71–79

Otter K, McGregor PK, Terry AMR, Burford FRL, Peake TM, Dabelsteen T (1999) Do female great tits (Parus major) assess males by eavesdropping? A field study using interactive song playback. Proc R Soc Lond B 266:1305–1309

Peakall D (1960) Nest records of the yellowhammer. Bird Study 7:94–102

Peake TM, Terry AMR, McGregor PK, Dabelsteen T (2001) Male great tits eavesdrop on simulated male-to-male vocal interactions. Proc R Soc Lond B 268(1472):1183–1187

Rehsteiner U, Geisser H, Reyer HU (1998) Singing and mating success in water pipits: one specific song element makes all the difference. Anim Behav 55:1471–1481

Rutkowska-Guz JM, Osiejuk TS (2004) Song structure and variation in yellowhammers Emberiza citrinella from western Poland. Pol J Ecol 52:333–345

Slabbekoorn H, Ellers J, Smith TB (2002) Birdsong and sound transmission: the benefits of reverberations. Condor 104:564–573

Slater PJB (1981) Chaffinch song repertoires—observations, experiments and a discussion of their significance. Z Tierpsychol 56(1):1–24

Spitz F (1995) Bruant jaune. In: Yeatman-Berthelot D, Jarry G (eds) Nouvel atlas des oiseaux nicheurs de France. Société Ornithologique de France, Paris, pp 710–711

Todt D, Hultsch H (1996) Acquisition and performance of song repertoires: ways of coping with diversity and versatility. In: Kroodsma DE, Miller EH (eds) Ecology and evolution of acoustic communication in birds. Comstock, Ithaca, pp 79–96

Wiley RH, Richards DG (1982) Adaptations for acoustic communication in birds: sound propagation and signal detection. In: Kroodsma DE, Miller EH (eds) Acoustic communication in birds. Academic, New York, pp 131–181
Acknowledgments
We thank Franck Ramus and Timothée Poisot for their advice on statistical analysis. We thank Franck Ramus for useful advice and comments on early versions of the manuscript. We thank Madelaine Krehm and Marie Monbureau for their help with the translation and Andrew Goodall for proof-reading of the manuscript.
Additional information
Communicated by F. Bairlein.
About this article
Cite this article
Gruber, T., Nagle, L. Territorial reactions of male Yellowhammers (Emberiza citrinella) toward a specific song structure. J Ornithol 151, 645–654 (2010). https://doi.org/10.1007/s10336-010-0502-3
Received:

Revised:

Accepted:

Published:

Issue Date:
Keywords
Emberiza citrinella

Song structure

Territory defence

Yellowhammer