Abstract
Agro-ecosystems have recently experienced dramatic losses of biodiversity due to more intensive production methods. In order to increase species diversity, agri-environment schemes provide subsidies to farmers who devote a fraction of their land to ecological compensation areas (ECAs). Several studies have shown that invertebrate biodiversity is actually higher in ECAs than in nearby intensively cultivated farmland. It remains poorly understood, however, to what extent ECAs also favour vertebrates, such as small mammals and their predators, which would contribute to restoring functional food chains within revitalised agricultural matrices. We studied small mammal populations among eight habitat types—including wildflower areas, a specific ECA in Switzerland—and habitat selection (radiotracking) by the Barn Owl Tyto alba, one of their principal predators. Our prediction was that habitats with higher abundances of small mammals would be more visited by foraging Barn Owls during the period of chicks' provisioning. Small mammal abundance tended to be higher in wildflower areas than in any other habitat type. Barn Owls, however, preferred to forage in cereal fields and grassland. They avoided all types of crops other than cereals, as well as wildflower areas, which suggests that they do not select their hunting habitat primarily with respect to prey density. Instead of prey abundance, prey accessibility may play a more crucial role: wildflower areas have a dense vegetation cover, which may impede access to prey for foraging owls. The exploitation of wildflower areas by the owls might be enhanced by creating open foraging corridors within or around wildflower areas. Wildflower areas managed in that way might contribute to restore functional links in food webs within agro-ecosystems.
Access options
Buy single article
Instant access to the full article PDF.
US$ 39.95
Tax calculation will be finalised during checkout.
Subscribe to journal
Immediate online access to all issues from 2019. Subscription will auto renew annually.
US$ 79
Tax calculation will be finalised during checkout.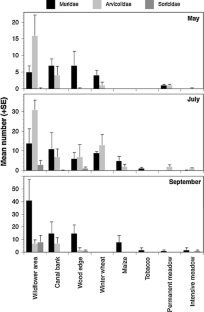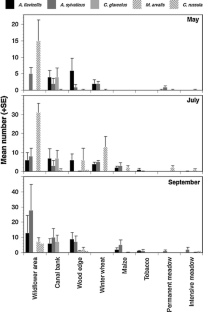 References
Aebischer NJ, Robertson PA, Kenward RE (1993) Compositional analysis of use from animal radio-tracking data. Ecology 74:1313–1325

Altwegg R, Roulin A, Kestenholz M, Jenni L (2003) Variation and covariation in survival, dispersal, and population size in barn owls Tyto alba. J Anim Ecol 72:391–399

Altwegg R, Roulin A, Kestenholz M, Jenni L (2006) Demographic effects of extreme winter weather in the barn owl. Oecologica 149:44–51

Altwegg R, Schaub M, Roulin A (2007) Age-specific fitness components and their temporal variation in the barn owl. Am Nat 169:47–61

Arlettaz R (1999) Habitat selection as a major resource portioning mechanism between the two sympatric sibling bat species Myotis myotis and Myotis blythii. J Anim Ecol 68:460–471

Aschwanden J, Birrer S, Jenni L (2005) Are ecological compensation areas attractive hunting sites for common kestrels (Falco tinnunculus) and long-eared owls (Asio otus)? J Ornithol 146:279–286

Aschwanden J, Holzgang O, Jenni L (2007) Importance of ecological compensation areas for small mammals in intensively farmed areas. Wildl Biol 13:150–158

Askew NP, Searle JB, Moore NP (2007) Agri-environment schemes and foraging of barn owls Tyto alba. Agric Ecosyst Environ 118:109–114

Atkinson PW, Fuller RJ, Vickery JA, Conway GJ, Tallowin JRB, Smith REN, Haysom KA, Ings TC, Asteraki EJ, Brown VK (2005) Influence of agricultural management, sward structure and food resources on grassland field use by birds in lowland England. J Appl Ecol 42:932–942

Baker JA, Brooks RJ (1981) Distribution patterns of raptors in relation to density of meadow voles. Condor 83:42–47

Bechard MJ (1982) Effect of vegetative cover on foraging site by Swainson's hawk. Condor 84:153–159

Benton TG, Vickery JA, Wilson JD (2003) Farmland biodiversity: is habitat heterogeneity the key? Trends Ecol Evol 18:182–188

Birrer S, Spiess M, Herzog F, Jenny M, Kohli L, Lugrin B (2007) The Swiss agri-environment scheme promotes farmland birds: but only moderately. J Ornithol 148:S295–S303

Briner T, Nentwig W, Airoldi J-P (2005) Habitat quality of wildflower strips for common voles (Microtus arvalis) and its relevance for agriculture. Agric Ecosyst Environ 105:173–179

Britschgi A, Spaar R, Arlettaz R (2006) Impact of grassland farming intensification on the breeding ecology of an indicator insectivorous passerine, the Whinchat Saxicola rubetra: lessons for overall Alpine meadowland management. Biol Conserv 130:193–205

Buner F (1998) Habitat use of wintering Kestrels (Falco tinnunculus) in relation to perch availability, vole abundance and spatial distribution. Diploma Thesis, University of Basel, Swiss Ornithological Institute Sempach

Burkhardt M, Schmid H (2001) Vögel der Schweiz. Schweizerische Vogelwarte, Sempach

Dickman CR, Predavec M, Lynam AJ (1991) Differential predation of size and sex classes of mice by the barn owl, Tyto alba. Oikos 62:67–76

Donald PF, Green RE, Heath MF (2001) Agricultural intensification and the collapse of Europe's farmland bird populations. Proc R Soc Lond B 268:25–29

Estabrook CB, Estabrook GF (1989) Actus: a solution to the problem of small samples in the analysis of two-way contingency tables. Hist Methods 82:5–8

Gilg O, Hanski I, Sittler B (2003) Cyclic dynamics in a simple vertebrate predator-prey community. Science 302:866–868

Gilg O, Sittler B, Sabard B, Hurstel A, Sané R, Delattre P, Hanski I (2006) Functional and numerical responses of four lemming predators in high arctic Greenland. Oikos 113:193–216

Hansson L, Henttonen H (1988) Rodent dynamics as community processes. Trends Ecol Evol 3:195–200

Jacob J, Hempel N (2003) Effects of farming practices on spatial behaviour of common voles. J Ethol 21:45–50

Kleijn D, Sutherland WJ (2003) How effective are European agri-environmental schemes in conserving and promoting biodiversity? J Appl Ecol 40:947–969

Kleijn D, Berendse F, Smit R, Gillissen N (2001) Agri-environment schemes do not effectively protect biodiversity in Dutch agricultural landscapes. Nature 413:723–725

Kleijn D, Baquero RA, Clough Y, Diaz M, De Esteban J, Fernandez F, Gabriel D, Herzog F, Holzschuh A, Jöhl R, Knowp E, Kruess A, Marshall EJP, Steffan-Dewenter I, Tscharntke T, Verhulst J, West TM, Yela JL (2006) Mixed biodiversity benefits of agri-environment schemes in five European countries. Ecol Lett 9:243–254

Knop E, Kleijn D, Herzog F, Schmid B (2006) Effectiveness of the Swiss agri-environment scheme in promoting biodiversity. J Appl Ecol 43:120–127

Korpimäki E (1994) Rapid or delayed tracking of multi-annual vole cycles by avian predators? J Anim Ecol 63:619–628

Korpimäki E, Norrdahl K (1991) Numerical and functional responses of kestrels, short-eared owls, and long-eared owls to vole densities. Ecology 72:814–826

MacDonald DW, Tattersall FH, Service KM, Firbank LG, Feber RE (2007) Mammals, agri-environment schemes and set-aside—what are the putative benefits? Mammal Rev 37:259–277

Mebs T, Scherzinger W (2000) Die Eulen Europas. Kosmos, Stuttgart

Mohr CO (1947) Table of equivalent populations of North American small mammals. Am Midl Nat 37:223–249

Nentwig W (2000) Streifenförmige ökologische Ausgleichsflächen in der Kulturlandschaft: Ackerkrautstreifen, Buntbrache, Feldränder. Agrarökologie, Bern, p 293

Otis DL, Burnham KP, White GC, Anderson DR (1978) Statistical inference from capture data on closed animal populations. Wildl Monogr 62:1–135

Palma L, Beja P, Pais M, Cancela da Fonseca L (2006) Why do raptors take domestic prey? the case of Bonelli's eagles and pigeons. J Appl Ecol 43:1075–1086

Reid K, Croxall JP (2001) Environmental response of upper trophic-level predators reveals a system change in an Antarctic marine ecosystem. Proc R Soc Lond B 268:377–384

Reid N, McDonald RA, Montgomery WI (2007) Mammals and agri-environment schemes: hare haven or pest paradise? J Appl Ecol 44:1200–1208

Revaz E, Schaub M, Arlettaz R (2008) Foraging ecology and reproductive biology of the Stonechat Saxicola torquata: comparison between a revitalized, intensively cultivated and a historical, traditionally cultivated agro-ecosystem. J Ornithol 149:301–312

Roulin A (1999) Natural and experimental nest-switching in Barn Owl Tyto alba fledglings. Ardea 87:237–246

Roulin A (2002) Tyto alba Barn Owl. BWP Update 4(2):115–138

Roulin A, Riols C, Dijkstra C, Ducrest A-L (2001) Female- and male-specific signals of quality in the barn owl. J Evol Biol 14:255–267

Schmid B (2002) The species richness-productivity controversy. Trends Ecol Evol 17:113–114

Schmid H, Luder R, Naef-Daenzer B, Graf R, Zbinden N (1998) Schweizer Brutvogelatlas. Verbreitung der Vögel in der Schweiz und im Fürstentum Liechtenstein 1993–1996. Schweizerische Vogelwarte, Seampach

Schweizer Eidgenossenschaft (1998) Verordnungen über die Direktzahlungen an die Landwirtschaft 910.13, 3. Titel, 1. Kapitel, 16–24

Shore RF, Meek WR, Sparks TH, Pywell RF, Nowakowski M (2005) Will Environmental Stewarship enhance small mammal abundance on intensively managed farmland? Mammal Rev 35:277–284

Snow DW, Perrins CM (1998) The birds of the western palearctic, concise edition, vol I. Oxford University Press, Oxford, pp 886–888

Tattersall FH, Macdonald DW, Manley WJ, Gates S, Feber R, Hart BJ (1997) Small mammals on one-year set-aside. Acta Theriol 42:329–334

Tattersall FH, Avundo AE, Manley WJ, Hart BJ, Macdonald DW (2000) Managing set-aside for field voles (Microtus agrestis). Biol Conserv 96:123–128

Taylor IR (1994) Barn owls: predator-prey relationships. Cambridge University Press, Cambridge

Tew TE, Macdonald DW (1993) The effects of harvest on arable wood mice Apodemus sylvaticus. Biol Conserv 65:279–283

Veit RR, Silverman ED, Everson I (1993) Aggregation patterns of pelagic predators and their principal prey, antarctic krill, near South Georgia. J Anim Ecol 62:551–564

Wakeley JS (1978) Factors affecting the use of hunting sites by Ferruginous hawks. Condor 80:316–326

White GC, Garrot RA (1990) Analysis of wildlife radiotracking data. Academic, San Diego, p 383

Whitthingham MJ (2007) Will agri-environment schemes deliver substantial biodiversity gain, and if not why? J Appl Ecol 44:1–5
Acknowledgments
We are grateful to Adrian Aebischer, Jean-Pierre Airoldi, Janine Aschwanden, Iris Baumgartner, Julien Béguin, Otto Holzgang, Alan Juilland, Olivier Roth and Christine Wisler for their assistance. Special thanks also to the farmers who authorised captures on their land and to Juliet Vickery for corrections of the English of an earlier version of the manuscript and for constructive criticism.
Additional information
Communicated by F. Bairlein.
About this article
Cite this article
Arlettaz, R., Krähenbühl, M., Almasi, B. et al. Wildflower areas within revitalized agricultural matrices boost small mammal populations but not breeding Barn Owls. J Ornithol 151, 553–564 (2010). https://doi.org/10.1007/s10336-009-0485-0
Received:

Revised:

Accepted:

Published:

Issue Date:
Keywords
Ecological compensation areas

Agro-ecosystems

Small mammals

Species conservation