Abstract
Increased predation risk should select for reduced parental activity to decrease the probability of visually hunting predators discovering the nest. Parental activity and conspicuousness are known to increase predation risk. Here, we test for sex differences in parental visitation rate (number of visits), time seen at the nest (time at the nest × adult visibility), and food delivery (prey size) using continuous video recordings at nests. We test the role of these variables for predation outcome in the Superb Fairy-wren (Malurus cyaneus). The study species is sexually dimorphic: males have iridescent blue plumage while females have brown plumage. The results showed that nest predation was predicted by male time seen at the nest (but not visitation rate), but not female time seen at the nest (or visitation rate). Contrary to our expectation that males would have lower visitation rates than females, our analysis of video images showed that male and female visitation was comparable but that males consistently brought smaller prey items to the nest than females. These findings are discussed in the light of morphological differences between male and female beak size. We conclude that sexual selection has favoured conspicuous male signalling in this system, and that natural selection should select for reduced parental care for the conspicuous sex.
Access options
Buy single article
Instant access to the full article PDF.
US$ 39.95
Tax calculation will be finalised during checkout.
Subscribe to journal
Immediate online access to all issues from 2019. Subscription will auto renew annually.
US$ 79
Tax calculation will be finalised during checkout.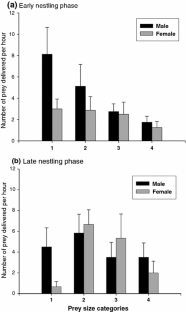 References
Abbott I (1973) Birds of Bass Strait: evolution and ecology of the avifaunas of some Bass Strait islands, and comparisons with those of Tasmania and Victoria. Proc R Soc Victoria 85:197–223

Blomqvist D, Fessl B, Kleindorfer S, Hoi H (2005) High frequency of extra-pair fertilisations in the moustached warbler, a songbird with a variable breeding system. Behaviour 142:1133–1148

Bradley E, Bradley J (1958) Notes on the behavior and plumage of colour-ringed blue wrens. Emu 58:313–326

Clutton-Brock TH (1991) The evolution of parental care. Princeton University Press, Princeton

Colombelli-Négrel D, Kleindorfer S (2008) In superb fairy wrens (Malurus cyaneus), nuptial males have more blood parasites and higher haemoglobin concentration than eclipsed males. Aust J Zool 56:117–121

Colombelli-Négrel D, Kleindorfer S (2009) Nest height, nest concealment, and predator type predict nest predation in superb fairy-wrens (Malurus cyaneus). Ecol Res 24:921–928

Colombelli-Négrel D, Robertson J, Kleindorfer S (2009) A new audio-visual technique for effectively monitoring nest predation and the behaviour of nesting birds. Emu 109:83–88

Conway CJ, Martin TE (2000) Evolution of avian incubation behavior: influence of food, climate and nest predation. Evolution 54:670–685

Darwin C (1871) The decent of man, and selection in relation to sex. 2 vols. Murray, London

Dunn PO, Cockburn A (1996) Evolution of male parental care in a bird with almost complete cuckoldry. Evolution 50:2542–2548

Dunn PO, Cockburn A (1998) The costs and benefits of extra-group mating in superb fairy-wrens. Avian reproductive tactics: female and male perspectives. Ornithol Monogr 49:147–162

Dunn PO, Cockburn A (1999) Extra-pair mate choice and honest signalling in cooperatively-breeding superb fairy-wrens. Evolution 53:938–946

Eggers S, Griesser M, Ekman J (2005) Predator-induced plasticity in nest visitation rates in the Siberian jay (Perisoreus infaustus). Behav Ecol 16:309–315

Fessl B, Kleindorfer S, Hoi H (1996) Extra male parental behaviour: evidence for an alternative mating strategy in Acrocephalus melanopogon. J Avian Biol 27:88–91

Fontaine JJ, Martin TE (2006) Parent birds assess nest predation risk and adjust their reproductive strategies. Ecol Lett 9:428–434

Ford HA, Noske S, Bridges L (1986) Foraging of birds in eucalypt woodland in North-Eastern New South Wales. Emu 86:168–179

Ghalambor CK, Martin TE (2000) Parental investment in two species of Nuthatch varies with stage-specific predation risk and reproductive effort. Anim Behav 60:263–267

Green DJ, Cockburn A, Hall ML, Osmond HL, Dunn PO (1995) Increased opportunities for cuckoldry may be why dominant male fairy-wrens tolerate helpers. Proc R Soc Lond B 262:297–303

Holmes RT (1986) Foraging patterns of forest birds: male-female differences. Wilson Bull 98:196–213

Houston AI (1995) Parental effort and paternity. Anim Behav 50:1635–1644

Johnson DH (1979) Estimating nest success: the Mayfield method and an alternative. Auk 96:651–661

Kleindorfer S, Hoi H, Ille R (1997) Nestling growth patterns and antipredator responses: a comparison between four Acrocephalus warblers. Biologia 52:677–685

Kleindorfer S, Lambert S, Paton DC (2006) Ticks (Ixodes sp) and blood parasites (Haemoproteus sp.) in New Holland honeyeaters (Phylidonyris novaehollandiae): evidence for site specificity and fitness costs. Emu 106:113–118

Kvarnemo C (2005) Evolution and maintenance of male care: is increased paternity a neglected benefit of care? Behav Ecol 17:144–148

Lack D (1947) The significance of clutch size. Ibis 89:302–352

Lambert S, Kleindorfer S (2006) Nest concealment not human visitation predicts nest predation in New Holland honeyeaters. Emu 106:63–68

Lotem A, Wagner RH, Balshine-Earn S (1999) The overlooked signaling component of nonsignaling behavior. Behav Ecol 10:209–212

Martin TE (1992) Interaction of nest predation and food limitation in reproductive strategies. Curr Ornithol 9:163–197

Martin TE (1993) Nest predation among vegetation layers and habitat types: revising the dogmas. Am Nat 141:897–913

Martin TE (1995) Avian life history evolution in relation to nest sites, nest predation, and food. Ecol Monogr 65:101–127

Martin TE (1996) Nest predation and avian life-history evolution in Europe versus North America: a possible role of humans? Am Nat 147:1028–1046

Martin TE, Ghalambor CK (1999) Males helping females during incubation. I. Required by microclimate or constrained by nest predation? Am Nat 153:131–139

Martin TE, Martin PR, Olson CR, Heidinger BJ, Fontaine JJ (2000a) Parental care and clutch sizes in North and South American birds. Science 287:1482–1485

Martin TE, Scott J, Menge C (2000b) Nest predation increases with parental activity: separating nest site and parental activity effects. Proc R Soc Lond B 267:2287–2293

Mayfield HF (1975) Suggestions for calculating nest success. Wilson Bull 87:456–466

Muchai M, Du Plessis MA (2005) Nest predation of grassland bird species increases with parental activity at the nest. J Avian Biol 36:110–116

Mulder RA, Dunn PO, Cockburn A, Lazenby-Cohen KA, Howell MJ (1994) Helpers liberate female Fairy-Wrens from constraints on extra-pair mate choice. Proc R Soc Lond B 255:223–229

Nias RC (1986) Nest-site characteristics and reproductive success in the superb fairy-wren. Emu 86:139–144

Nias RC (1987) Co-operative breeding in the superb fairy-wren, Malurus cyaneus. PhD thesis, University of New England

Peters A, Cockburn A, Cunningham RB (2002) Testosterone treatment suppresses parental care in superb fairy-wrens (Malurus cyaneus) despite their concurrent investment in courtship. Behav Ecol Sociobiol 51:538–547

Recher HF, Holmes RT (2000) The foraging ecology of eucalypt forest and woodland birds, I. Differences between males and females. Emu 100:205–215

Robins JD (1971) Differential niche utilization in a grassland sparrow. Ecology 52:1065–1070

Roper JJ, Goldstein R (1997) A test of the Skutch hypothesis: does activity at nests increase nest predation risk? J Avian Biol 28:111–116

Rowley I (1957) Co-operative feeding of young by superb blue wrens. Emu 57:356–357

Rowley I (1965) The life history of the superb blue wren. Emu 64:251–297

Rowley I, Russell EM (1997) Fairy-wrens and grasswrens (Maluridae). Oxford University Press, New York

Schlotfeldt B, Kleindorfer S (2006) Adaptive divergence in the superb fairy-wren (Malurus cyaneus): a mainland versus island comparison of foraging behaviour, morphology, and vegetation. Emu 106:309–319

Selander RK (1966) Sexual dimorphism and differential niche utilisation in birds. Condor 68:113–151

Shine R (1989) Ecological causes for the evolution of sexual dimorphism: a review of the evidence. Q Rev Biol 64:419–461

Skutch AE (1949) Do tropical birds rear as many young as they can nourish? Ibis 91:430–455

Tidemann SC (1986) Breeding in three species of fairy-wrens (Malurus): do helpers really help? Emu 86:131–138

Tidemann SC, Schodde R (1989) A test for character displacement among three species of fairy-wrens (Maluridae: Malurus). Emu 89:79–82

Tidemann SC, Green B, Newgrain K (1989) Water turnover and estimated food-consumption in three species of fairy-wrens (Malurus spp). Aust Wildl Res 16:187–194

Verhulst S (1994) Supplementary food in the nestling phase affects reproductive success in pied flycatchers (Ficedula hypoleuca). Auk 111:714–771

Vernet J, Willson MF (1966) The influence of habitats on mating systems of North American passerine birds. Ecology 47:143–147

Weidinger K (2002) Interactive effects of concealment, parental behavior and predators on the survival of open passerine nests. J Anim Ecol 71:424–437

Weidinger K (2004) Relative effects of nest size and site on the risk of predation in open nesting passerines. J Avian Biol 35:515–523

Wright J, Both C, Cotton PA, Bryant D (1998) Quality vs. quantity: energetic and nutritional trade-offs in parental provisioning strategies. J Anim Ecol 67:620–634
Acknowledgments
We thank the following organisations for financial support: Australian Research Council, Department for Environment and Heritage, and Sir Mark Mitchell Research Foundation with awards to Sonia Kleindorfer, and the Holsworth Foundation and the Nature Foundation of South Australia with awards to Diane Colombelli-Négrel. This study was approved by the Animal Welfare Committee at Flinders University and by the Department for Environment and Heritage. We thank students from the Bird Lab for assistance in the field. We thank Beth Schlotfeldt for comments on the manuscript.
Additional information
Communicated by T. Friedl.
About this article
Cite this article
Colombelli-Négrel, D., Kleindorfer, S. Video nest monitoring reveals male coloration-dependant nest predation and sex differences in prey size delivery in a bird under high sexual selection. J Ornithol 151, 507–512 (2010). https://doi.org/10.1007/s10336-009-0480-5
Received:

Revised:

Accepted:

Published:

Issue Date:
Keywords
Male activity

Nest predation

Adult visibility

Prey size