Abstract
We present photographic and molecular evidence of a wild Marsh Warbler × Sedge Warbler (Acrocephalus palustris × A. schoenobaenus) hybrid that occurred over three breeding seasons (2007–2009) near Trondheim, Central Norway. The bird had the appearance of a Marsh Warbler but with some typical Sedge Warbler plumage traits. DNA analyses of a few plucked body feathers, using the COI barcode region (mtDNA) and conserved microsatellite loci, confirmed that the bird was a hybrid, with a Marsh Warbler mother and a Sedge Warbler father.
Access options
Buy single article
Instant access to the full article PDF.
US$ 39.95
Tax calculation will be finalised during checkout.
Subscribe to journal
Immediate online access to all issues from 2019. Subscription will auto renew annually.
US$ 79
Tax calculation will be finalised during checkout.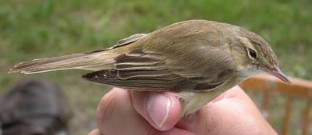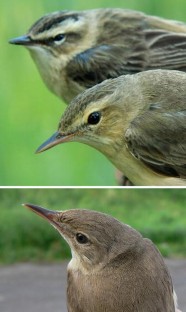 References
Beier J, Leisler B, Wink M (1996) Erster Nachweis eines Hybriden zwischen Teichrohrsänger Acrocephalus scirpaceus und Drosselrohrsänger A. arundinaceus. Limicola 10:304–310

Dawson DA (2007) Genomic analysis of passerine birds using conserved microsatellite loci. PhD thesis, University of Sheffield, UK

Dawson DA, Horsburgh GJ, Küpper C, Stewart IRK, Ball AD, Durrant KL, Hansson B, Bacon I, Bird S, Klein A, Lee JW, Martín-Gálvez D, Simeoni M, Smith G, Spurgin LG, Burke T (2009) New methods to identify conserved microsatellite loci and develop primer sets of high utility—as demonstrated for birds. Mol Ecol Resources (in press)

Gjershaug JO, Thingstad PG, Eldøy S, Byrkjeland S (1994) Norsk fugleatlas. Norsk ornitologisk forening, Klæbu

Glutz von Blotzheim UN, Bauer KM (1991) Handbuch der Vögel Mitteleuropas, vol 12/I, Passeriformes (3. Teil). Aula, Wiesbaden, Germany

Griffiths R, Double MC, Orr K, Dawson RJG (1998) A DNA test to sex most birds. Mol Ecol 7:1071–1075

Hansson B, Roggeman W, De Smet G (2004) Molecular evidence of a reed warbler × great reed warbler hybrid (Acrocephalus scirpaceus × A. arundinaceus) in Belgium. J Ornithol 145:159–160

Hebert PDN, Stoeckle MY, Zemlak TS, Francis CM (2004) Identification of birds through DNA barcodes. PLoS Biol 2:1657–1663

Helbig AJ, Seibold I (1999) Molecular phylogeny of Palearctic-African Acrocephalus and Hippolais warblers (Aves: Sylviidae). Mol Phylogenet Evol 11:246–260

Kerr KCR, Lijtmaer DA, Barreira AS, Hebert PDN, Tubaro PL (2009) Probing evolutionary patterns in Neotropical birds through DNA barcodes. PLoS ONE 4:e4379

Koskimies P (1980) Breeding biology of Blyth′s reed warbler in SE Finland. Ornis Fenn 57:26–32

Koskimies P (1984) Polygyny in Blyth′s reed warbler Acrocephalus dumetorum. Ann Zool Fenn 21:239–242

Leisler B, Heidrich P, Schulze-Hagen K, Wink M (1997) Taxonomy and phylogeny of reed warblers (genus Acrocephalus) based on mtDNA sequences and morphology. J Ornithol 138:469–496

Lemaire F (1977) Mixed song, interspecific competition and hybridisation in the reed and marsh warblers. Behaviour 63:215–240

Martín-Gálvez D, Dawson DA, Horsburgh GJ, Burke T (2009) Isolation, characterization and chromosome locations of polymorphic black-billed magpie Pica pica (Corvidae, AVES) microsatellite loci. Mol Ecol Resources (in press)

Price T (2008) Speciation in birds. Roberts, Greenwood Village

Ratnasingham S, Hebert PDN (2007) Bold: the barcode of life data system (http://www.barcodinglife.org). Mol Ecol Notes 7:355–364

Reinsborg T, Berge T, Dahl EL, Kamsvåg C, Størkersen ØR (2008) The Norwegian bird report 2004 (in Norwegian with English summary). Ornis Nor 31:132–171

Sharrock JTR (1985) Mystery photographs. Br Birds 78:434–437

Svensson L (1992) Identification guide to European passerines, 4th edn. Svensson, Stockholm

Wirtz P (1999) Mother species—father species: unidirectional hybridization in animals with female choice. Anim Behav 58:1–12
Electronic supplementary material
Below is the link to the electronic supplementary material.
About this article
Cite this article
Lifjeld, J.T., Marthinsen, G., Myklebust, M. et al. A wild Marsh Warbler × Sedge Warbler hybrid (Acrocephalus palustris × A. schoenobaenus) in Norway documented with molecular markers. J Ornithol 151, 513–517 (2010). https://doi.org/10.1007/s10336-009-0469-0
Received:

Revised:

Accepted:

Published:

Issue Date:
Keywords
Acrocephalus palustris
Acrocephalus schoenobaenus

Hybrid

mtDNA

Microsatellites