Abstract
The strategy of migrants crossing the Sahara desert has been the subject of debate, but recent evidence from radar studies has confirmed that most passerines use an intermittent migration strategy. The latter has also been suggested from previous studies in oases during autumn migration. It was found that migrants with relatively high fuel loads rest in the desert during daytime and continue migration during the following night, whereas lean migrants stopover in oases for several days to refuel. However, data from the Sahara are scarce for spring migration. We captured passerine migrants near Bîr Amrâne (22°47′N, 8°43′W) in the plain desert of Mauritania for 3 weeks during spring migration in 2004. We estimated flight ranges of 85 passerines stopping over in the desert to test whether they carried sufficient fuel loads to accomplish migration across the Sahara successfully. High fat loads of the majority of birds indicated that they were neither "fall-outs" nor too weak to accomplish migration successfully. The flight range estimates, based on mean flight speeds derived from radar measurements (59 km/h), revealed that 85% of all birds were able to reach the northern fringe of the desert with an intermittent migration strategy. Furthermore, birds stopping over in an oasis (Ouadâne, 370 km to the southwest of Bîr Amrâne) did not carry consistently lower fuel loads compared to the migrants captured in the desert.
Access options
Buy single article
Instant access to the full article PDF.
US$ 39.95
Tax calculation will be finalised during checkout.
Subscribe to journal
Immediate online access to all issues from 2019. Subscription will auto renew annually.
US$ 79
Tax calculation will be finalised during checkout.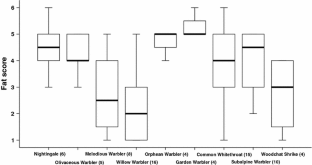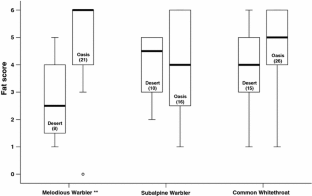 References
Bairlein F (1985) Body weights and fat deposition of Palearctic passerine migrants in the central sahara. Oecologia 66:141–146

Bairlein F (1987) Nutritional requirements for maintenance of body weight and fat deposition in the long-distance migratory garden warbler, Sylvia borin (Boddaert). Comp Biochem Physiol 86:337–347

Bairlein F (1988) Herbstlicher Durchzug, Körpergewichte und Fettdeposition von Zugvögeln in einem Rastgebiet in Nordalgerien. Vogelwarte 34:237–248

Bairlein F (1992) Recent prospects on trans-Saharan migration of songbirds. Ibis 134:41–46

Bairlein F, Beck P, Feiler W, Querner U (1983) Autumn weights of some palaearctic passerine migrants in the Sahara. Ibis 125:404–407

Berthold P (2001) Bird migration. A general survey. Oxford University Press, Oxford

Bibby CJ, Green RE, Pepler GRM, Pepler PA (1976) Sedge Warbler migration and reed aphids. Br Birds 69:384–399

Biebach H (1995) Stopover of migrants flying across the Mediterranean Sea and the Sahara. Israel J Zool 41:387–392

Biebach H, Friedrich H, Heine G (1986) Interaction of bodymass, fat, foraging and stopover period in trans-Sahara migrating passerine birds. Oecologia 69:370–379

Biebach H, Friedrich H, Heine G, Jenni L, Jenni-Eiermann J, Schmidl H (1991) The daily pattern of autumn migration in the northern Sahara. Ibis 133:414–422

Biebach H, Biebach I, Friedrich W, Heine G, Partecke J, Schmidl D (2000) Strategies of passerine migration across the Mediterranean Sea and the Sahara Desert: a radar study. Ibis 142:623–634

Bruderer B (1994) Nocturnal bird migration in the Negev (Israel)—a tracking radar study. Ostrich 65:204–212

Carmi N, Pinshow B, Porter WP, Jaeger J (1992) Water and energy limitations on flight duration in small migrating birds. Auk 109:268–276

Delingat J, Bairlein F, Hedenström A (2008) Obligatory barrier crossing and adaptive fuel management in migratory birds: the case of the Atlantic crossing in northern wheatears (Oenanthe oenanthe). Behav Ecol Sociobiol 62:1069–1078

Hilgerloh G, Wiltschko W (2000) Autumn fat load and flight range of passerine long-distance migrants in southwestern Spain and northwestern Morocco. Ardeola 2:259–263

Hussel DJT, Lambert AB (1980) New estimates of weight loss in birds during nocturnal migration. Auk 97:547–558

Jenni L, Jenni-Eiermann S (1998) Fuel supply and metabolic constraints in migrating birds. J Avian Biol 29:521–528

Kaiser A (1993) A new multi-category classification of subcutaneous fat deposits of songbirds. J Field Ornithol 64:246–255

Kerlinger P, Moore FR (1989) Atmospheric structure and avian migration. In: Power DM (ed) Current ornithology. Plenum, New York, pp 109–142

Kvist A, Klaassen M, Lindström Å (1998) Energy expenditure in relation to flight speed: what is the power of mass loss rate estimates? J Avian Biol 29:485–498

Leger J, Larochelle J (2006) On the importance of radiative heat exchange during nocturnal flight in birds. J Exp Biol 209:103–114

Liechti F (2006) Birds: blowin by the wind. J Ornithol 147:202–211

Liechti F, Schmaljohann H (2007a) Wind-governed flight altitudes of nocturnal spring migrants over the Sahara. Ostrich 78:337–341

Liechti F, Schmaljohann H (2007b) Vogelzug über der westlichen Sahara. Ornithol Beob 104:33–44

Mead CJ (1972) Moreau's paradox. BTO News 52:3

Meijer T, Möhring FJ, Trillmich FJ (1994) Annual and daily variation and body mass of starlings Sturnus vulgaris. J Avian Biol 25:98–104

Moreau RE (1961) Problems of Mediterranean–Saharan migration. Ibis 103a:373–427

Moreau RE (1972) The Palaearctic-African bird migration systems. Academic, London

Ottosson U, Rumsey S, Hjort C (2001) Migration of four Sylvia warblers through northern Senegal. Ringing Migr 20:344–351

Pearson DJ (1992) Northward passage of Palaearctic songbirds through Kenya. Proceedings of the Pan-African Ornithological Congress 7:113–124

Pilastro A, Spina F (1997) Ecological and morphological correlates of residual fat reserves in passerine migrants at their spring arrival in southern Europe. J Avian Biol 28:309–318

Salewski V, Schaub M (2007) Stopover duration of Palaearctic passerine migrants in the western Sahara—independent of fat stores? Ibis 149:223–236

Salewski V, Kéry M, Herremans M, Liechti F, Jenni L (2009) Estimating fat and protein fuel from fat and muscle scores in passerines. Ibis 151:640–653

Schmaljohann H, Liechti F, Bruderer B (2007a) Songbird migration across the Sahara: the non-stop hypothesis rejected! Proc R Soc Lond B 274:736–739

Schmaljohann H, Liechti F, Bruderer B (2007b) Daytime passerine migrants over the Sahara—are these diurnal migrants or prolonged flights of nocturnal migrants. Ostrich 78:357–362

Schmaljohann H, Bruderer B, Liechti F (2008) Sustained bird flights occur at temperatures far beyond expected limits. Anim Behav 76:1133–1138

Titov N (1999) Fat level and temporal pattern of diurnal movements of robins (Erithacus rubecula) at an autumn stopover site. Avian Ecol Behav 2:89–99

Wood B (1989) Comments of Bairlein's hypothesis of trans-Saharan migration by short stages with stopovers. Ringing Migr 10:48–52
Acknowledgments
Mist-netting was only possible because of the help in the field of many volunteers, students, technicians and members of the Swiss Ornithological Institute, especially Alassan, F. Korner-Nievergelt, M. Liechti, V. Martignoli, A. Mauley and D. Zürrer whom we thank. Special thanks also to our indispensable local logistic team of Memoun, Mamadou, Bacar and Salem. The manuscript improved through discussion with B. Bruderer, L. Jenni and P. Jones. In Mauritania, invaluable assistance was given by the Ministry of Environment (MDRE), the Ministry of the Interior of Mauritania, the Centre for Locust Control (CLAA), German Technical Cooperation (GTZ), the Swiss Embassy in Algiers, the Swiss Honorary Consul and the German Embassy in Nouakchott. The Swiss Ornithological Institute's project on Bird Migration across the Sahara was supported by the Swiss National Science Foundation (Project No. 31-65349), the Foundations Volkhart, Vontobel, MAVA for Nature Protection, Ernst Göhner, Felis and Syngenta and also by BirdLife Switzerland, BirdLife International, the companies Bank Sarasin & Co., Helvetia Patria Insurances and F. Hoffmann-La Roche AG. Further partners are listed on http://www.vogelwarte.ch/sahara.
Open Access
This article is distributed under the terms of the Creative Commons Attribution Noncommercial License which permits any noncommercial use, distribution, and reproduction in any medium, provided the original author(s) and source are credited.
Additional information
Communicated by H. Mouritsen.
Rights and permissions
Open Access This is an open access article distributed under the terms of the Creative Commons Attribution Noncommercial License (https://creativecommons.org/licenses/by-nc/2.0), which permits any noncommercial use, distribution, and reproduction in any medium, provided the original author(s) and source are credited.
About this article
Cite this article
Salewski, V., Schmaljohann, H. & Liechti, F. Spring passerine migrants stopping over in the Sahara are not fall-outs. J Ornithol 151, 371–378 (2010). https://doi.org/10.1007/s10336-009-0464-5
Received:

Revised:

Accepted:

Published:

Issue Date:
Keywords
Flight range estimates

Intermittent migration

Sahara

Stop over

Passerines