Abstract
As many other birds breeding in agricultural areas, the common redstart declined strongly in many Central European countries over the last 60 years. The destruction of traditionally managed orchards, an important breeding habitat in Central Europe, is a relevant cause. An additional factor for the decline of this species could be the intensified management of the ground vegetation in orchards through reducing food availability and lowering prey detectability and accessibility. In this study we examined the importance of surfaces with sparse vegetation for the location of redstart territories and for foraging. To validate the results of these field studies we made habitat-choice experiments in aviaries with captive birds. Territories occupied by redstarts in orchards of northwestern Switzerland contained a significantly higher proportion of surfaces with sparse vegetation than unoccupied control sites. Redstarts made almost five times more hunting flights into experimentally established ruderal vegetation strips than into adjacent unmown meadows. No difference was observed when the meadow was freshly mown. Vegetation height and the proportion of open ground surface correctly predicted the vegetation type for hunting in 77% of the cases. Experiments in aviaries offering two types of sparse vegetation and a dense meadow supported the results of the field experiments. Even a four-fold increase of the food abundance in the meadow did not lead to a noticeable change in preference for the sparse vegetation types. For the conservation of the common redstart, not only traditionally managed orchards with tall trees with cavities should be preserved but also areas with sparse vegetation should be favored.
Access options
Buy single article
Instant access to the full article PDF.
US$ 39.95
Tax calculation will be finalised during checkout.
Subscribe to journal
Immediate online access to all issues from 2019. Subscription will auto renew annually.
US$ 79
Tax calculation will be finalised during checkout.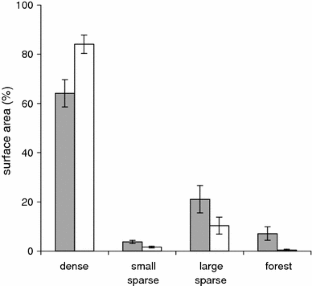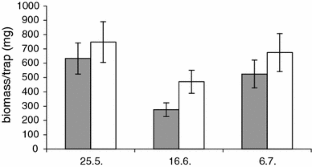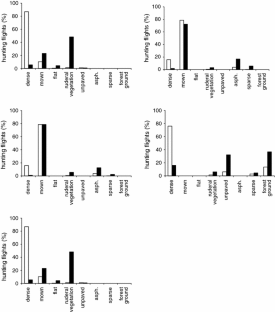 References
Aebischer NJ, Robertson PA (1992) Practical aspects of compositional analysis as applied to pheasant habitat utilisation. In: Priede IG, Swift SM (eds) Wildlife telemetry: remote monitoring and tracking of animals. Ellis Horwood, New York, pp 285–293

Aebischer NJ, Robertson PA (1993) Compositional analysis of habitat use from animal radio-tracking data. Ecology 74:1313–1325

Aschwanden J, Birrer S, Jenni L (2005) Are ecological compensation areas attractive hunting sites for common kestrels (Falco tinnunculus) and long-eared owls (Asio otus)? J Ornithol 146:279–286

Atkinson PW, Buckingham D, Morris AJ (2004) What factors determine where invertebrate-feeding birds forage in dry agricultural grassland? Ibis 146(Suppl 2):99–107

Atkinson PW, Fuller RJ, Vickery JA, Conway GJ, Tallowin JRB, Smith REN, Haysom KA, Ings TC, Asteraki EJ, Brown VK (2005) Influence of agricultural management, sward structure and food resources on grassland field use by birds in lowland England. J Appl Ecol 42:932–942

Bauer H-G, Berthold P (1996) Die Brutvögel Mitteleuropas: Bestand und Gefährdung. Verlag Wiesbaden, Aula

Biber J-P, Blattner M, Kestenholz M, Lenzin H (1996): Ornithologisches Inventar beider Basel 1992–1995. Basellandschaftlicher Natur- und Vogelschutzverband, Ornithologische Gesellschaft Basel

BirdLife International (2006): Species factsheet: Phoenicurus phoenicurus. Downloaded from http://www.birdlife.org. Accessed 7 Feb 2007

Birrer S, Spiess M, Herzog F, Jenny M, Kohli L, Lugrin B (2007) The Swiss agri-environment scheme promotes farmland birds: but only moderately. J Ornithol 148(Suppl 2):295–303

Britschgi A, Spaar R, Arlettaz R (2006) Impact of grassland farming intensification on the breeding ecology of an indicator insectivorous passerine, the whinchat Saxicola rubetra: lessons for overall Alpine meadowland management. Biol Cons 130:193–205

Bundesamt für Landwirtschaft BLW (2007): Direktzahlungen 2007 an die Landwirtschaft im Überblick. 2006-08-30/228. Bern

Butler SJ, Whittingham MJ, Quinn JL, Cresswell W (2004) Quantifying the interaction between food density and habitat structure in determining patch selection. Anim Behav 69:337–343

Cooper RJ, Whitmore RC (1990) Arthropod sampling methods in ornithology. Stud Avian Biol 13:29–37

Di Giulio M, Edwards PJ, Meister E (2001) Enhancing insect diversity in agricultural grasslands: the roles of management and landscape structure. J Appl Ecol 38:310–319

Donald PF, Green RE, Heath MF (2001) Agricultural intensification and the collapse of Europe's farmland bird populations. Proc R Soc Lond 268:25–29

Donald PF, Sanderson FJ, Burfield IJ, van Bommel FPJ (2006) Further evidence of continent-wide impacts of agricultural intensification on European farmland birds, 1990–2000. Agric Ecosyst Environ 116:189–196

Glutz von Blotzheim UN (1988): Handbuch der Vögel Mitteleuropas, vol 11. Aula Verlag, Wiesbaden

Hodgson J, Taylor JC, Lonsdale CR (1971) The relationship between intensity of grazing and the herbage consumption and growth of calves. J Brit Grassland Soc 26:231–237

Holm S (1979) A simple sequentially rejective multiple test procedure. Scand J Stat 6:65–70

Jacquemyn H, Brys R, Hermy M (2003) Short-term effects of different management regimes on the response of calcareous grassland vegetation to increased nitrogen. Biol Conserv 111:137–147

Jakober H, Stauber W (1987) Habitatsansprüche des Neuntöters (Lanius collurio) und Massnahmen für seinen Schutz. Beih Veröff Naturschutz Landschaftspflege Bad.-Württ 48:25–53

Kleijn D, Sutherland WJ (2003) How effective are European agri-environment schemes in conserving and promoting biodiversity? J Appl Ecol 40:947–969

Knop E, Kleijn D, Herzog F, Schmid B (2006) Effectiveness of the Swiss agri-environment scheme in promoting biodiversity. J Appl Ecol 43:120–127

Krebs JR, Erichsen JT, Webber MI, Charnov EL (1977) Optimal prey selection in the great tit (Parus major). Anim Behav 25:30–38

McCracken DI, Tallowin JR (2004) Swards and structure: the interactions between farming practices and bird food resources in lowland grassland. Ibis 146(Suppl 2):108–114

Menzel H. (1971) Der Gartenrotschwanz Phoenicurus phoenicurus. Neue Brehm Bücherei Nr. 438. A. Ziemsen Verlag, Wittenberg Lutherstadt

Schaub M (1996) Jagdverhalten und Zeitbudget von Rotkopfwürgern Lanius senator in der Nordwestschweiz. J Ornithol 137:213–227

Schaub M, Zbinden N, Martinez N, Maurer M, Iosett A, Spaar R, Weisshaupt N, Arlettaz R (2008) Vögel brauchen lückige Vegetation zur Nahrungssuche. Faktenblatt. Schweizerische Vogelwarte, Sempach

Schmid H, Luder R, Naef-Daenzer B, Graf R, Zbinden N (1998) Schweizer Brutvogelatlas. Verbreitung der Brutvögel in der Schweiz und im Fürstentum Liechtenstein 1993–1996. Schweizerische Vogelwarte, Sempach

Sedlácek O, Fuchs R (2008) Breeding site fidelity in urban common redstarts Phoenicurus phoenicurus. Ardea 96(2):261–269

Sedlácek O, Fuchs R, Exnerová A (2004) Redstart Phoenicurus phoenicurus and black redstart P. ochruros in a mosaic urban environment: neighbours or rivals? J Avian Biol 35:336–343

Sedlácek O, Fuchs R, Exnerová A (2007) Differences in the nestling diets of sympatric redstarts Phoenicurus phoenicurus and black redstarts P. ochruros: Species-specific preferences or responses to food supply? Acta Ornithologica 42(1):99–106

Smith PG (2006) Compos analysis version 6.2 user's guide. Version 6.2.3. Smith Ecology Ltd., 1, Bettws Cottage, Bettws, Abergavenny, NP7LG, UK. i+22 pp [WWW document]. URL http://www.smithecology.com/software.htm

Stewart KEJ, Bourn NAD, Thomas JA (2001) An evaluation of three quick methods commonly used to assess sward height in ecology. J Appl Ecol 38:1148–1154

SVS/BirdLife Schweiz (2006): Artenförderungs-Merkblatt: Lebensräume für den Gartenrotschwanz. Schweizer Vogelschutz SVS/BirdLife Schweiz

Taylor SD, Summers RW (2009) Breeding numbers and stand type preferences of redstarts Phoenicurus phoenicurus and tree pipits Anthus trivalis in a Scots Pine Pinus sylvestris wood. Bird Study 56:120–126

Tye A (1992) Assessment of territory quality and its effects on breeding success in a migrant passerine, the wheatear Oenanthe oenanthe. Ibis 134:273–285

Verbeke G, Molenberghs G (2000) Linear mixed models for longitudinal data. Springer, Heidelberg

Vickery JA, Tallowin JR, Feber RE, Asteraki EJ, Atkinson PW, Fuller RJ, Brown VK (2001) The management of lowland neutral grasslands in Britain: effects of agricultural practices on birds and their food resources. J Appl Ecol 38:647–664

Wretenberg J, Lindström Å, Svensson S, Thierfelder T, Pärt T (2006) Population trends of farmland birds in Sweden and England: similar trends but different patterns of agricultural intensification. J Appl Ecol 43:1110–1120

Zbinden N, Keller V, Schmid H (2005) Bestandsentwicklung von regelmässig brütenden Vogelarten der Schweiz 1990–2004. Ornithol Beob 102:271–282
Acknowledgments
We thank the Swiss aviculture association Parus for providing cages and other material for the aviary experiments, Martin Liebig for the common redstarts, Dieter Rudin and Susanne Kaufmann from the Landwirtschaftliches Zentrum Ebenrain for their financial and informative support, all people who sent information about common redstart broods, the farmers who established the ruderal vegetation strips, and the Dr. Joachim de Giacomi Foundation for their financial support. Furthermore, we thank Eva Knop, Michael Schaub, Reto Spaar, and two anonymous referees for her valuable comments on earlier drafts of the manuscript as well as Fränzi Korner-Nievergelt for statistical support. Permissions to import captive-bred common redstarts from Germany were obtained from the Swiss Federal Veterinary Office. Permission to keep the captive birds in cages and to do the experiments for this study were obtained from the Veterinary Office of the Canton of Aargau.
Additional information
Communicated by F. Bairlein.
About this article
Cite this article
Martinez, N., Jenni, L., Wyss, E. et al. Habitat structure versus food abundance: the importance of sparse vegetation for the common redstart Phoenicurus phoenicurus . J Ornithol 151, 297–307 (2010). https://doi.org/10.1007/s10336-009-0455-6
Received:

Revised:

Accepted:

Published:

Issue Date:
Keywords
Orchard

Habitat structure

Foraging

Farmland

Phoenicurus phoenicurus