Access options
Buy single article
Instant access to the full article PDF.
US$ 39.95
Tax calculation will be finalised during checkout.
Subscribe to journal
Immediate online access to all issues from 2019. Subscription will auto renew annually.
US$ 79
Tax calculation will be finalised during checkout.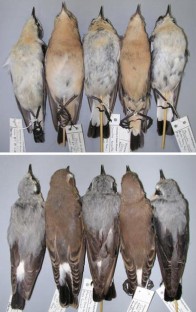 References
Ben-David M, Flynn RW, Schell DM (1997) Annual and seasonal changes in diets of martens: evidence from stable isotope analysis. Oecologia 111:280–291. doi:10.1007/s004420050236

Bensch S, Bengtsson G, Åkesson S (2006) Patterns of stable isotope signatures in willow warbler Phylloscopus trochilus feathers collected in Africa. J Avian Biol 37:323–330. doi:10.1111/j.2006.0908-8857.03628.x

Carlton SA, Martinez del Rio C (2005) The effect of cold-induced increased metabolic rate on the rate of 13C and 15N incorporation in house sparrows (Passer domesticus). Oecologia 144:226–232. doi:10.1007/s00442-005-0066-8

Crait JR, Ben-David M (2007) Effects of river otter activity on terrestrial plants in trophically altered Yellowstone Lake. Ecology 88:1040–1052. doi:10.1890/06-0078

Croll D, Maron J, Estes J, Danner E, Byrd V (2005) Introduced predators transform subarctic islands from grassland to tundra. Science 307:1959–1961. doi:10.1126/science.1108485

Dawson TE, Mambelli S, Plamboeck AH, Templer PH, Tu KP (2002) Stable isotopes in plant ecology. Annu Rev Ecol Syst 33:507–559. doi:10.1146/annurev.ecolsys.33.020602.095451

Farmer A, Cade BS, Torres-Dowdall J (2008) Fundamental limits to the accuracy of deuterium isotopes for identifying the spatial origin of migratory animals. Oecologia 158:183–192. doi:10.1007/s00442-008-1143-6

Hanson HC, Jones RL (1976) The biogeochemistry of Blue, Snow, and Ross' geese. Special Publication Illinois Natural History Survey No 1. Southern Illinois University Press, Carbondale

Langin LM, Reudink MW, Marra PP, Norris DR, Kyser TK, Ratcliffe LM (2007) Hydrogen isotopic variation in migratory bird tissues of known origin: implications for geographic assignment. Oecologia 152:449–457. doi:10.1007/s00442-007-0669-3

Larson KW, Hobson KA (2009) Assignment to breeding and wintering grounds using stable isotopes: a comment on lessons learned by Rocque et al. J Ornithol 150 (in press)

Long ES, Sweitzer RA, Diefenbach DR, Ben-David M (2005) Controlling for anthropogenically induced atmospheric variation in stable carbon isotope studies. Oecologia 146:148–156. doi:10.1007/s00442-005-0181-6

McKechnie AE, Wolf BO, Martinez del Rio C (2004) Deuterium stable isotope ratios as tracers of water resource use: an experimental test with rock doves. Oecologia 140:191–200. doi:10.1007/s00442-004-1564-9

Meehan TD, Rosenfield RN, Atudorei VN, Bielefeldt J, Rosenfield LJ, Stewart AC, Stout WE, Bozek MA (2003) Variation in hydrogen stable-isotope ratios between adults and nestling Cooper's hawks. Condor 105:567–572. doi:10.1650/7283

Mowat G, Heard DC (2006) Major components of grizzly bear diet across North America. Can J Zool 84:473–489. doi:10.1139/z06-016

Post DM (2002) Using stable isotopes to estimate trophic position: models, methods, and assumptions. Ecology 83:703–718

Reudink MW, Marra PP, Langin KM, Studds CE, Kyser TK, Ratcliffe LM (2008) Molt-migration in the American Redstart (Setophaga ruticilla) revisited: explaining variation in feather δD signatures. Auk 125:744–748. doi:10.1525/auk.2008.2708.1

Rocque DA, Ben-David M, Barry RP, Winker K (2006) Assigning birds to wintering and breeding grounds using stable isotopes: lessons from two feather generations among three intercontinental migrants. J Ornithol 147:395–404. doi:10.1007/s10336-006-0068-2

Rohwer S, Butler LK, Froehlich DR (2005) Ecology and demography of east-west differences in molt scheduling of Neotropical migrant passerines. In: Greenberg R, Marra PP (eds) Birds of two worlds. Johns Hopkins, Baltimore, pp 87–105

Smith AD, Donohue K, Dufty AM Jr (2008) Intrafeather and intraindividual variation in the stable-hydrogen isotope (δD) content of raptor feathers. Condor 110:500–506. doi:10.1525/cond.2008.8515

Smith AD, Lott CA, Smith JP, Donohue KA, Wittenberg S, Smith KG, Goodrich L (2009) Deuterium measurements of raptor feathers: does a lack of reproducibility compromise geographic assignment? Auk 126:41–46. doi:10.1525/auk.2009.08009

Stewart KM, Bowyer RT, Kie JG, Dick BL, Ben-David M (2003) Niche partitioning among mule deer, elk and cattle: do stable isotopes reflect dietary niche? Ecoscience 10:297–302

Szép T, Hobson KA, Vallner J, Piper SE, Kovács, Szabó DA, Møller AO (2009) Comparison of trace element and stable isotope approaches to the study of migratory connectivity: an example using two hirundine species breeding in Europe and wintering in Africa. J Ornithol 150 (in press)

Willoughby EJ (2004) Molt and plumage terminology of Howell et al. (2003) still may not reflect homologies. Condor 106:191–196. doi:10.1650/7439

Wunder MB, Norris DR (2008) Improved estimates of certainty in stable-isotope-based methods for tracking migratory animals. Ecol Appl 18:549–559. doi:10.1890/07-0058.1

Wunder WB, Kester CL, Knopf FL, Rye RO (2005) A test of geographic assignment using isotope tracers in feathers of known origin. Oecologia 144:607–617. doi:10.1007/s00442-005-0071-y

Yohannes E, Bensch S, Lee R (2008) Philopatry of winter moult area in migratory Great Reed Warblers Acrocephalus arundinaceus demonstrated by stable isotope profiles. J Ornithol 149:261–265. doi:10.1007/s10336-007-0271-9
Acknowledgments
We thank David Hussell and Franz Bairlein for originally pointing out to us that Northern Wheatears do not molt all their dorsal body plumage on their wintering grounds and an anonymous reviewer for helpful suggestions on the manuscript.
Additional information
Communicated by F. Bairlein.
About this article
Cite this article
Rocque, D.A., Ben-David, M., Barry, R.P. et al. Wheatear molt and assignment tests: ongoing lessons in using stable isotopes to infer origins. J Ornithol 150, 931–934 (2009). https://doi.org/10.1007/s10336-009-0433-z
Received:

Revised:

Accepted:

Published:

Issue Date:
Keywords
Stable Isotope

Reed Warbler

Oenanthe

Great Reed Warbler

Northern Wheatear