Abstract
Trends in the onset of breeding, clutch size and numbers of hatchlings and fledglings are examined for a Mediterranean montane population of Blue Tits (Cyanistes caeruleus) subject to recent warming in springtime monitored during 20 years. Blue Tits advanced their breeding dates in relation to mean air temperatures in April and, as a consequence, laid larger clutches. However, increases in the numbers of hatchlings and fledged young over time were not statistically significant after accounting for variables of influence. The entire breeding season seems to have been displaced towards earlier dates by adjusting breeding time to increased temperatures in prebreeding time, to which Blue Tits have been more responsive than Pied Flycatchers (Ficedula hypoleuca) in the same area. The alternative hypothesis, that interference competition with Pied Flycatchers for nestboxes and caterpillars, the main common food base of nestlings, has been the driving force behind the advancement of laying of the Blue Tit population, was not supported. However, the significant advance of breeding dates in Blue Tits has not been sufficient to overcome the precipitous decline in reproductive fitness with the advancement of the season.
Access options
Buy single article
Instant access to the full article PDF.
US$ 39.95
Tax calculation will be finalised during checkout.
Subscribe to journal
Immediate online access to all issues from 2019. Subscription will auto renew annually.
US$ 79
Tax calculation will be finalised during checkout.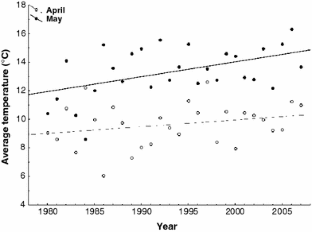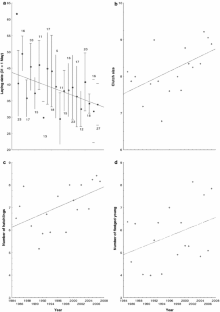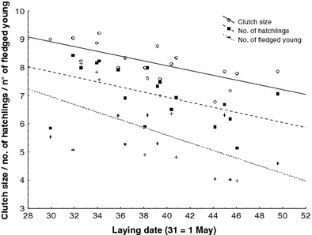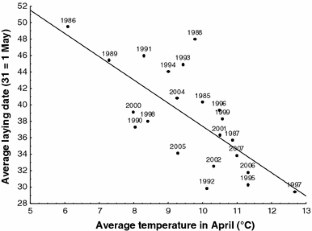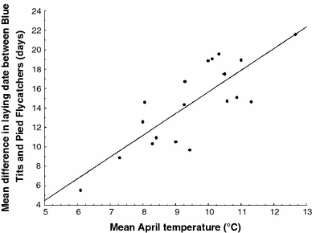 References
Ahola MP, Laaksonen T, Eeva T, Lehikoinen E (2007) Climate change can alter competitive relationships between resident and migratory birds. J Anim Ecol 76:1045–1052

Blondel J (2007) Coping with habitat heterogeneity: the story of Mediterranean blue tits. J Ornithol 148(Suppl 1):3–15

Blondel J, Dias PC, Maistre M, Perret PH (1993) Habitat heterogeneity and life-history variation of Mediterranean tits. Auk 110:511–520

Both C, te Marvelde L (2007) Climate change and timing of avian breeding and migration throughout Europe. Clim Res 35:93–105

Both C, Visser ME (2005) The effect of climate change on the correlation between avian life-history traits. Global Change Biol 11:1–8

Both C, Artemyev AV, Blaauw B, Cowie R, Dekhuizen H, Gustafsson L, Järvinen A, Kerimov A, Metcalfe N, Potti J, Ravussin PA, Sanz JJ, Silverin B, Slater F, Török J, Winkel W, Wright J, Zang H, Visser ME (2004) Large-scale geographical variation confirms that climate change causes birds to lay earlier. Proc R Soc Lond B 271:1657–1662

Carrascal LM, Potti J, Sánchez-Aguado FJ (1987) Spatio-temporal organization of the bird communities in two Mediterranean montane forests. Holarct Ecol 10:185–192

Coppack T, Both C (2002) Predicting life-cycle adaptation of migratory birds to global climate change. Ardea 90:369–378

Cramp S, Perrins CM (1993) The birds of the Western Paleartic, vol 7. Oxford University Press, Oxford

Crick HQP (2004) The impact of climate change on birds. Ibis 146(Suppl 1):48–56

Dunn P (2004) Breeding dates and reproductive performance. Adv Ecol Res 35:69–87

Durant JM, Hjermann DØ, Ottersen G, Stenseth NC (2007) Climate and the match or mismatch between predator requirements and resource availability. Clim Res 33:271–283

Fargallo JA (2004) Latitudinal trends of reproductive traits in the blue tit Parus caeruleus. Ardeola 51:177–190

Fargallo JA, Johnston RD (1997) Breeding biology of the blue tit Parus caeruleus in a montane mediterranean deciduous forest: the interaction of latitude and altitude. J Ornithol 138:83–92

Gienapp P, Leimu R, Merilä J (2007) Responses to climate change in avian migration time—microevolution versus phenotypic plasticity. Clim Res 35:25–35

Gordo O (2007) Why are bird migration dates shifting? A review of weather and climate effects on avian migratory phenology. Clim Res 35:37–58

Grosbois V, Henry P-Y, Blondel J, Perret P, Lebreton JD, Thomas DW, Lambrechts MM (2006) Climate impacts on Mediterranean blue tit survival: an investigation across seasons and spatial scales. Global Change Biol 12:2235–2249

Gustafsson L (1987) Interspecific competition lowers fitness in collared flycatchers Ficedula albicollis: an experimental demonstration. Ecology 68:291–296

Inouye DW, Barr B, Armitage KB, Inouye BD (2000) Climate change is affecting altitudinal migrants and hibernating species. Proc Natl Acad Sci USA 97:1630–1633

Klomp H (1970) The determination of clutch-size in birds. A review. Ardea 58:1–124

Lack D (1966) Population studies on birds. Oxford University Press, Oxford

Lautensach H (1964) Die Iberische halbinsel. Keyserschel, Munich

Lehikoinen E, Sparks TH, Zalakevicius M (2004) Arrival and departure dates. Adv Ecol Res 35:1–31

Lundberg A, Alatalo RV (1992) The pied flycatcher. Poyser, London

Mustin K, Sutherland WJ, Gill JA (2007) The complexity of predicting climate-induced ecological impacts. Clim Res 35:165–175

Myneni RB, Hall FG, Sellers PJ, Marshak AL (1995) The interpretation of spectral vegetation indexes. IEEE Trans Geosci Remote Sens 33:481–486

Pérez-Tris J, Tellería JL (2002) Regional variation in seasonality affects migratory behaviour and life-history traits of two Mediterranean passerines. Acta Oecol 23:13–21

Perrins CM (1970) The timing of birds' breeding seasons. Ibis 112:242–255

Pettorelli N, Vik JO, Mysterud A, Gaillard JM, Tucker CJ, Stenseth NC (2005) Using the satellite-derived NDVI to assess ecological responses to environmental change. Trends Ecol Evol 20:503–510

Potti J (1985) Sobre la distribución de los migrantes transaharianos en la Península Ibérica. Ardeola 32:57–68

Potti J (1998) Arrival time from spring migration in male pied flycatchers Ficedula hypoleuca: individual consistency and familial resemblance. Condor 100:702–708

Potti J (2008) Temperature during egg formation and the effect of climate warming on egg size in a small songbird. Acta Oecol 33:387–393

Potti J, Merino S (1994) Depredación sobre aves insectívoras en cajas-nido. Algunas implicaciones para el manejo de sus poblaciones y el diseño de los nidales. Ecología 8:445–452

Potti J, Sánchez-Aguado FJ, Blanco D, Montalvo S (1987) Breeding data for a population of pied flycatchers (Ficedula hypoleuca) in Central Spain. Ardeola 34:105–110

Potti J, Montalvo S, Sánchez-Aguado FJ, Blanco D (1988) La reproducción del herrerillo común (Parus caeruleus) en un robledal del centro de España. Ardeola 35:31–43

Przybylo R, Sheldon BC, Merilä J (2000) Climatic effects on breeding and morphology: evidence for phenotypic plasticity. J Anim Ecol 69:395–403

Rubolini D, Møller AP, Rainio K, Lehikoinen E (2007) Intraspecific consistency and geographic variability in temporal trends of spring migration phenology among European bird species. Clim Res 35:135–146

Salvador A (2005) Herrerillo común—Cyanistes caeruleus. In: Carrascal LM, Salvador A (eds) Enciclopedia Virtual de los Vertebrados Españoles. Museo Nacional de Ciencias Naturales, Madrid. http://www.vertebradosibericos.org/

Sandvik H, Coulson T, Sæther B-E (2008) A latitudinal gradient in climate effects on seabird demography: results from interspecific analyses. Global Change Biol 14:1–11

Sanz JJ (2002a) Climate change and breeding parameters of great and blue tits throughout the western Palaearctic. Global Change Biol 8:409–422

Sanz JJ (2002b) Climate change and birds: have their ecological consequences already been detected in the Mediterranean region? Ardeola 49:109–120

Sanz JJ, Potti J, Moreno J, Merino S, Frías Ó (2003) Fitness consequences of climate change in a migratory bird breeding in the Mediterranean region. Glob Change Biol 9:1–12

Schröter D, Cramer W, Leemans R, Prentice IC, Araújo MB, Arnell NW, Bondeau A, Bugmann H, Carter TR, Gracia CA, de la Vega-Leinert AC, Erhard M, Ewert F, Glendining M, House JL, Kankaanpää S, Klein RJT, Lavorel S, Lindner M, Metzger MJ, Meyer J, Mitchell TD, Reginster I, Rounsevell M, Sabaté S, Sitch S, Smith B, Smith J, Smith P, Sykes MT, Thonicke K, Thuiller W, Tuck G, Zaehle S, Zierl B (2005) Ecosystem service supply and vulnerability to global change in Europe. Science 310:1333–1337

Seoane J, Carrascal LM (2008) Interspecific differences in population trends of Spanish birds are related to habitat and climatic preferences. Global Ecol Biogeogr 17:111–121

Sparks TH, Tryjanowksi P (2007) Patterns of spring arrival dates differ in two hirundines. Clim Res 35:159–164

Statsoft Inc. (1996) Statistica for Windows, Release 5.1 (Computer Program Manual). Tulsa, OK

Tellería JL (1987) Biogeografía de la avifauna nidificante en España central. Ardeola 34:145–166

Visser ME (2008) Keeping up with a warming world; assessing the rate of adaptation to climate change. Proc R Soc Lond B 275:649–659

Visser ME, van Noordwijk AJ, Tinbergen JM, Lessells CM (1998) Warmer springs lead to mistimed reproduction in great tits (Parus major). Proc R Soc Lond B 265:1867–1870

Visser ME, Adriaensen F, van Balen JH, Blondel J, Dhondt AA, van Dongen S, du Feu C, Ivankina EV, Kerimov AB, de Laet J, Matthysen E, McCleery R, Orell M, Thompson DL (2003) Variable responses to large-scale climate change in European Parus populations. Proc R Soc Lond B 270:367–372

Winkel W, Hudde H (1997) Long-tem trends in reproductive traits of tits (Parus major, P. caeruleus) and pied flycatchers Ficedula hypoleuca. J Avian Biol 28:187–190

Winkler DW, Dunn PO, McCulloch CE (2002) Predicting the effects of climate change on avian life-histories. Proc Natl Acad Sci USA 99:13595–13599
Acknowledgments
I thank D. Canal, O. Frías, I. Valencia and S. Villar for help with field work, and Luis Prada, from Consejería de Medio Ambiente, Comunidad de Madrid, and Delegación de Medio Ambiente, Junta de Castilla-La Mancha, for working permissions and housing facilities. I am grateful to Christiaan Both and Paola Laiolo for many insightful comments that helped to improve a first draft. I was supported during writing by projects PAC05-006-2 (to J.A. Dávila), CGL2004-04479/BOS (to J.A. Fargallo) and CGL2006-07481/BOS (to J.C. Senar).
Additional information
Communicated by F. Bairlein.
About this article
Cite this article
Potti, J. Advanced breeding dates in relation to recent climate warming in a Mediterranean montane population of Blue Tits Cyanistes caeruleus . J Ornithol 150, 893–901 (2009). https://doi.org/10.1007/s10336-009-0418-y
Received:

Revised:

Accepted:

Published:

Issue Date:
Keywords
Ficedula hypoleuca

Pied Flycatcher

Climate change

Laying date

Timing of breeding