Abstract
The Corsican Nuthatch Sitta whiteheadi is a bird endemic to Corsica Island and has a very small population. Its habitat, Corsican pine Pinus nigra laricio forest, is currently restricted to less than 16,000 ha and is threatened by forest fires. In this article, we aim (1) to evaluate the effects of a large wildfire on a Nuthatch population, and (2) to identify the habitat features that influence the presence/absence of the Nuthatch after fire, so as to promote appropriate forestry practices after fire. The study has been conducted on a study plot of 300 ha which is part of a larger area severely burnt in August 2003. Habitat characteristics have been investigated on 39 plots of 1,225 m2 occupied by the bird, and 22 randomly chosen plots without the Nuthatch. We observed a decrease of 37.5% in Nuthatch abundance the first spring after the fire, but the impact showed great local variation as a function of fire severity. Logistic modelling showed that the presence of Nuthatch mainly depended on the degree of crown alteration: the Nuthatch tended to be present when at least one pine had less than 2.5 m of crown burned. We have no evidence of any direct fire-induced mortality, but several effects of fire can explain this population decrease, namely, the reduction of canopy volume, the decrease of the amount of pine seeds, and the reduction of nest-site availability. These results permit us to propose a simple criterion that can help in choosing the plots to be cut where salvage logging is necessary.
Access options
Buy single article
Instant access to the full article PDF.
US$ 39.95
Tax calculation will be finalised during checkout.
Subscribe to journal
Immediate online access to all issues from 2019. Subscription will auto renew annually.
US$ 79
Tax calculation will be finalised during checkout.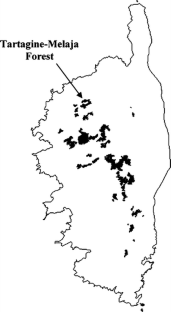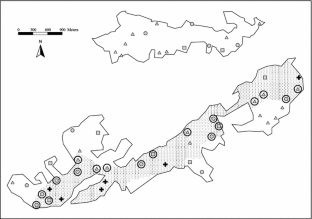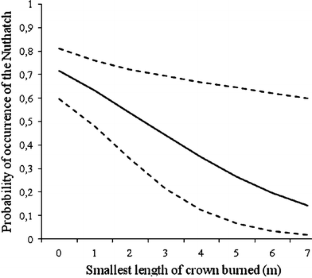 References
Anonyme (1991) Directive locale d'aménagement des forêts domaniales pour la Région Corse. Office national des forêts, Ajaccio

Anonyme (2000) Orientations régionales forestières Corse. Annexes. Direction régionale de l'agriculture et de la forêt de Corse, Ajaccio

Anonyme (2006) Contribution à la conduite des peuplements de pin laricio et habitats associés. Tome 2 Enjeux et gestion. Office National des Forêts. Déclic, Saint-Avold

Apfelbaum S, Haney A (1981) Bird populations before and after wildfire in a great lakes pine forest. Condor 83:347–354

Barlow J, Haugaasen T, Peres CA (2002) Effects of ground fires on understorey bird assemblages in Amazonian forests. Biol Conserv 105:157–169

Beck N (1992) Conservation de la sittelle corse Sitta whiteheadi Sharpe, 1844: Sa place dans les aménagements forestiers. Trav Sci Parc Nat Reg Res Nat Corse 40: 1–32

Bock CE, Lynch JF (1970) Breeding bird populations of burned and unburned conifer forest in the Sierra Nevada. Condor 72:182–189

Brichetti P, Di Capi C (1985) Distribution, population and breeding ecology of the Corsican nuthatch, Sitta whiteheadi Sharpe. Riv Ital Ornitol 55:3–26

Brichetti P, Di Capi C (1987) Conservation of the Corsican nuthatch Sitta whiteheadi Sharpe, and proposals for habitat management. Biol Conserv 39:13–21

Burnham KP, Anderson DR (1998) Model selection and inference, a practical information. Theoretic approach. Springer, New York

Chapman RA, Heitzman E, Shelton MG (2006) Long-term changes in forest structure and species composition of an upland oak forest in Arkansas. For Ecol Manage 236:85–92

Creegan HP, Osborne PE (2005) Gap-crossing decisions of woodland songbirds in Scotland: an experimental approach. J Appl Ecol 42:678–687

Dwyer JK, Block WM (2000) Effects of wildfire on densities of secondary cavity-nesting birds in ponderosa pine forests of northern Arizona. In: Moser WK, Moser CE (eds) Fire and forest ecology: innovative silviculture and vegetation management. Tall timbers fire ecology conference proceedings, no. 21. Tall Timbers Research Station, Tallahassee, pp 151–156

Emlen JT (1970) Habitat selection by birds following a forest fire. Ecology 51:343–345

Ghalambor CK, Martin TE (1999) Red-breasted nuthatch (Sitta canadensis). In: Poole A, Gill F (eds) The birds of North America, no. 459. The Birds of North America, Philadelphia

Hutto RL (1995) Composition of bird communities following stand-replacement fires in Northern Rocky Mountain (USA) conifer forests. Conserv Biol 9:1041–1058

Hutto RL, Gallo SM (2006) The effects of postfire salvage logging on cavity-nesting birds. Condor 108:817–831

Ihaka R, Gentleman R (1996) R: a language for data analysis and graphics. J Comp Graph Stat 5:299–314

IUCN (2007). 2007 IUCN Red List of Threatened Species

Karlsson C (2000) Seed production of Pinus sylvestris after release cutting. Can J For Res 30:982–989

Kotliar NB, Hejl SJ, Hutto RL, Saab VA, Melcher CP, McFadzen ME (2002) Effects of fire and post-fire salvage logging on avian communities in conifer-dominated forests of the western United States. Stud Avian Biol 25:49–64

Kotliar NB, Kennedy PL, Ferree K (2007) Avifaunal responses to fire in southwestern montane forests along a burn severity gradient. Ecol Appl 17:491–507

Lawrence GE (1966) Ecology of vertebrate animals in relation to chaparral fire in the Sierra Nevada foothills. Ecology 47:278–291

Llimona F, Matheu E, Prodon R (1993) Role of snag persistence and of tree regeneration in postfire bird successions: the case of pine and oak forest of Montserrat Catalonia, N.E. Spain. In: Trabaud L, Prodon R (eds). Fire in Mediterrenanean ecosystems ECSC310 EEC-EAEC, Brussels-Luxembourg, pp 315–331

Matthysen E, Adriaensen F (1989) Notes on winter territoriality and social behaviour in the Corsican nuthatch Sitta whiteheadi Sharpe. Alauda 57:155–168

Moreira F, Delgadoa A, Ferreira S, Borralho R, Oliveira N, Inacio M, Silva JS, Rego F (2003) Effects of prescribed fire on vegetation structure and breeding birds in young Pinus pinaster stands of northern Portugal. For Ecol Manag 184:225–237

Pons P, Prodon R (1996) Short-term temporal patterns in a Mediterranean shrubland bird community after wildfire. Acta Oecol 17:29–41

Pons P, Henry PY, Gargallo G, Prodon R, Lebreton JD (2003) Local survival after fire in Mediterranean shrublands: combining capture-recapture data over several bird species. Popul Ecol 45:187–196

Prodon R (2000) Landscape dynamics and bird diversity in the Mediterranean basin: conservation issues. In: Trabaud L (ed) Life and environment in the mediterranean. Wit Press, Southampton, pp 261–299

Prodon R, Fons R, Peter AM (1984) L'impact du feu sur la végétation, les oiseaux et les micromammifères dans diverses formations méditerranéennes des Pyrénées-Orientales: premiers résultats. Vie Milieu 39:129–158

Purdon M, Noêl J, Nappi A, Harvey B, Brais S, Bergeron Y, Gauthier S, Greene D (2002) L'impact des coupes de récupération après feu en forêt boréale: leçons d'Abitibi. Chaire industrielle CRSNG-UQAT-UQAM en aménagement forestier durable, Québec

Quinn RD (1994) Animals, fire and vertebrate herbivory in Californian chaparral and other Mediterranean type ecosystems. In: Moreno JM, Oechel WC (eds) The role of fire in Mediterranean-type ecosystems. Springer, New York, pp 46–78

Raphael MG, Morrison ML, Yoder-Williams MP (1987) Breeding bird populations during twenty-five years of postfire succession in the Sierra Nevada. Condor 89:614–626

Retana J, Espelta JM, Habrouk A, Ordoñez JL, de Solà-Morales F (2002) Regeneration patterns of three Mediterranean pines and forest changes after a large wildfire in northeastern Spain. Ecoscience 9:89–97

Rigolot E (2004) Predicting postfire mortality of Pinus halepensis Mill. and Pinus pinea L. Plant Ecol 17:139–151

Rodrigo A, Retana J, Pico FX (2004) Direct regeneration is not the only response of Mediterranean forests to large fires. Ecology 85:716–729

Saab VA, Russell RE, Dudley JG (2009) Nest-site selection by cavity-nesting birds in relation to postfire salvage logging. For Ecol Manage 257:151–159

Smucker MR, Hutto L, Steele BM (2005) Changes in bird abundance after wildfire: importance of fire severity and time since fire. Ecol Appl 15:1535–1549

Soulères O (2000) Les incendies de Haute-Corse. Rev For Fr 52:401–405

Stuart-Smith K, Adams IT, Larsen KW (2002) Songbird communities in a pyrogenic habitat mosaic. Int J Wildland Fire 11:75–84

Thibault JC, Jenouvrier S (2006) Annual survival rates of adult male Corsican nuthatches Sitta whiteheadi. Ringing Migr 23:85–88

Thibault JC, Prodon R (2006) Seed harvesting by birds shortly after a wildfire in a Corsican pine forest. Int J Wildland Fire 15:81–86

Thibault JC, Villard P (2005) Reproductive ecology of the Corsican nuthatch Sitta whiteheadi. Bird Study 52:282–288

Thibault JC, Moneglia P, Beck N (2002a) Les conséquences de l'incendie de l'été 2000 sur l'effectif de la sittelle corse (Sitta whiteheadi) dans la vallée de la Restonica, Corse Alauda 70:431–436

Thibault JC, Seguin JF, Villard P, Prodon R (2002b) Le pin laricio (Pinus nigra laricio) est-il une espèce clé pour la sittelle corse (Sitta whiteheadi). Vie Milieu 57:329–341

Thibault JC, Prodon R, Moneglia P (2004) Estimation de l'impact des incendies de l'été 2000 sur l'effectif d'un oiseau endémique menacé: la sittelle corse (Sitta whiteheadi). Ecol Mediterr 30:195–203

Thibault JC, Prodon R, Villard P, Seguin JF (2006) Habitat requirements and foraging behaviour of the Corsican nuthatch Sitta whiteheadi. J Avian Biol 37:477–486

Trabaud L, Campant C (1991) Difficulté de recolonisation naturelle du pin de Salzmann Pinus nigra Arn. ssp. Salzmannii (Dunal) Franco après incendie. Biol Conserv 58:329–343

Vierling KT, Lentile LB, Nielsen-Pincus N (2008) Preburn characteristics and woodpecker use of burned coniferous forests. J Wildl Manag 72:422–427
Acknowledgments
We express our gratitude to Mick Marquiss for improving a first draft of the manuscript, to Didier Hacquemand, Jean Lefèbvre, Laurent Riche, and Denis Soulé, (Office National des Forêts) for providing us with unpublished data, and two anonymous referees for their careful reading. This study was granted by the Office de l'Environnement de la Corse, the DIREN-Corse (French ministry of environment), and the Office National des Forêts (Management-Environment Unit). The studies are complying with the current laws of the France, country in which they were performed.
Additional information
Communicated by F. Bairlein.
About this article
Cite this article
Moneglia, P., Besnard, A., Thibault, JC. et al. Habitat selection of the Corsican Nuthatch (Sitta whiteheadi) after a fire. J Ornithol 150, 577 (2009). https://doi.org/10.1007/s10336-009-0379-1
Received:

Revised:

Accepted:

Published:
Keywords
Fire severity

Pinus nigra laricio

Salvage logging

Bird conservation

Endemic